Hot Dog Twists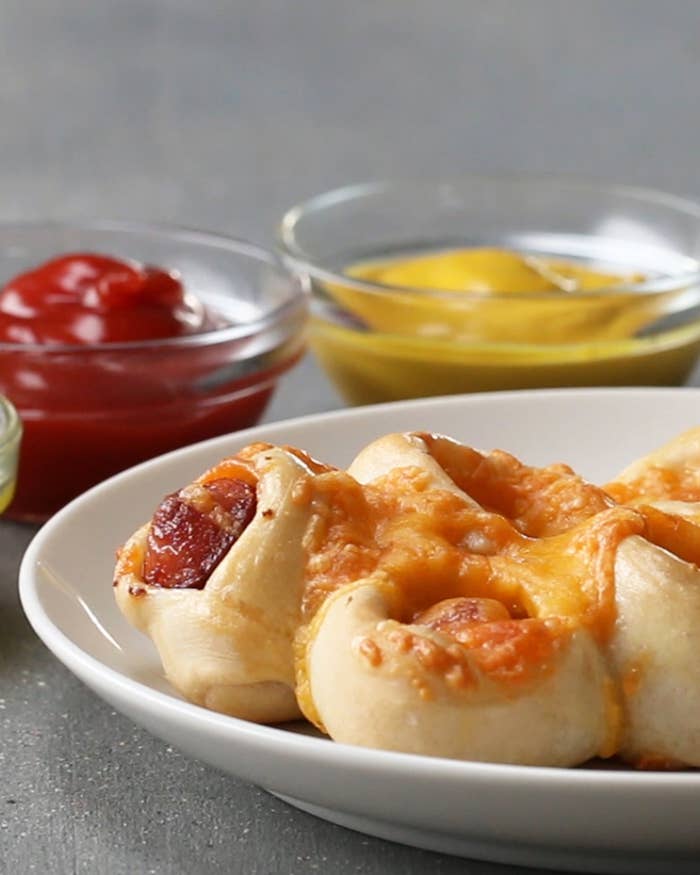 INGREDIENTS
Servings: 5
Pizza Dough
1 ⅓ cup warm water
1 packet yeast
1 teaspoon sugar
3 ½ - 4 cups flour
1 ½ teaspoon salt
1 tablespoon olive oil
1 cup cheddar cheese
5 hot dogs
PREPARATION
1. Preheat oven to 400˚F/200˚C.
2. In a small bowl, add yeast and sugar to the warm water. Let sit until yeast activates and begins to bubble, about 5-10 minutes.
3. Add flour and salt to a large bowl and mix. Create a well in the middle of the dough and pour yeast mixture into the center.
4. Stir until it forms into a ball, and continue with your hands. (If the dough is too sticky, add a little bit more flour).
5. Transfer to a floured surface and knead dough for 5 minutes.
6. Coat a large bowl with olive oil and place the dough in the bowl. Cover with a towel and place in a warm, dry place to double in size.
7. Once risen, transfer dough to a floured surface.
8. Cut the dough in half and set one of the halves aside. (The other half can be used to make a second batch of hot dog twists or it can be wrapped up and frozen for up to 3 months!)
9. Cut the dough into 5 evenly-sized pieces.
10. Flatten the dough and add a layer of cheese to the bottom.
11. Lay the hot dog on top of the cheese and fold the dough over. Pinch the ends together to make a seam.
12. Cut off the extra dough on the ends and pinch to seal the ends.
13. Make 7 cuts that go through the hot dog, but leave the seam in tact.
14. Starting at one end, twist the hot dog piece to the left, the following piece to the right, etc. until all eight pieces are facing outward and are connected down the middle by the dough seam.
15. Place on a baking sheet and bake for 10 minutes.
16. Remove from the oven and sprinkle with additional cheese. Bake for 5 more minutes or until golden brown. (Times and temperatures may vary based on oven.)
17. Serve & enjoy with your favorite hot dog toppings!
Want BuzzFeed Tasty right in your inbox? Sign up for our newsletter!