Hidden Veggie Meatballs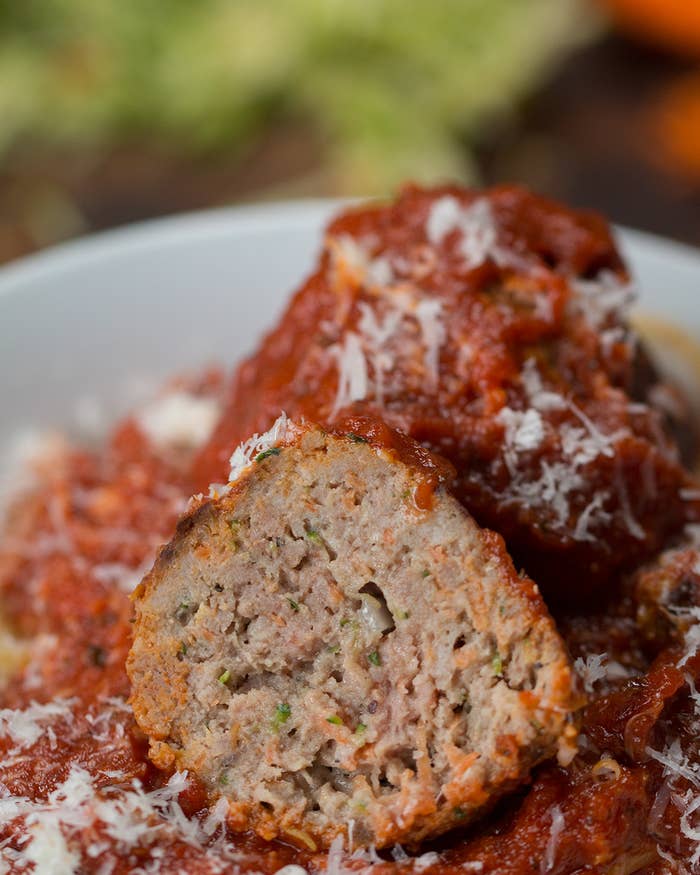 INGREDIENTS
Servings: 7-8 (makes 26 meatballs)
1 large carrot, shredded
1 zucchini, shredded
1 pound ground beef
1 pound ground pork
¼ cup parmesan, grated
¼ cup onion, minced
¼ cup parsley, minced
2 teaspoons salt
1 teaspoon pepper
1 teaspoon garlic powder
2 eggs
1 cup bread crumbs
Marinara Sauce
16 ounces spaghetti, cooked
Parmesan, for garnish
PREPARATION
1. Place shredded carrot and zucchini on a clean towel and wring out as much liquid as possible.
2. Place strained carrot and zucchini in a bowl and add ground beef, ground pork, parmesan, onion, parsley, salt, pepper, garlic powder, and eggs. Mix until just combined.
3. Grab about a ¼ cup of the mixture and roll into a ball.
4. Either pan-fry the meatballs over medium-high heat until all sides are golden brown, about 10 minutes, and pour marinara sauce into the pan. Simmer for 10-15 minutes. Or you can bake them on a piece of parchment paper at 250˚F/180˚C for 30-35 minutes, flipping after the first 15 minutes. Warm up marinara sauce on the side.
5. Serve with cooked spaghetti and parmesan cheese.
6. Enjoy!