Here's A Lasagna You Can Make From Veggies And It's Down Right Incredible
...and more healthy for ya!
Zucchini Lasagna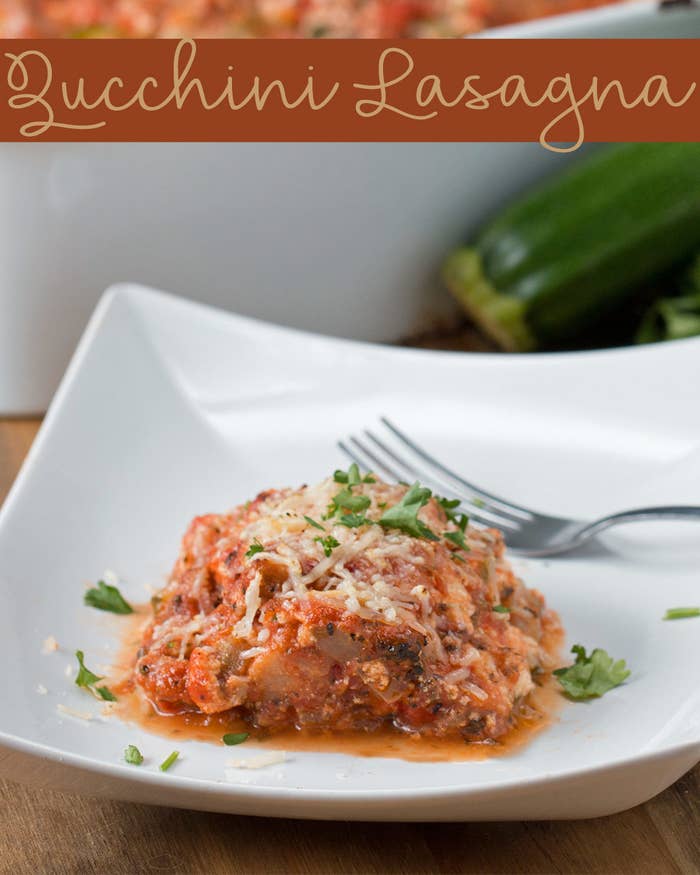 INGREDIENTS
Servings: 8-10
2 zucchinis
1 cup grated parmesan
Sauce
2 Tbsps. olive oil
½ large white onion
2 cloves garlic
1 lb ground turkey
28 ounces crushed tomatoes
2 tsps dried basil
2 tsps dried parsley
2 tsps dried oregano
½ tsp salt
½ tsp pepper
1 Tbsp. tomato paste
1 bay leaf
Cheese Mixture
16 ozs ricotta cheese
1 egg
1 Tbsp. fresh parsley, minced
¼ cup grated parmesan
¼ tsp salt
½ tsp pepper
PREPARATION
Cut the ends off of the zucchini, and cut in half, lengthwise. Using a vegetable peeler, peel long strips of zucchini (these will be your "noodles") and set on a baking sheet lined with paper towels. Dab zucchini strips with a paper towel to absorb the excess moisture. In a large pot, add olive oil, onions, and garlic. Cook until translucent, about 4-5 minutes. Add ground turkey, and cook for another 4-5 minutes, or until the turkey has browned slightly. Pour in crushed tomatoes, basil, parsley, oregano, salt, pepper, tomato paste, and a bay leaf.
Cover and let simmer for 30 minutes. Preheat oven to 375˚F/190˚C. In a bowl, combine ricotta cheese, egg, parsley, parmesan, salt, and pepper. Mix until well combined. Using a baking dish, layer turkey sauce, zucchini strips, ricotta mixture, and parmesan. Repeat until there are 3 layers total, ending with the turkey sauce and topping that with parmesan cheese.
Bake for 50 minutes (times and temperatures may vary depending on the oven). Let rest for at least 20 minutes. Serve and enjoy!
Want BuzzFeed Tasty right in your inbox? Sign up for our newsletter!