Easy Baked Potato Wedges & Fish Sticks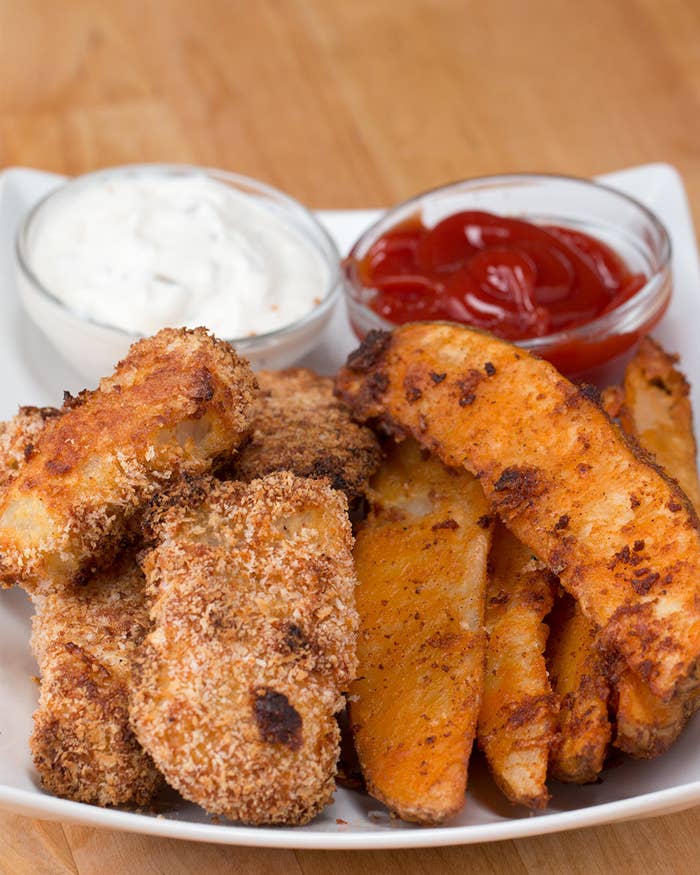 INGREDIENTS
Serves 4
Paprika Seasoning
2 teaspoons paprika
1 teaspoon garlic powder
1 teaspoon onion powder
½ teaspoon salt
½ teaspoon pepper
Wedges
2 large russet potatoes, scrubbed clean
Fish Sticks
2 cod fillets
3 eggs, beaten
1 cup flour
1 cup panko bread crumbs
Optional Dipping Sauces
Tartar Sauce
Ketchup
PREPARATION
1. Preheat oven to 400˚F/200˚C .
2. In a small bowl, combine all the paprika seasoning ingredients, stir.
3. Cut the potatoes in half lengthwise, and cut each half into quarters lengthwise, making 16 total wedges.
4. Place wedges in a bowl of water to remove the extra starch from the potatoes. Drain.
5. Place wedges on a baking sheet and pour olive oil, 3 spoonfuls of the paprika seasoning, and parmesan over the potatoes. Using clean hands, mix together to coat potatoes, then arrange potatoes in rows, without overlapping, so they bake evenly.
6. Bake for 30 minutes, flipping halfway, or until crispy.
7. Cut cod fillet down the middle and into 3 to 4-inch long pieces. Some of the thicker pieces may need to be cut in half.
8. Dredge each fish stick through the eggs, flour, back in the egg, and finally, panko.
9. Place on a baking sheet and bake with the potato wedges for 15 minutes, flipping halfway, or until golden brown and cooked through.
10. Serve with your favorite dipping sauces.
11. Enjoy!