Deep-Fried Sticky Ribs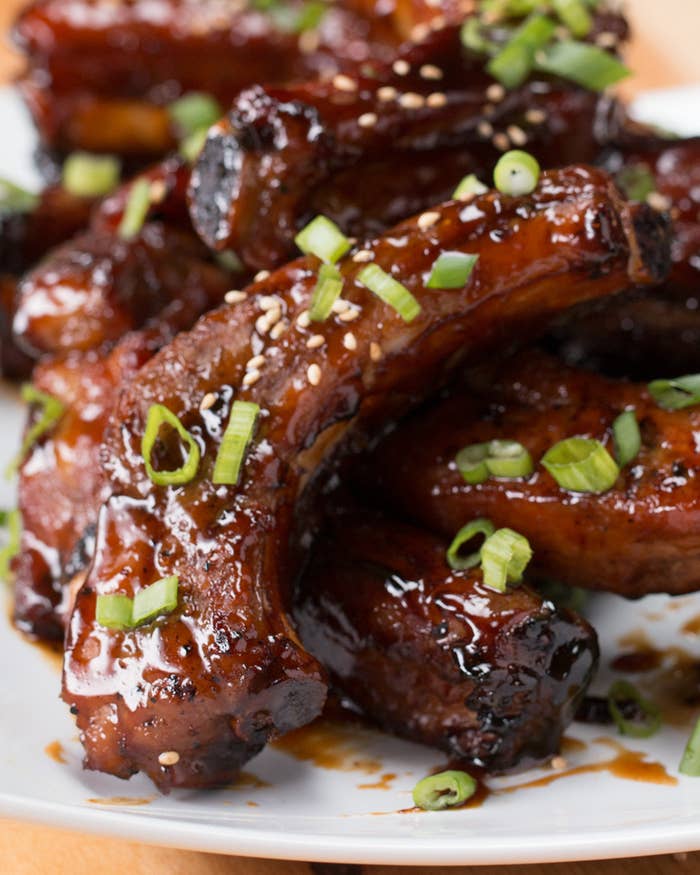 INGREDIENTS
Servings: 5
Marinade
¼ cup soy sauce
¼ cup hoisin sauce
2 tablespoons honey
2 tablespoons Sriracha
2 tablespoons rice vinegar
1 tablespoon sesame oil
2 cloves garlic, minced
1 tablespoon ginger, minced
1 teaspoon salt
1 teaspoon pepper
½ rack baby back ribs
Oil for frying
Sticky Sauce
¼ cup soy sauce
¼ cup hoisin sauce
1 tablespoon sesame oil
2 tablespoons rice vinegar
½ cup tablespoons honey
Garnish
Toasted sesame seeds
Green onions, thinly sliced
PREPARATION
1. In a large bowl, mix soy sauce, hoisin sauce, honey, Sriracha, rice vinegar, sesame oil, garlic, ginger, salt, pepper, and the ribs.
2. Marinate for at least 1 hour in the refrigerator.
3. Preheat oven to 275˚F/140˚C.
4. Bake ribs on a baking sheet for 30 minutes.
5. Make the sticky sauce in a saucepan by combining soy sauce, sesame oil, rice vinegar, and honey. Bring to a low boil, reduce heat, and simmer until sauce has thickened, about 30 minutes.
6. Heat oil for frying to 350˚F/175˚C.
7. Place ribs into the oil a few at a time and fry for 4 minutes, flipping them occasionally. Drain on a paper towel.
8. Toss fried ribs in the sticky sauce and garnish with toasted sesame seeds and green onions.
9. Enjoy!
Want BuzzFeed Tasty right in your inbox? Sign up for our newsletter!