Creamy Sausage Bolognese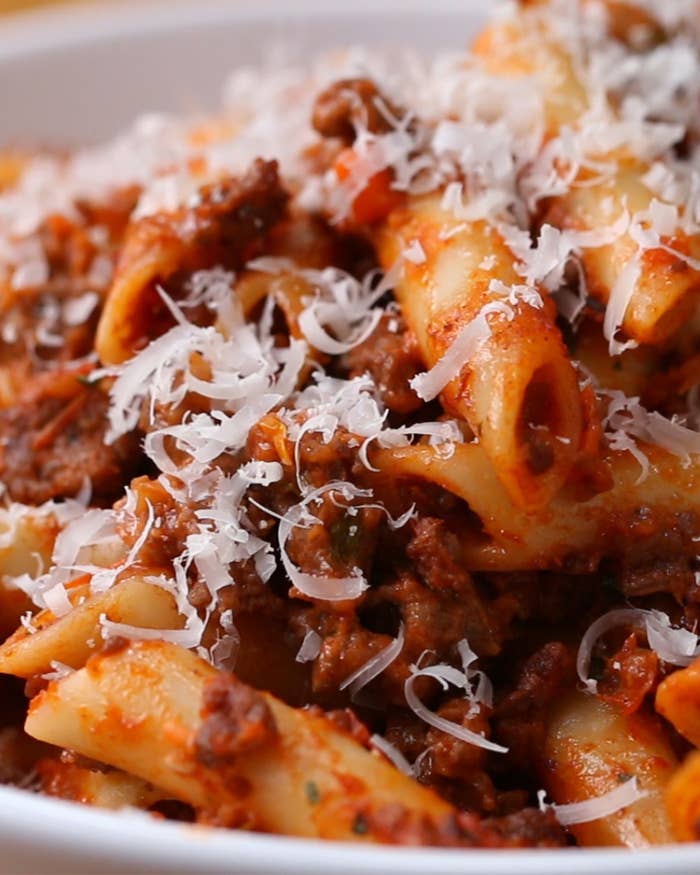 INGREDIENTS
Servings: 8
1 tablespoon olive oil
1 small onion, finely diced
2 carrots, finely diced
2 stalks celery, finely diced
3 cloves garlic, minced
2 Italian sausages, casings removed (1 sweet, 1 hot)
1 pound (500 grams) ground sirloin
Salt, to taste
Pepper, to taste
2 tablespoons tomato paste
1 tablespoon Italian seasoning
½ cup red wine
1 28-ounce (800 grams) can crushed tomatoes
16 ounces (500 milliliters) beef broth
2 bay leaves
1 cup parmesan
½ cup heavy cream
1 pound (500 grams) penne, cooked to box instructions
Garnish
Parmesan shavings
PREPARATION
1. In a large pot, set on medium heat, add the olive oil and sauté the onions, celery, carrots, and garlic until they are soft, about 10-15 minutes.
2. Add garlic and cook for an additional 2-3 minutes.
3. Add the ground beef and the sausages. Season with salt and pepper, and break up the meat with a spoon and frying until no longer pink.
4. Next, add the tomato paste, Italian seasoning, and red wine. Stir and reduce until the wine has almost completely evaporated.
5. Now add all the remaining ingredients, except the parmesan and cream. Stir to ensure everything is well mixed.
6. Simmer for 30 minutes to 3 hours. The longer the simmer, the deeper and more concentrated the flavor.
7. Stir in the parmesan and cream to the sausage bolognese.
8. Add the cooked pasta to the sauce.
9. Serve with more parmesan, if desired.
10. Enjoy!
Want BuzzFeed Tasty right in your inbox? Sign up for our newsletter!