Cheese-Stuffed Garlic Parmesan Pretzels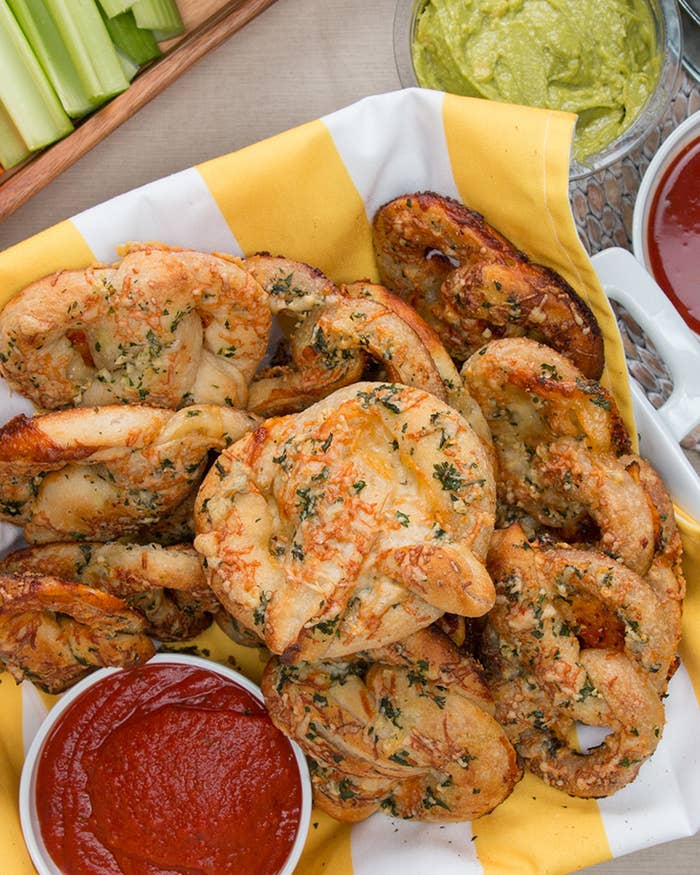 INGREDIENTS
Servings: 8
1 13.8-ounce can pizza dough
2 cups mozzarella, shredded
3 tablespoons butter, melted
3 cloves garlic, minced
2 tablespoons fresh parsley, chopped
1 cup parmesan, shredded
PREPARATION
1. Preheat oven to 400˚F/200˚C.
2. Stretch pizza dough out into a rectangle and cut into 8 equal-sized strips.
3. Stretch strips lengthwise, and widthwise.
4. Place mozzarella down the middle of each strip.
5. Fold and pinch the dough around the cheese along the entire strip, ensuring to close off the ends.
6. Form a pretzel shape by taking the ends of the strip, making a "U" shape, twisting the ends around each other twice and connecting the ends to the bottom of the "U" shape. 7. Transfer to a baking sheet lined with parchment paper.
7. Mix melted butter, garlic, and parsley and pour onto pretzels.
8. Sprinkle parmesan evenly on top of the pretzels.
9. Bake for 20 minutes or until golden brown.
10. Enjoy!
Want BuzzFeed Tasty right in your inbox? Sign up for our newsletter!