Banana French Toast Bake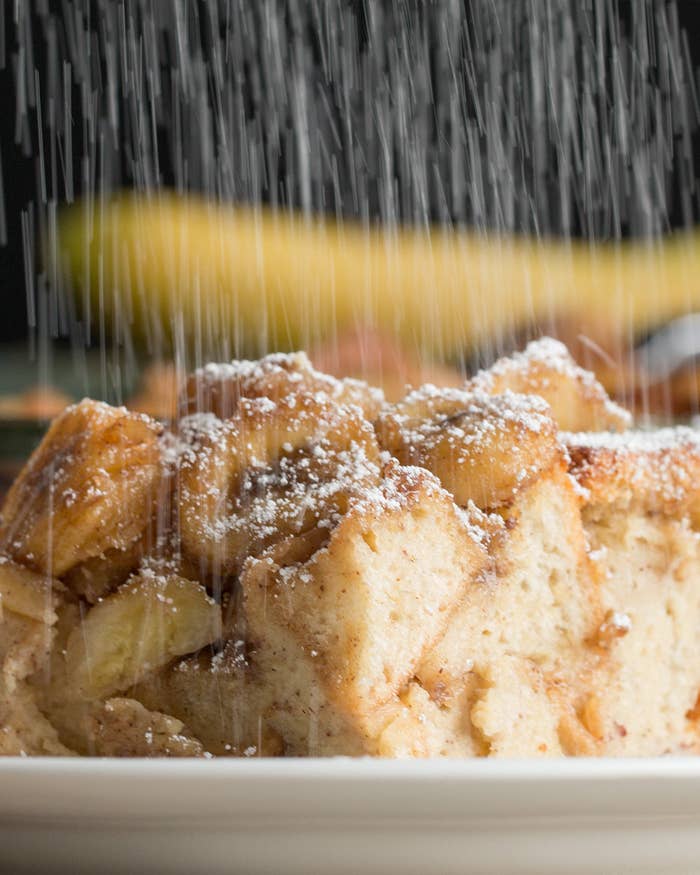 INGREDIENTS
Serves 8-10
Banana-Brown Sugar Glaze
½ cup butter
¾ cup brown sugar
1 teaspoon cinnamon
1 teaspoon vanilla extract
5 bananas, sliced
Custard
8 eggs
¾ cup brown sugar
1 teaspoon cinnamon
¼ teaspoon nutmeg
2 teaspoons vanilla extract
1 cup heavy cream
1 cup milk
1 loaf French bread, cut into 1-inch cubes
Garnish
Powdered sugar
PREPARATION
1. Preheat oven to 350˚F/180˚C.
2. Over medium-high heat, melt butter and stir together brown sugar, cinnamon, and vanilla. Bring to a simmer and add the sliced bananas.
3. In a large bowl, whisk 8 eggs, brown sugar, cinnamon, nutmeg, vanilla, heavy cream, and milk. Add the cubes of French bread, and gently stir until the bread has soaked up all the liquid.
4. Pour the bread into a greased 9x13 inch baking dish. Top with the banana and sugar glaze.
5. Bake for 45-50 minutes until golden brown and slightly crispy around the edges and top. (Times & temperatures may vary based on oven).
6. Serve with powdered sugar on top.
7. Enjoy!
Want BuzzFeed Tasty right in your inbox? Sign up for our newsletter!