Crab Cake Sliders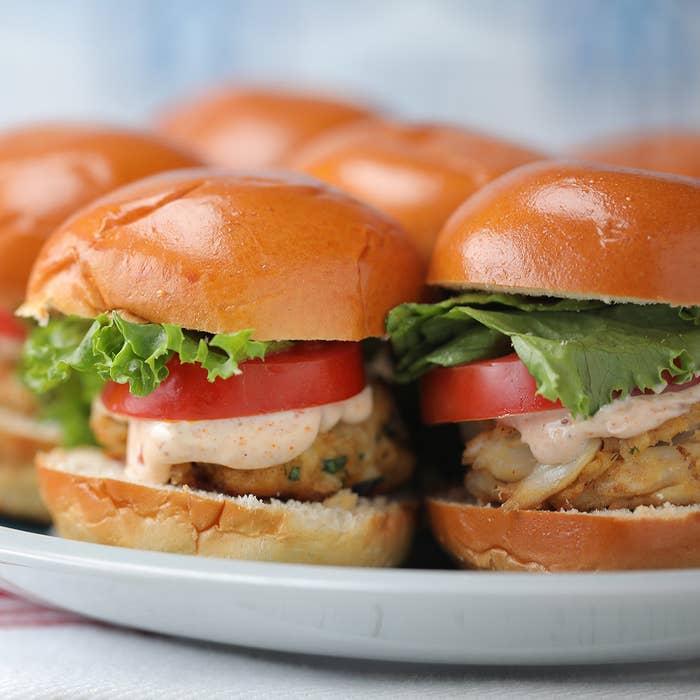 INGREDIENTS
Servings: 8
1 pound lump blue crab meat, picked for shells
1 tablespoon flat leaf parsley
1 tablespoon chives
⅔ cup crushed saltine crackers (15–18) or panko bread crumbs
1 large egg
1 tablespoon fresh lemon juice
1 teaspoon Worcestershire sauce
⅓ cup mayonnaise
2 teaspoons Dijon mustard
2 teaspoons Old Bay seasoning
Unsalted butter to fry
Lemon Aioli
½ cup mayonnaise
1 tablespoon lemon juice
1 teaspoon Old Bay seasoning
To serve:
Small Hawaiian rolls
Green leaf lettuce
Roma tomato
PREPARATION
1. Combine crab meat, parsley, chives, and saltine crumbs in a mixing bowl. Do not break up the crab meat.

2. In a separate bowl, whisk together the egg, lemon juice, Worcestershire sauce, mayonnaise, Dijon mustard, and Old Bay seasoning. 

3. Pour the mixture over the crab and toss to combine. 

4. Cover and refrigerate 1 hour.

5. Gently shape the crab cakes into balls using a ¼ cup measuring cup. Do not pack the crab, keep the mix light and fluffy.

6. Gently fry the crab cakes on both sides in a hot cast-iron skillet with butter. If pieces of crab fall off the sides, gently press them back in. 

7. Whisk together the mayo, lemon juice, and Old Bay seasoning in a small bowl.

8. Serve the crab cakes hot on the Hawaiian rolls with lettuce, tomato, and aioli.

9. Enjoy!