Avocado Pesto Pasta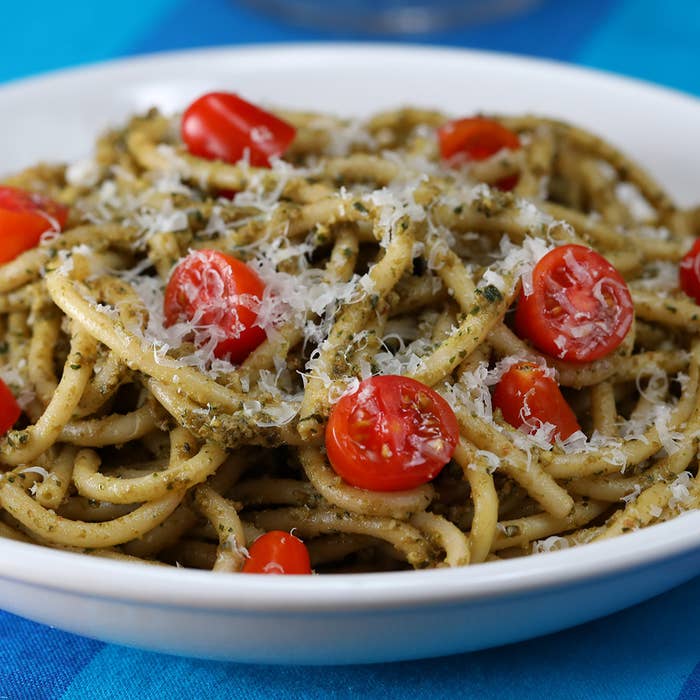 INGREDIENTS
Servings: 4-6
1 ripe avocado
1 cup shredded Parmesan cheese
½ cup walnuts
1 cup fresh basil, packed
2 tablespoons lemon juice
2 tablespoon coarse salt, divided
3 cloves garlic, peeled
2½ tablespoons extra virgin olive oil, divided
1 pound bucatini pasta (or pasta of your choice)
1 cup grape tomatoes, halved
PREPARATION
1. Remove the pit from the avocado and scoop the flesh into a food processor or blender. Add the basil, ¾ cup of Parmesan, walnuts, lemon juice, 1 tablespoon of salt, and garlic, and puree. While pureeing, drizzle 1½ tablespoons of oil into pesto. Scoop the pesto mixture into a small bowl and set aside.

2. Combine 2 quarts of water in a large pot with the remaining tablespoon of salt and 1 tablespoon of olive oil. Bring to a boil and add pasta. Cook according to package directions, until al dente. Reserve ¼ cup of pasta water for the sauce and drain.

3. Return pasta to pot and add pesto mixture and ¼ cup pasta water. Stir well to coat pasta.

4. Portion into individual serving bowls and garnish with tomatoes and remaining Parmesan cheese.

5. Enjoy!