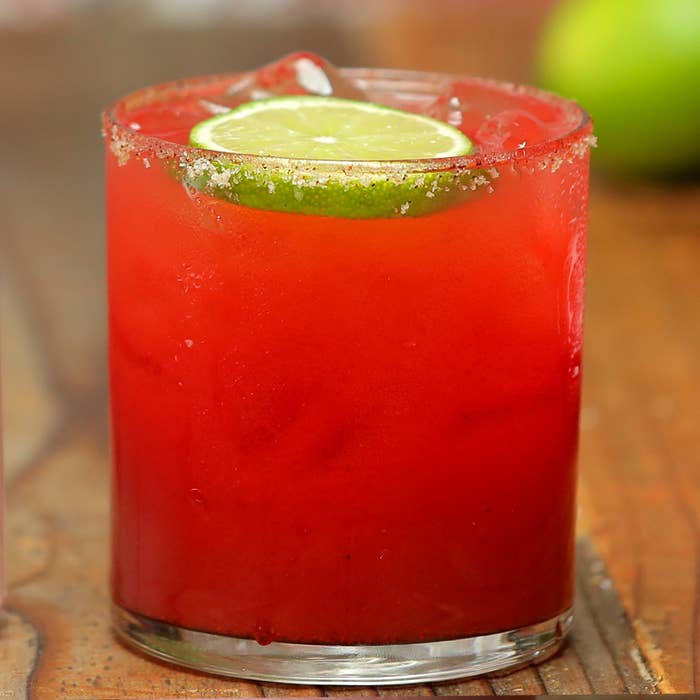 Ingredients
Rim
2 tablespoons kosher salt
1⁄2 tablespoon chili powder
1 lime, cut in half
Cocktail
2 pounds cubed watermelon
4 tablespoons lime juice
1/2 teaspoon chili powder
3/4 teaspoon kosher salt
9 ounces Ciroc Summer Watermelon (1 & 1/2 ounces per drink)
Lime wheels, for garnish
Preparation
1. Rim: Stir together kosher salt and chili powder, then pour onto a small plate. Rub the cut side of the lime around the rim of a highball glass. Roll the rim of the glass in the salt-spice mixture until fully coated. Repeat with the other glasses.
2. Cocktail: Place a few handfuls of watermelon cubes into a blender. Blend until liquified. Pour in the rest of the watermelon and blend.
3. Place 2 mesh strainers on top of each other over a pitcher. Pour the watermelon juice through the strainer and use a silicone spatula to push all the juice through. Remove the strainers. Stir lime juice, chili powder, and kosher salt into the watermelon juice.
4. Fill rocks glasses with ice. Pour 1& 1/2 ounces Ciroc Summer Watermelon into each glass. Fill glasses with watermelon juice. Garnish with a lime wheel.