1.
A tube of Burt's Bees After Sun soother — those rays, even on overcast days, can be much stronger than they look! Apply this all over any sunburnt area to help lessen the pain, itching, and heat.
This product is formulated without parabens, phthalates, petrolatum, or SLS.
Promising review: "I've been using this product for years now. My first trip to Costa Rica I had it and trust me when I tell you it's saved my life. I live in Florida now and I never go anywhere without it. After any time in the sun you can use this and you can believe that your skin will be nourished and moisturized it will not hurt and your skin will not peel if used properly. I said your skin will not peel. I love this product for it." —Kenneth

Get it from Amazon for $9.99.
2.
A hands-free personal fan worn around your neck that points TWO fans directly at your face. It's basically your own personal cooling system that you can take anywhere you go. Sign us up!
The rechargeable fan lasts for up to 16 hours, and it has six different speed settings. Reviewers say it's especially great for people who work outside all day and still need their hands free to do tasks.
Promising review: "Best thing I've bought in a very long time!! Living in Texas means HOT summers and I hate always being so sweaty! This fan is a lifesaver and everyone who has seen me with it has asked to try it and loved it. Buying a second one today 👌🏼" —Laura W. 

Get it from Amazon for $16.99+ (available in seven colors).
3.
An inflatable pool because nothing is more refreshing on a hot summer day than soaking in a pool with a glass of ice cold lemonade or sweet tea in hand. Even if you have a small backyard, you can still make that dream a reality with this!
Promising review: "This pool has been a great summertime addition to beat the Texas heat! My daughter, husband and I are enjoying it so much! It's a pretty good size, easy to set up and so far is holding up pretty well! I did purchase a couple of additional items to keep the water/ pool clean and covered. I was quite skeptical at first as we had already purchased another pool this summer that didn't last but this pool was it! If you're looking for something to relax in and cool off, go for it!" —Pineapple_Beauty94
Get it from Amazon for $42.56.
4.
A high ponytail running cap with UPF 50 protection so you can wear whatever hairstyle you prefer while keeping the sun out of your face and preventing sweat from dripping in your eyes. Because of the two openings in the back, you can wear your hair in a high pony or a top bun, or wear your hair through the lower hole for a more traditional mid-pony.
Vimhue is an Arizona-based, woman-owned small business that specializes in uniquely engineered running hats. 
I just bought this for my half marathon training and I really like using it! I have to wear a hat while running because I sweat *a lot* and absolutely hate the sting of sweat dripping into my eyes. But whenever I would wear traditional caps, I didn't like that my ponytail had to sit pretty low on my head, which meant it would stick to my sweaty neck and make me feel even *more* hot. This solves all my problems!! I love being able to sport my high pony and feel a nice breeze on my neck. Plus: the material is super breathable, and I just throw it into the washing machine in a delicates bag whenever I need to wash it (make sure you hang dry!)
Promising reviews: "Amazing hat. Super comfortable, even in the high heat of Arizona. I will definitely be getting more!" —Melodie Dies
"Love this hat so much! I already ordered another one in a different color for myself and one for a friend! I live in Texas near the Gulf and it's summer — really humid and really hot. I walk 3–4 miles outside most days and I'd been wishing for a hat that allowed for a high ponytail so I could keep my hair off my neck to not get as hot/sweaty. Decided to Google it and found this and was thrilled! The X straps are easy to adjust and it fits great and is breathable. And it's super cute!" —mlp06h
Get it from Vimhue on Etsy for $29 (available in 26 colors).
5.
A personal umbrella that clips onto the back of your beach chair so you can make sure you have access to shade to cool off, even if everyone else in your group prefers to lay in the sun all day. And because of the built-in clip, you can attach this to all kinds of chairs or railings, which means you can use it on your patio, on the sidelines at a soccer game, while camping, or really anywhere you need shade!
Promising review: "I live in Florida and have two children in sports that I spend countless hours going to practice and games in the hot summer sun... I quickly learned to get a clip-on fan and umbrella to help stay cool, but the small sporting goods store umbrellas only ever seem to work if the sun is directly over your head, not coming from the side, or roasting your back or neck. Finding this Sport-Brella was like a gift from above. It is bigger, blocks more sun, and most importantly, can be adjusted into all kinds of angles to block the sun from whatever direction it comes from. It is also more durable than previous sport umbrellas I've used in the past. I'm sold on this... it costs a little more, but well worth the investment if you need to spend a lot of time at games and practice." —Wolfshanze

Get it from Amazon for $27.99+ (available in two sizes and nine colors).
6.
A pair of high-waisted quick-dry running shorts because pants in hot temperatures is just not gonna happen. You'll love how lightweight and airy they are so much that you might end up buying multiple pairs of them. And we say go right on ahead — they come in 39 different colors!
BuzzFeed Shopping's Emma Lord loves these! Here's her review: "I recently bought these shorts because I needed some more breathable summer options, and they're phenom! I love the huge array of colors you can buy these in. (At other places they often sell out too quickly to get to pick!) I love that the high-waistedness of them meets about where my running crop top ends so I don't have to get bonkers with sunscreen, and love love loooooove the side pocket for my keys or face mask. I only have them in purple so far, but I'm excited to try other colors!"
Promising review: "LOVE these shorts. 🥰 I live in Puerto Rico 🇵🇷 and the humidity was getting uncomfortable in regular cotton shorts. These are so light and breezy. The little zip pocket is handy and discreet. I loved the beautiful packaging too. I will order more colors because they are so great!" —Abnnassif
Get it from Amazon for $27.99+ (available in women's sizes XS–3XL and 39 colors). 
7.
A HyperChiller that can chill your coffee in less than 60 seconds. (Yes, you read that right!) You'll be reaching for this on the days that drinking a hot coffee will just make you even more uncomfortably toasty (aka every day this summer).
It also works great for other beverages like tea, juice, or wine that you want to chill at a moment's notice.

Promising review: "I'm absolutely in love with the Hyperchiller!!!! I live in South Texas. It's HOT and that makes it hard to enjoy my coffee in the morning. This little thing gives you iced coffee without watering it down!! There are three compartments- outer most compartment is where you put in water to freeze, middle is where the coffee is poured and then inner most compartment is more ice. When you're ready for your coffee you pour it directly into the lid which goes into the center compartment. You can let it sit or swirl it around. And voila! It's honestly the coolest thing!!" —Staci Leitko

Get it from Amazon for $19.99+ (available in four colors).
8.
Or this cold brew maker because hot temperatures means you want iced coffee, thank you very much! Thankfully with this gadget, you can have high-quality iced coffee waiting in your fridge when you wake up in the morning, bleary eyed and in need of caffeine ASAP. 
To use, add coffee into the mesh filter, pour water into the pitcher, screw the lid on (with the filter attached and submerged in the water), and let it brew for 12–24 hours. You can pour it straight over ice cubes, or cut it with water or milk. Read our Tayeka cold brew maker review for more!
Promising review: "I wish I had found this iced coffee maker years ago. I live in Florida and the summers are extremely hot, so I like to drink iced coffee in the morning during the summer. I grind up coffee beans and fill the infuser with them, then just fill up the pitcher with filtered water and let it infuse over night. When I wake up in the morning I have excellent-tasting iced coffee and it makes my mornings quick, because all I have to do is pour it into a to go cup. I can usually get about five fills out of one pitcher. I absolutely love this device and will always have one now that I have found it. You do not need anything more expensive or complicated than this." —Ashley Bouchard

Get it from Amazon for $27.99+ (available in two sizes).
9.
A set of three lightweight racerback tanks with large arm cut-outs and a super breathable fabric so you can feel breezy and cool as you're running around town completing your errands.
Psst to anyone breastfeeding — lots of reviewers mentioned that the deep sleeves in this also made it easier to breastfeed at home!
Promising review: "I LOVE these shirts. I live in Arizona, where it is hot 50% of the year, and these are so nice and breezy! Great for working out and great for breastfeeding! I love that they're dual purpose for me. I went hiking with one on and my friend liked it so much on me that she purchased some herself!" —Elizabeth
Get a three-pack from Amazon for $23.99+ (available in 14 color combos and women's sizes XS–XL).
10.
A pack of SPF-sensing stickers that will actually change color and turn dark whenever your sunscreen wears off and the sticker gets exposed to a higher UV. Essentially, it's a visual reminder to reapply that sunscreen so you don't get burnt!
Promising review: "I'm multi-racial with tan skin. I burn when it's intense, but I get a great tan otherwise. My 9-month-old is fair, fair, fair. Blue eyes and porcelain skin fair. I reapply my own SPF 50 after a few hours, but I'm not consistent. I've never been great about sunscreen, but I was not going to let my daughter get burned. We live in South Florida and just a walk or park time is a potential burning hazard. This is a great visual for me to reapply her sunscreen or make sure she gets in the shade. They're an absolute essential for parents, especially the 'sun goddess' type." —FlightLife
Get a 16-pack from Amazon for $15.99.
11.
A set of stackable stick-shaped ice molds you'll love if you use a reusable water bottle with a small opening at the top — these actually fit!! Now you can get that ice cold, refreshing water that's downright heavenly on hot, humid days.
Promising review: "I got these to make ice cubes that I could fit into hot water bottles to make 'cold water bottles.' I'm in the big heat wave and it's been over 100 every day for the last week, with no sign of it letting up any time soon. These are quick and easy and the cold water bottles have been the only thing helping me sleep in a room anywhere between 80–90 degrees at night. I love the lids! It makes my ice trays easy to stack and more secure. I wish all ice trays came with lids like this!" —AJ Stark 
Get a set of three from Amazon for $9.99+ (available with or without covers). 
12.
A set of popular wickaway sweatbands for the days you take your workouts outside and want to keep that sweat from getting into your eyes and causing some serious stinging. 
Promising review: "I've always been active all my life and I sweat profusely! It's summer here in Southwest Florida. I walked over 5 miles outside with temps close to 90 degrees and over 80% humidity. You get the picture. I just received these and this was my first time to try it out. I walked over 5 miles and there was NOT one drop of sweat that went in my eyes. The wicking is the best ever! It never moved on my head (I was worried because I have a small head), it is extremely comfortable, and it is fashionable." —Michele in O'Fallon
Get a set of ten from Amazon for $13.99.
13.
An ice roller gloriously designed to help you cool off on the stickiest of days. Leave it in your freezer, and then roll it over your face and body for an instant cooling effect. It feels especially fantastic if you happen to have a sunburn!
Many reviewers also say it helps reduce puffiness on their faces when used in the morning.
Promising review: "Well made for the price. I find it's helpful in the morning for puffy eyes. It's great to use after a workout in sunny Florida. I use it to cool down and reduce redness after exercising." —Amazon Customer
Get it from Amazon for $18.99+ (available in 12 colors).
14.
Essence Lash Princess Mascara that will make your lashes look so long, thick, and full, people will start asking you if you got eyelash extensions. Plus: reviewers say that this formula stays on your lashes and doesn't melt off even when you're super sweaty!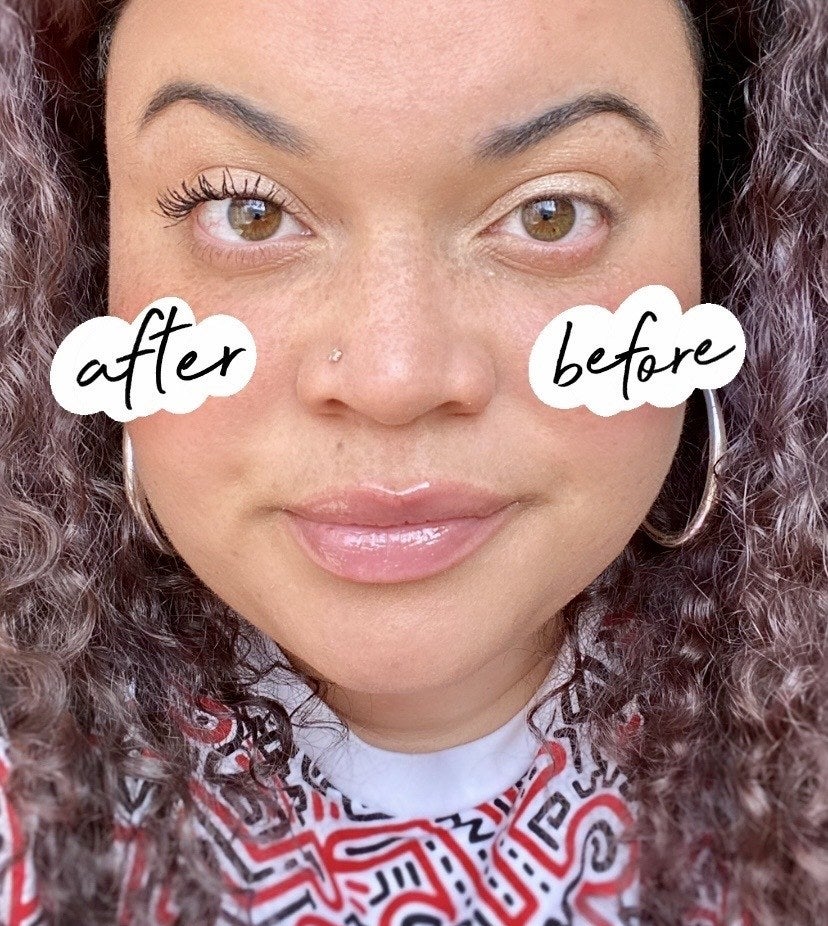 Promising review: "I have been a mascara snob my entire adult life, and have been purchasing the same two brands for mascara. Then, I decided to get an inexpensive tube of mascara just to have in my emergency makeup back, and WOW was I surprised! One coat of this stuff is better than four or five coats of my other stuff. It isn't waterproof, so it comes off with just a makeup-removing facial cleanser or micellar water with no problem. It separates and lengthens my lashes. I have people stop and ask me ALL THE TIME what I do to my eyelashes to make them 'look like that.' Like... literally stopped in the middle of a sidewalk in downtown Tampa to ask about my eyelashes. And it really does stay in place, even without a setting spray, when most of the other makeup I use melts off. Seriously, let me put this in perspective: I live in Florida, and I wore this mascara to work every single day for the last year in the heat/humidity (including all through the summer) and they stayed on my lashes better than any other brand of mascara I've used. This is now officially turned into my go-to mascara!" —Kate

Get it from Amazon for $4.99.