1.
A cult-favorite stain remover if you feel like you're constantly trying to get stains out of every single piece of clothing your kid wears. This concentrated formula can get grass, oil, and even blood stains out easily.
Promising review: "This stuff is magical! It's super easy to use, and it works on almost any stain! My daughter made fluffy slime today, and by the time she was done, there was purple fluffy slime all over her dress. I scrubbed it with this stain remover, and threw it in the wash thinking there's no way the stains will get out. I was pleasantly surprised when I pulled the dress out, and there wasn't a single remnant of the slime on it. It was a laundry miracle! Love this stuff and will continue to use it for everything!!" —Amazon Customer

Get a pack of two from Amazon for $8.99.
2.
A toothbrush holder and dispenser — all your child has to do is place their toothbrush in the slot, and it'll automatically dispense the perfect amount of toothpaste. No more sticky globs of toothpaste littering your counters!
This includes a toothpaste dispenser (that'll squeeze out every last ounce!), four cups and holders, and a place to store your toothbrushes.

Promising review: "I love this item! I saw it originally on TikTok and thought it would be perfect for our bathroom! We have one bathroom upstairs and five people who use it. This cleared up so much counter space for us! There are ventilation holes where the cups go to help make sure they dry properly. The toothpaste dispenser has really been working to get every last drop out of the tube. I would definitely recommend for a family or kids' bathroom. There is also a little storage compartment behind the toothpaste that is great for extra brushes, Q-tips, or flossers." —Sariyah J
Get it from Amazon for $16.99+ (available in three colors).
3.
A diaper cream spatula applicator because no one likes getting that sticky paste under their fingernails! Reviewers also love how evenly this applicator administers the paste onto their child's rash.
Promising review: "Yes, it's weird. I laughed (to myself) when I got one as a baby gift. Then my baby got her first rash and after wrestling a diaper closed with fingers covered in diaper cream I remembered this and oh boy what a lifesaver.  I now have two and will probably buy a third for the diaper bag. It's also nice for people who have sensory issues or are new to diaper-changing. Yes it's weird, but it's also crazy useful." —jp

Get it from Amazon for $6.99+ (available in four colors).
4.
A game-changing medicine dispenser and syringe combo if you always end up cleaning a sticky, neon-colored mess off their face when they spit the medicine up. With this, they can just suck on the pacifier, and the medicine will bypass their tastebuds and head straight down the hatch. Success!
Promising review: "My 15-month-old got her first ear infection and she REFUSES medication, so I didn't know how we were going to survive the 10 days of 2x/day antibiotics. She never took to a pacifier, so I was skeptical this would work, but it is a MIRACLE PRODUCT! My toddler now happily grabs it and sucks down her medication. I love how you can attach any plastic syringe to it, so it will work great for Advil/Motrin/Tylenol too. I also find it really easy to clean. I am going to tell ALL parents to get this ASAP!" —Jennifer Yager
Another promising review: "EVERY PARENT NEEDS THIS!! It is seriously amazing and saved us. My daughter has reflux and needs meds 2x/day. The med is bitter and she was gagging and spitting it out until we got this. I give her the pacifier while changing her diaper and then inject the medicine once she's sucking on it for a minute and it goes right down. No fighting or tears and most importantly, no loss of medicine. MIRACLE." —IBFab
Get it from Amazon for $12.84.
5.
A pack of vomit bags to keep on hand if your little one is prone to motion sickness in the car. It has a twist-and-seal design on the top to keep everything...contained...until you reach your next pit stop.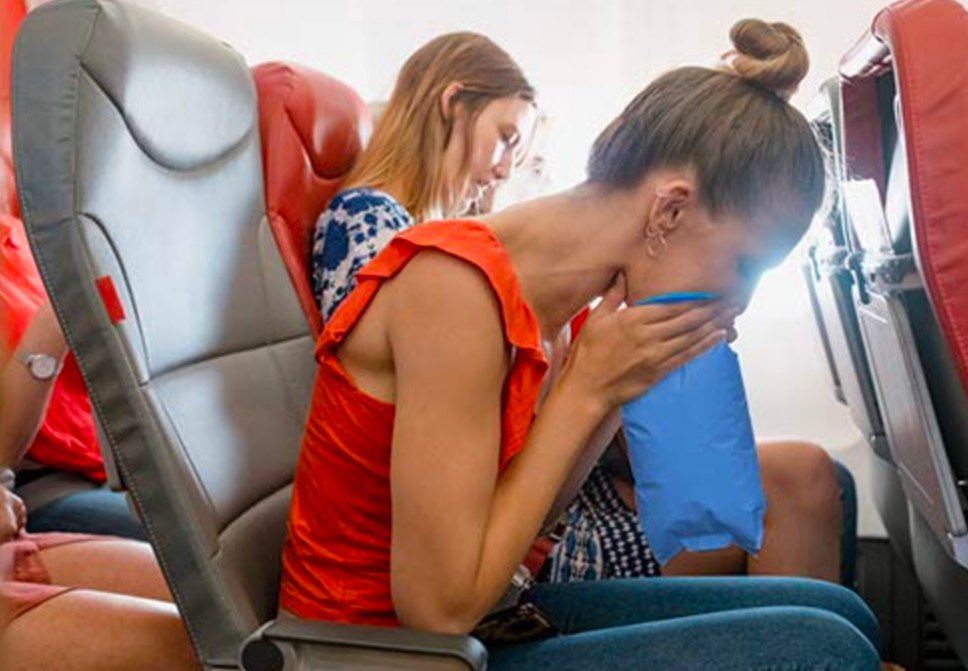 Promising review: "I ordered these again at a stoplight after I handed my child the last of my initial stash. They are a lifesaver to have in the car. They have saved many a car seat and hours of cleaning. And they've saved us from that dreaded smell. Oh, ​that smell. Get them, stash them everywhere, and save yourself from that smell!" —Emily Sullivan
Get a pack of 45 from Amazon for $17.99.
6.
Drop Stop car gap fillers (as seen on Shark Tank!) if your kid (or you!) has a habit of dropping french fries in that pesky gap in the car.
This gap filler is made from a neoprene material that provides the universal perfect fit for any car — just attach it to the seat belt catch once (it has a built-in slot) and it'll be set! You'll never have to worry about removing or readjusting.
Promising review: "This product has saved countless french fries from the dark and scary abyss that is the void beneath my seat. It also prevented my daughter from hiding daddy's cellphone under his seat when she's doing something on it that she's not supposed to. So if you've got devious kids or a love of french fries, I would strongly recommend this product." —Duster
Get a pack of two from Amazon for $24.99.
7.
Portable soap paper sheets because kids' hands are always just ~sticky~, and you never want to end up in a public restroom that ran out of soap! All you have to do is place one of these sheets in their hand and let the water run, and it'll turn into suds so they can get all cleaned up! 
This is also great for quick cleanups on the playground — just pour some water from a water bottle over the soap sheets and you have a cleaning station on the go!
Promising review: "I put one in my car and one in my son's diaper bag. I saw these on TikTok and had to get them. It's horrible when you go somewhere and they have no soap, so this is a lifesaver." —Kailyn

Get 200 sheets from Amazon for $8.69. 
8.
A robot vacuum — as a parent, you're running around doing a million things during the day, and sometimes vacuuming just doesn't get done. Anything that can do a chore for you is truly priceless!
Promising review: "We switched from a $600 Roomba that didn't work all that great to this beast. The cleaning is so much better! We run this in about 1,000 sq ft (kitchen, living room, kids playroom, and dining room) every night. It goes from carpet to hardwood to tile to rugs with no issues at all. It gets under the couch, around the table, and does a great job with the dried Play-Doh that seems to be everywhere (toddlers!). We have a cat, dog, and three kids and our floors look great every morning (and a wreck every night...)." —Jessica-CO
Get it from Amazon for $139.99+ (available in two colors).
9.
Baby detergent pods free of scents, dyes, phosphates, and all that other icky stuff that can irritate your baby's delicate skin. This plant-based pod might be small, but it's mighty strong at cleaning your baby's clothes.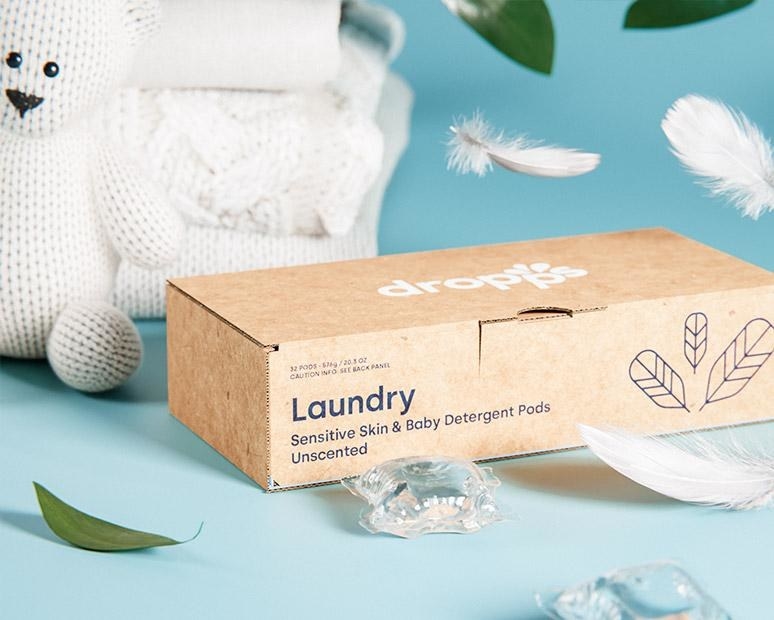 Dropps is a small business based in Philadelphia that produces eco-friendly cleaning products, and their shipping process is 100% carbon neutral.
Promising review: "These are great! They seem to clean really well and don't leave behind residue. Also, my kids have sensitive skin and haven't had any issues since using this." —Emma N.
Get at 64-count of pods from Dropps for $26 (also available in packs of 128 or 192).
10.
The Pink Stuff, a TikTok-famous cleaning paste that can remove nearly anything, including the scribbles your kiddo decided to draw on your wall. Now you can make their little "masterpieces" disappear with very little effort! Here's hoping they stick to drawing on pieces of paper next time...
Promising review: "If you have little children, this is a must-have cleaning product, I have little artists in my house who's biggest canvas is my walls and white doors! I have been scrubbing and trying products for over a year to get pen, pencil, paint, and even permanent marker off walls and doors. First try with The Pink Stuff it came right off! I'm talking all the way off! Rust rings on our white tub that were there when we first moved in GONE! The oven which I thought was black inside is actually a pretty blue color! Cleaning the inside of that oven was a breeze minimal scrubbing and it's shiny and clean! Can not wait to try it on other things in the house!" —Trisha Mulholland
Get it from Amazon for $5.97.
11.
A slide-away storage bag that will completely revolutionize your clean-up. You can spread the mat out wide to give your kid plenty of surface to play with their building blocks, and when they're done, you just pull the drawstring and dump the bag into the bin. Magic!
Promising review: "I really like this for my kid's Duplo Lego bricks, but I think it could be used for a lot more than that. I want to get one for my kids' train track. The fabric part is really large and would fit the track on it. I found the cleanup is extremely easy; all you do is lift up the fabric, and it all goes in the bin. An added bonus, my 2-year-old can dump over the bin, and it stays on the fabric part. I also would like to add that I like the fabric on the outside of the bin; it looks durable and good quality." —KFundy

Get it from Amazon for $54.99+ (available in three colors).
12.
A squirting spoon with a squeezable silicone pouch to make on-the-go feeding time a breeze. It's great for the times you take your baby out to lunch with you — it gives you the freedom to feed yourself with one hand and them with the other!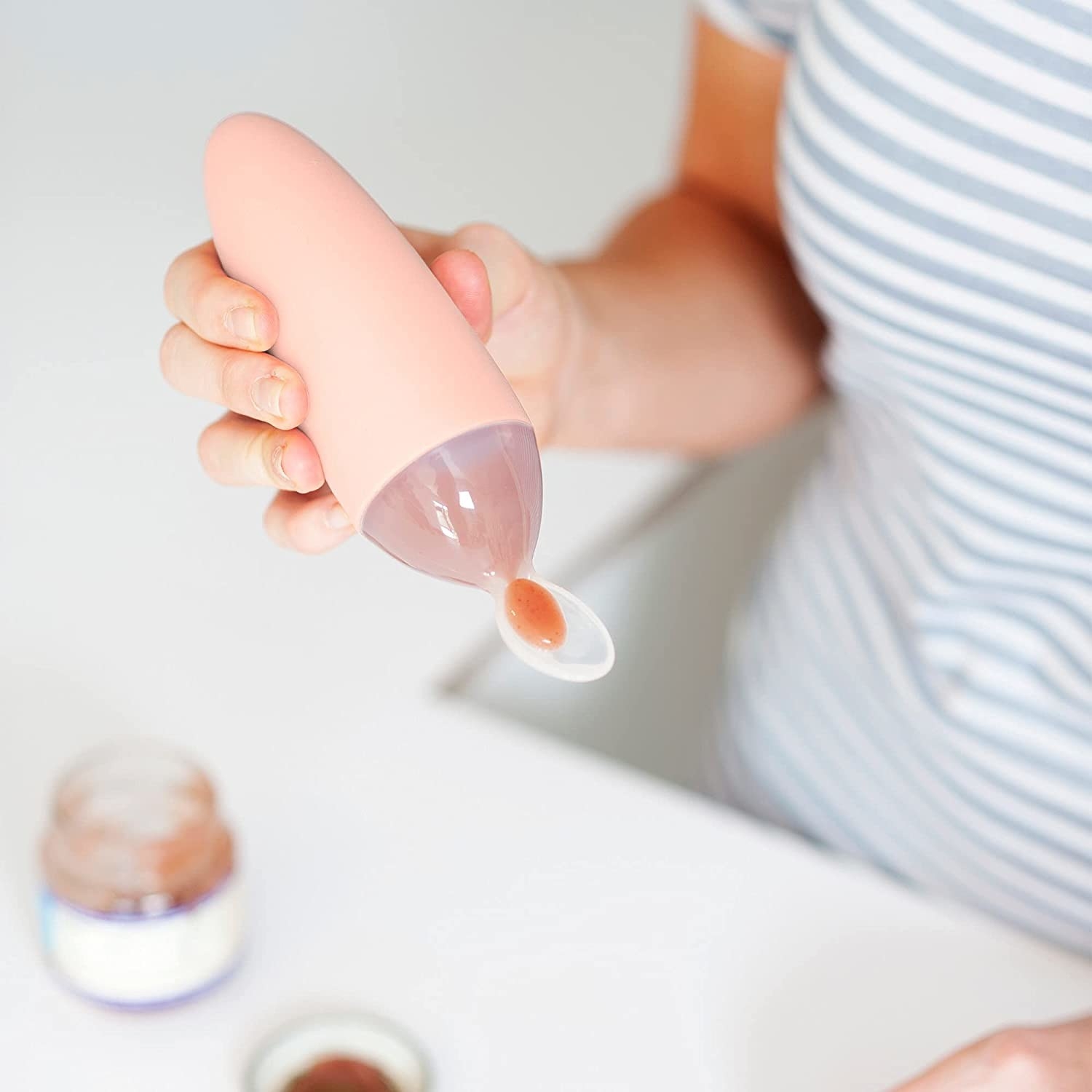 This comes with a hard plastic lid so you can seal it up and save it for snack time.
Promising review: "This product is amazing!!! I now have kids in sports/activities and I am always on the go. I put my baby's food in one of these and take it to-go in my diaper bag. It comes with a spoon cover that is hard plastic that covers the hole where the food comes out. The body of the spoon is a soft silicone that you gently squeeze to get the pureed food out. The spoon itself is a hard plastic but we had no issues. It is easy to clean and comes apart in two pieces. Seriously, this is the best gadget ever! This is coming from a mother of four who has probably owned and purchased every gadget out there to make life easier!!" —castgirl
Get it from Amazon for $9.99 (available in pink or mint).
13.
A pack of spillproof Munchkin snack catchers with caps that let them reach inside to grab snacks but prevent anything from flying out. Now you won't have to clean up puddles of Cheerios from your backseat anymore!
Promising review: "These are a must-have for a small toddler and their snacks. The top is soft and flexible so I don't have to worry about my little guy scratching his little hands when he's digging around in the cup. Very easy to clean and they're priced well. Buy them now!" —Wooty
Get a pack of two from Amazon for $6 (available in two color packs).
14.
A pack of diaper booster pads if you're sick of picking up your kid in the morning and feeling that they've leaked through their diaper yet again. These provide some much-needed extra protection and will soak up any pee that is threatening to escape.
Promising review: "Oh my goodness these are a LIFESAVER. My 2-year-old pees a lot overnight and was leaking through his overnight diapers every night. His pants would get soaked and I would have to change him in the middle of the night or feel horrible letting him sleep in his own pee. Then I read about these booster pads so I thought I'd give them a try. It totally worked. My kid doesn't leak through anymore. I would definitely recommend this for heavy night wetters." —Christine
Get a three-pack of 90 pads from Amazon for $30.79.
15.
A pack of toy straps for the children who have turned tossing toys from their stroller into an Olympic event. This brilliant contraption will save you from back pain now that you don't have to bend down to pick up toys every 30 seconds.
Promising review: "This is a simple concept, but something that you would not normally think you need. After losing a few toys off the side of the stroller, I felt there had to be a way to keep toys and bottles from falling over the edge. I found these and took a shot at ordering them. The straps come with snaps at differing lengths to accommodate anything from Sophie the Giraffe all the way to our large Tommee Tippee bottles. I have not lost a toy since getting these nor has a bottle fallen on the ground. The strap dries out easily when she may have some excess 'droolage.' I think I might start giving these as a shower gift." —Kay
Get a four-pack from Amazon for $10.99 (available in 12 color sets).