1.
A colorful mechanical keyboard with a matching wireless mouse because if you're going to be typing away for eight hours a day, you might as well make your work setup a little more bright and cheerful!
Promising review: "Absolutely amazing keyboard. Colors are eye-catching and make a drab office pop with color! I am currently the envy of the office. Ladies in the other departments are waiting on their own to come in now after seeing mine. Easy plug/play. It travels between home and office with me. Love the keys on this as well. Sleep mode seems to pop on kinda quick but it's nothing bad. Just push a button or click the mouse and it's on again. I have had it for about a month now and will not be going back to any other style! It was delivered fast, packaging was great." —Nikki Bell
Get it from Amazon for $31.99+ (available in 10 colors).
2.
A portable home office if you like to change work locations during the day and want to make sure everything you need is easy to transport. This beauty has a built-in charging station, LED lighting, a dry-erase board, and can be folded up and transported to your kitchen table, the library, or anywhere else you feel most productive!
Check out the Worky station on TikTok!

Worky is a small biz that specializes in making products for those who WFH. 

Promising review: "Don't know how I worked from home without it! Reduces so much clutter from my usual kitchen table setup. Absolutely changed the game for me and helps keep me organized." —Jake Duneier
Get it from Amazon for $87.63. 

3.
An orthopedic pain relief seat cushion made with memory foam to keep your derrière feeling comfy during a 10-hour workday. It's like sitting on clouds!
The cover is removable and washable according to reviewers.
Promising review: "I have been using the seat pillow for two weeks now, and it has done what it advertises. It has reduced pain, held up up well, and maintained its shape. Given I am not sitting on it all day, which may impact the wear and tear, it still has provided an increase in support and comfort, and has helped reduce my dull sciatica pain when having to sit for extended periods of time." —Icarus Rising
Get it from Amazon for $39.99+ (available in five colors).
4.
A glass dry-erase desktop whiteboard if you're constantly jotting down notes for yourself throughout the workday but don't want to go through endless pieces of paper doing so. It'll also help keep your notes and reminders front and center in your workspace so you don't forget anything important!
The whiteboard also comes with a dry-erase marker, accessory channel (to hold the marker), and a storage drawer.
Promising review: "Never thought something analog would be SO useful in my daily routine. I work from home and am constantly project managing multiple complex strategic projects. Having pertinent information directly in front of me and top of mind has done incredible things for my productivity. Never would have imagined it would make such a difference. For a nominal investment, I highly recommend it if you have trouble keeping up with things."—Captainflapjax
Get it from Amazon for $31.29+ (available in five colors).
5.
A mini fridge you'll be so happy you installed next to your desk when you're really focused on your work and can't risk a trip to the kitchen for a snack. Mine would definitely be loaded up with Diet Coke and string cheese!
You can charge this using an adapter in your car or a regular outlet, and if you unplug it and take it on the go, items will stay cold for several hours as long as you don't open the door.
Promising review: "I bought this refrigerator because I recently started working from home because of the COVID-19 quarantine. When I'm working during the day, I have to keep myself locked up in the spare bedroom so my toddler doesn't realize I'm home. Otherwise, she would be trying to come see me all day. **Disclaimer: I don't just lock my toddler out and leave her alone, there's someone here taking care of her! Anyway, since I can't really leave the bedroom, this fridge has been great to keep some drinks cold while I'm working. I put them in already cold and they hold the temperature as long as they are in the fridge." —Aratay
Get it from Amazon for $49.99 (available in five colors).
6.
A cat-shaped Post-It note dispenser that'll be the purrrfect addition to your workspace. This adorable kitty is there to lend a helping hand — sorry, paw— and make it easy for you to grab a Post-It whenever you need to jot down a fast note. 

Promising review: "I was more than happy when I got my cat Post-It note holder. It is weighted so when you pull a note out of it, it does not move. My cat is evil (lol) and spent a lot of energy trying to knock the holder down over, but it stays in place. The bottom has no skip pads. I use mine on my coffee table which is glass topped. It doesn't move on glass, and it doesn't scratch anything." —Fluttrz
Get it from Amazon for $8.68.
7.
The TikTok-famous padded office chair because having a super comfy place to sit is the *key* to a successful WFH setup. It's wide enough to allow you to comfortably cross your legs while working and also has a super cushiony back to keep you supported!
Check it out on TikTok here!
Promising reviews: "Buy this chair. I've bought so many office chairs over the years. The classic Goldilocks story— this one's too bulky, this one's too flimsy, that one has too much hard plastic… yada yada. I think this one might be it. Really comfortable, solid build, attractive but the best feature is the wide seat. I can criss-cross my legs easily to relieve the pressure in my hips which is life changing if you're chained to your desk sitting in meetings all day." —Larissa Harrison
Get it from Amazon for $219.99+ (available with or without wheels).
8.
A lumbar support pillow that'll turn almost any chair into an ergonomic oasis. This will help improve your posture as you're sitting and typing away all day at your desk, which means it'll be less likely you'll get up at the end of the day with a sore back!
Read more about how lumbar support pillows help support your back position at Cleveland Clinic.

Promising review: "My large office chair was getting very uncomfortable so thought I'd give this pillow a try. It gives excellent back support and makes a huge difference. Now I don't have to buy a new chair."  —Vikequeen

Get it from Amazon for $19.99+ (available in three colors). 
9.
A caterpillar cord organizer to add some whimsy to your workspace while also transforming your cord situation from chaotic to in control. Now you don't have to go reaching behind your desk looking for charging cord every time your computer gets down to 5%. Plus: how can you not smile when you look at this cutie?!
Promising review: "He is perfect and pure and good and has never done anything wrong in his whole life. Somehow at least like 53 times cuter in person??? Also does a great job holding all my cables because of course he does. 10/10 would buy this good good boy again." —Jennii
Get it from Amazon for $9.99.
10.
A clip-on ring light so your coworkers can see your beautiful, well-lit face during your countless Zoom meetings. This is especially great if your desk is in a perpetually dark corner! 

The light is powered via USB and has three light colors and 10 brightness levels.
Promising review: "I don't have the best light in my living room. Working from home, I have had my fair share of Zoom and Skype meetings and without this light, my face was shaded no matter how hard I tried to get light. Now with the different shades of light as the day passes, I can change the light brightness and not look like I'm in a dungeon." —Paige Ruark
Get it from Amazon for $15.79.
11.
A coffee warmer for when you get caught up answering emails in the morning and your coffee gets cold before you've even taken a sip. Now your morning java will stay gloriously warm for as long as you need it to.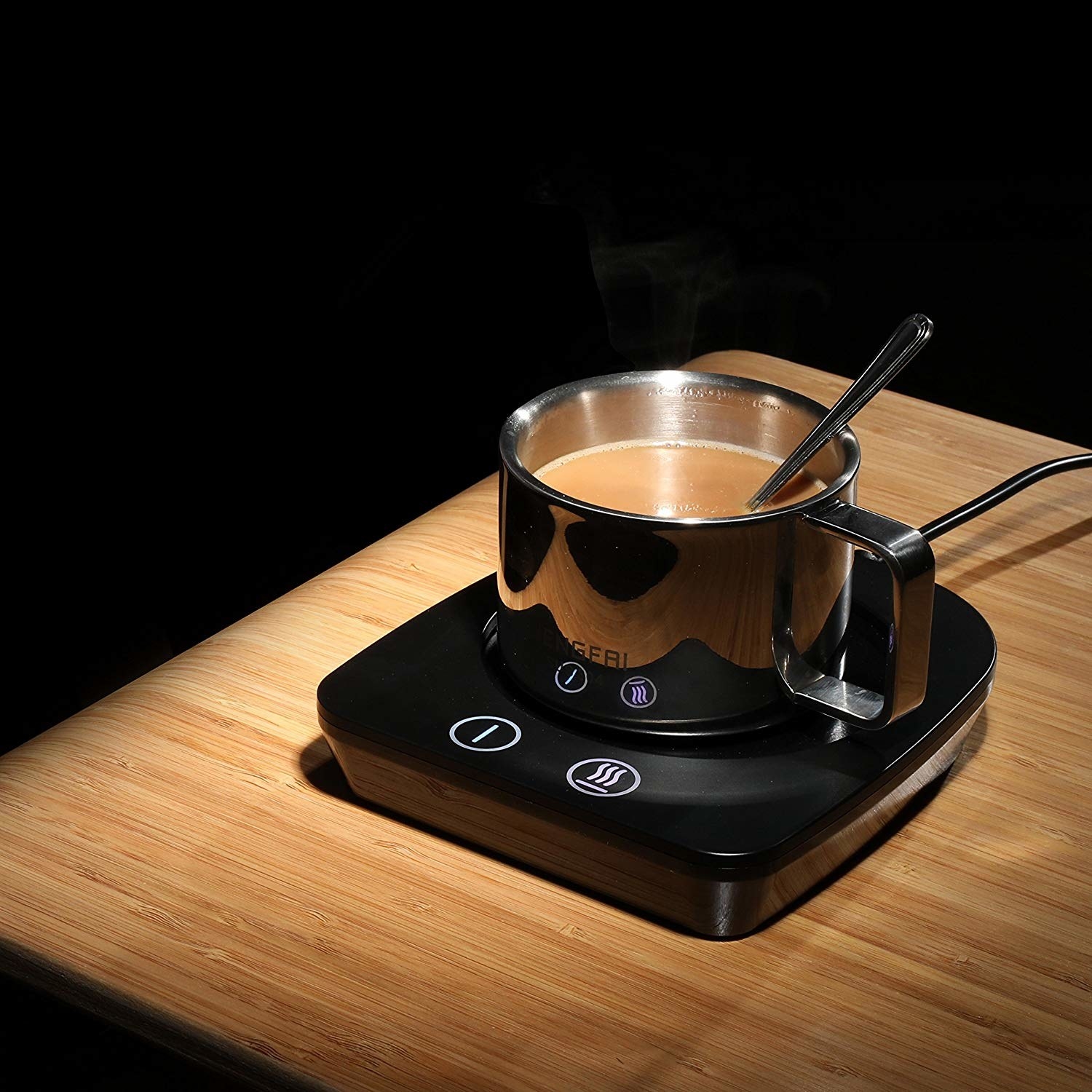 Promising review: "I had gone through two other coffee warmers in a month, both of which got raving reviews on Amazon but barely kept coffee warm for 30 minutes. So I decided to splurge on this more expensive one, and BEST DECISION EVER! Not only does it keep your coffee warm, it keeps it HOT on the highest setting. It does an excellent job at keeping your coffee hot for as long as you want, PLUS it is super easy to turn on and off. When you turn it off, it displays the lowest hot setting light to show you the plate is still hot so no unsuspecting burns. This is hands-down the best option on the market." —Elizabeth Harris
Get it from Amazon for $19.79+ (available in six colors). 
12.
A laptop stand so you're not constantly putting strain on your neck and looking down at your screen. Now, your laptop will be at eye level and your neck posture will naturally improve! 
Promising review: "This is an absolute game changer now that I am working from home. It helps my posture and the colors match my MacBook Pro almost exactly if you don't hyper examine it. It does have a little extra shine, but it is still matte. The stand is very sturdy and has quickly become a favorite to use any time I use my Mac." —ZAraiza
Get it from Amazon for $39.90+ (available in two styles and in four colors).
13.
A five-piece organizer set if the random piles of books, notepads, and pens are starting to take over your desk. Now you can organize them in ~style~ and make it easier for yourself to find what you need during your workday! 
The set includes a pencil cup holder, a letter sorter, a letter tray, a hanging file organizer, and a sticky note holder.
Promising reviews: "This is great for my desk at home. Gives a splash of color and helps me to organize many of my pens, books, etc. Love it." —stinsontm
"I got tired of stacking papers and folders on top of a horizontal tray on my desk. The basket can hold file folders with tabs, which makes important papers easy to organize and find. No more piles upon piles. The tray is for my to-do items. I have embellished some of the items with fake rhinestones and have received many compliments on the ensemble." —Kathy
Get it from Amazon for $18.99+ (available in three colors).
14.
A wireless ergonomic mouse perfect for people with carpal tunnel or anyone who gets hand cramps after working all day. The design of the mouse keeps your hand in a natural position and helps reduce hand fatigue.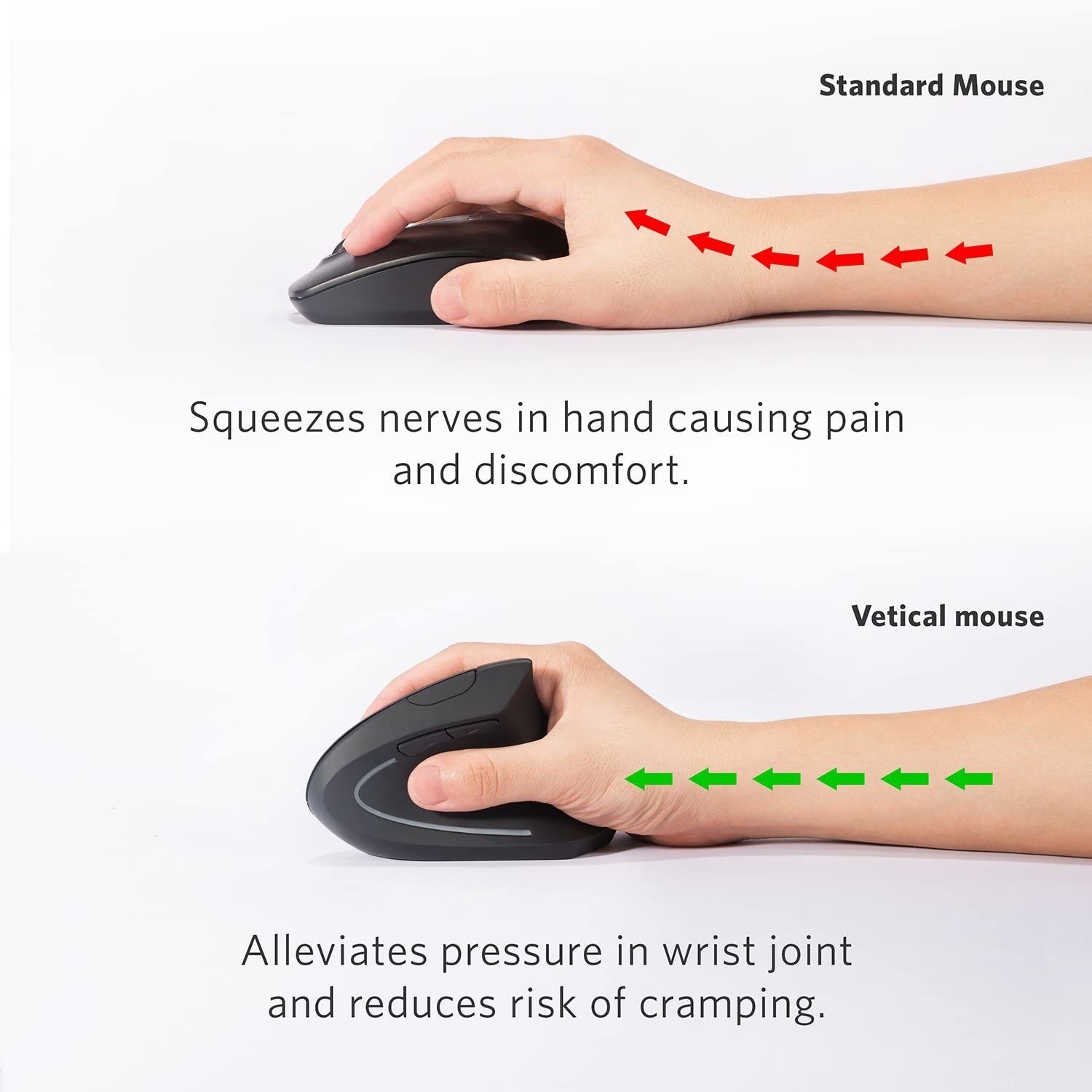 Read more about ergonomic mice for wrist pain and carpal tunnel at Cleveland Clinic.

Promising review: "I bought this mouse because I have wrist and lower arm pain. I can't actively use any regular mouse more than one hour at a time without getting some pain... It's comfortable, and this is the most important thing, because so far I can use it for hours and don't have any pains. The wrist isn't twisted like on a regular mouse and I can feel this, for the better. Took me under a day to get adjusted to this angle. An interesting thing about this design is that you feel more inclined to use your whole arm to make mouse movements, which is a good thing, since doing so puts less stress on the wrist." —Dan
Get it from Amazon for $25.