1.
A lighted umbrella if you love spending time on your porch in the springtime, even as the sun goes down! Now you can still enjoy that crisp spring air and hang out with friends while still being able to see each other well into the evening.
Note that this includes just the umbrella, not the table!
Promising review: "I normally don't like buying products like this sight unseen, but I'm very pleased with the look and especially with the solar lighting. We enjoyed a pleasant evening on the deck with just the right amount of ambient light tonight, and we are hopeful that it will prove to be durable." —Dee Williams
Get it from Amazon for $71.98+ (available in 11 color combos).
2.
An oven scrub cleaner because the return of spring means the return of spring cleaning! This one's for anyone who can't remember the last time they gave the inside of their oven a deep clean. It's time for that burnt cheese that's been stuck to the bottom since 2019 to finally go away.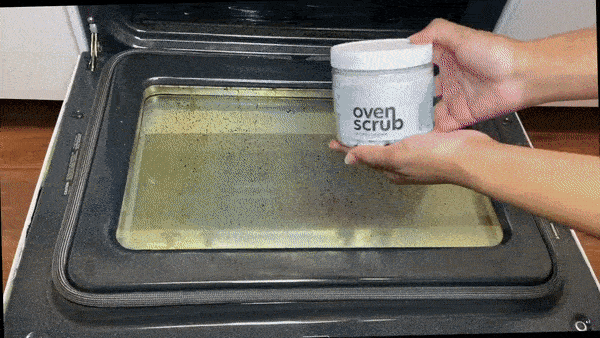 This oven scrub is made out of 100% plant and mineral-derived ingredients. To clean your oven, apply the scrub over the oven surface including the interior glass, scrub with a metallic or scouring sponge, then use a damp microfiber cloth to wipe the surface.
Everneat is a small business based in Fairfield, Connecticut that specializes in natural cleaning products and microfiber cloths.
Promising review: "This is the first time in my 50+ years that I have actually enjoyed cleaning my oven. And no, I am not joking! This product is effective, easy to work with, smells amazing, AND I only used a tiny amount of product!!! I don't think I could imagine a way to improve this product. Highly, highly recommend it!!! Well worth any wait." —Diane Coury
Get it from Everneat on Etsy for $19.99+ (available in plastic or glass jars).
3.
A set of two ~zero gravity~ reclining porch chairs so you can literally feel like you're floating as you chill out in the backyard. It comes with a pillow and a side table, which is perfect for holding your drink or placing your book down. They also fold up for easy transport to the beach or a picnic!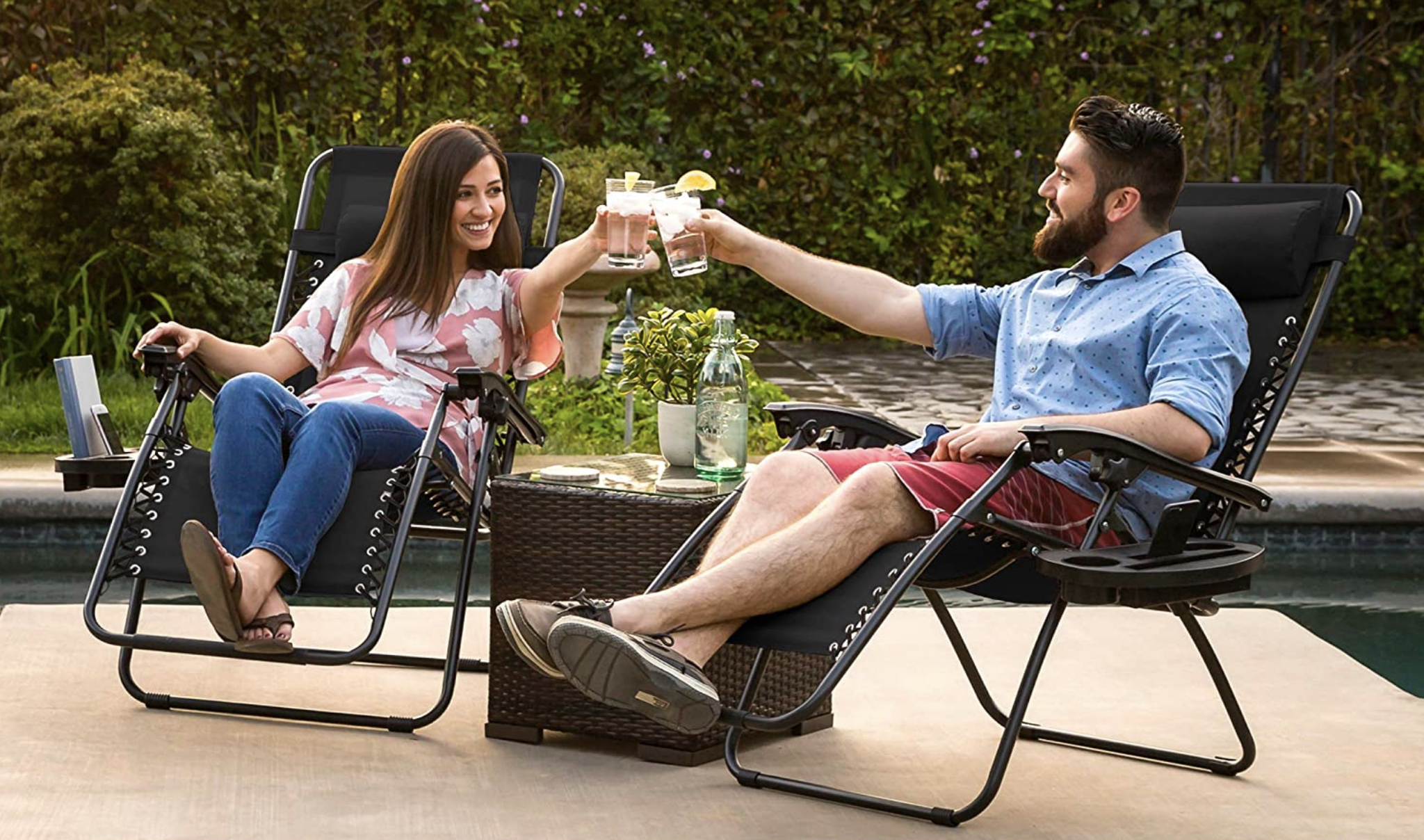 Promising review: "We realized pretty quickly that with everyone home because of the 2020 quarantine, we would need more spaces to hang out in. I found this set of chairs and put the order in as a temporary measure until we found a patio set that suits the space better. These are perfect though. I can't really see replacing them anytime soon. They are comfortable, and the little attached tables are really handy! I usually have hot tea, water, a phone, and either a book or my Kindle in my immediate area. This tiny attachment made it so I don't even have to worry about where to put everything. The seat is an excellent place to spend some time watching the birds or reading in the afternoons. I am absolutely thrilled with this purchase." —Brandy Morgan
Get a set of two from Amazon for $119.99 (available in 14 colors).
4.
A set of hanging vacuum sealed bags to reduce the amount of space all of your bulky winter jackets are taking up in your closet. Now you'll have so much more room to hang up all your favorite lighter spring jackets — hello, jean jacket season!
Promising review: "Bought these storage bags two weeks ago to pack my winter clothes for summer, and they did the job perfectly. They are large and sturdy. I like its five-hook design. I can store five women's jackets or four big men's jackets in ONE bag. The long bags also fit my dresses. The biggest reason I bought these bags is that I do not need to fold my seasonal clothes; just hang, zip, vacuum, done! Super convenient. Extremely happy with this space bags. I will definitely order more!" —Jia Yan
Get them from Amazon: four-pack of hanging bags for $21.49+ (available in four styles).
5.
A portable George Foreman grill — even people with just a tiny balcony for outdoor space deserve to be able to grill, too! Your landlord won't even get mad at you for smoke or strong smells, because this baby runs on electricity!
This comes with nonstick coating, the stand is removable, and you can adjust the temperature to five different settings.
Promising review: "This is the perfect grill for my apartment balcony. It was easy to clean and it's really nonstick. In comparison to other brands, this actually heats up the plate instead of heating lights. It cooked really well and was very easy to install. I would definitely recommend to purchase this if you have a small balcony." —Amazon Customer
Get it from Amazon for $109.99+ (available in two colors).
6.
A tabletop fireplace if you want some warmth and a nice aesthetic glow in your backyard once the sun goes down, but don't have enough room for a huge fire pit. It's perfect for those still-sorta-chilly early spring nights.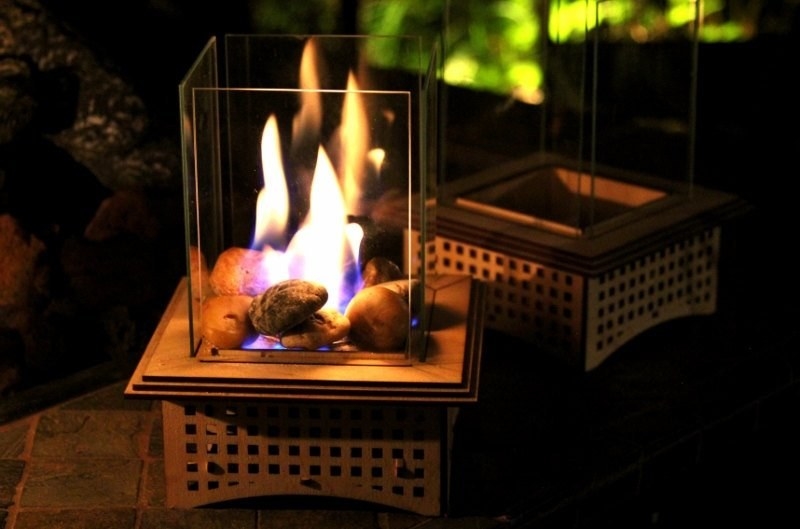 You can order this with or without the sand and rocks. The only thing that you will need to purchase separately is the 2.6-oz. gel fuel cans, which you can get from Amazon. 
1 Man 1 Garage is a small business based in Nashville, Tennessee.
Promising review: "Soooo cute and easy to put together. We bought a clear spray to put on to protect it and because we actually really liked the look of the burned side. Boyfriend and I bought it to make s'mores for Valentine's. It was a perfect night in." —Bethany Schneider
Get it from 1 Man 1 Garage on Etsy for $32+ (available in three styles).
7.
A cute welcome mat decorated with adorable daisies that are sure to put a smile on all of your visitors' faces. It might even put a spring in their step!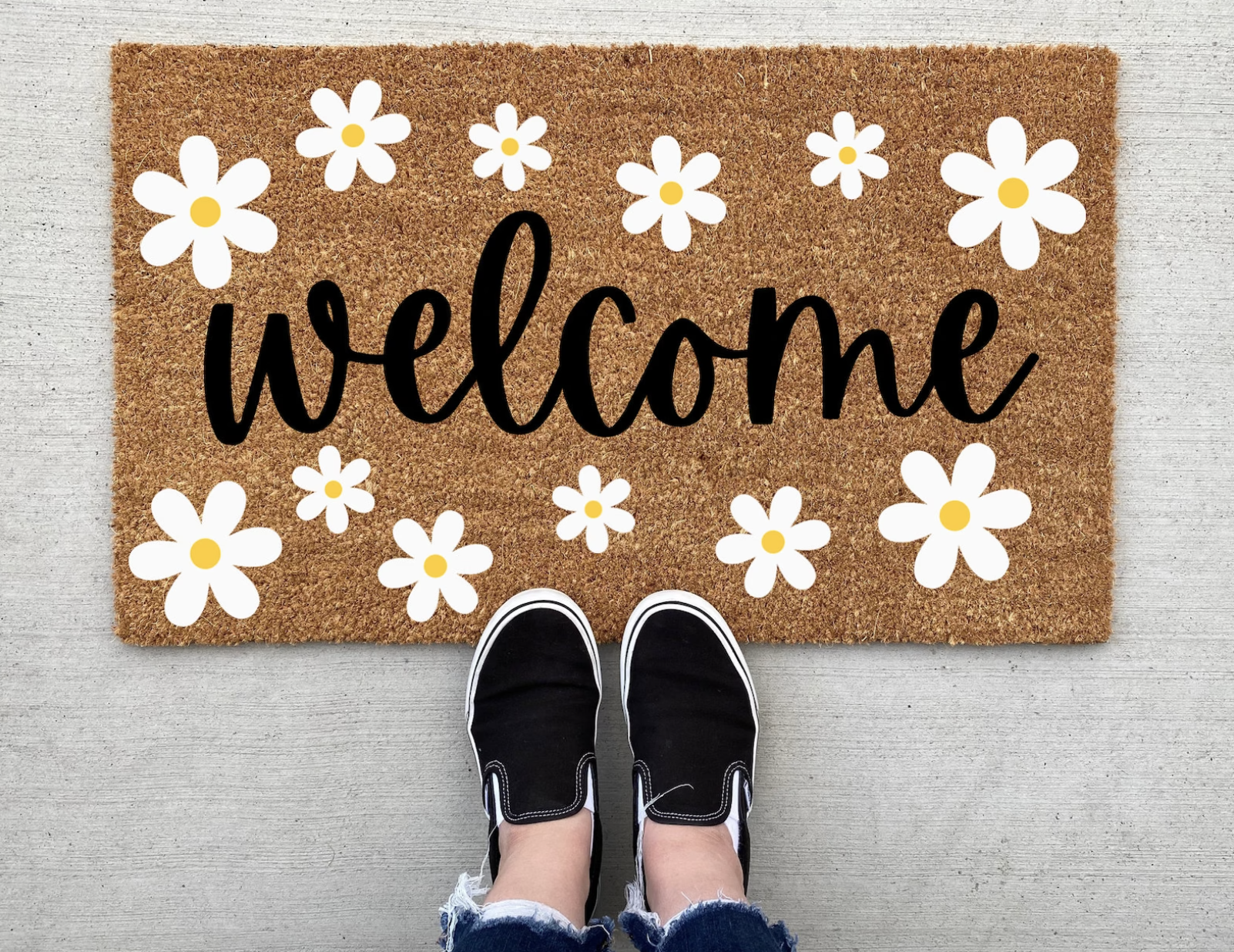 Just Gotta Look is a Lehi, Utah-based shop selling a variety of doormats. 
Get this mat from Just Gotta Look on Etsy for $38.70+ (available in three sizes).

8.
An adjustable mister you can attach to your hose to keep you cool as you lounge poolside or in your backyard. Now THIS is truly the kind of simple luxury we need during hot, humid spring days!
The mister will cool the surrounding area by 20 degrees, and it comes with an interchangeable flower-shaped misting head for a fun, whimsy detail.
Promising review: "Works exactly how I want it to. Provides a fine, cool most on the patio, allowing us to enjoy the backyard until sunset without breaking a sweat. Easy to set up. It was out of the box and cooling us off within minutes." —Debra L. Kusek
Get it from Amazon for $30.89.
9.
A side table that — surprise! — doubles as a cooler. Get this for all your spring backyard parties and all your guests will be amazed at how clever it is.
10.
A sunshade triangle if your backyard doesn't have very much shade and you want something that will cover a large area easily. Reviewers in super warm climates (think Arizona) love installing this over their pool to keep it a more comfortable temperature.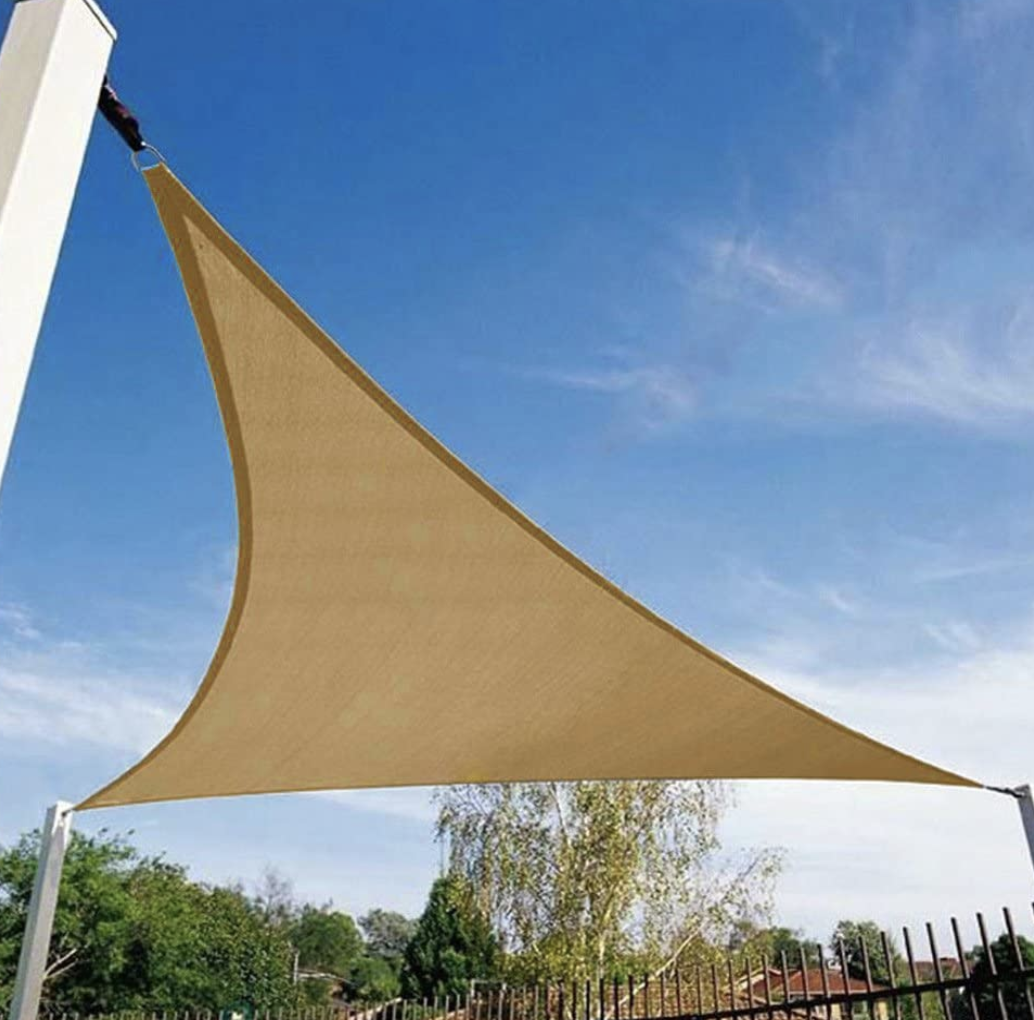 Promising review: "My pool is awesome when it gets into the hundreds of degrees here in California. We decided to grab a 20x20x20 triangle and holy cow does it do a number on the backyard! Not only does it keep my pool better-shaded, but it also keeps the sun off of my back patio during the hottest part of the day." —Amazon Customer
Get it from Amazon for $23.99+ (available in 6 sizes and 12 colors).
11.
A gorgeous solar wind chime, which actually changes colors as it blows in the wind and makes pleasant sounds. Hang this up on your front porch and marvel at it every night as you sip your herbal tea and soak in that crisp air.
Promising review: "When I first took this out of the box, I thought 'oh boy I don't know about this,' but I went ahead and hung it up outside to charge. When nighttime came, it started to light up and it is so neat. The colors gently change and none of them are muted. I am so happy with it." —Amazon Customer
Get it from Amazon for $23.99.
12.
A five-tier vertical planter if you've suddenly got a green thumb and want to take advantage of the nice weather while you can. This is perfect for anyone with limited outdoor space because it uses vertical space instead of lots of bulky flower beds or pots!
Some reviewers even swear that this planter can store up to 20 beers with ice, making it the perfect backyard BBQ ~cooler~.
Promising review: "Used for strawberry plants. The planter was extremely easy to assemble and works perfectly for my needs. Love how watering the top layers will also water the lower layers via the drainage system. Nice product!" —Fellow Amazon shopper
Get it from Amazon for $36.95 (available in five colors).
13.
A humidifier because the ugly truth of springtime is that it's also allergy season, and this will help you breathe a little better when you have a case of the constant sniffles!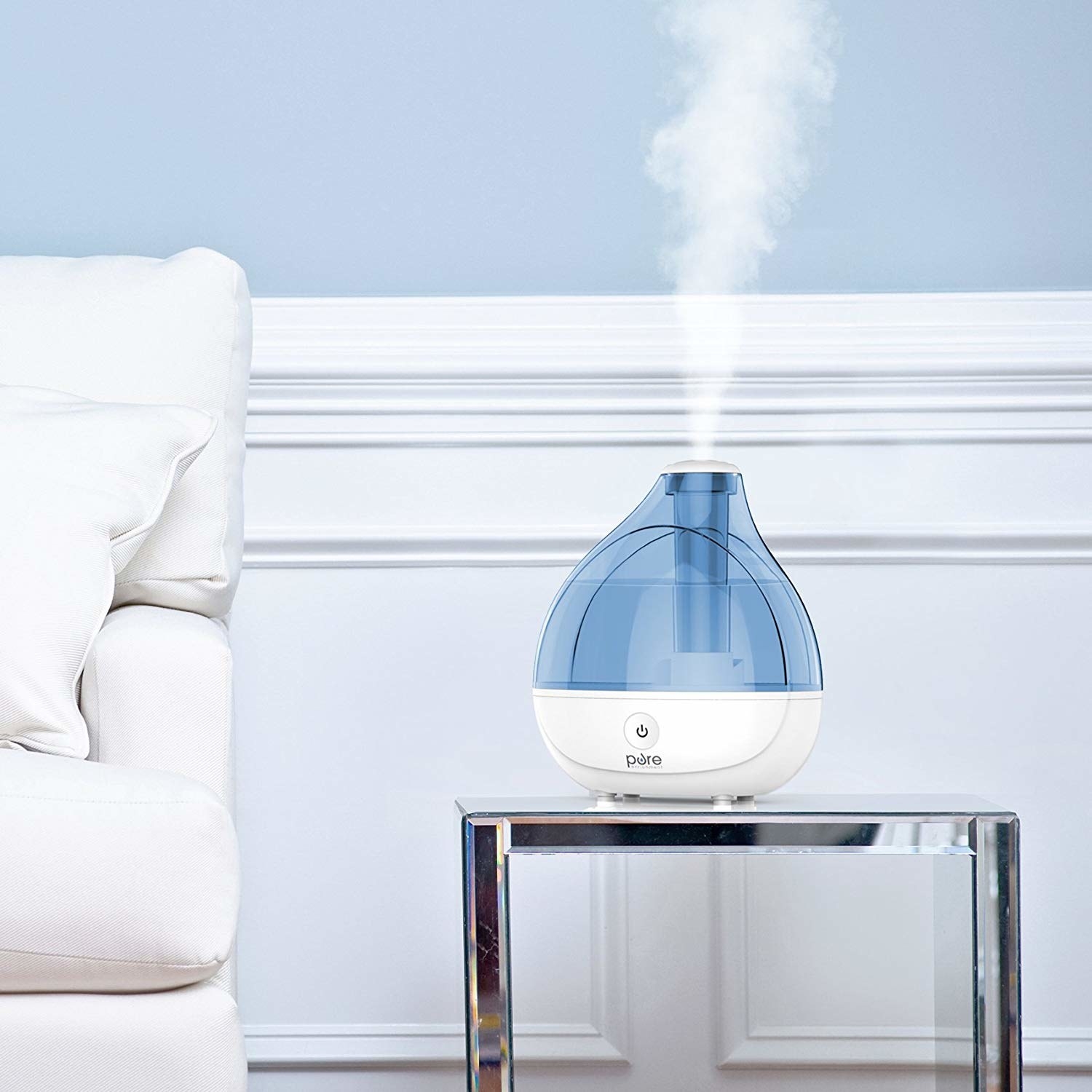 This cool mist model has a 1.5-liter tank that can put moisture into the air for up to 16 hours of continuous operation. 
Promising review: "After a winter and spring of allergies and illnesses, I am amazed out how efficiently and refreshing it is to use my Pure Enrichment MistAire Humidifier. It fits easily on my small kitchen counter and provides a wonderful cooling mist day in and day out. The reservoir is easy to fill and runs for a good long time on each refill. We are using lots of disinfectants in the kitchen and throughout the house right now and the Pure MistAire refreshes continuously throughout the kitchen and dining area. Great product for a good price!" —Robinj J.
Get it from Amazon for $39.99.
14.
A floral wall mural if all those beautiful flowers you're seeing on your daily neighborhood walks is inspiring you to give your bedroom a floral renovation. You'll be amazed how much of a wow factor this will give to any room you install it in!
Promising review: "Absolutely stunning and everything I wanted, looks way better and more vivid IRL, I almost didn't buy this because the colors look so dull and old school in the pics and I wanted more a modern glam look and this was perfect. Took two of us to install and three-ish hours with breaks. Took the advice of previous reviewers and bought premixed paste from The Home Depot. Definitely don't go easy on the paste, you need enough on the wall to make it easier to adjust and align. Don't worry too much about the bubbles, once it dries down it all adheres nicely. My guess the bubbles are excess paste. The quality of this paper is thick and not sheer at all. However I do think it will look nicer if theres a lighter color under it to begin with. For the price this is definitely worth it and then some. I would have paid much more for this had I seen it in person. You wont regret it: )" —Almond Joy
Get it from Amazon for $67.31 (check out more designs here).
15.
Globe string lights to give your porch that twinkly, cozy feel as you and your friends chat for hours on your outdoor furniture planning all the springtime activities you'll be partaking in during the next few months.
Promising review: "Absolutely love the dim feature! These bulbs are more round than oval like others, but I love them. When they are off, there's a cool yellow in them that offers a lovely aesthetic when not in use. Our pergola is wired for lights so we mounted them on and almost always dim them because the white pergola reflects the light. These lights have made our patio my new favorite spot in the house. My husband and I find the evenings so relaxing, we've literally grown closer together from spending time out under the lights in our new favorite place." —fishurmo
Get them from Amazon for $14.39+ (available in 27, 48, and 97 feet).