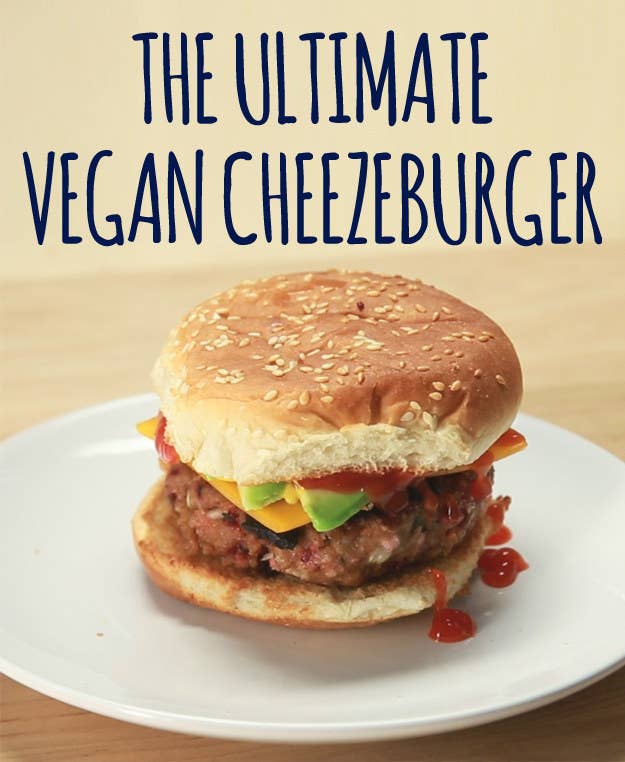 The Ultimate Vegan Cheezeburger
Makes 12 burgers
recipe by Jack Shepherd and Christine Byrne
INGREDIENTS
2 4-ounce vegetarian smoked apple sage "sausages"
2 14-ounce tubes vegetarian "ground beef"
1 small yellow onion, minced
2 tablespoons roughly chopped sage leaves
3 cloves garlic, minced
½ cup minced steamed beets (about 2 small beets)
½ cup bread crumbs
½ tablespoon kosher salt
2 tablespoons canola oil, plus more for cooking
12 slices vegan American "cheeze"
2 large, ripe avocados, thinly sliced
3 large tomatoes, thinly sliced
12 vegan hamburger buns
PREPARATION
Remove the vegetarian sausage filling from its casing and roughly chop the sausage filling. In a large bowl, combine the chopped sausage filling, "ground beef", onion, sage, garlic, beets, bread crumbs, kosher salt, and canola oil. Use your hands to mix everything together evenly. Divide the mixture into 12 equal balls, then use your hands to shape the mixture into patties roughly 1-inch thick and 4-inches wide.
Heat a thin layer of canola oil in a large skillet over medium heat. Add the patties to the hot skillet, working in batches of 3 to 4 patties at a time. Cook, without touching or moving the patties at all, until the underside is browned and starting to blacken in places, about 3 minutes. Flip the patties and top each one with a slice of vegan cheeze. Cook until both sides are slightly blackened and the patty is hot all the way through, 3 to 4 minutes more. Repeat with the remaining patties.
Serve each patty on a hamburger bun with sliced avocado, tomato, and your choice of condiments!