Here's What You Should Eat For Dinner Tonight
This easy, gluten-free baked sweet potato dinner is just as comforting as any pasta dish. Also, it tastes like bacon.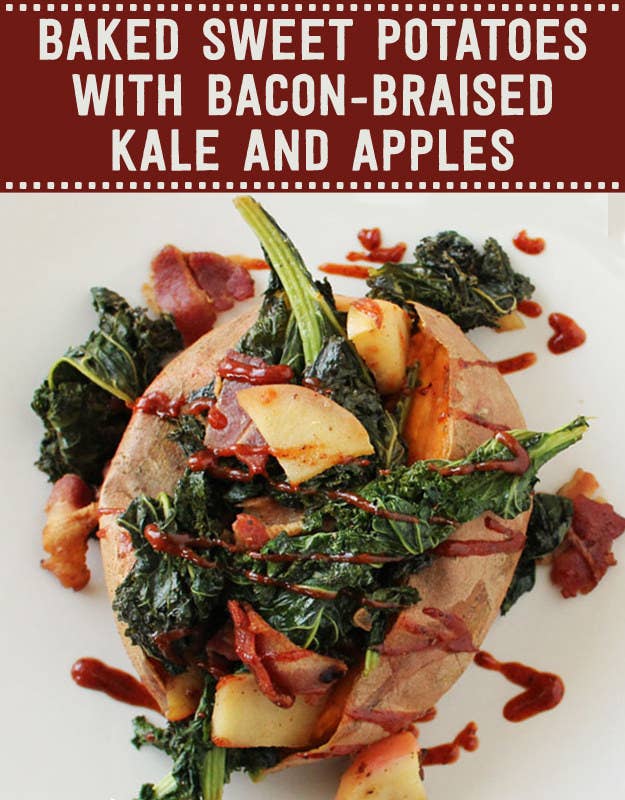 Sweet potatoes take about 50 minutes to bake in a 400° F oven, which leaves plenty of time for the kale and apples to get soft and absorb all of the bacon flavor. You'll probably have to add the kale in two batches, because there won't be enough room in the dutch oven or skillet to add it all at once. So, add half, then cook it down enough to make room for the rest.
Baked Sweet Potatoes with Bacon-Braised Kale and Apples and Spicy Ketchup
Recipe by Christine Byrne
Serves 4
INGREDIENTS
4 medium sweet potatoes
12 slices bacon, cut in 1-inch pieces
2 bunches kale
1 large apple
kosher salt and freshly ground pepper
For the spicy ketchup:
1/2 cup ketchup
2 tablespoons apple cider vinegar
1 teaspoon ground cumin
1/2 teaspoon ground cayenne pepper
PREPARATION
Preheat oven to 400°F. Pierce each sweet potatoes a couple of times with a fork or knife. When the oven is hot, place the sweet potatoes on a large rimmed baking sheet lined with parchment paper or foil. Bake until tender and soft to the touch, about 50 minutes.
Meanwhile, rinse and dry the kale, then trim about 1-inch off the stems. cut the leaves into large (roughly 4-inch) squares. It's OK to keep the ribs in and some stem — you'll be braising the kale for a pretty long time, so they'll get soft and won't taste fibrous and woody.
Heat a medium dutch oven (or a large cast-iron skillet) over medium heat. Add the chopped bacon, and spread it evenly over the bottom of the skillet. Cook bacon, stirring occasionally, until most of the fat has rendered out and the bacon is just starting to crisp. Add half of the chopped kale and cook over medium heat, stirring often, until the kale has wilted and shrunk down to about half its volume, about 3 minutes. Add the rest of the chopped kale and continue to cook over medium heat until all of the kale is wilted, about 3 minutes more.
Cut the apple into slices about 1/4 inch thick, and then cut each slice into bite-sized pieces. (It's better to cut the apple right before you add it, so that it won't turn brown.) Add the apple pieces to the skillet, and stir everything together just to combine. Turn the heat to medium-low, and cook until the apples and kale stems are very soft, 10-15 minutes.
Meanwhile, make the spicy ketchup: Combine ketchup, apple cider vinegar, ground cumin and ground cayenne in a small mixing bowl. Stir everything together with a fork, just to thoroughly combine.
When the kale mixture is cooked, turn off the heat but leave everything in the skillet. When the sweet potatoes are cooked, let them sit on the baking tray for a few minutes to cool slightly, and reheat your kale mixture over medium-low heat if it's cooled down too much.
To serve, make a large split from top to bottom down the middle of each sweet potato, then put each one on a plate. Divide the kale mixture evenly among the four sweet potatoes, and garnish with as much or as little spicy ketchup as you want.