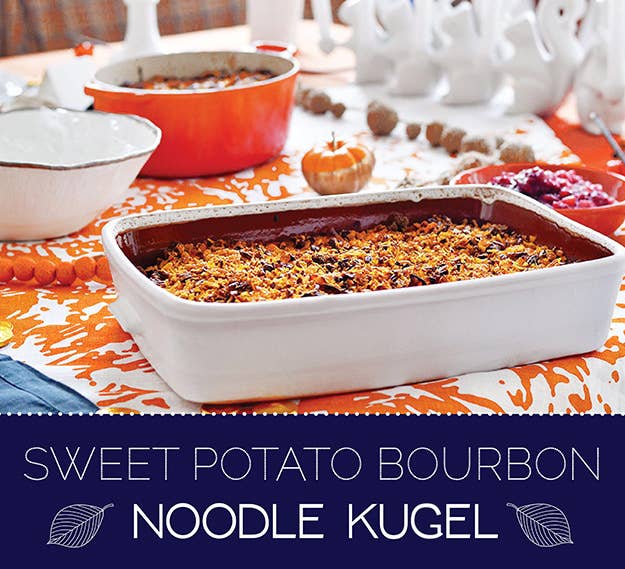 PART I: Sweet Potato Puree
You can make the puree up to a day in advance and keep it in the fridge until you're ready to make the rest of the casserole. Find exact amounts in the full recipe at the bottom of this post.
Put four sweet potatoes on individual squares of aluminum foil.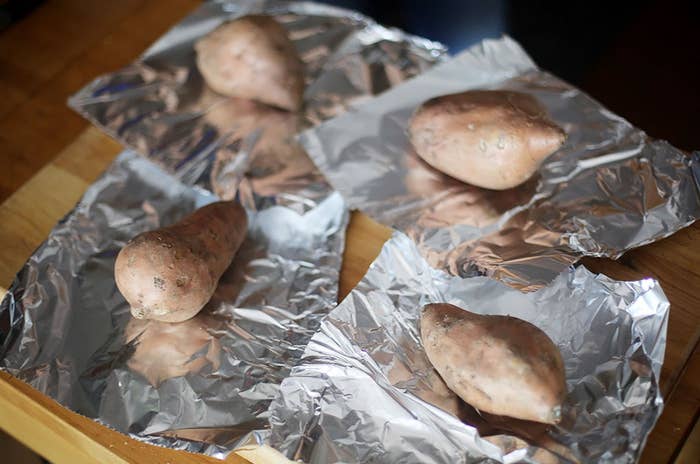 Wrap them up and roast on a baking sheet in a 400 degree oven until soft, about an hour.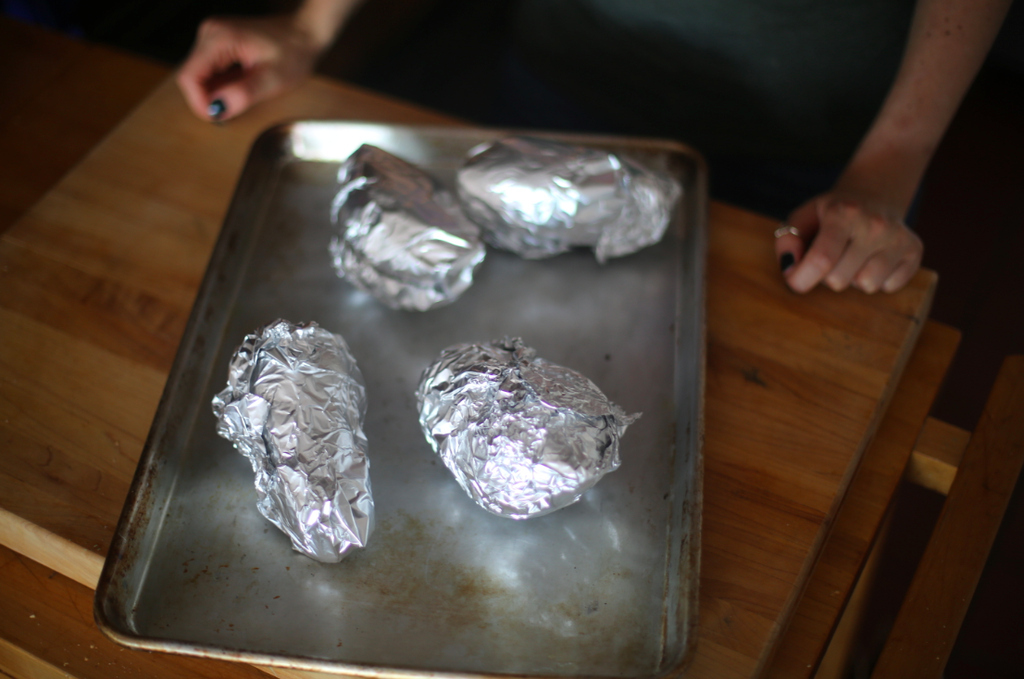 Let the potatoes cool inside the foil for at least an hour, then peel them by hand.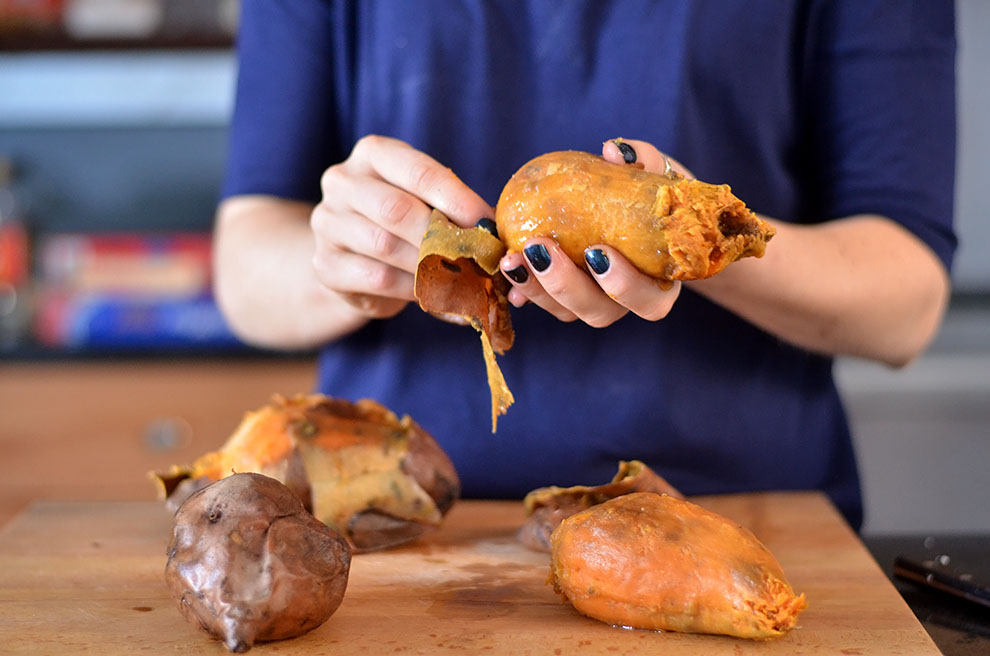 Cut peeled potatoes into 1-inch slices.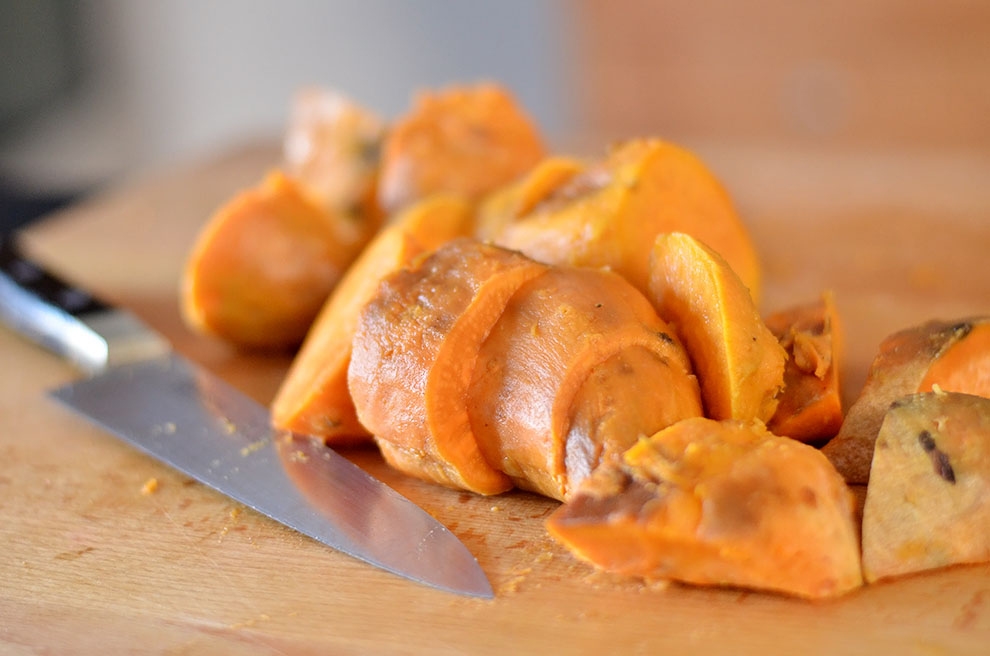 Put sliced potatoes into a food processor with the regular blade attachment, then add bourbon.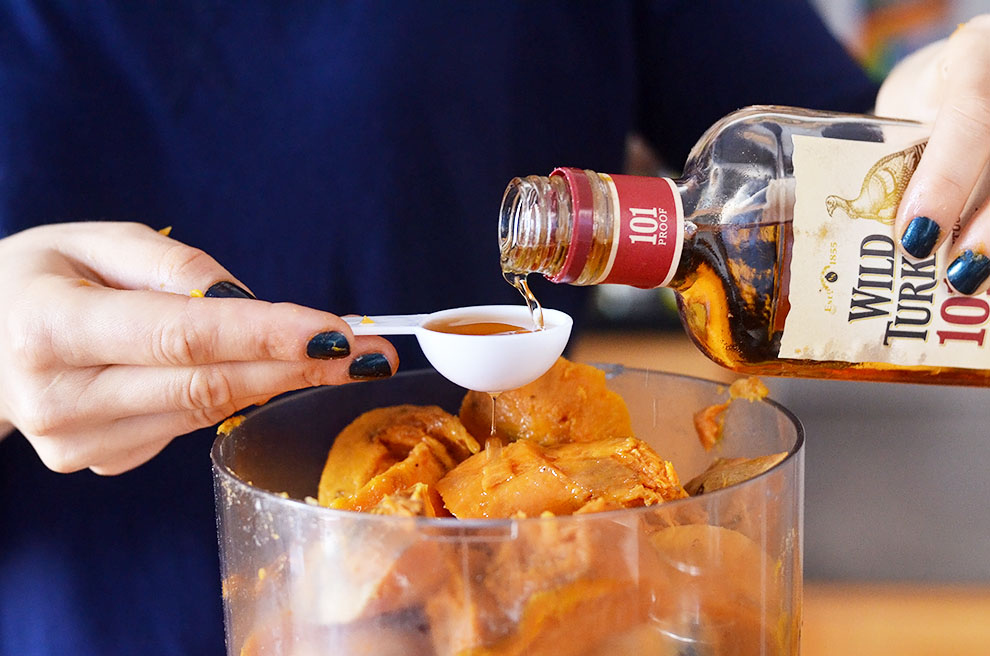 Puree until there are no lumps.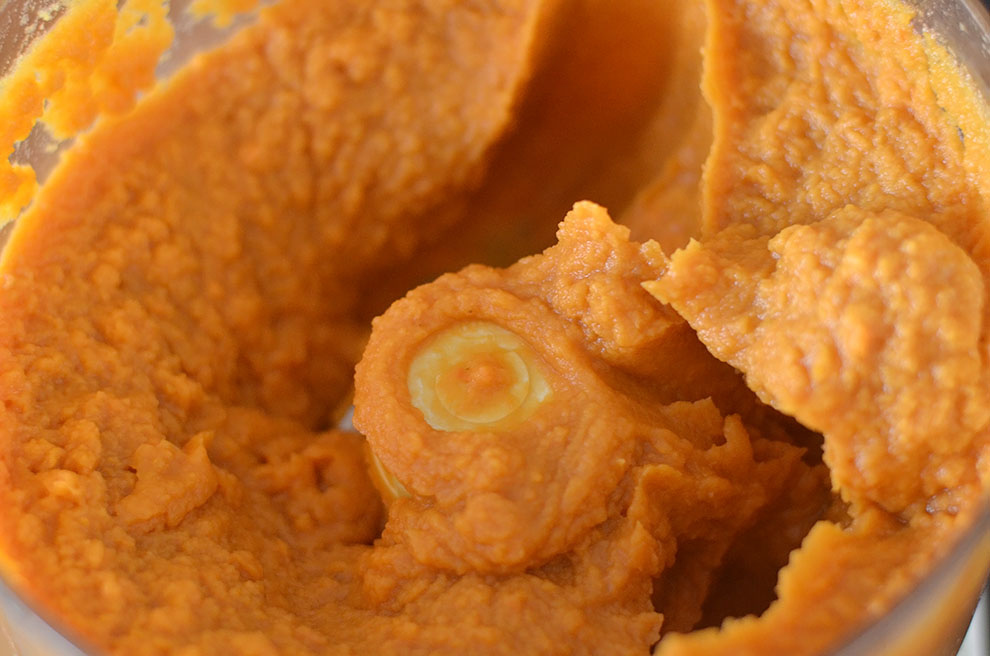 You will need: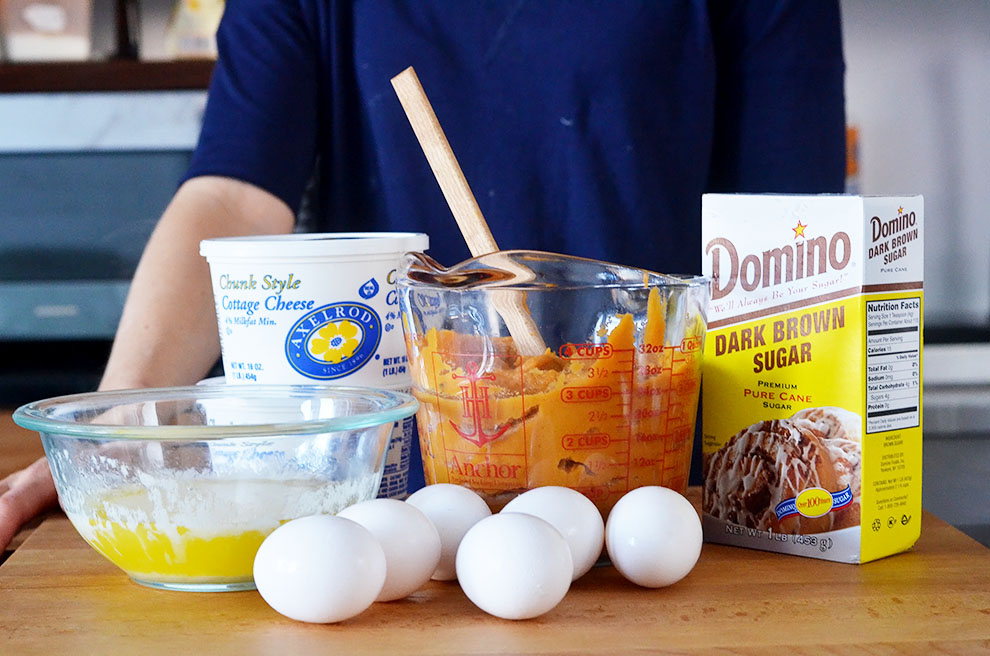 Boil egg noodles in a pot of salted water until they're almost cooked (about 2 minutes less than the package directions).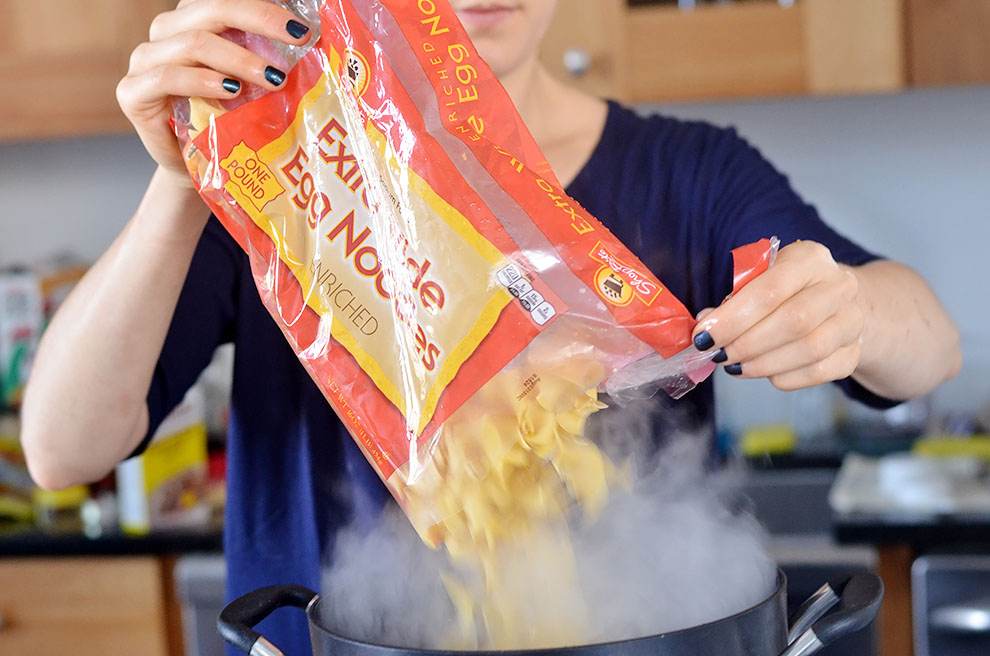 Strain noodles into a colander in the sink, then run cold water over them.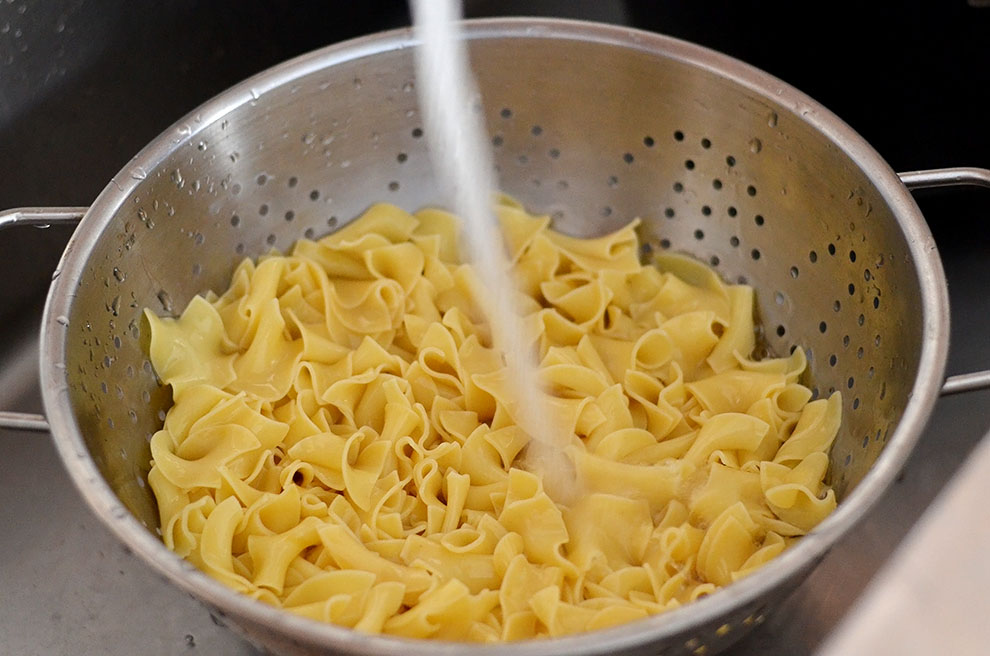 In a very large mixing bowl, beat eggs with a whisk until just combined.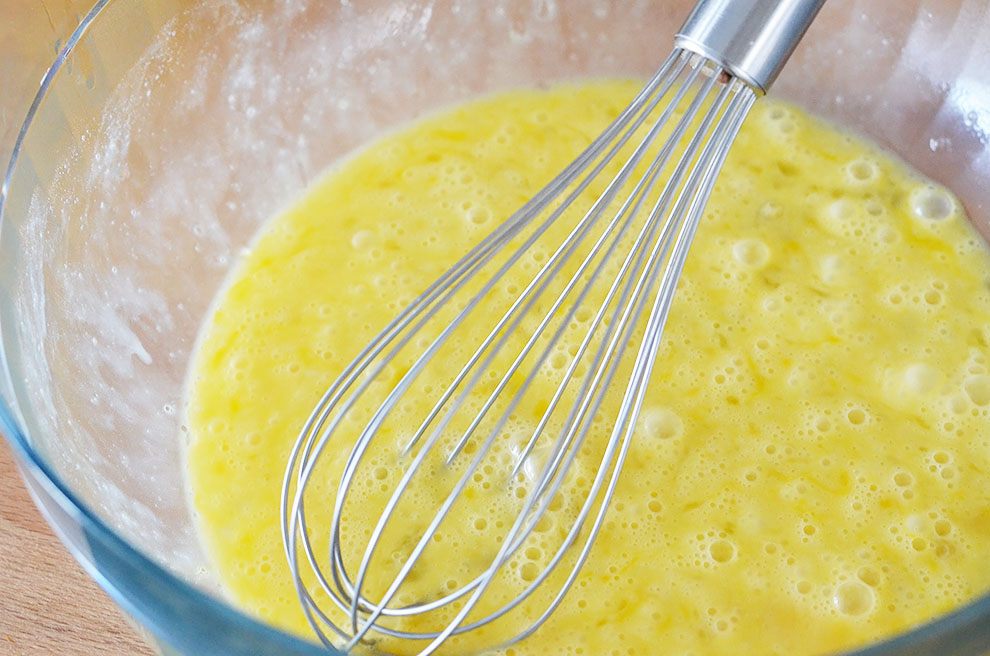 Add cottage cheese, melted butter, sweet potato puree, sugar, and a teaspoon of salt.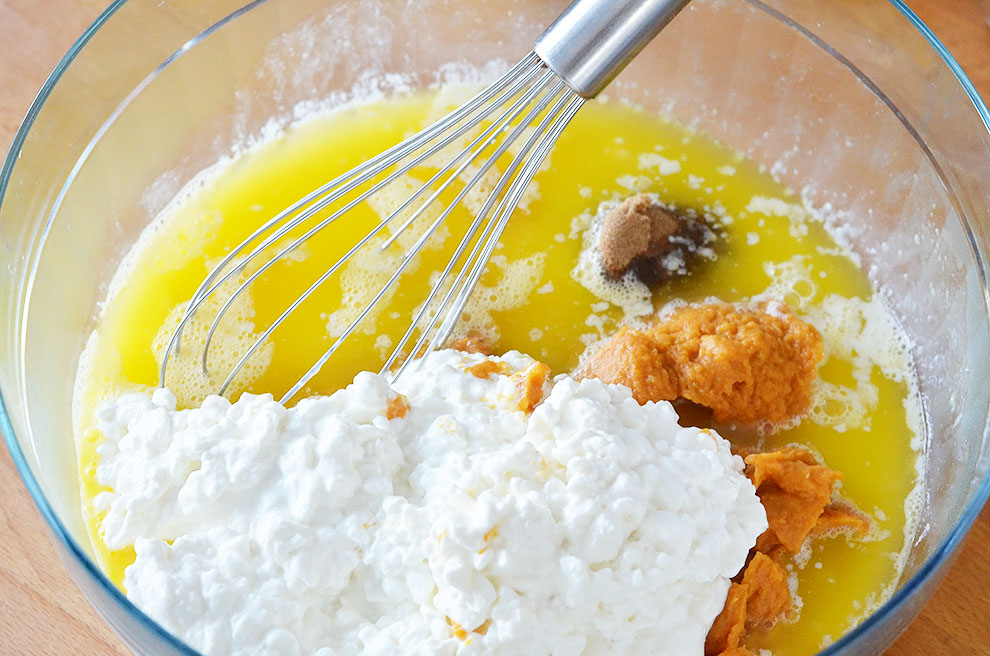 Whisk until just combined.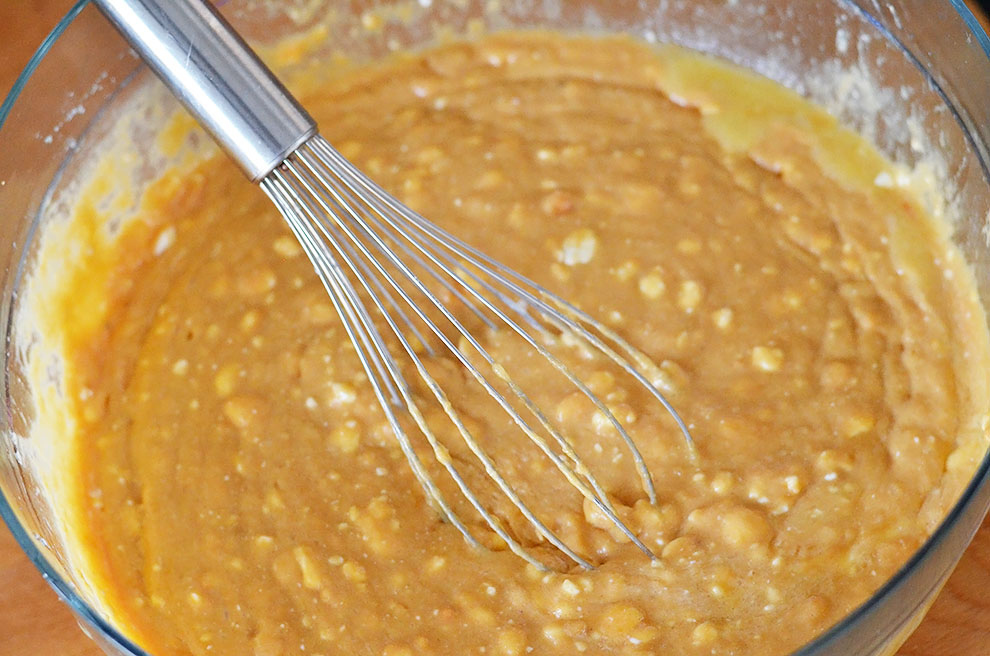 Add noodles, and mix with a rubber spatula until the noodles are fully coated with the sweet potato/cottage cheese mixture.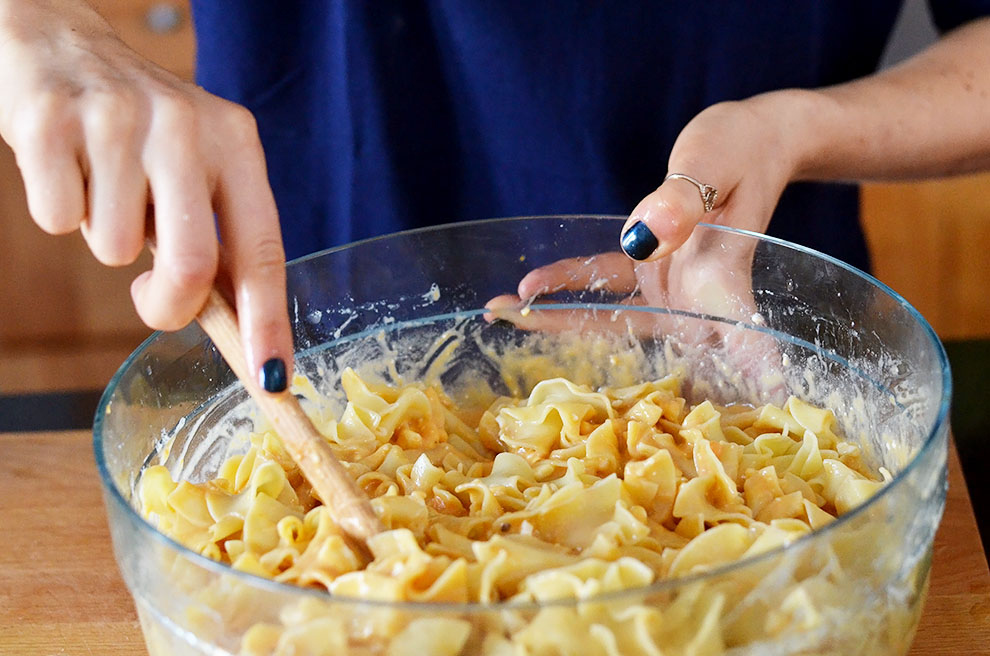 Pour into a 9x13" baking dish, flattening the top with a spatula. Bake, uncovered, in a 350 degree oven for 50 minutes.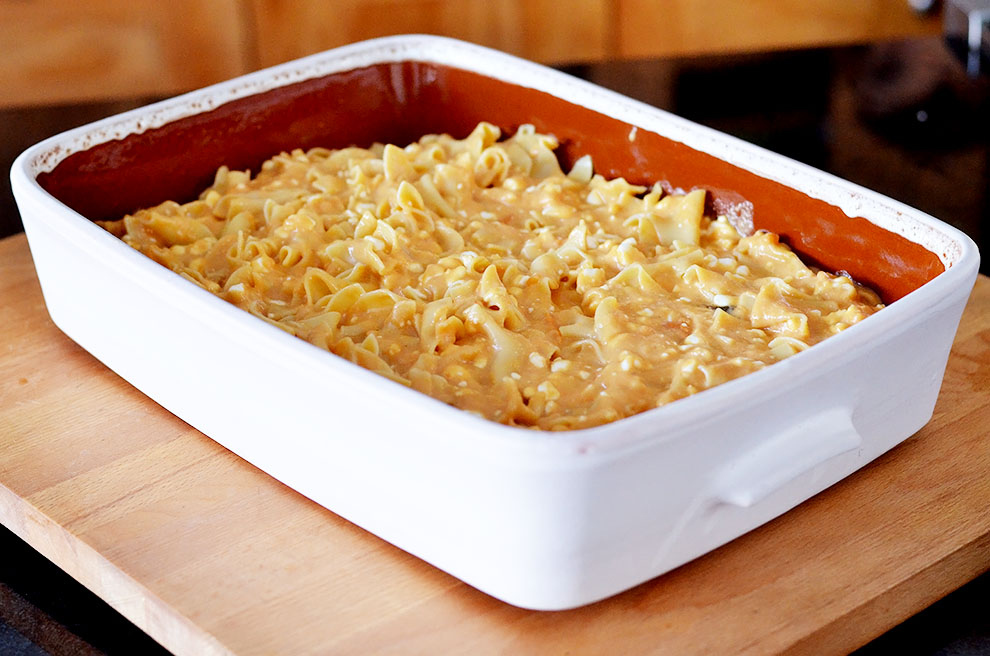 PART III: Make the pecan topping.
Coarsely chop pecans.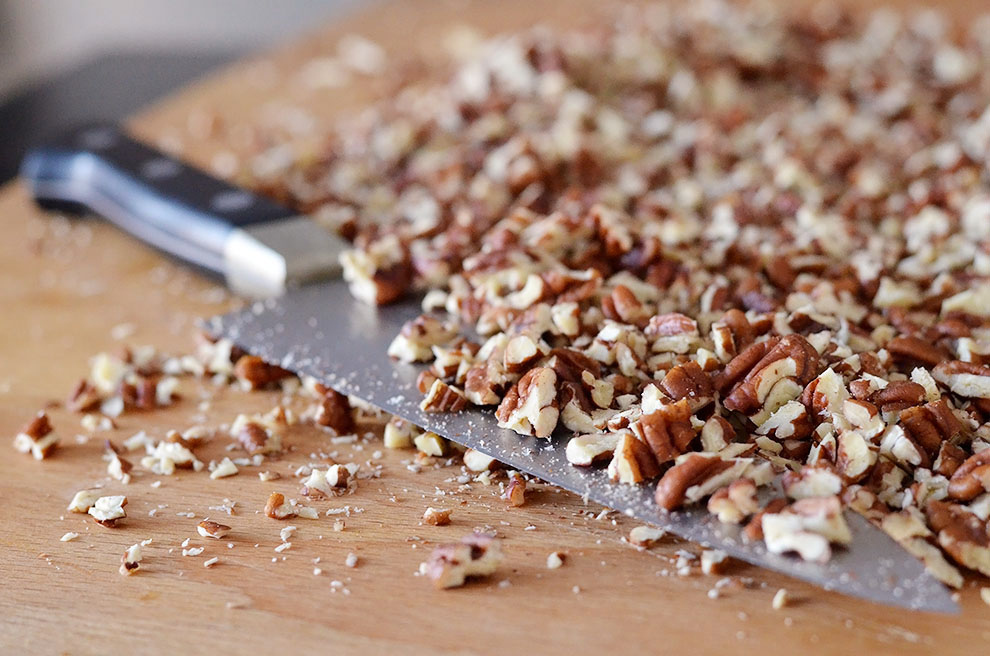 Put cornflakes in a sealed, gallon-sized Ziploc bag, and crush them by hand.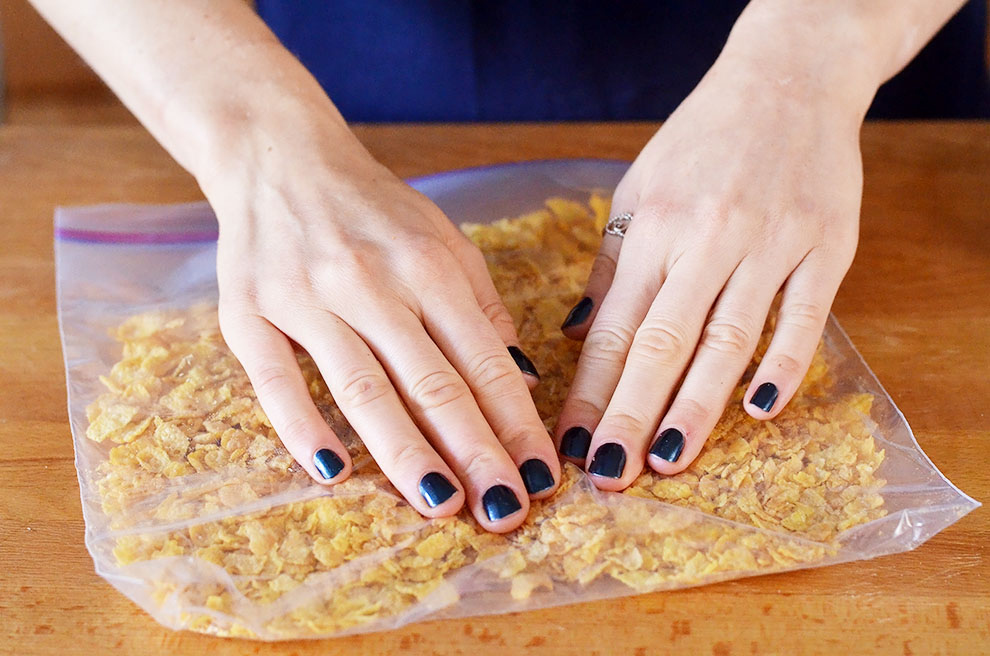 They should look like this (slightly crushed, but not powder):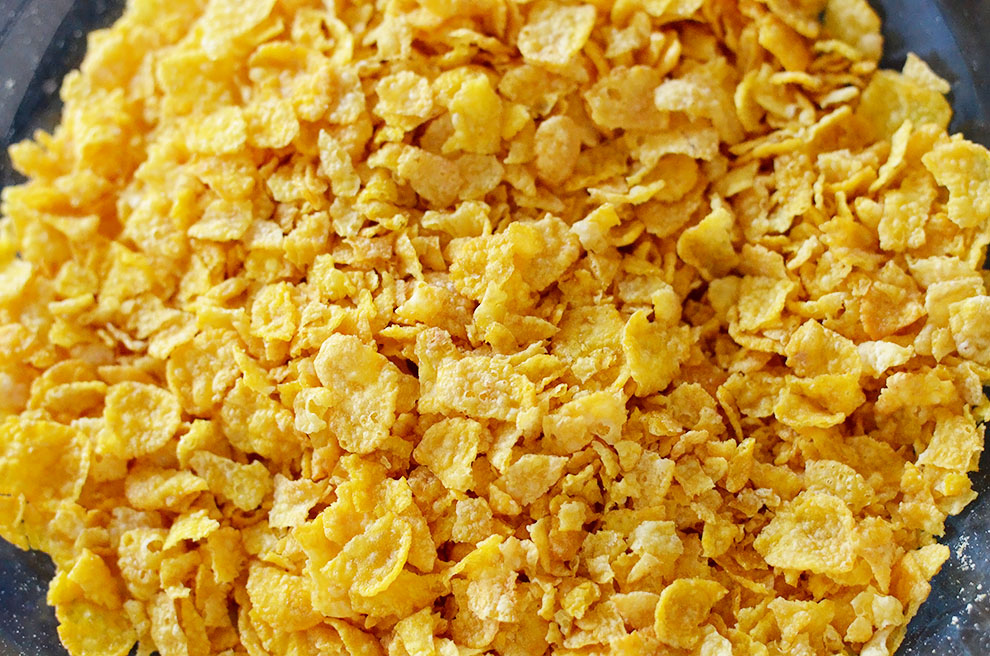 Assemble all filling ingredients.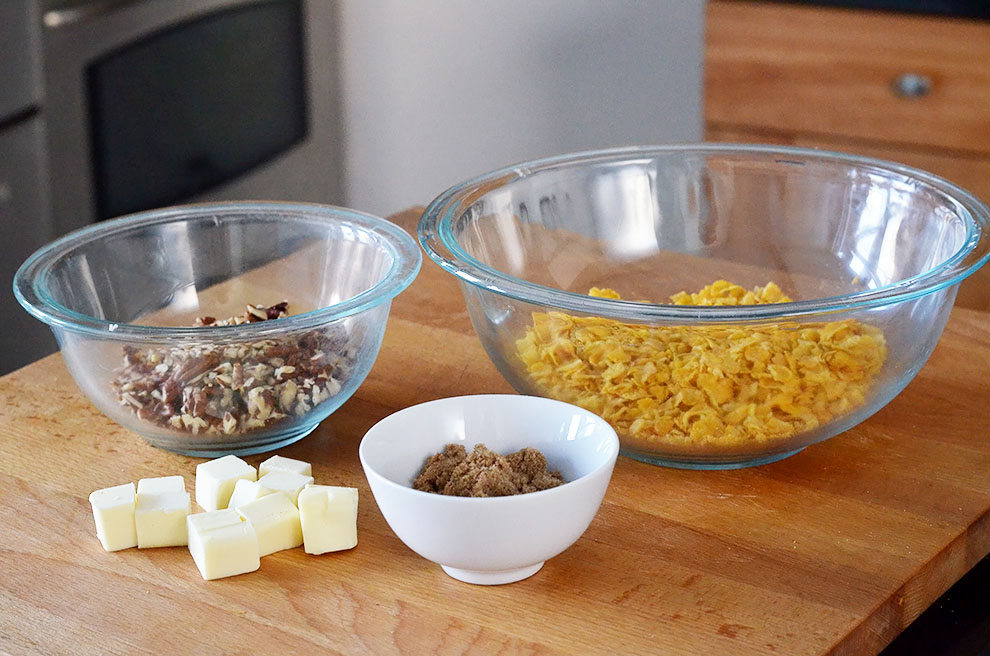 Turn off the heat and immediately add sugar, cornflakes, and pecans.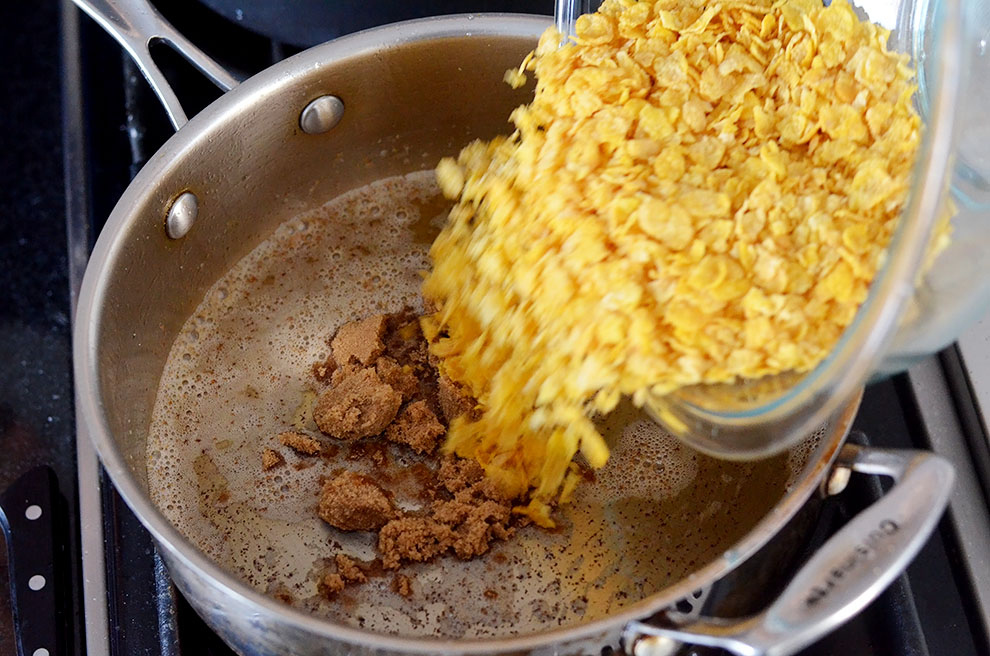 Mix with a rubber spatula until just combined, then set aside.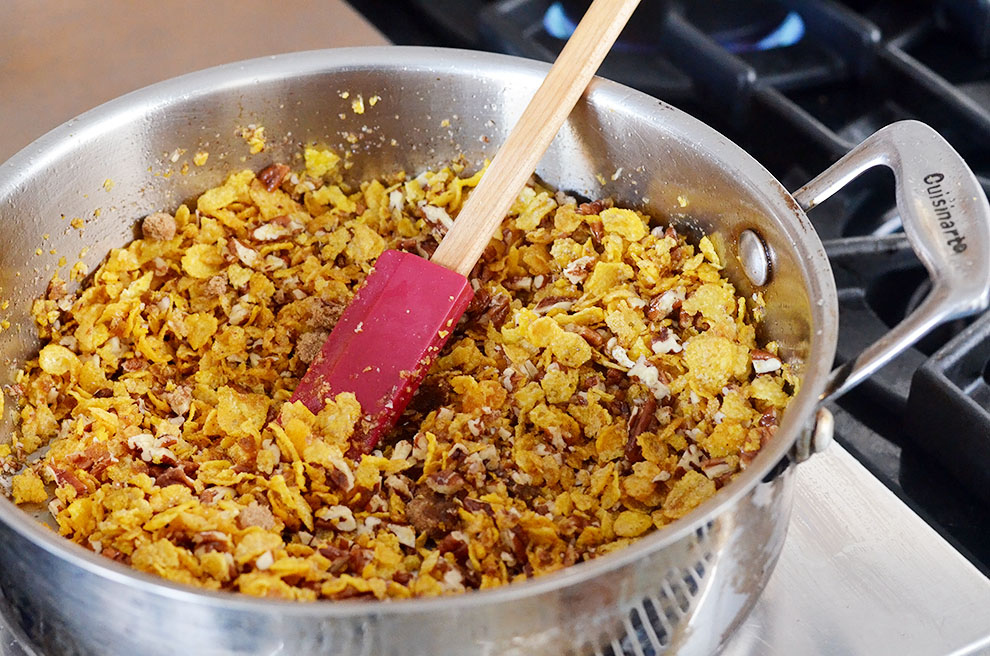 Take your kugel out of the oven after 50 minutes.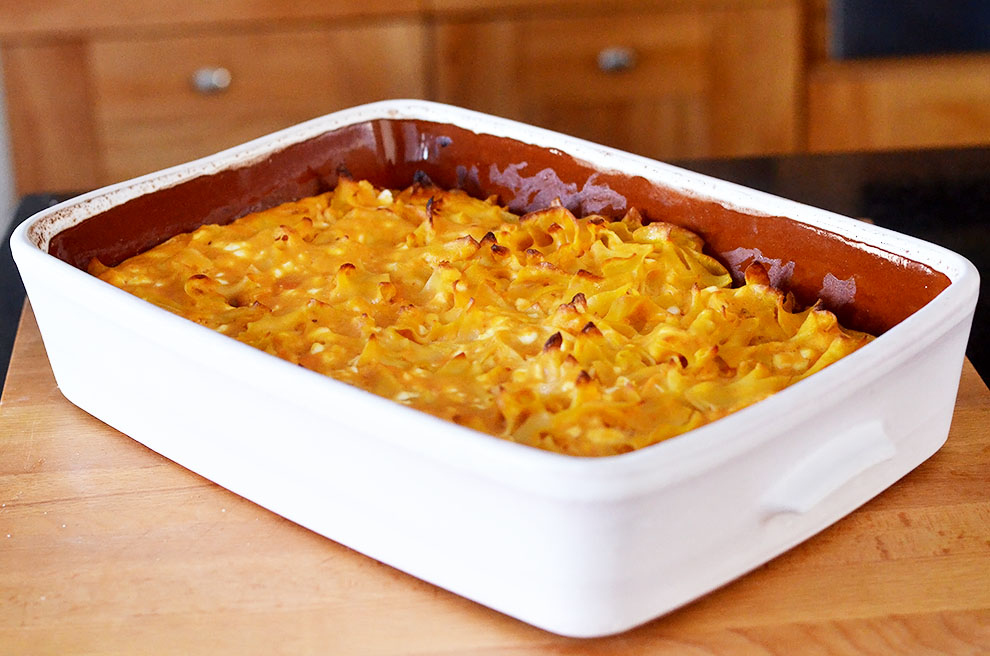 It's okay if it's a little bit browned, but if you notice it getting too dark during baking you can cover it with foil.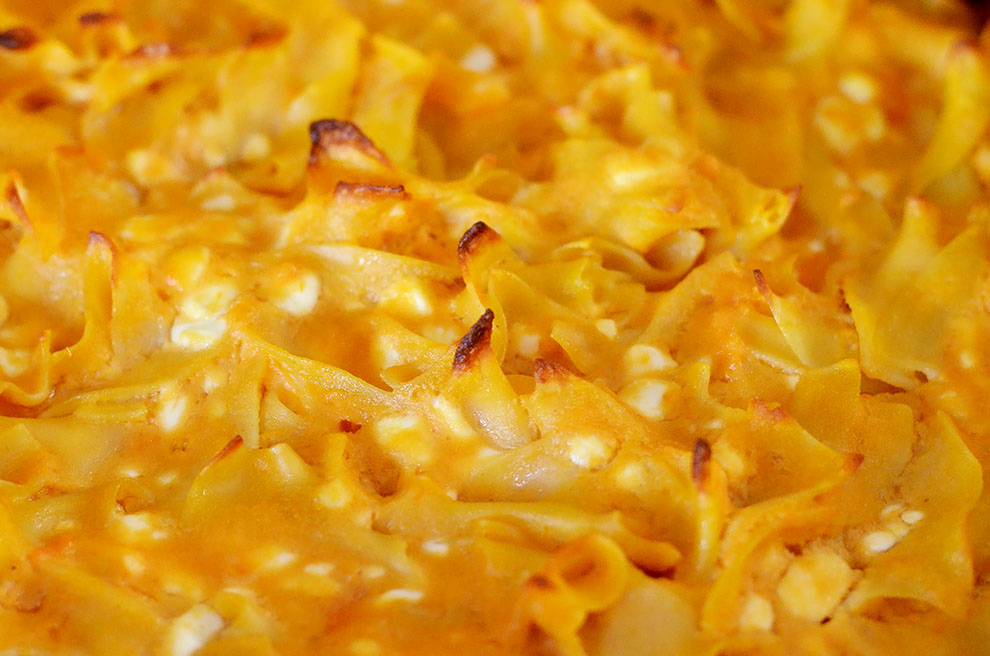 Sprinkle your pecan cornflake mixture on top.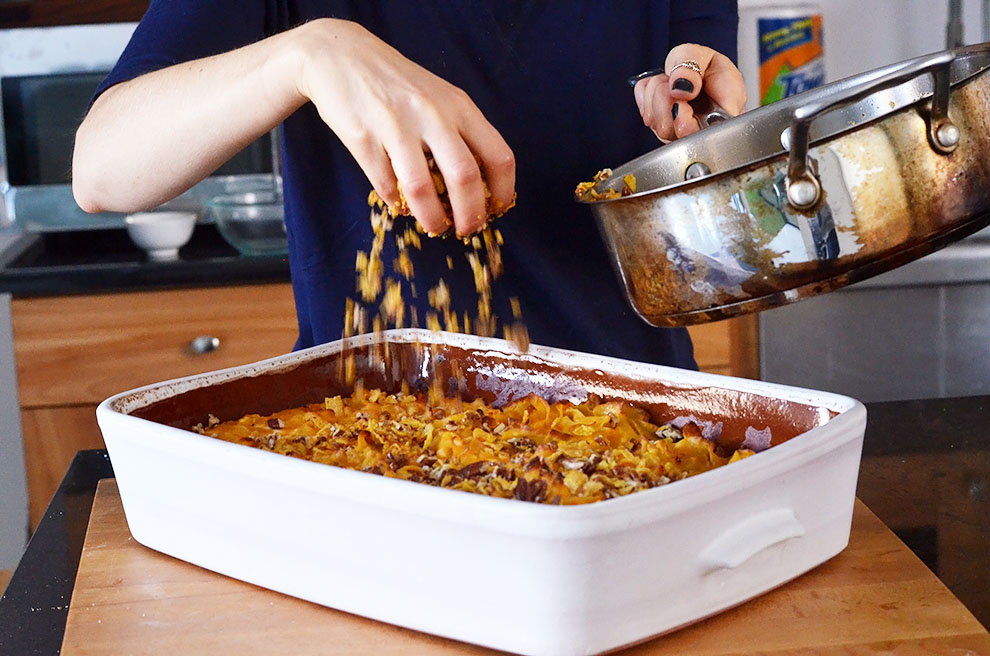 It should cover the kugel completely and evenly.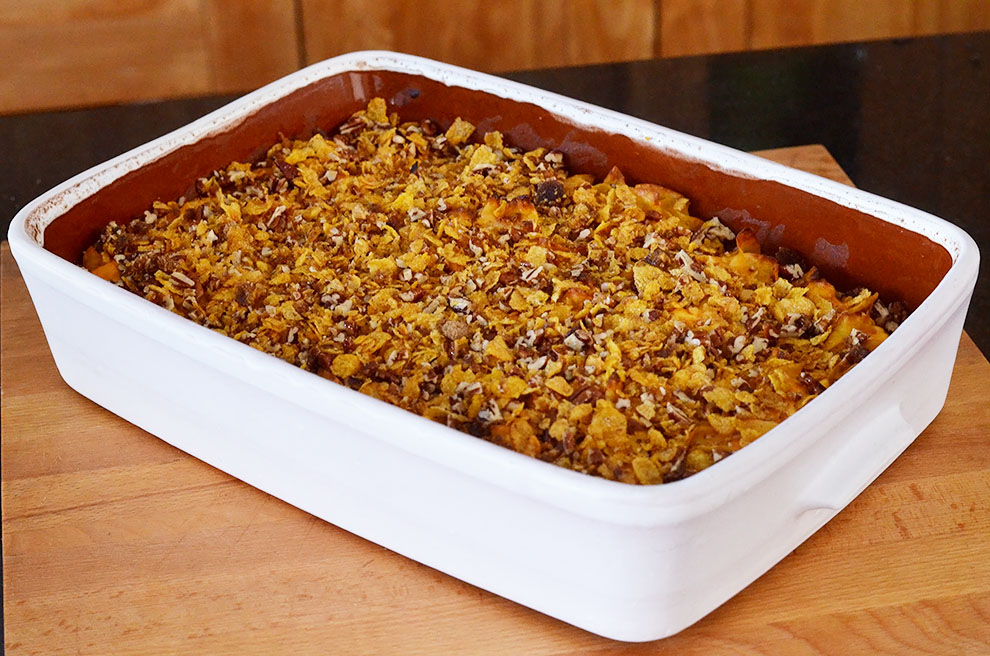 Bake, uncovered, for another 30 minutes, until the filling is firm and the topping is golden brown.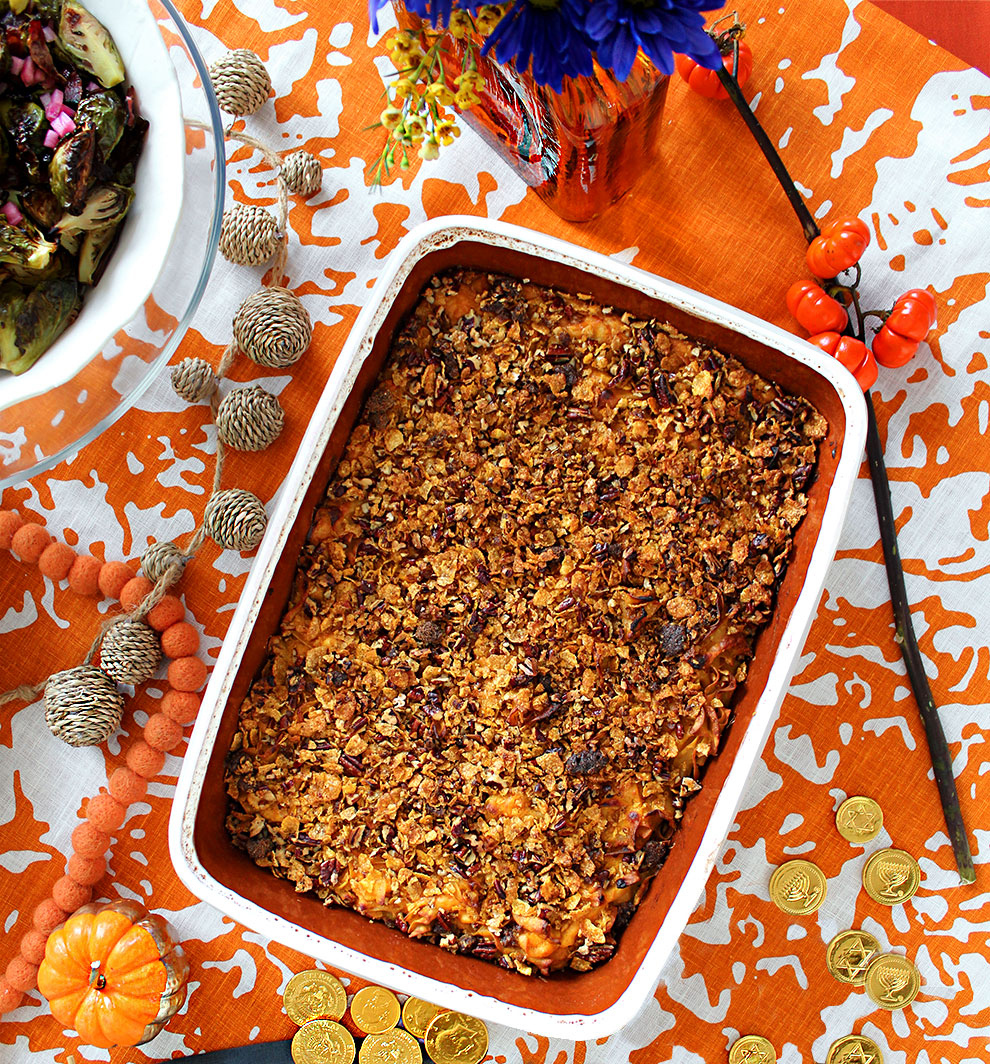 SWEET POTATO BOURBON NOODLE KUGEL
Serves 10-12
INGREDIENTS
Casserole
4 medium sweet potatoes (about 1.5 lbs)
4 tablespoons bourbon
one 1-lb package wide egg noodles
6 eggs
1/4 cup brown sugar
1 1/2-lb full-fat cottage cheese
1 cup unsalted butter (2 sticks), melted
1 teaspoon kosher salt, plus more to salt water for noodles
Topping
2 cups corn flakes
1 cup whole shelled pecan halves, coarsely chopped
1/4 cup unsalted butter (½ stick)
1/4 cup brown sugar
Special Equipment
Food processor or blender
9x13-inch baking dish
Aluminum foil
Gallon-sized Ziploc bag
PREPARATION
Preheat oven to 400°F.
Wrap sweet potatoes individually in foil and roast in the oven until soft and completely cooked through, about 1 hour and 10 minutes. Let cool completely. Peel skin off sweet potatoes using your hands (and a table knife, if it helps), then puree with the bourbon in a blender or food processor until completely smooth. This should yield about 3 cups of puree. If you yield more than 3 cups, set the excess aside for another use or discard. (If you want, you can do this ahead and refrigerate the puree for up to 2 days.)
Lower oven to 350°F.
In a pot of heavily salted water, cook the egg noodles al dente (about 5 minutes, or 2 minutes less than the package directions say). Pour into a colander to drain, running cold water over the noodles until they are cool to stop the cooking. Drain thoroughly.
In a very large bowl, beat eggs, then add brown sugar and beat just until combined. Add cottage cheese, melted butter, and the sweet potato puree, then mix with a rubber spatula until combined. Finally, add salt and the cooked noodles, and mix with a spatula until combined.
Pour noodle mixture into a 9x13-inch baking dish. Bake uncovered for 50 minutes (if noodles start to brown during this time, cover your baking dish with foil).
While kugel is baking, prepare the pecan topping: First, put the cornflakes in a Ziploc bag and crush with your hands. The cornflakes should be in small pieces, but not dust. Next, brown butter in a medium saucepan. When butter is brown, turn off your head and add sugar, chopped pecans and crushed cornflakes and stir with a spatula until just combined.
After it has baked for the full 50 minutes, remove kugel from the oven and sprinkle pecan mixture on top in an even layer. Bake, uncovered, for another 30 minutes, or until set. If pecans start to brown before kugel is set, cover with foil.
Serve immediately.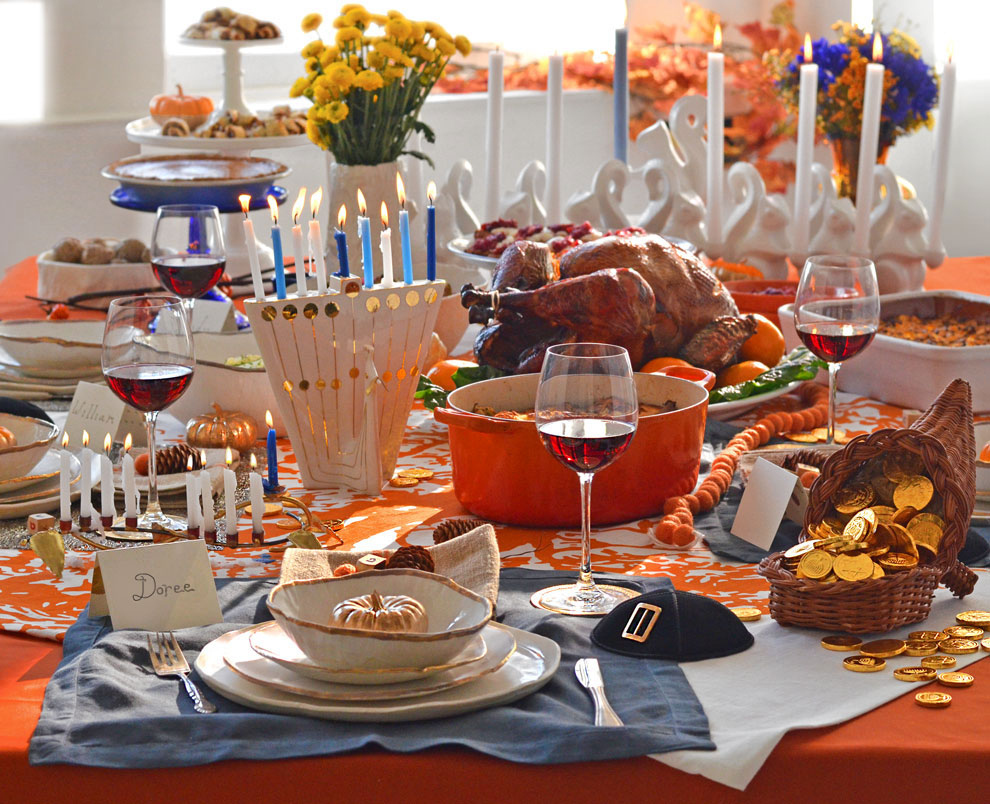 Planning on cooking this recipe, or another one from our Thanksgivukkah menu?
That's awesome! Take a picture of your finished dish, post it to Instagram, and tag it #Thanksgivukkah. The BuzzFeed food editors want to know how things turn out in your home kitchen. And, who knows? Maybe your photo will end up in a BuzzFeed post!