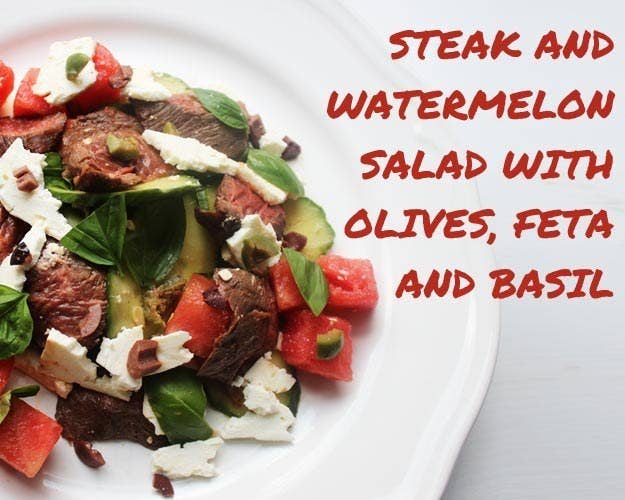 Steak and Watermelon Salad With Olives, Feta, and Basil
Recipe by Christine Byrne
Serves 4
Ingredients
1 tablespoon canola oil
1 1/2 pounds skirt steak (preferably a single filet)*
Kosher salt and freshly ground pepper
4 cups watermelon cut in 1-inch cubes
2 large English cucumbers, cut in rough 1-inch cubes
1/2 cup pitted kalamata olives, chopped
4 ounces feta, thinly sliced
1/4 cup fresh basil leaves, roughly torn
1 lime, juice and zest
*Note: Hanger steak or flank steak make great, similar substitutes to skirt steak. Really, though, any steak will work.
Procedure
1. Heat canola oil in a large cast iron skillet over high heat. Meanwhile, season skirt steak liberally with salt and pepper on both sides. When oil is extremely hot and about to smoke, lay the steak down in the middle of the skillet. Sear until a good crust begins to form on the underside of the steak, about 2 minutes. Flip steak and cook until a crust forms on the other side and the steak is cooked to medium rare (135°F), about 2 minutes. Transfer steak to a cutting board and let it rest for at least 10 minutes.
2. While the steak is resting, combine watermelon, cucumber, olives, feta, and basil in a large mixing bowl, season with salt a pepper, and toss to combine. Add the lime juice and zest, and toss to coat evenly.
3. When the steak has rested, cut it into thin slices, against the grain. Cut each slice into two to three pieces, so that the steak is in bite-sized squares.
4. To serve, divide the salad mixture among four plates, and top each with equal amounts of steak.