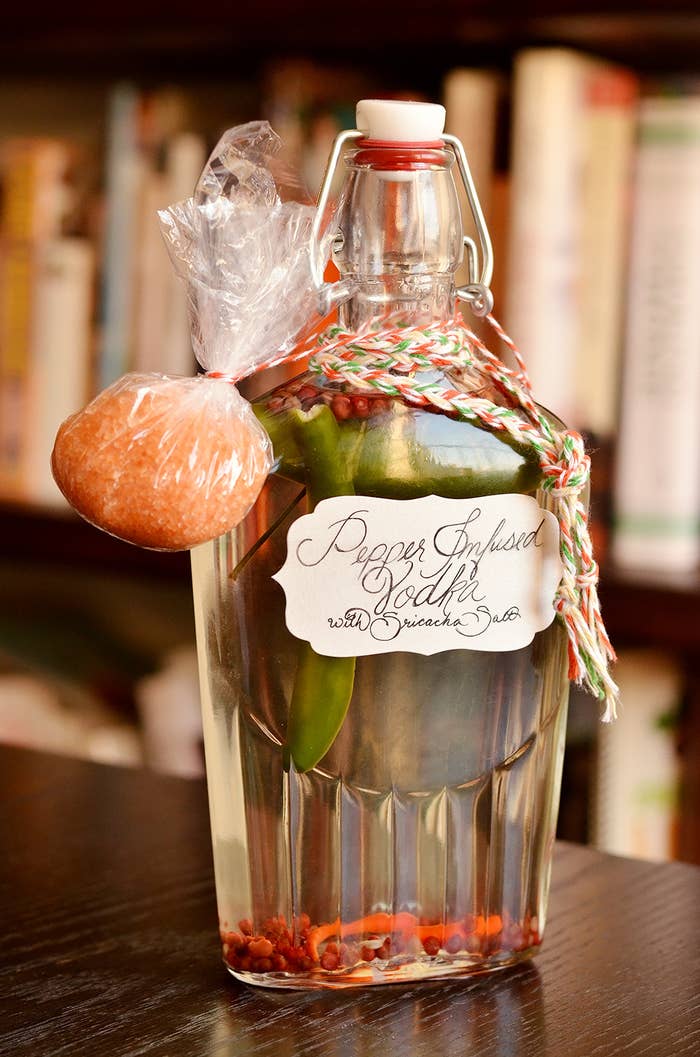 Spicy Pepper Vodka and Sriracha Salt
Makes 750ml vodka, enough to fill 2 17-oz swing flask bottles (pictured here)
Makes 4 teaspoons salt
INGREDIENTS
For vodka
2 small fresh red chilies
1 small green chili
1 jalapeño chili
1 tablespoon pink peppercorns (can substitute black peppercorns)
1 750 mL bottle good-quality vodka
For salt
4 teaspoons coarse sea salt
½ teaspoon Sriracha
Special equipment
Rubber gloves (optional) for handling chilies
Funnel
Baking sheet
Parchment paper
PREPARING THE GIFT
For vodka
Wearing rubber gloves to protect your hands from the heat of the chilies, cut all chilies in half, lengthwise, then use the tip of your knife to scrape out the seeds. Discard the seeds, and divide the halved chilies evenly between the two 17-oz bottles. Add 1/2 tablespoon pink peppercorns to each bottle, then funnel the vodka in, and close the bottle.
For sriracha salt
Preheat oven to 200 degrees and line a baking sheet with parchment. In a small mixing bowl, combine salt and sriracha and mix until the sriracha evenly coats the salt, and the salt is a light pink. Spread the salt over the lined baking sheet, and place in the 200 degree oven for about an hour, until the mixture is completely dry. Let cool, and store in a ziploc bag.
Divide sriracha salt into 2 small plastic baggies, or make two small pouches out of plastic wrap, and tie one pouch to each gift bottle with twine or ribbon. Salt will keep for up to 2 months, and vokda will keep indefinitely.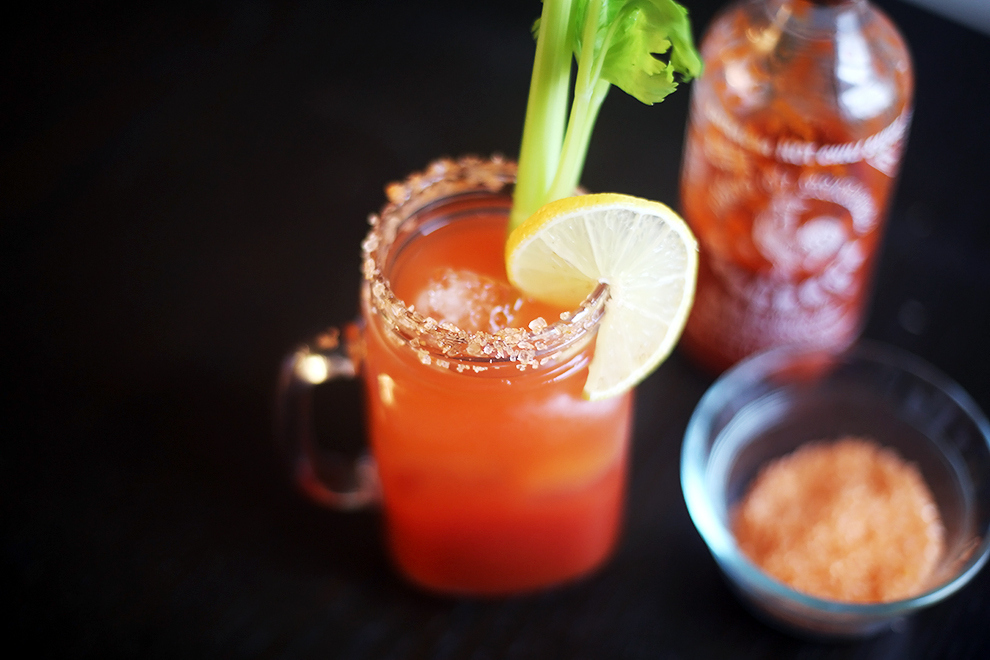 Directions to include with gift:
How to Make A Spicy Bloody Mary
Makes 1 drink
You will need:
Sriracha Salt from gift
2 ounces Spicy Pepper Vodka from gift
4 ounces tomato juice
1/2 tablespoon lemon juice
1 splash Worcestershire
Optional: 1 teaspoon horseradish, stalk of celery for garnish, salt and pepper
Special equipment:
cocktail shaker
Preparation
Pour a spoonful of sriracha salt on a plate. Rub cut lemon on the rim of a Collins glass, then dip the rim of the glass into the salt to coat. Squeeze the liquid out of the horseradish if using, then shake vodka, tomato juice, lemon juice, worcestershire and horseradish with cracked ice in a chilled cocktail shaker. Strain into a Collins glass with 2 or 3 ice cubes in it; add a pinch of salt and a grind or two of fresh pepper, to taste. Garnish with a stalk of celery.
Download a PDF of directions to include with gift: