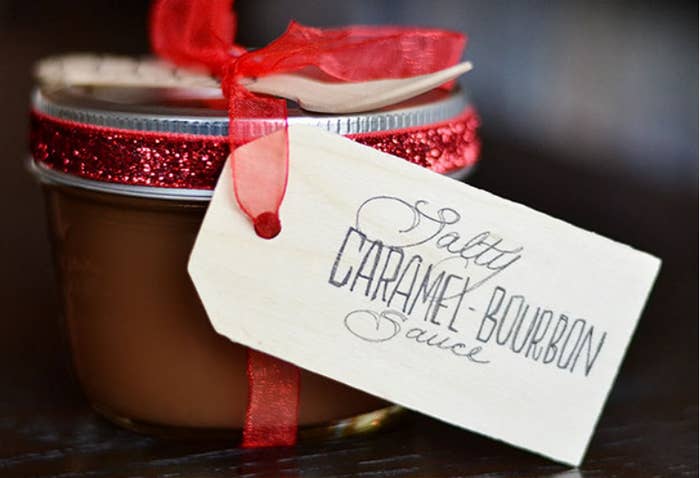 Salty Caramel-Bourbon Sauce
Makes 2 cups, enough to fill 2 8-oz jars (pictured here)
INGREDIENTS
1 cup granulated sugar
5 tablespoons bourbon, divided
½ cup heavy cream, heated
6 tablespoons unsalted butter, cut into six cubes, at room temperature
½ teaspoon kosher salt
1 teaspoon vanilla extract
Special equipment
Pastry brush
PREPARATION
In a medium sauce pot, heat sugar and 4 tablespoons bourbon over medium-low heat, stirring constantly, until sugar dissolves and the mixture is smooth. Increase heat to medium and stop stirring. The mixture should come to a boil. Boil for 6-8 minutes, swirling the pot every 30 seconds and wiping down the sides of the pot with a wet pastry brush (to prevent sugar from sticking to the sides and crystallizing).
When the mixture is thick and deep golden, remove from heat. Add the heavy cream slowly, whisking constantly (mixture will bubble), followed by the butter and salt. When everything is combined, stop whisking and let cool for at least 4 minutes, then add vanilla extract and the remaining tablespoon of bourbon.
Let the caramel cool slightly, then divide into the two gift jars, and cover. Caramel will keep, refrigerated in an airtight container, for up to 2 weeks.
Serving suggestions: pour liberally over ice cream, drizzle on pancakes, or just eat it straight off the spoon.