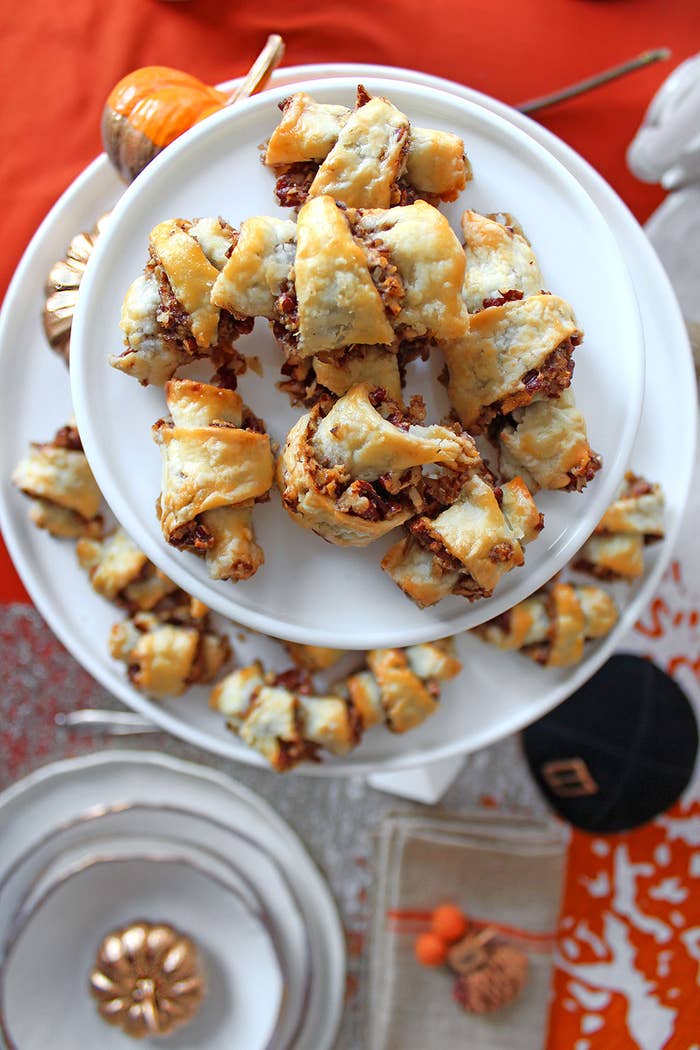 First, cut the room temperature butter into 8 pieces, and the cream cheese into 4 pieces.
In a small mixing bowl, combine flour and salt, then scatter butter and cream cheese on top.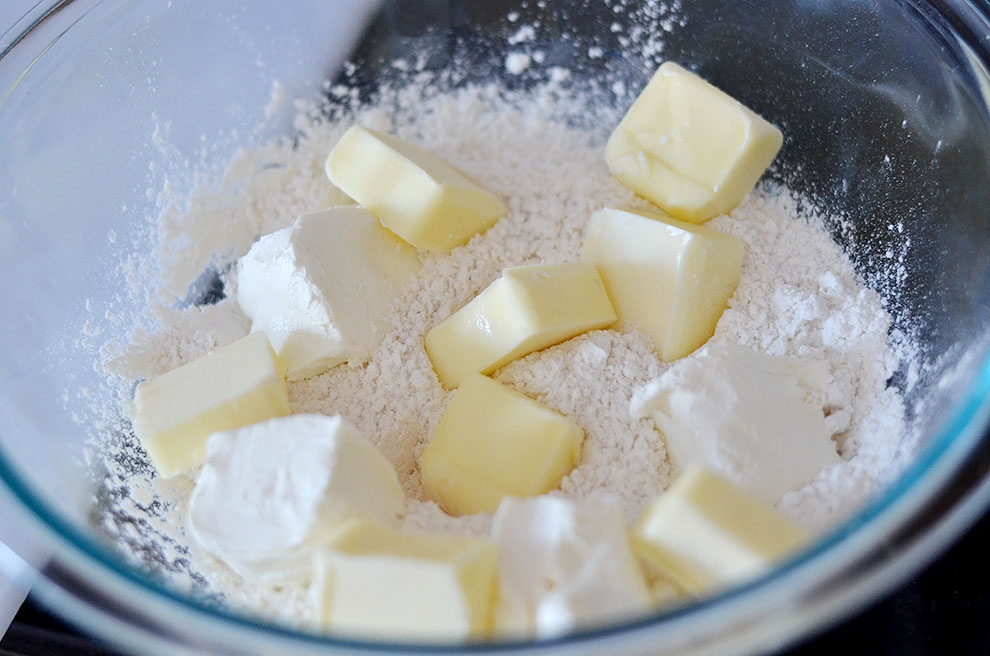 Beat on low with an electric mixer.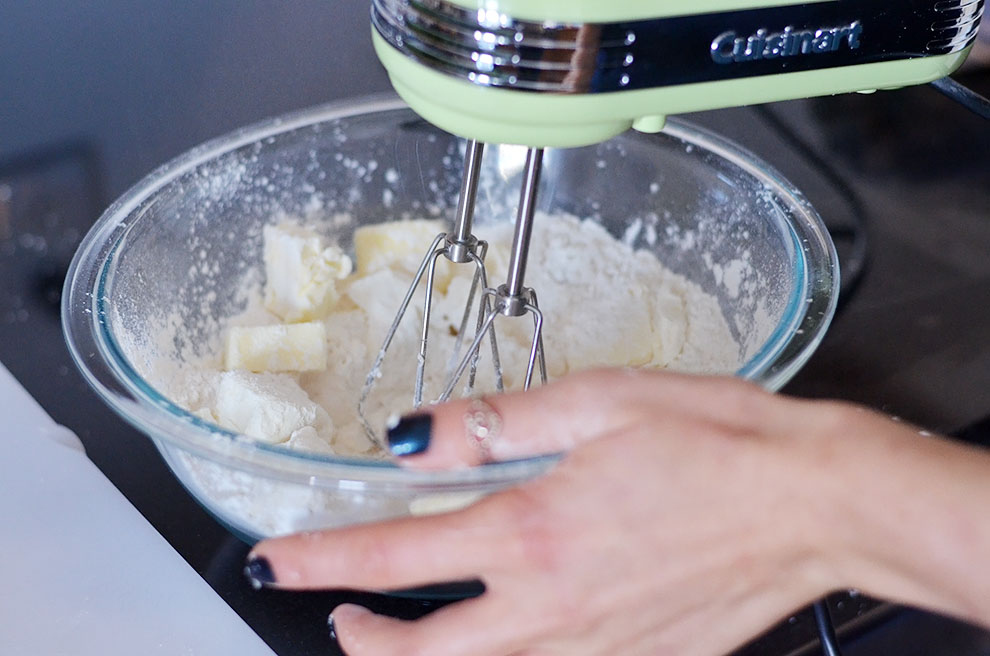 The mixture will come together, but the texture should be crumbly, not smooth.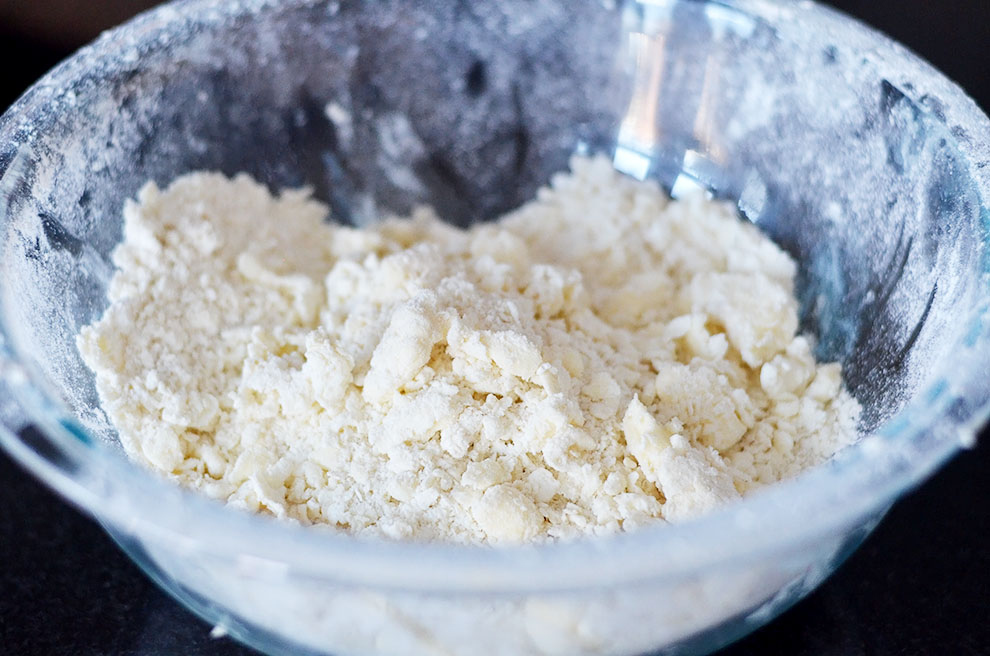 Use your hands to press the dough together, in two equal-sized balls.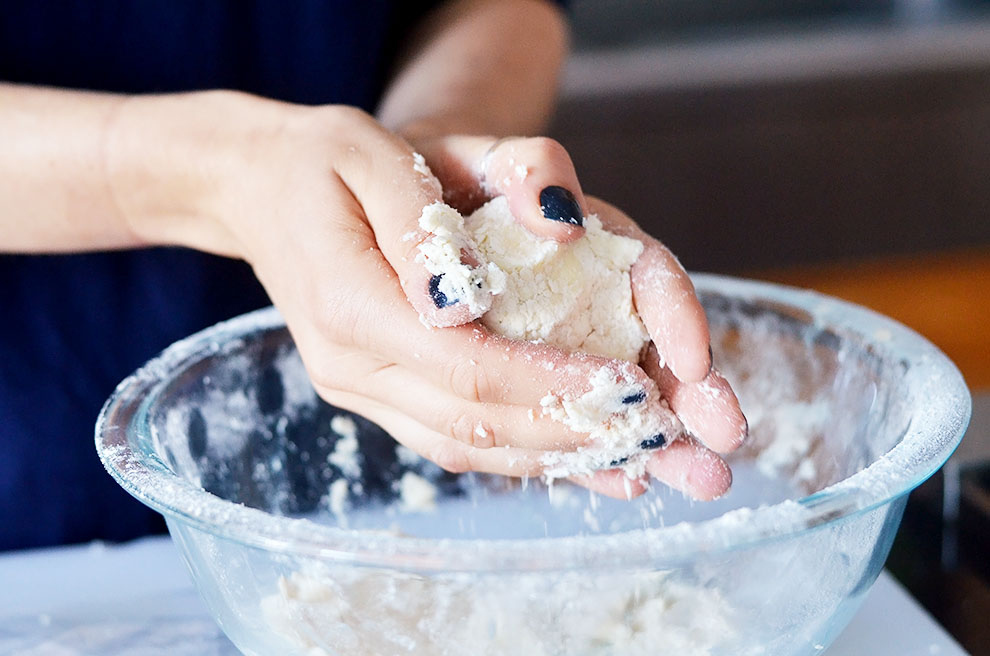 Lay the balls of dough on two squares of plastic wrap.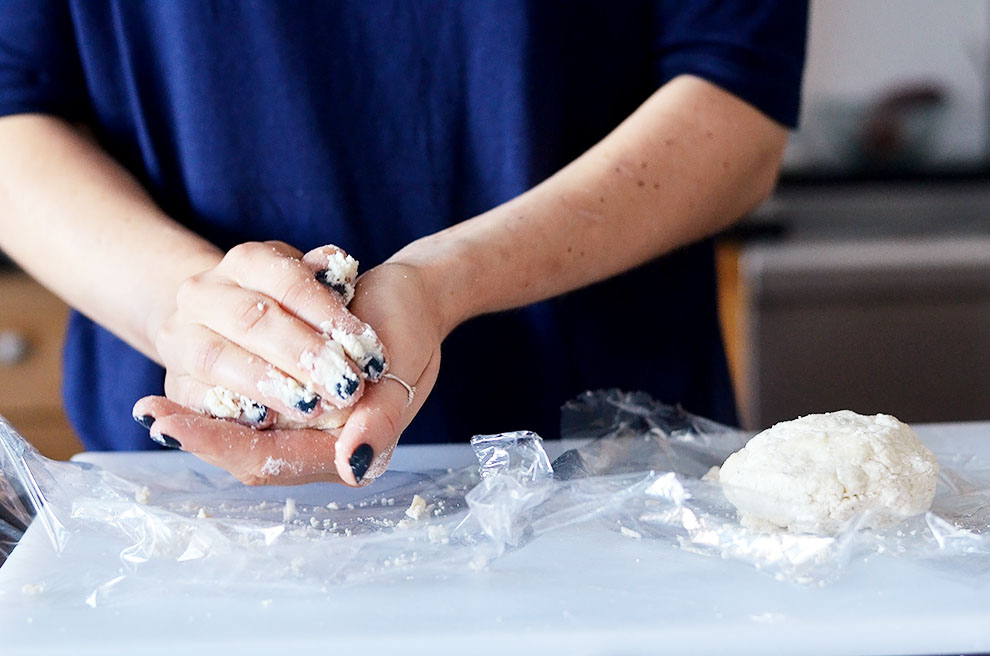 Flatten them slightly into disks.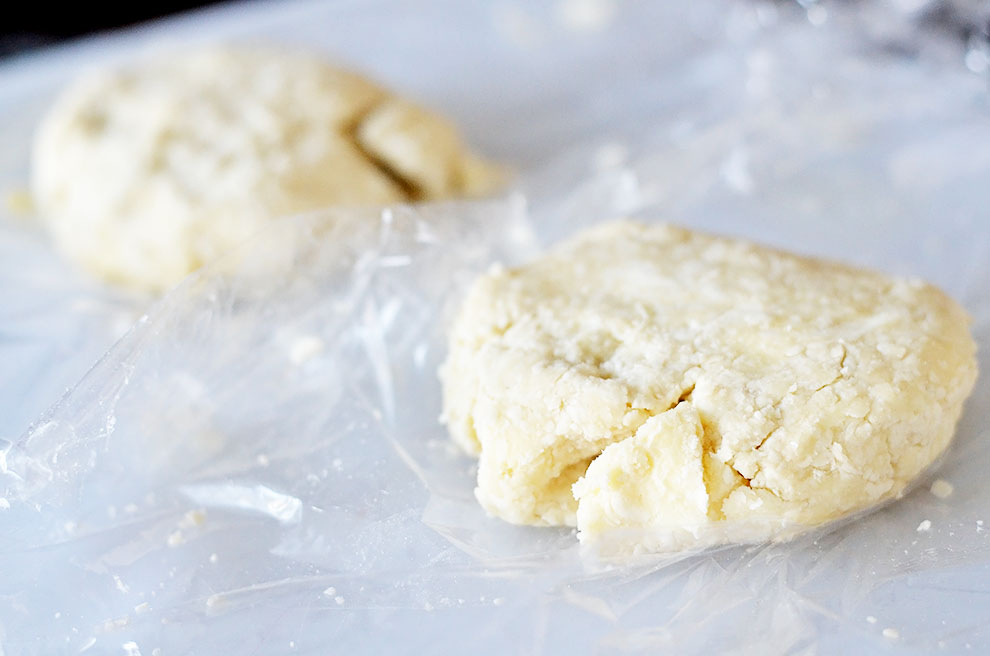 Wrap tightly, and refrigerate for at least 2 hours.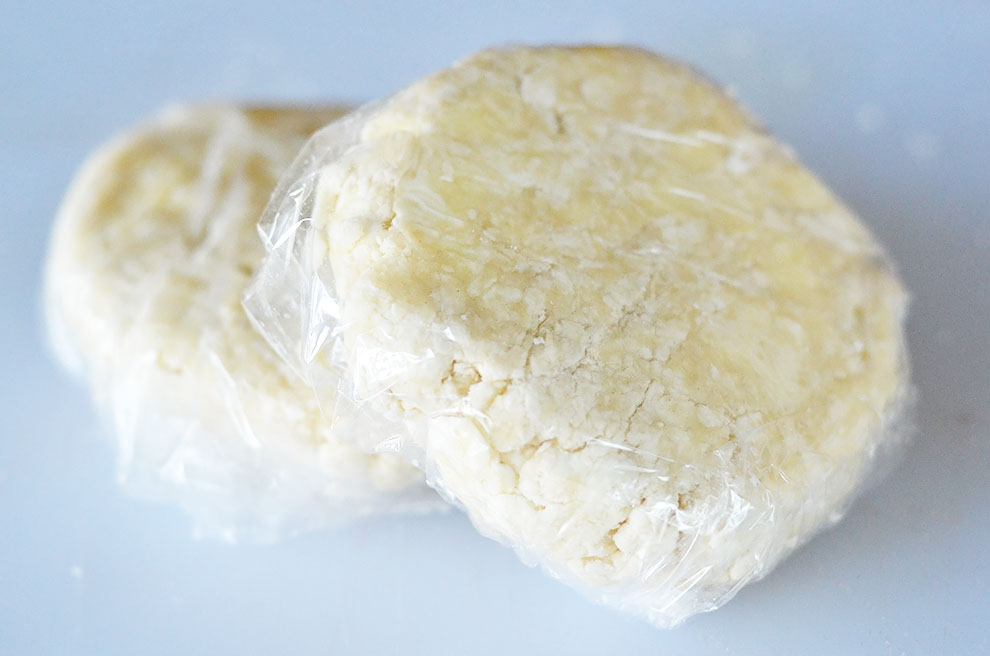 PART II: Make the filling.
You will need: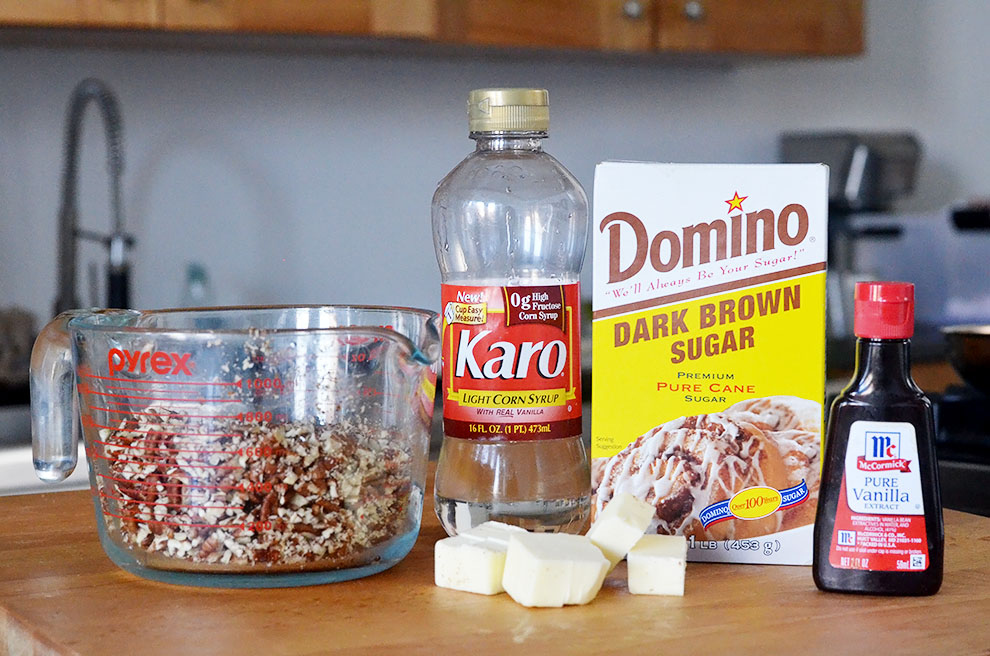 Lay pecans out on a large cutting board and chop with a large chef's knife.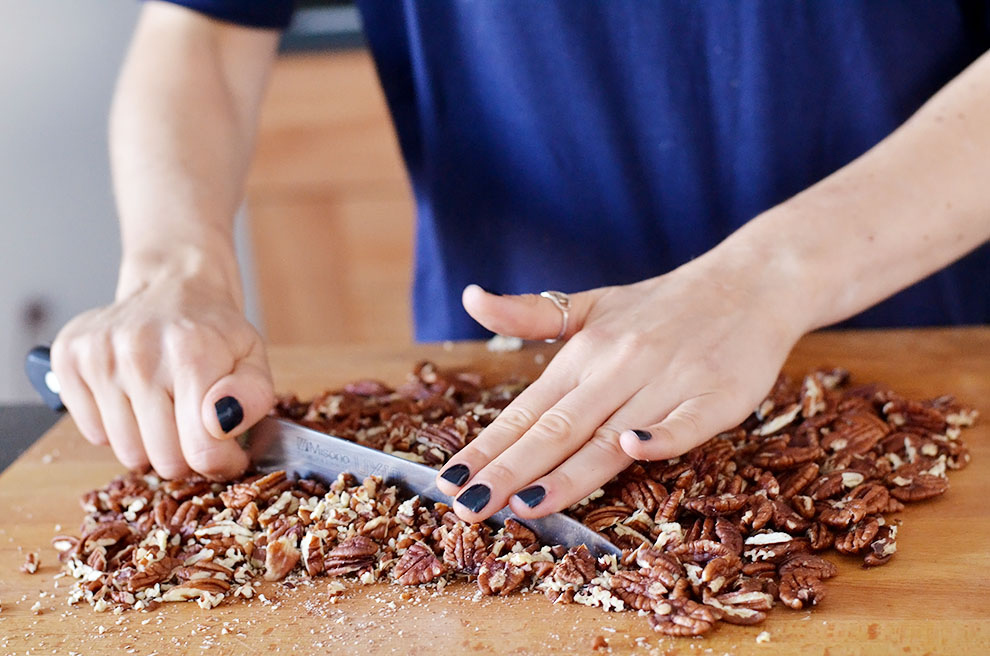 Pecans should be coarsely chopped but not completely crushed.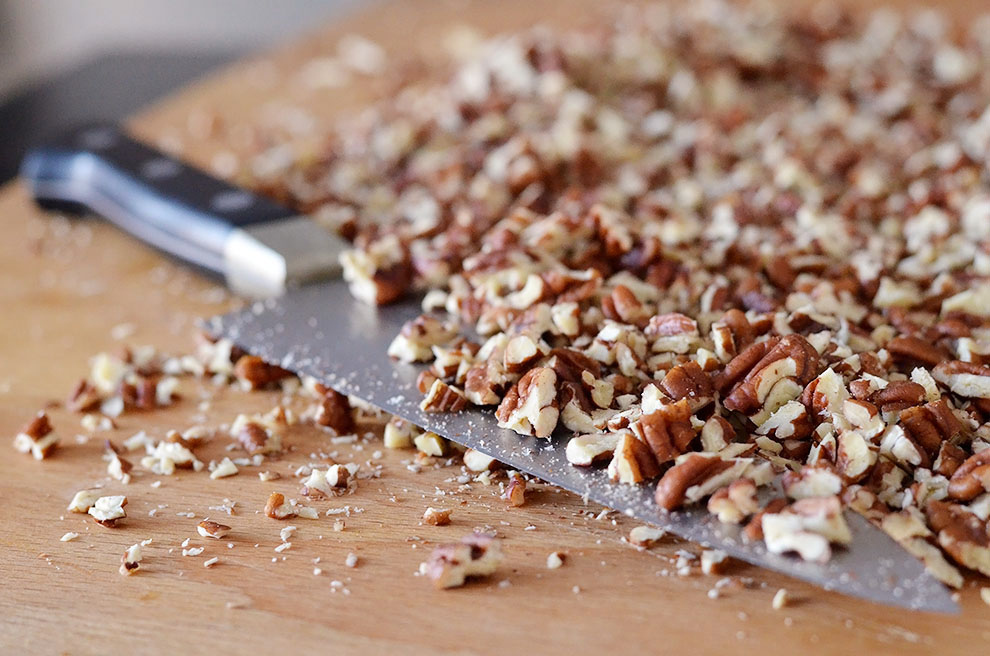 Put all ingredients in a medium mixing bowl, and mix just until combined.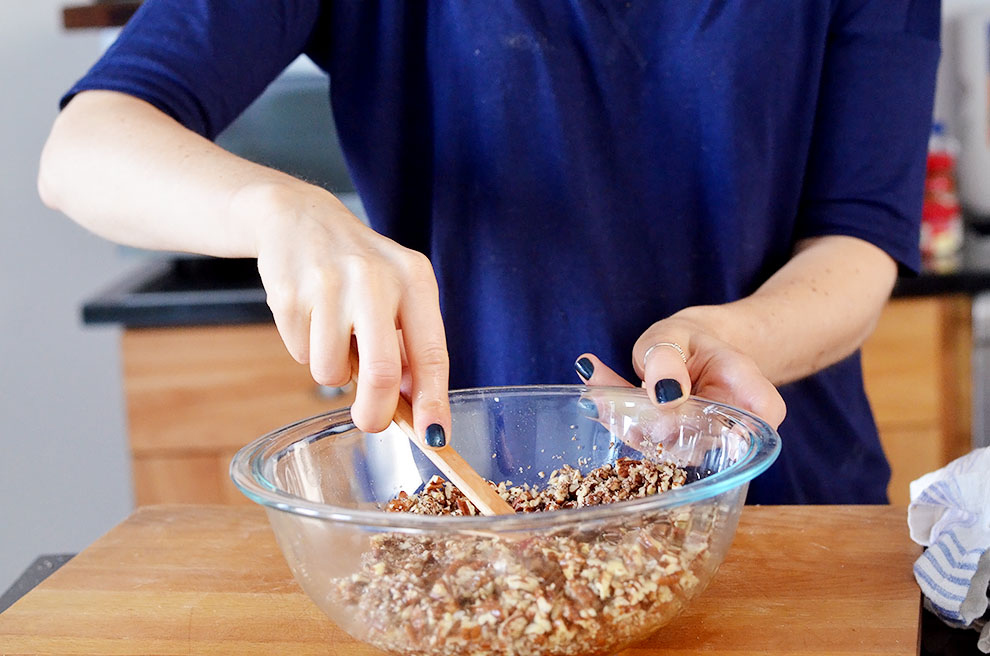 Prepare an egg wash by beating egg and water with a fork.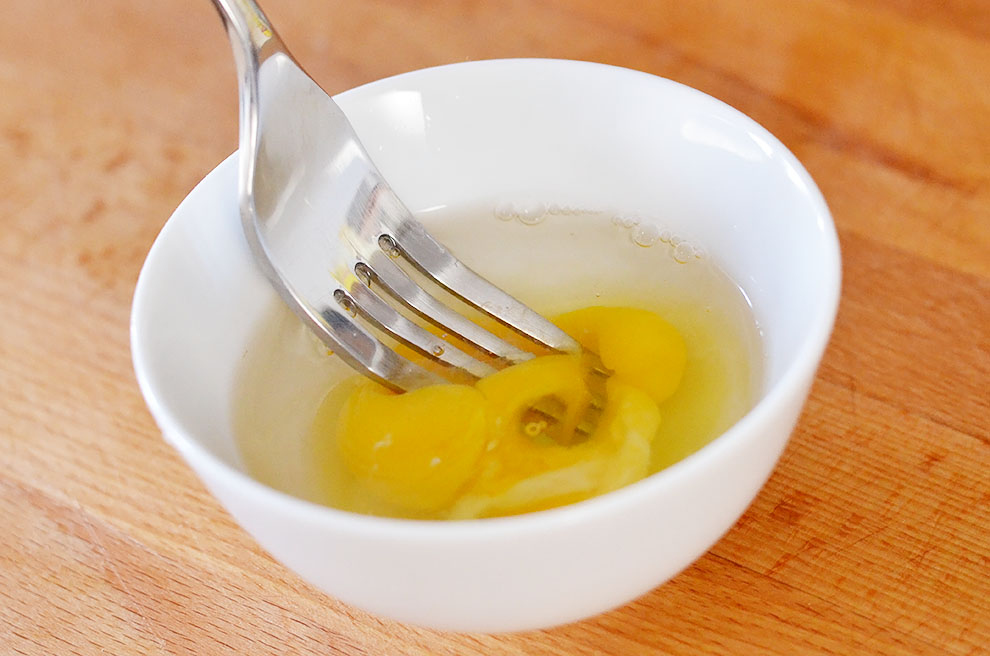 It should be a smooth, light yellow color.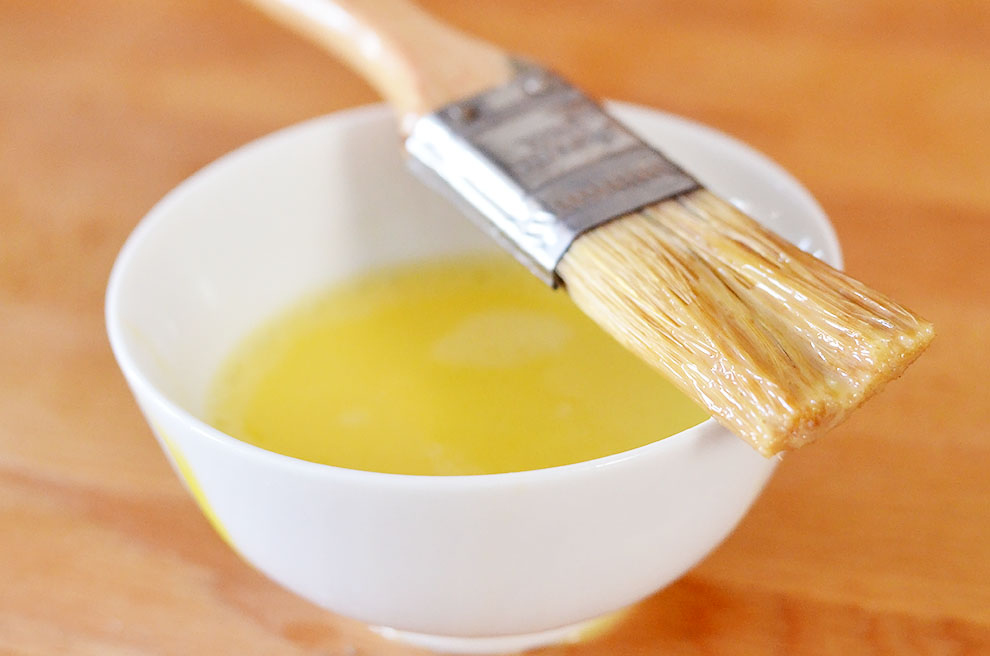 PART III: Assemble and bake the rugelach.
When your dough is chilled, flour a large wooden surface and a rolling pin.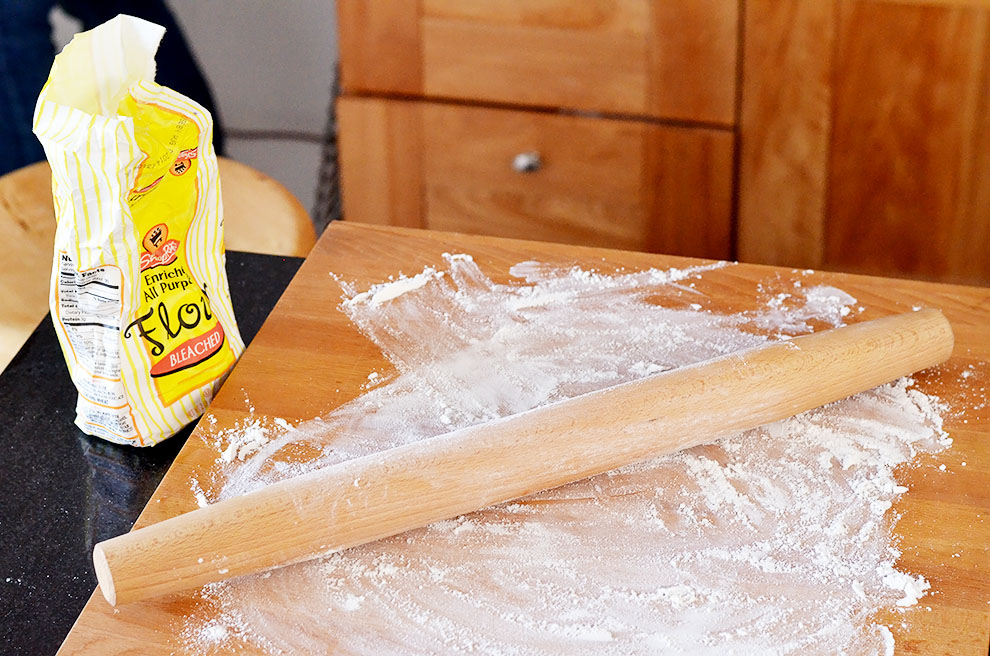 Line two large baking sheets with parchment paper.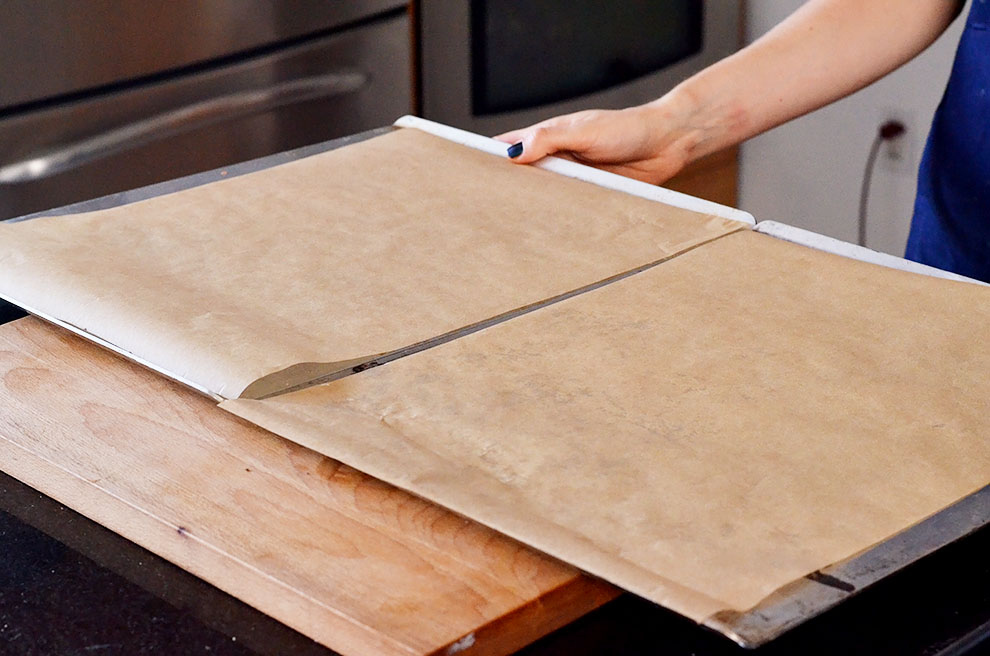 Place one disk of dough on your surface, and hit it a few times with your rolling pin...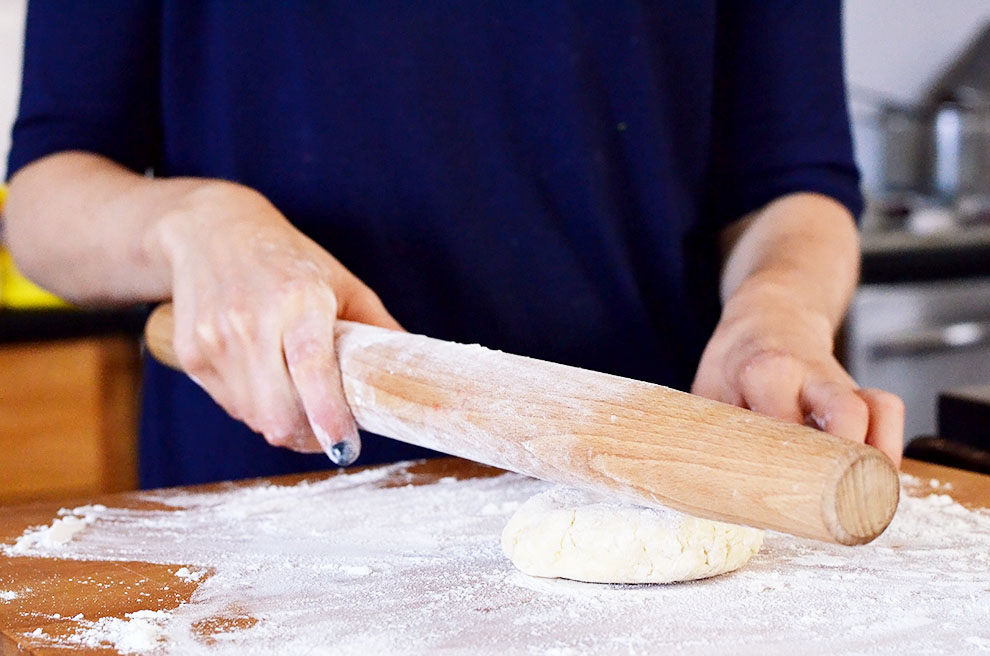 ...to flatten it slightly before you start rolling.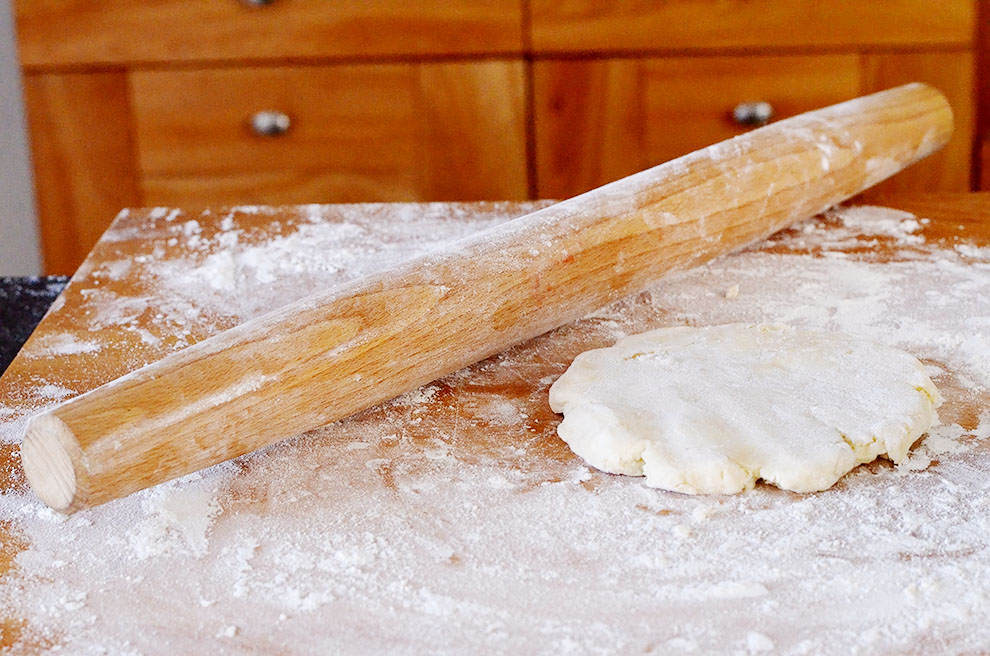 Start rolling out the dough, working from the center outward. You want to roll it into a circle that's 12 inches in diameter.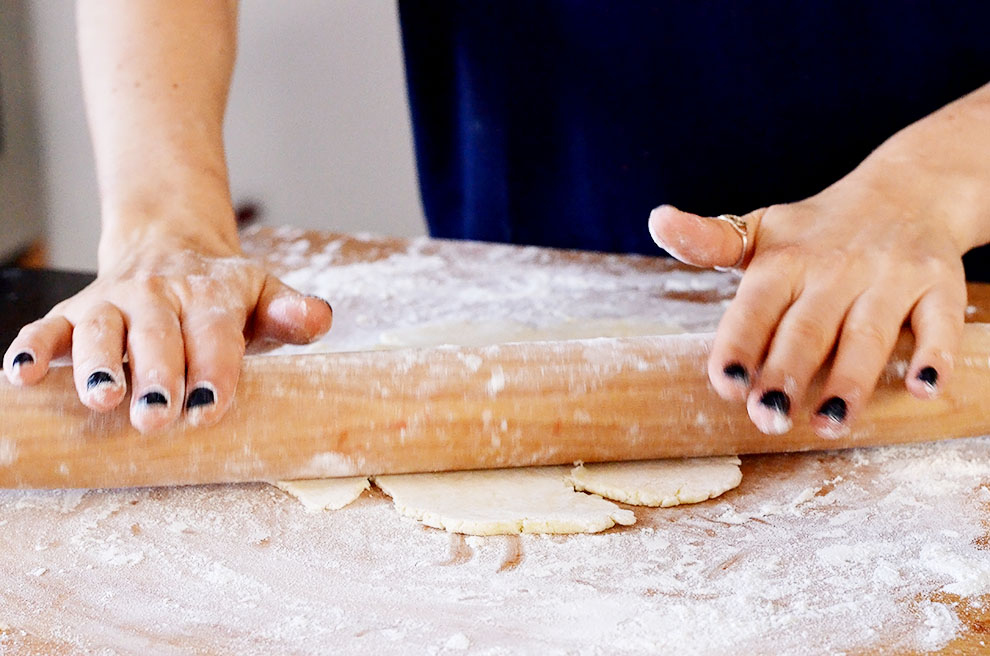 If your dough gets too warm the butter will melt and stick to the wooden surface. Don't panic; just slide it onto one of your parchment lined baking sheets and stick it in the freezer for 5 minutes or so.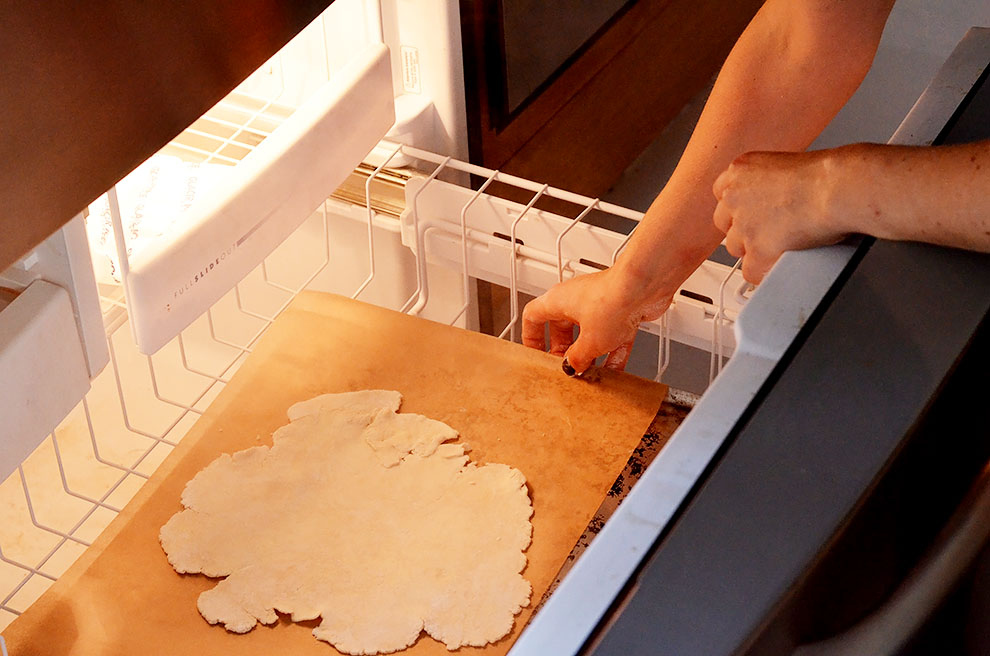 When it's cold again, continue to roll, folding the edges over to keep a circle shape.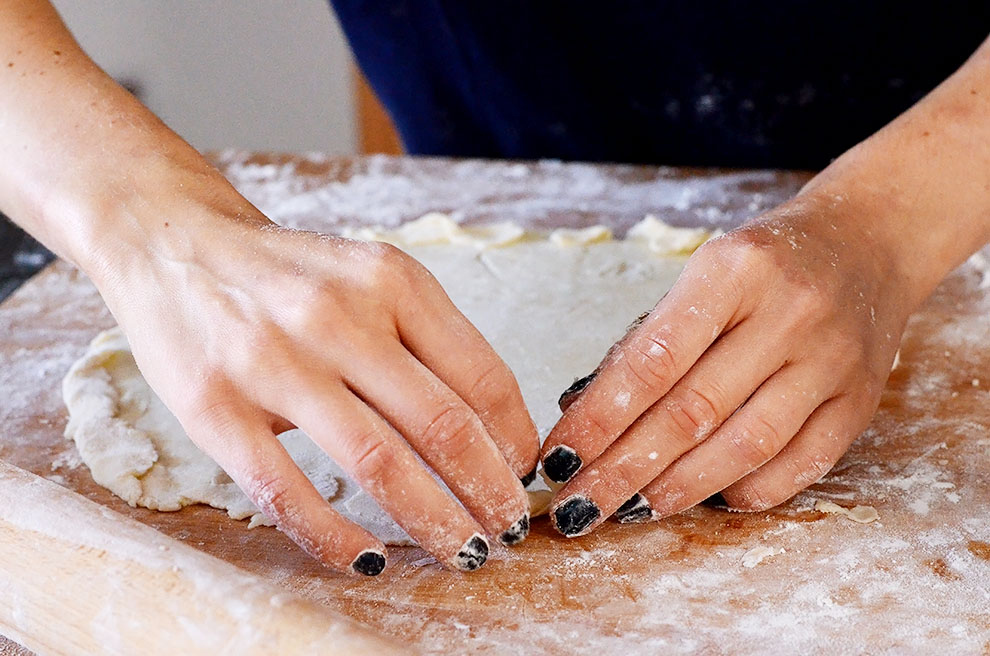 Dough should be as even and symmetrical as you can manage.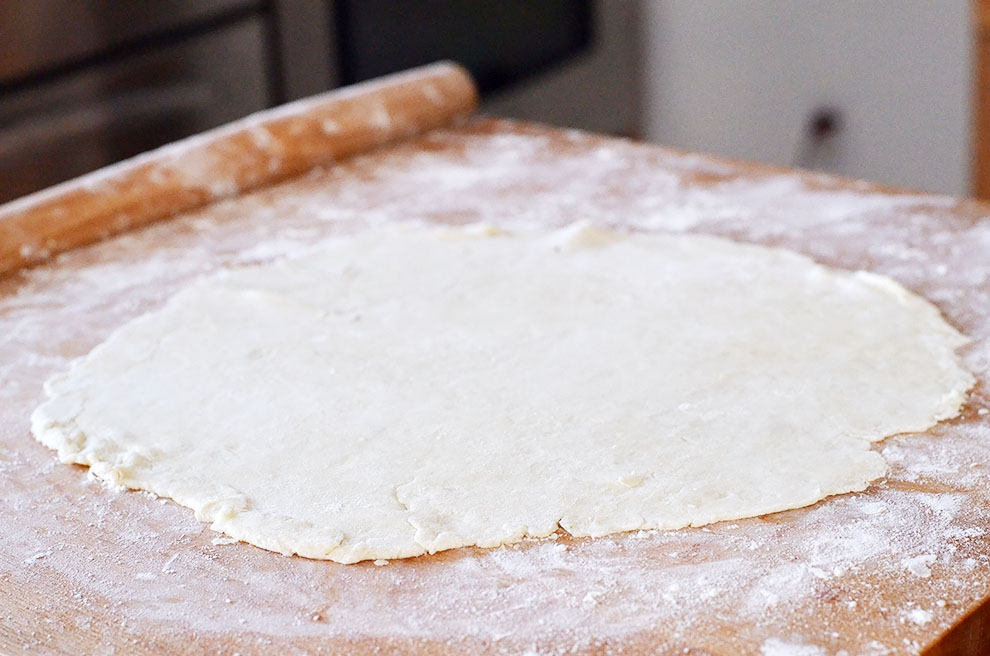 Scatter half of the pecan mixture over the dough (as evenly as possible).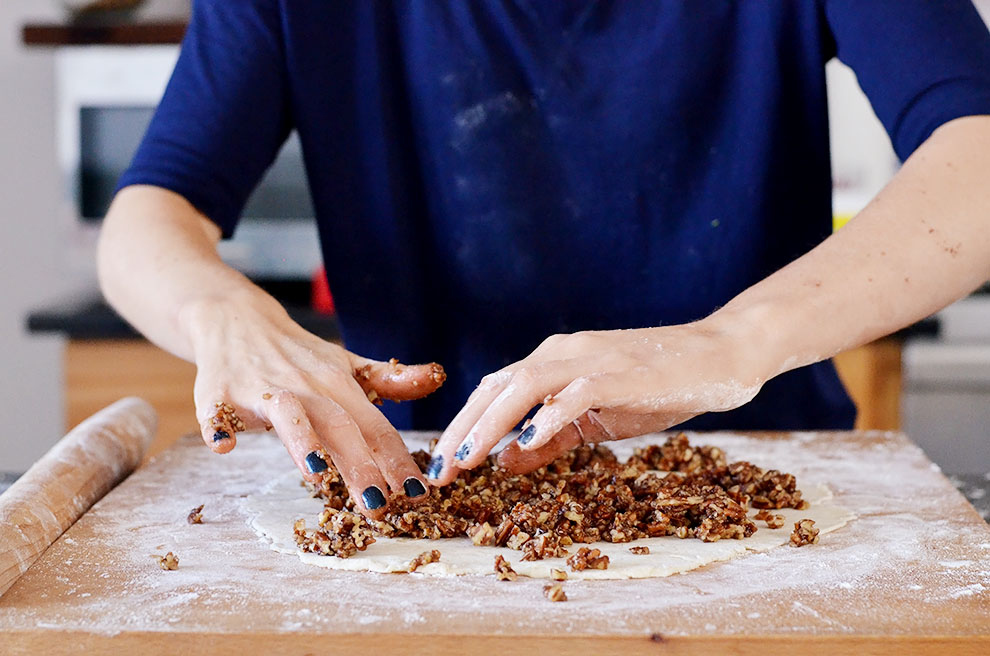 Slice like a pizza — using a pizza cutter if you have one because that's easiest — into 16 even slices.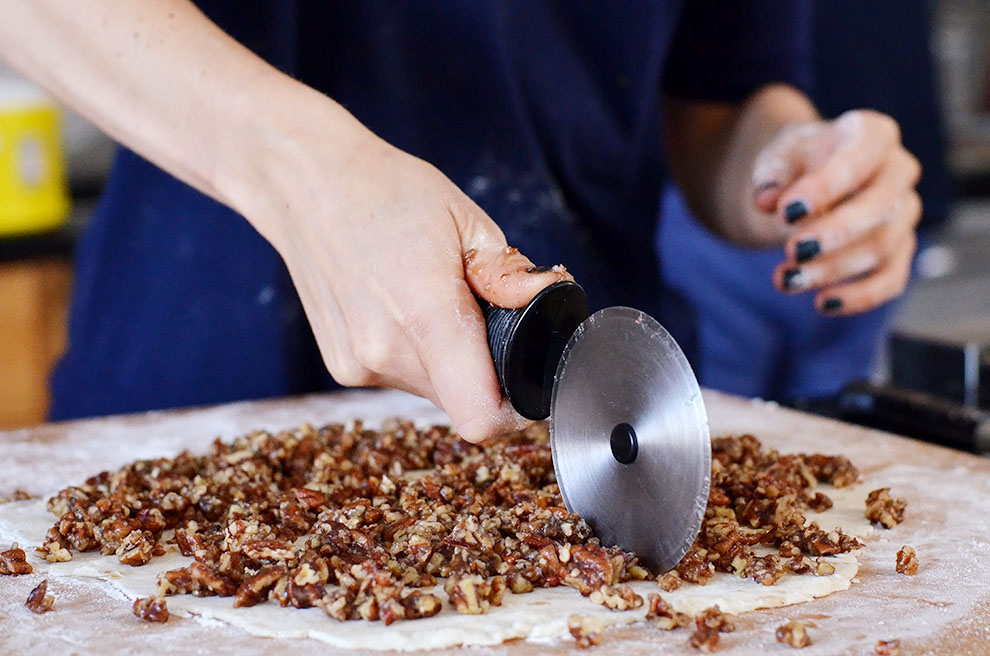 Almost there!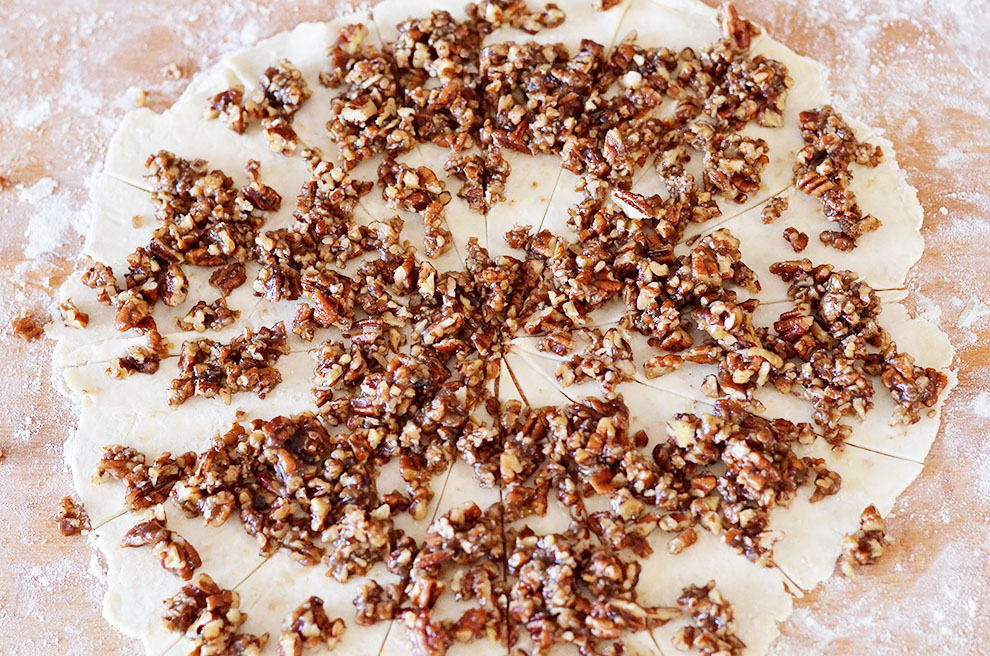 Now, roll up each slice from the outside in.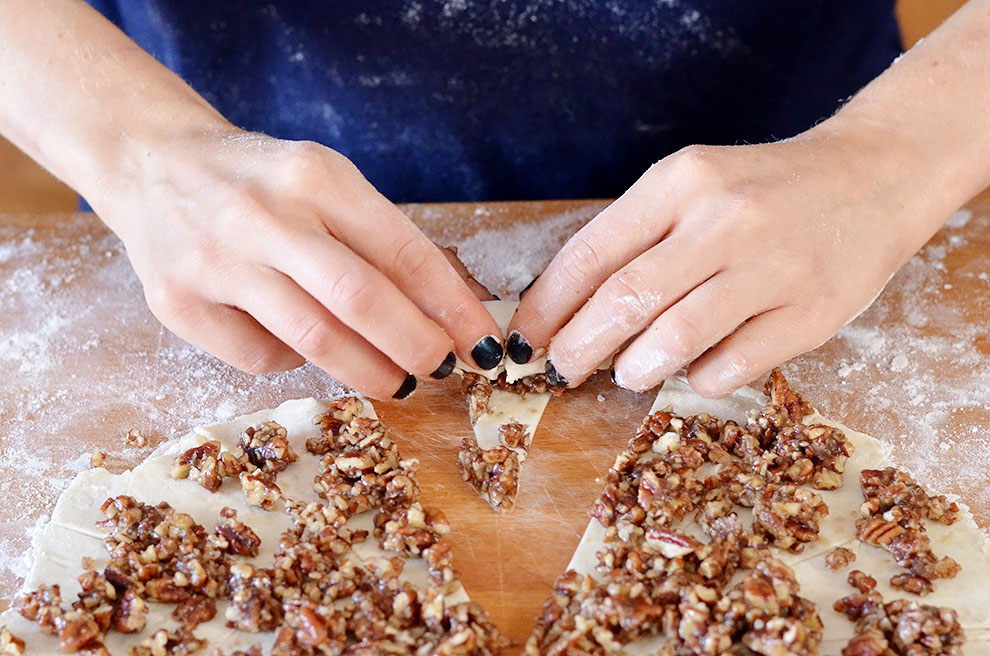 Press the tip end into the roll slightly, to help your cookie keep its shape.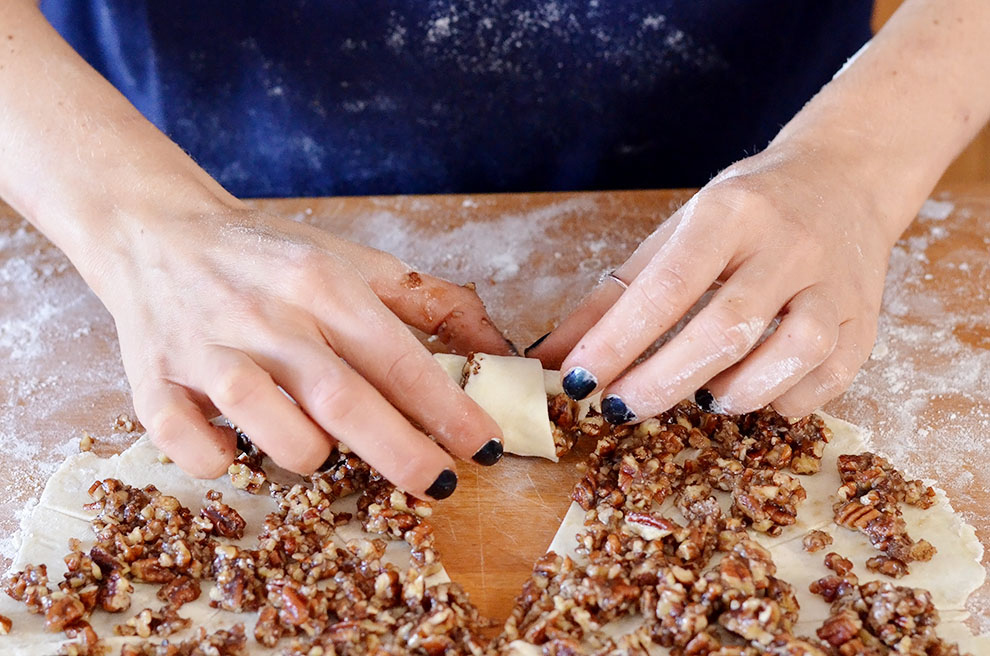 Place cookies seam-side down on cookie sheet, and brush lightly with your egg wash.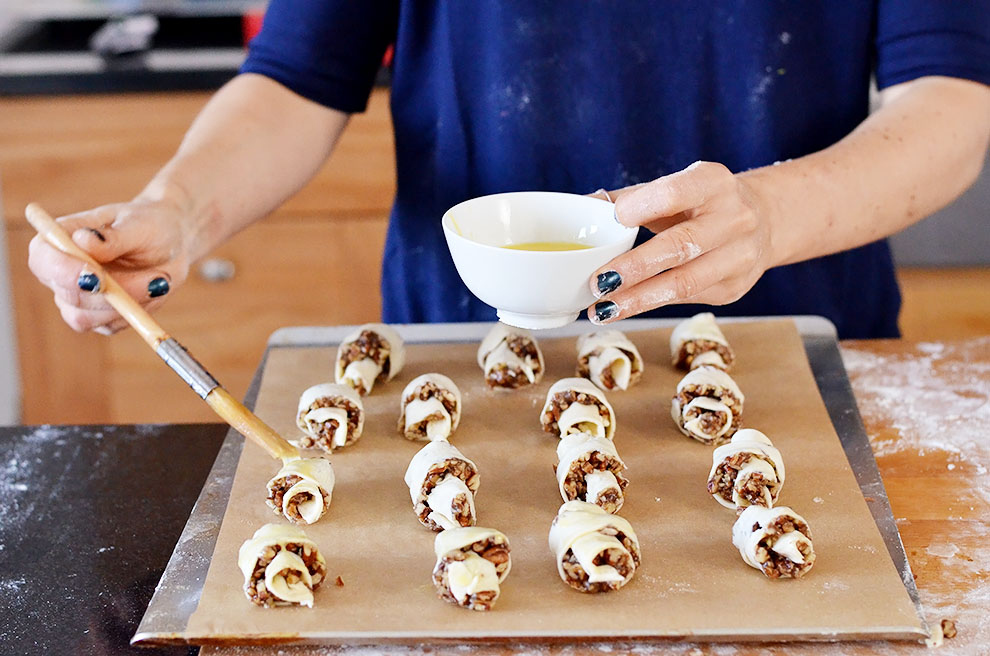 Repeat with the other disk of dough and the rest of the pecan filling, then bake both sheets in a 350 degree oven for 18-20 minutes, rotating halfway through baking.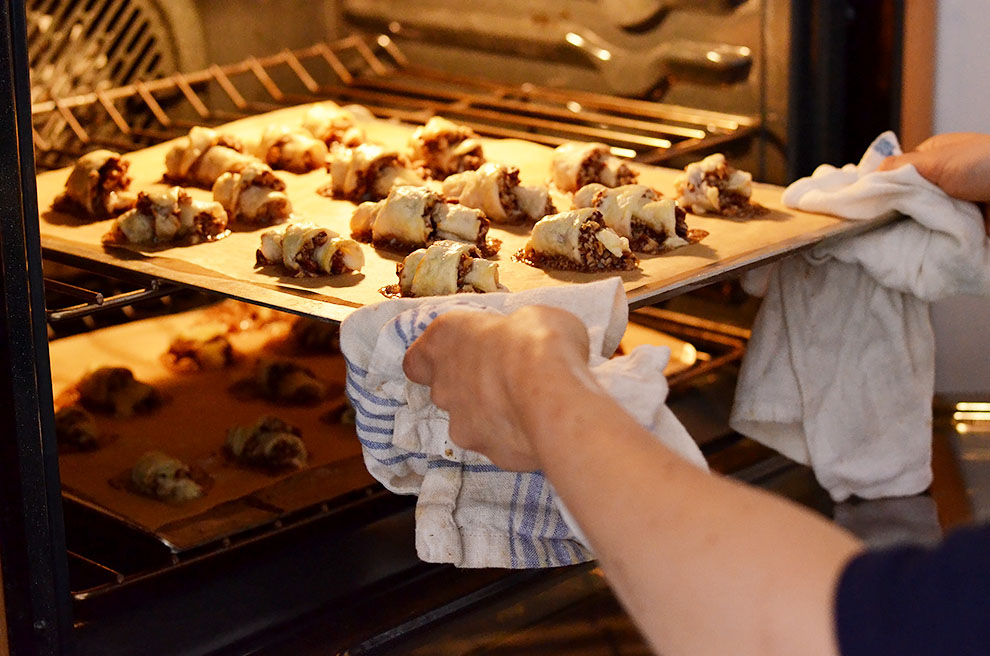 Cookies are done when they are slightly golden brown.
Don't worry about the filling spreading; that's the corn syrup (ESSENTIAL to the pecan pie taste).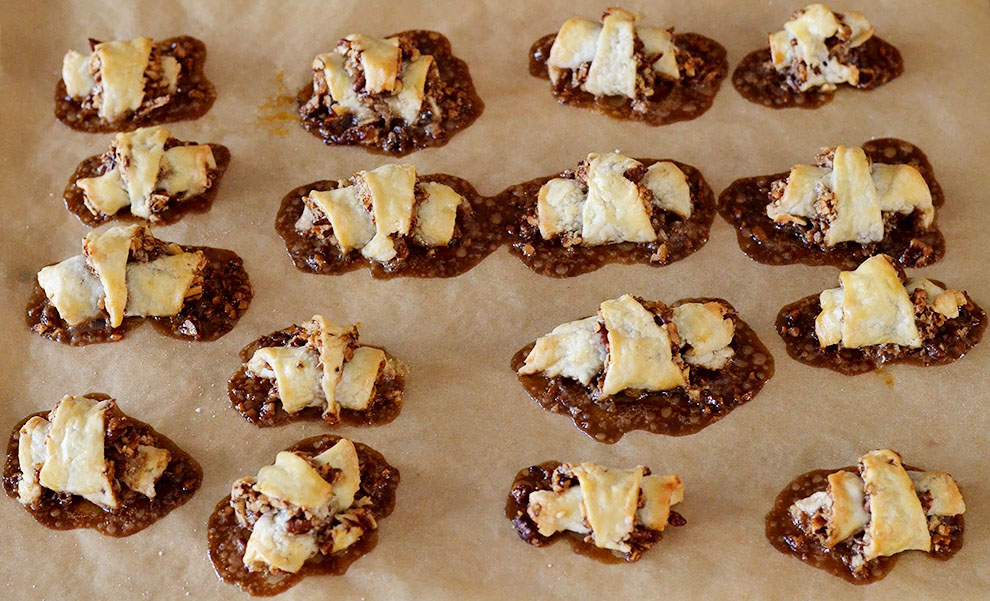 When cookies are slightly cool, you can break that extra filling right off and put it into your mouth.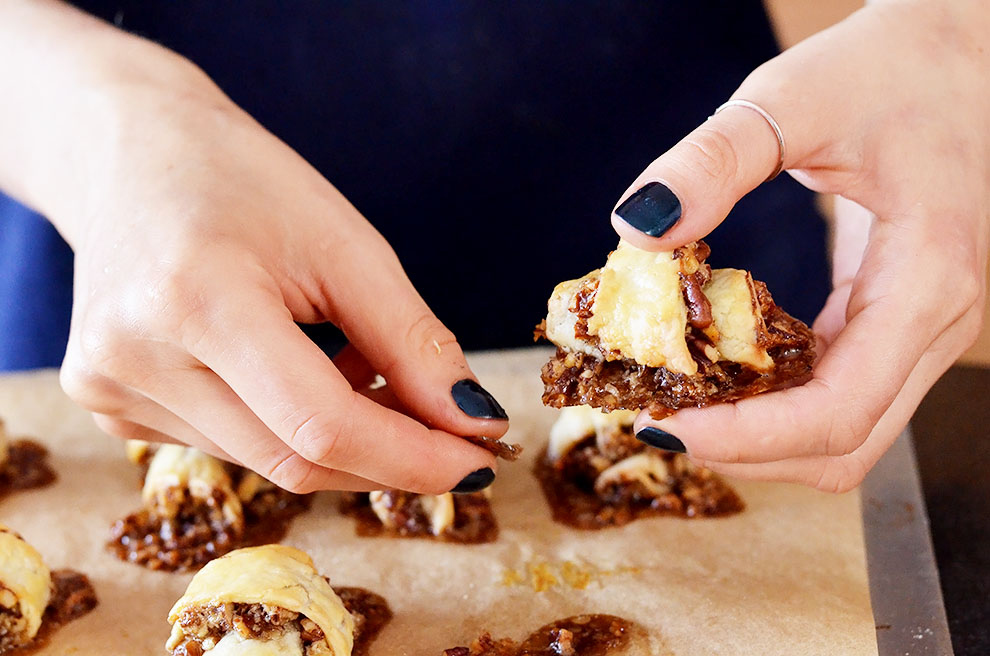 Cool completely before serving.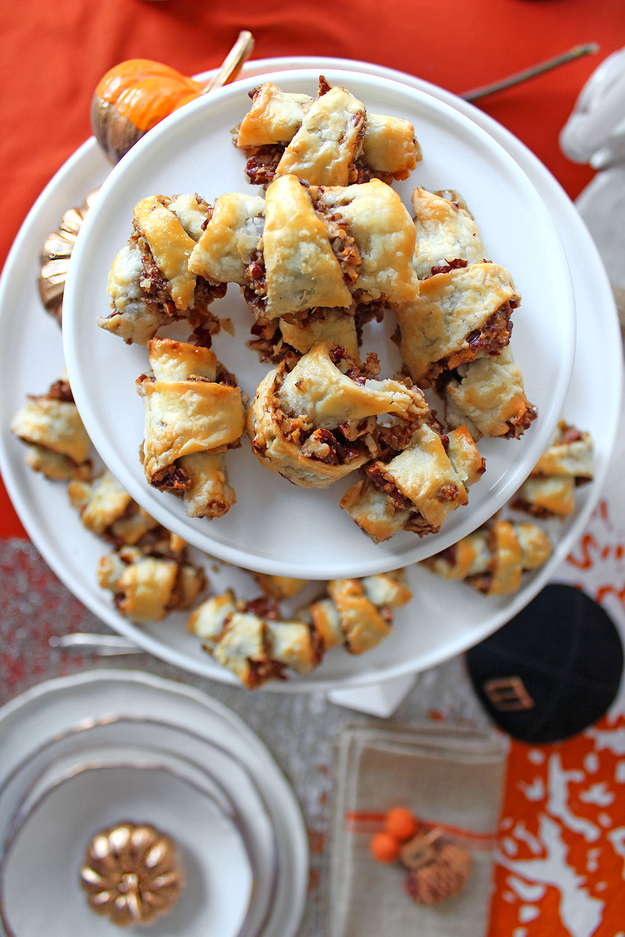 PECAN PIE RUGELACH
Makes 32 cookies
INGREDIENTS
Dough:
1 cup all-purpose flour
1/4 teaspoon salt
1/2 cup unsalted butter (1 stick), cut into 8 pieces
1/2 cup cream cheese (4 oz), cut into 4 pieces
Filling:
2 cups shelled pecan halves
1/4 cup unsalted butter (½ stick), cut into 4 pieces
1 teaspoon vanilla extract
1/2 cup corn syrup
1/2 cup dark brown sugar
Egg wash:
1 egg
1 tablespoon water
Special equipment
Electric hand mixer
Plastic wrap
2 cookie sheets
Parchment paper
Rolling pin
Pizza cutter (not essential)
PREPARATION
Dough:
Let butter and cream cheese sit out at room temperature for 10 minutes, so that they are still cool but slightly soft. Combine flour and salt in a medium mixing bowl. Using a hand mixer, mix on a low speed just until combined. Scatter butter and cream cheese pieces over the top of the flour mixture, and beat on medium speed until dough is the texture of cottage cheese, still slightly crumbly. Use your hands to divide the dough into 2 equal pieces, then roll each piece into a ball. Flatten each ball into a disk about 1 inch thick and 4 inches in diameter, then wrap each one separately in plastic wrap, and refrigerate at least 2 hours, up to 1 day.
Filling:
Using a knife, finely chop pecans and put in a medium mixing bowl. (Do NOT do chop the nuts in a food processor. You want the pecans to be chopped but still coarse, and a food processor will turn them into nut butter.)
In a small saucepan over medium heat, brown the butter by adding all 4 pieces at once and constantly stirring with a heatproof spatula until completely melted. Continue to stir or swirl the pan as butter starts to bubble and foam. When the foam subsides slightly and butter turns a light brown color, take it off the heat immediately and add the it to the chopped pecans. Add vanilla extract, corn syrup, and brown sugar, and mix with a rubber spatula just until combined.
Preheat oven to 350°F. Line two cookie sheets with parchment paper. Beat egg yolk with the tablespoon of water and set aside.
When dough is chilled, unwrap one disk onto a lightly floured surface, and roll with a rolling pin into a 12-inch circle. It is important to have an even, symmetrical circle, so trim any excess. If dough gets too soft during rolling, lay it on one of the lined baking sheets and put it in the freezer for 5 minutes, until slightly chilled. Once the dough is rolled out, sprinkle half of the pecan mixture on top of the dough, all the way to the edges of the circle, making sure the mixture is evenly distributed. With a pizza cutter (or a knife), cut dough into 16 equal slices. Roll each slice from the outside in (starting the wide end and rolling towards the point), placing each roll onto the cookie sheet as you go. Repeat this process with the other disk of dough.
Use a pastry brush to coat the top of each cookie with the egg-water mixture. Bake rugelach for 20 minutes until golden, turning the cookie sheet halfway through baking.
Cool completely before serving.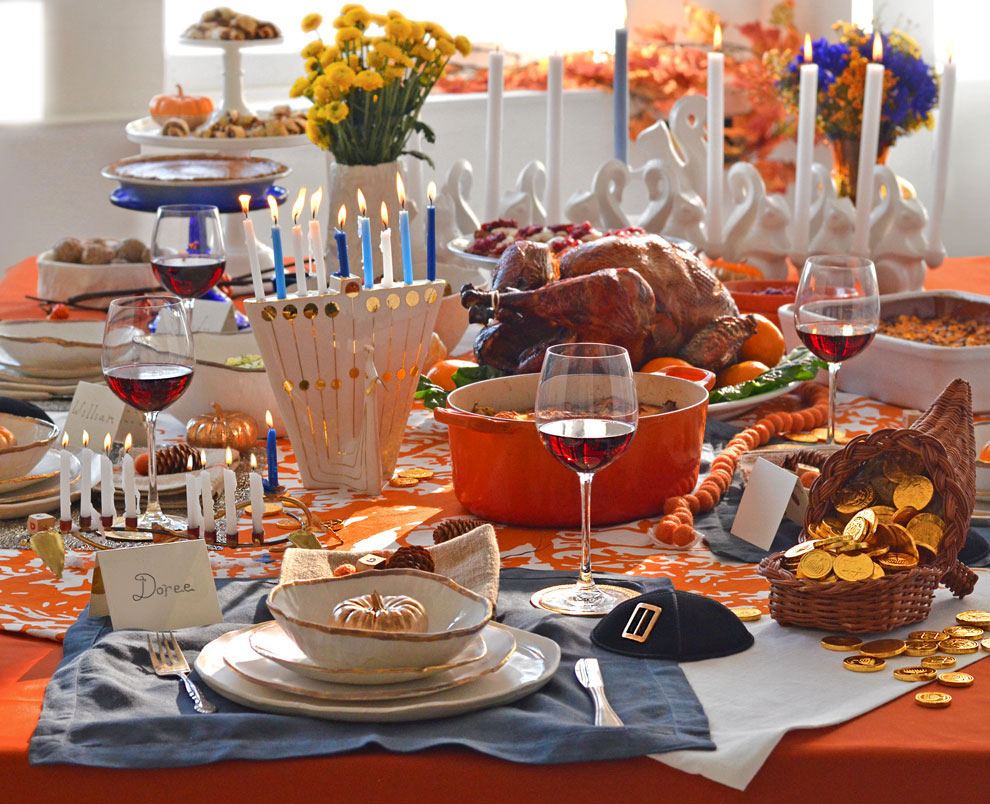 Planning on cooking this recipe, or another one from our Thanksgivukkah menu?
That's awesome! Take a picture of your finished dish, post it to Instagram, and tag it #Thanksgivukkah. The BuzzFeed food editors want to know how things turn out in your home kitchen. And, who knows? Maybe your photo will end up in a BuzzFeed post!