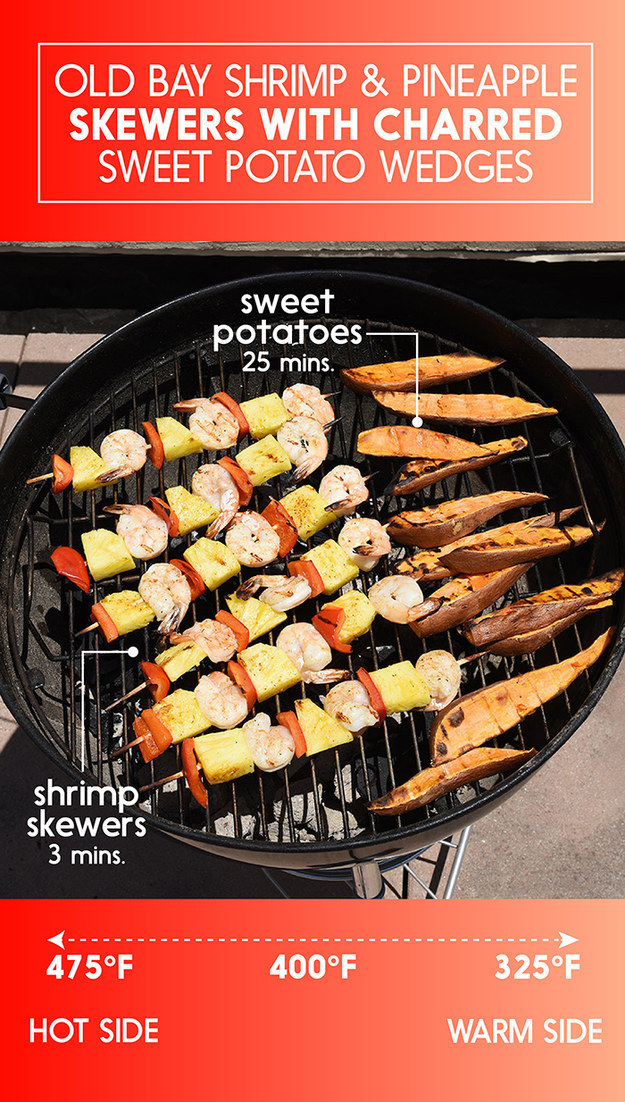 Old Bay Shrimp and Pineapple Skewers with Charred Sweet Potato Wedges
Serves 2
Recipe by Christine Byrne
INGREDIENTS
¾ lb large shrimp, peeled, deveined
1 medium red bell pepper, halved, cored, seeds removed, cut in 1-inch pieces
1 cup cubed pineapple
Juice of 1 lime
½ teaspoon Old Bay (or other seafood seasoning)
2 tablespoons canola oil, divided
1 large sweet potato, cut into wedges ¼-inch thick
kosher salt and freshly ground pepper
For the Old Bay sour cream:
3 tablespoons sour cream
2 teaspoons Old Bay (or other seafood seasoning)
Zest of ½ lime
PREPARATION
1. Heat a grill so that one side is hot (450°- 475°F) and the other side is warm (325° - 375°F). On a charcoal grill: pile hot coals on just one half of the grill; On a gas grill: turn the burners to medium-high on one side and medium-low on the opposite side.
2. Soak 6-8 wooden skewers in water for at least 10 minutes. When the skewers have soaked, alternately thread shrimp, bell pepper, and pineapple, until all skewers are full (there should be about three pieces of each on every skewer).
3. Whisk together lime juice, Old Bay, one tablespoon of the canola oil, kosher salt, and freshly ground pepper in a shallow baking dish or other large, shallow container. Lay the skewers in the baking dish and rotate them to coat with liquid on both sides. Refrigerate 20-45 minutes, while the grill heats and the sweet potatoes cook.
4. Lay the sweet potato wedges down in the middle of the grill, where the temperature should be about 400°F. Cover the grill (if you're using charcoal, open the vent so that the coals don't suffocate) and cook until the undersides of the sweet potatoes are charred and starting to soften, about 10 minutes. Flip the sweet potato wedges and cook, covered, until the wedges are charred around the edges and on both sides and almost completely soft, about 10 minutes more.
6. Move the sweet potatoes to the warm side of the grill. Remove the shrimp skewers from the marinade and lay them across the hot side of the grill. Cook until the underside of the shrimp is opaque, 1 to 2 minutes. Flip the skewers and cook until the shrimp are opaque throughout and the pineapples and peppers are tender, 1 to 2 minutes more.
7. Take everything off the grill and divide the skewers and sweet potatoes evenly among 2 plates.
8. In a small bowl, stir together the sour cream, Old Bay, and lime zest and spoon a dollop onto each plate.
Soaking the skewers ahead of time helps them not to burn on the grill.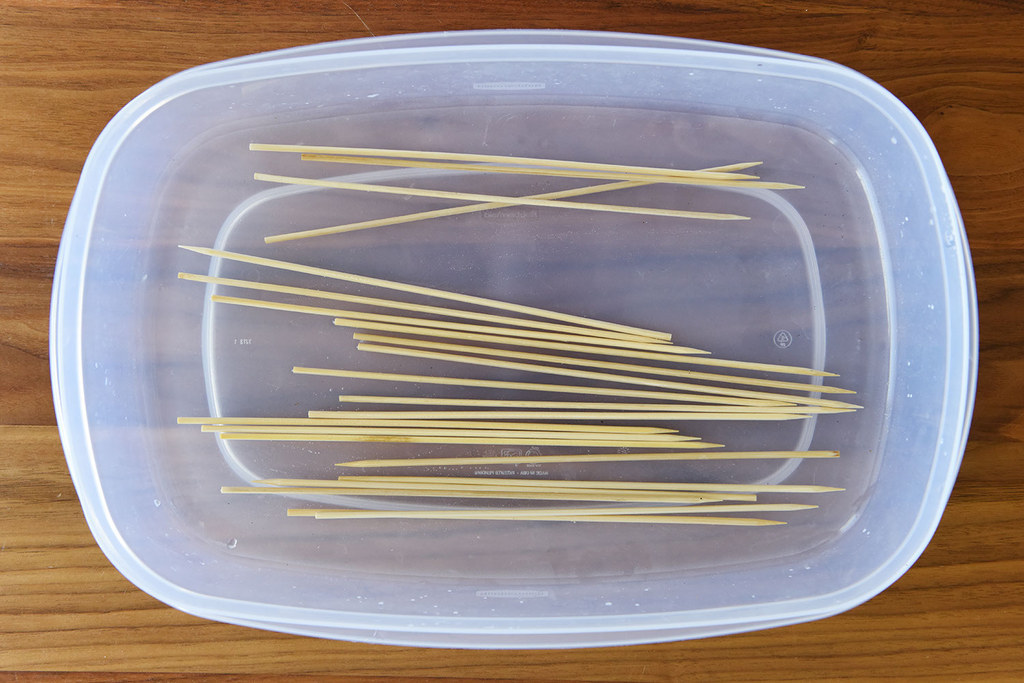 The shrimp skewers should sit coated in the marinade for just 20-45 minutes.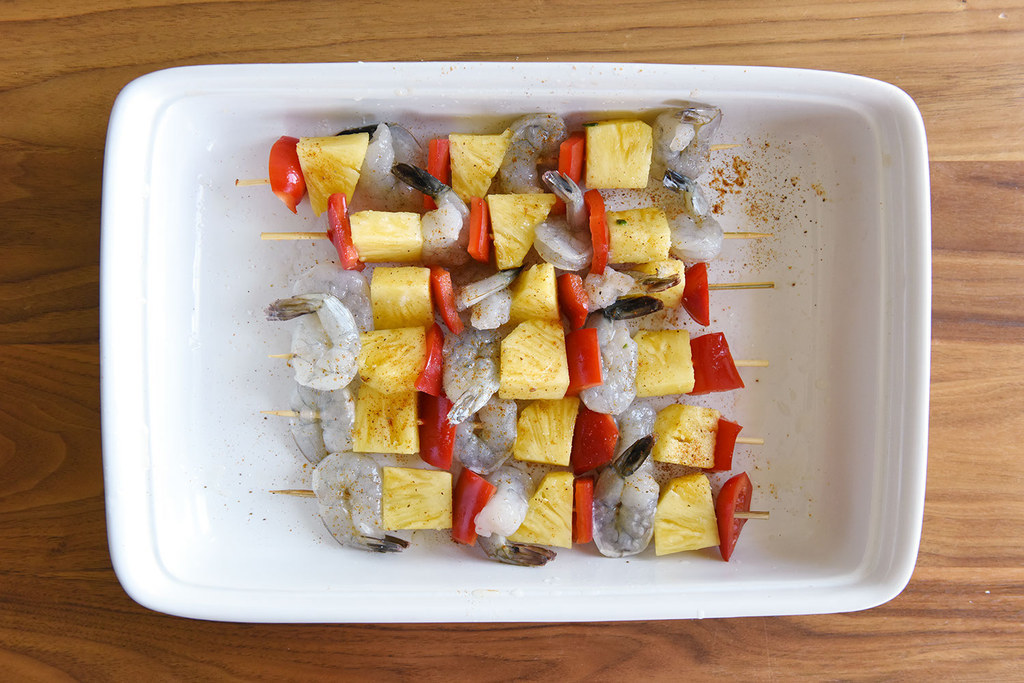 Line the sweet potatoes up over the center of the grill. Make sure they're all exposed to the grill, not piled on top of each other.
Flip once they're starting to brown and soften on the underside.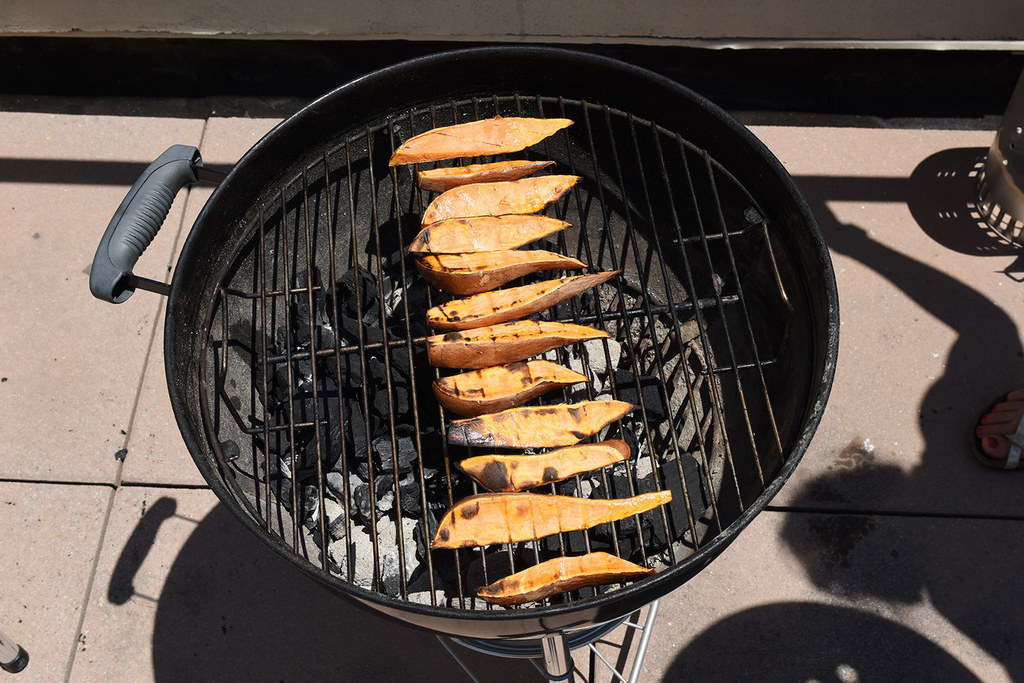 Move the sweet potatoes to the warm side, so that the shrimp skewers can get the direct heat of the hot side.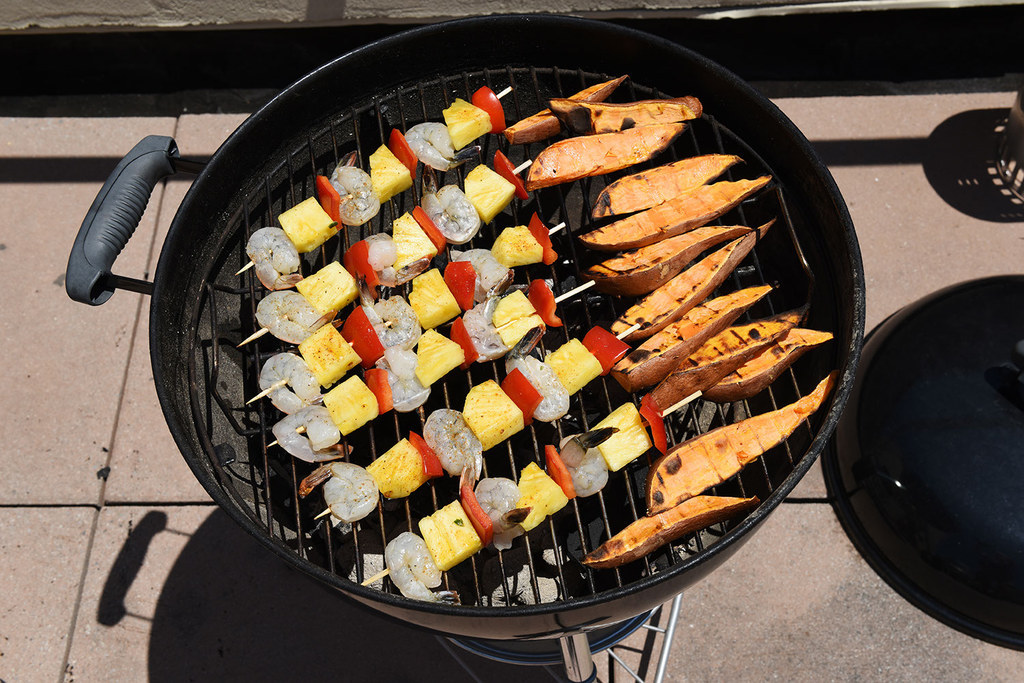 Shrimp cooks FAST. As soon as the underside is opaque, which will take a minute or two, flip the skewers.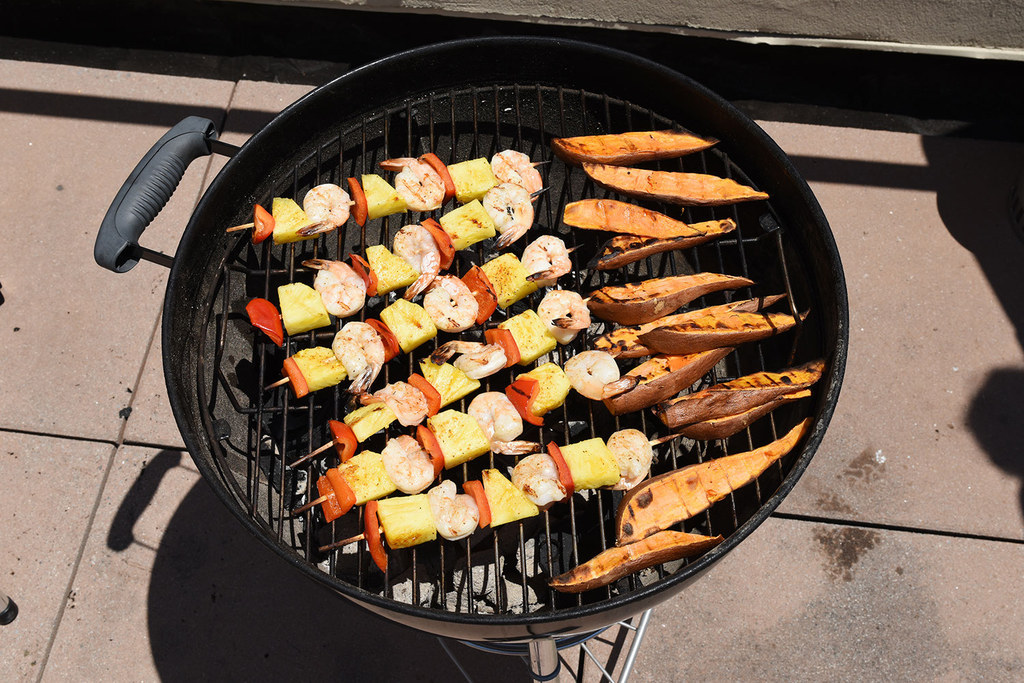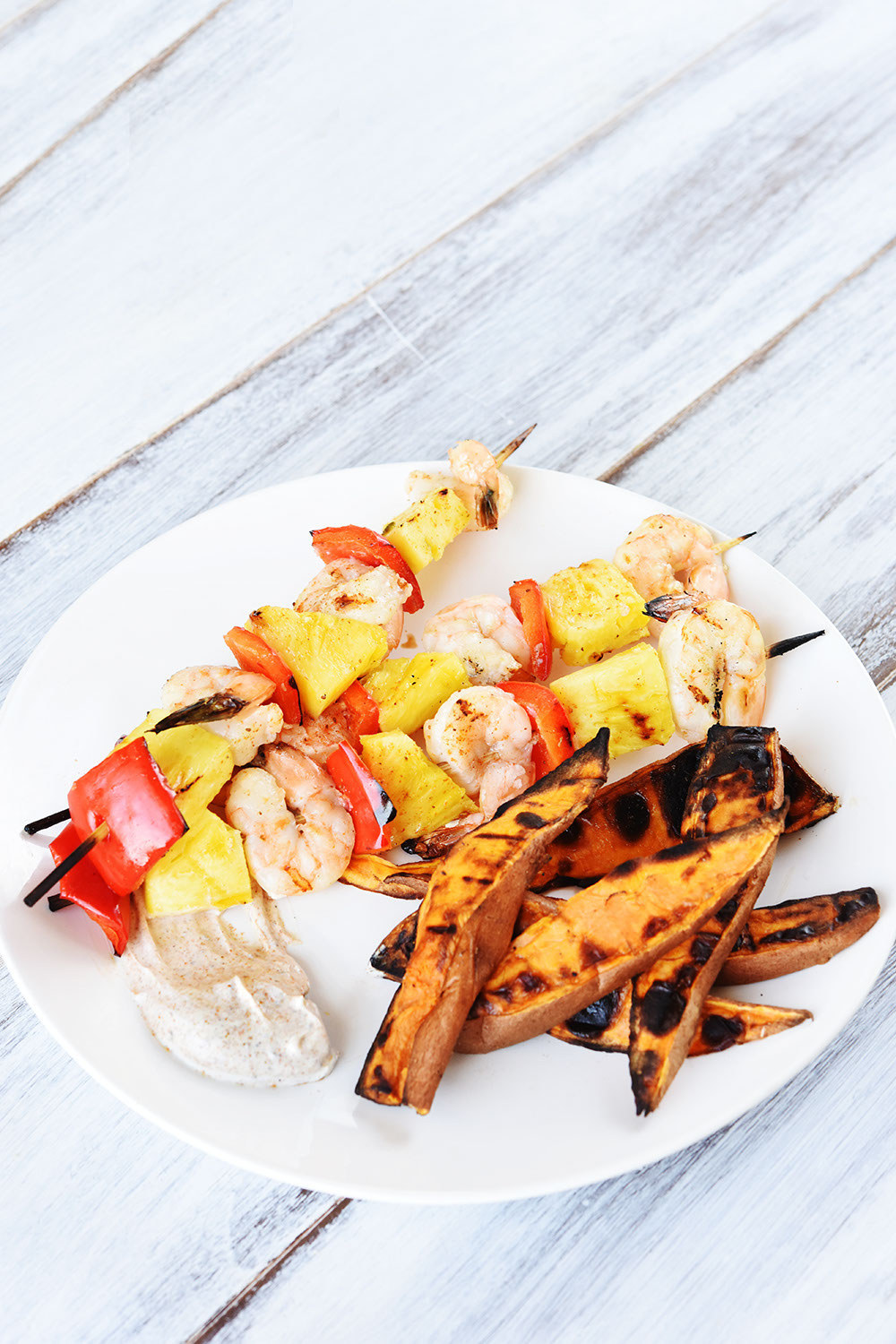 This recipe is one of five easy grilled dinners you can make from a single grocery list.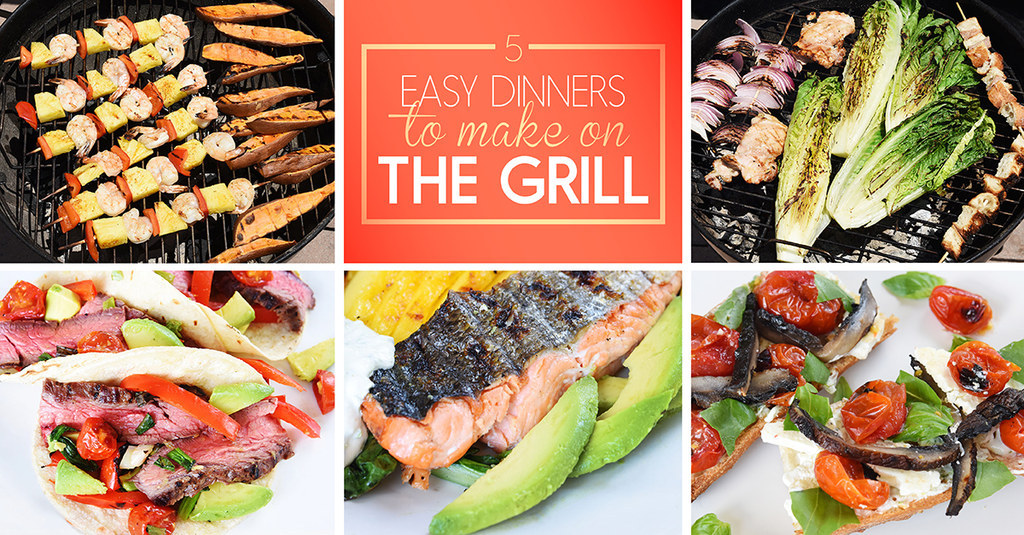 To see all five dinners, plus a complete shopping list, click here.