These days, it's pretty common for pastry chefs to open their own restaurants. But in 1997, when Elizabeth Falkner left San Francisco fine-dining mainstay Rubicon to open her restaurant/bakery Citizen Cake, it was practically unheard of. Falkner's dishes blurred the line between savory and sweet, earning her multiple awards and a James Beard award nomination for "Pastry Chef of the Year" in 2005. She has also competed on popular TV shows like Iron Chef America and Top Chef Masters, and serves at the president of Women Chefs and Restauranteurs.
The idea for these biscuits, which appeared on the breakfast menu at Citizen Cake, came to Falkner on a camping trip. "I was always cooking in the fireplace," Falkner tells BuzzFeed Life. "I woke up one morning and I was just like, 'I'm going to make bacon and onion scones for everybody.' I had some kind of baking sheet and just put it near the fire and used that heat. I've cooked a lot in fireplaces and wood burning stoves." And the rustic cooking method wasn't the only novel thing about the scones. "Today, bacon is in so many things, but it wasn't at all at the time. I put these on the breakfast pastry menu at Citizen Cake, and people were like, 'huh… Bacon and onion scones. Is that good?'"
Even now, when bacon is in everything from cupcakes to ice cream to peanut butter, these biscuits stand out. The dough is super light and slightly sweet, while the crispy bacon and the bacon fat add an intense savory factor. And did I mention that there's cheese?
Here is everything you'll need to make the biscuits.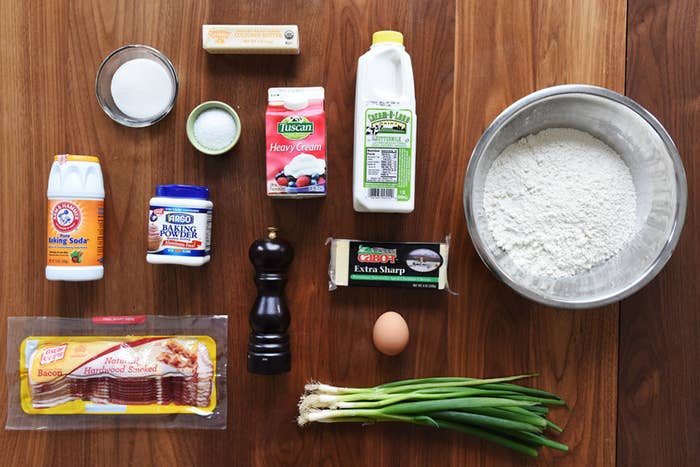 1.
Cut the bacon into 1/4-inch strips.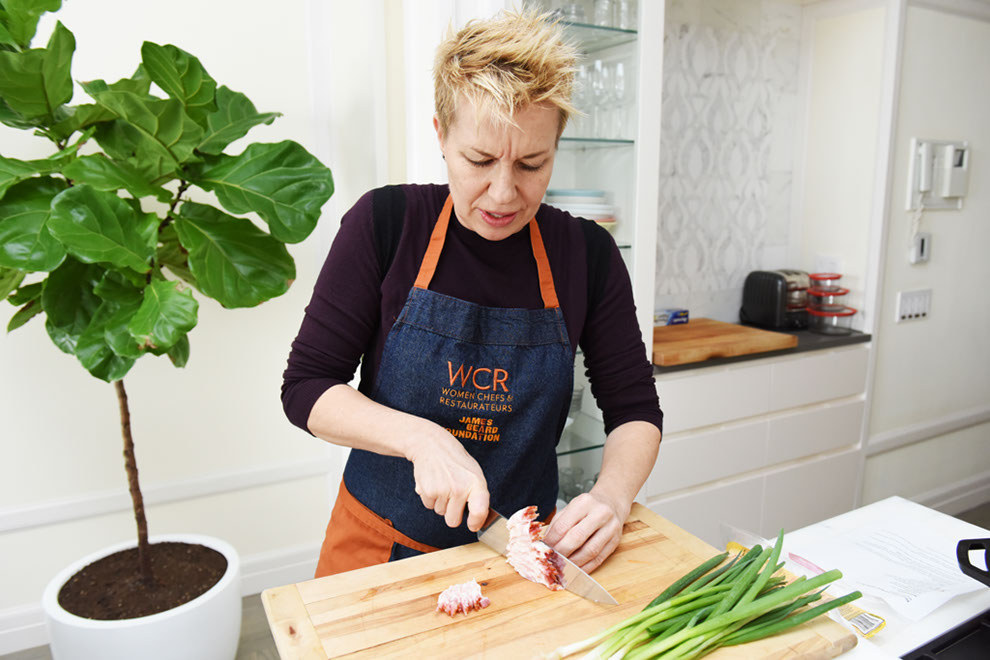 2.
Heat a teaspoon of olive oil in a skillet over medium heat, then add the bacon and spread it around the skillet.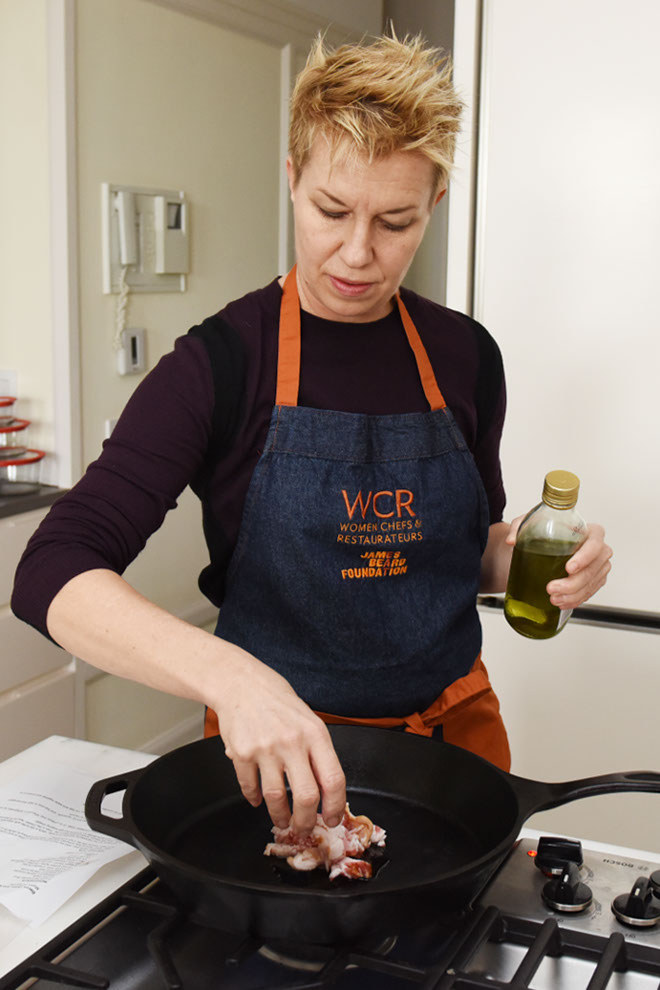 3.
While the bacon is cooking, slice the scallions into pieces about 1/4-inch thick. No need to separate the whites and greens.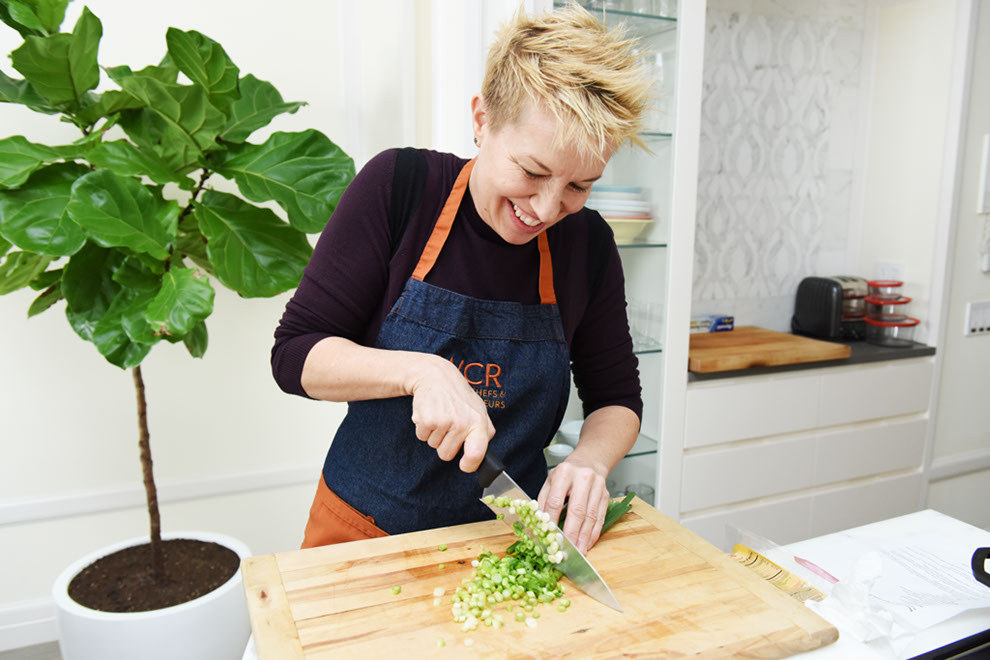 4.
When the bacon is crispy and most of the fat has rendered out, pour the fat out into a small bowl, but leave the bacon in the skillet.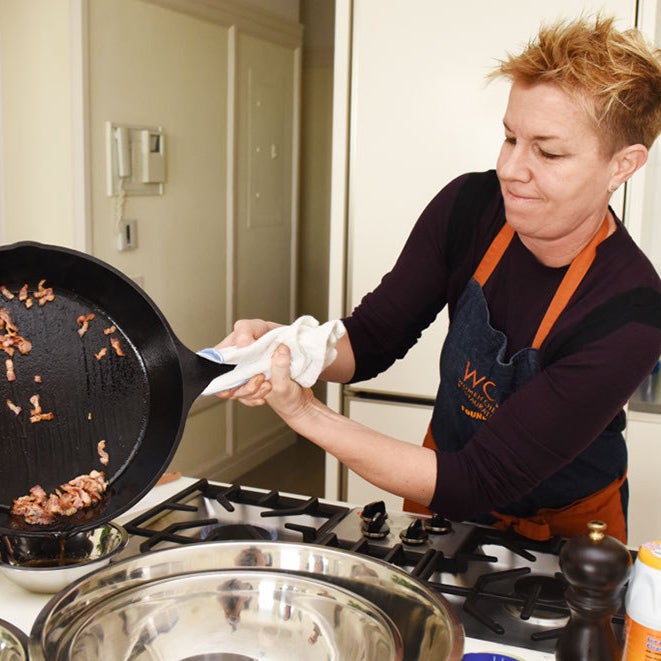 5.
Put the skillet back on medium heat, and add the scallions.
6.
Cook for about a minute, just until the scallions are starting to soften, then transfer the bacon and scallions to a bowl.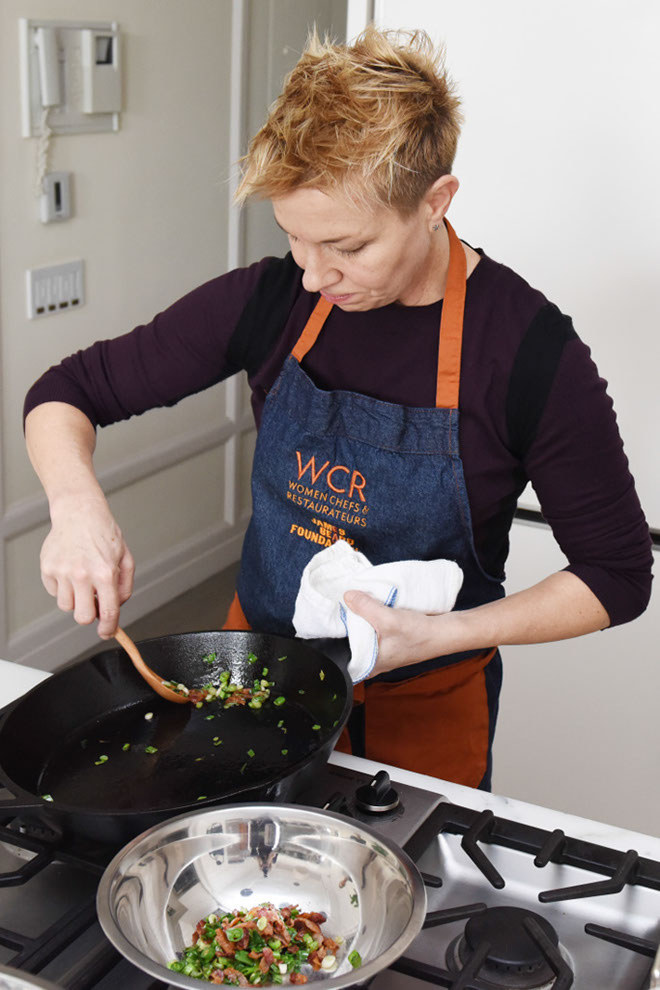 7.
Combine the flour, sugar, baking powder, baking soda and salt in a large mixing bowl. If anything is lumpy, sift it into the bowl instead of just dumping it.
8.
"You probably want me to use measuring cups and spoons, right?"
"I'm a pastry chef and a savory chef," says Falkner. "My whole career, people have been like, 'Oh, you're a pastry chef, you have to be so exacting.' And it's true to an extent. But, I don't know, when I'm at home, I just sort of throw stuff in. It's like grandma's cooking. I do think like a baker, because I think in percentages. But it's more of a visual percentage. So I don't have to really measure." For example, she knows that a biscuit recipe of this size needs around a tablespoon of baking soda as leavener, and she knows what that looks like.
Add a little black pepper, too.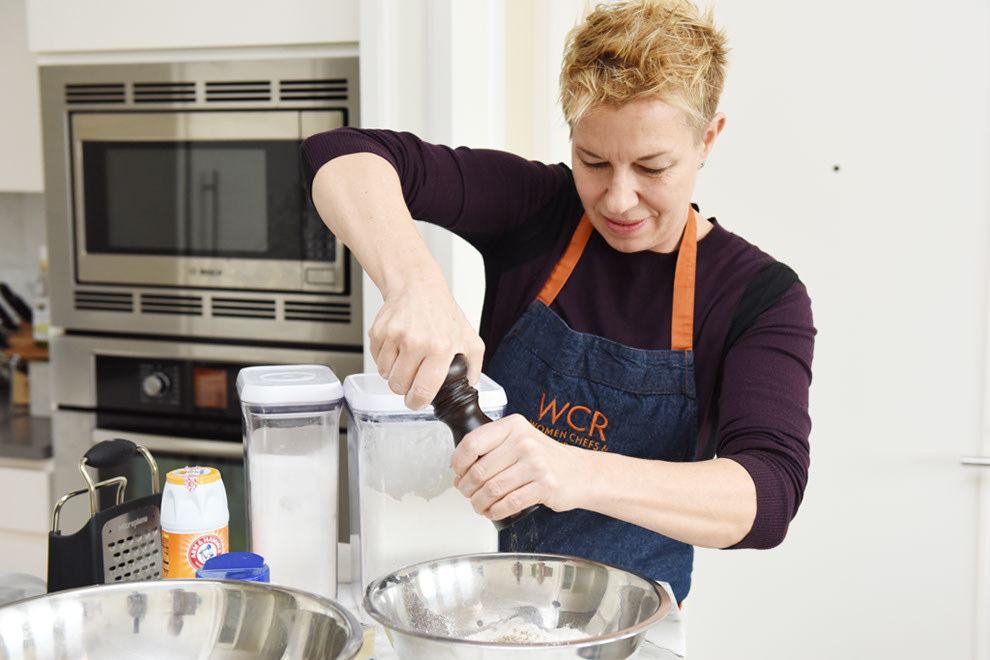 9.
Mix all the dry ingredients together, then cut your refrigerator-cold butter into 1/2-inch cubes and add it to the dry ingredients.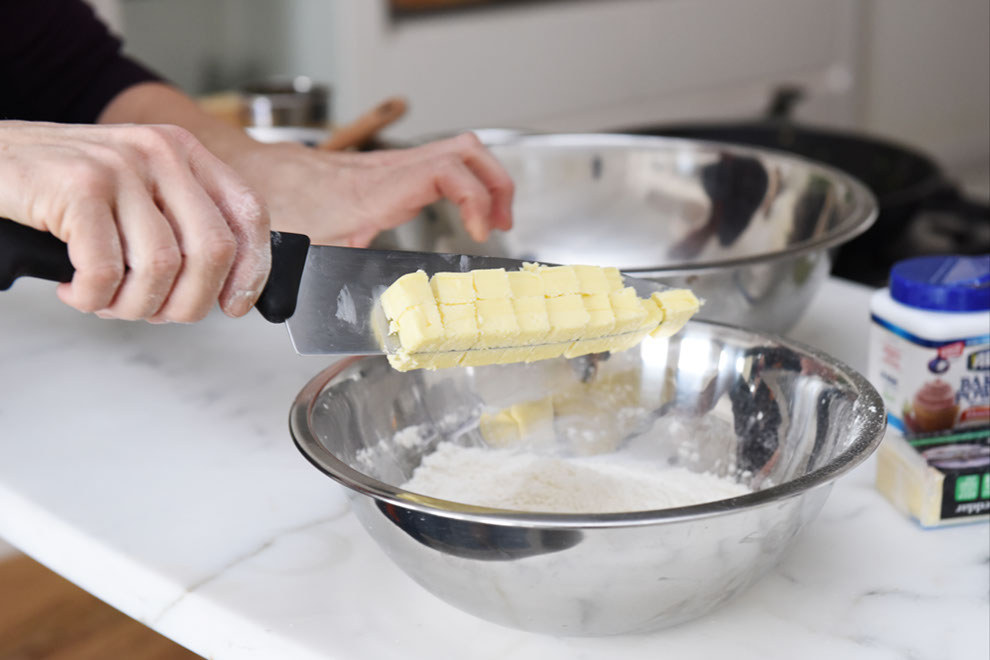 10.
Use your fingertips to massage the butter into the flour mixture. You want to sort of crumble the butter to mix everything together.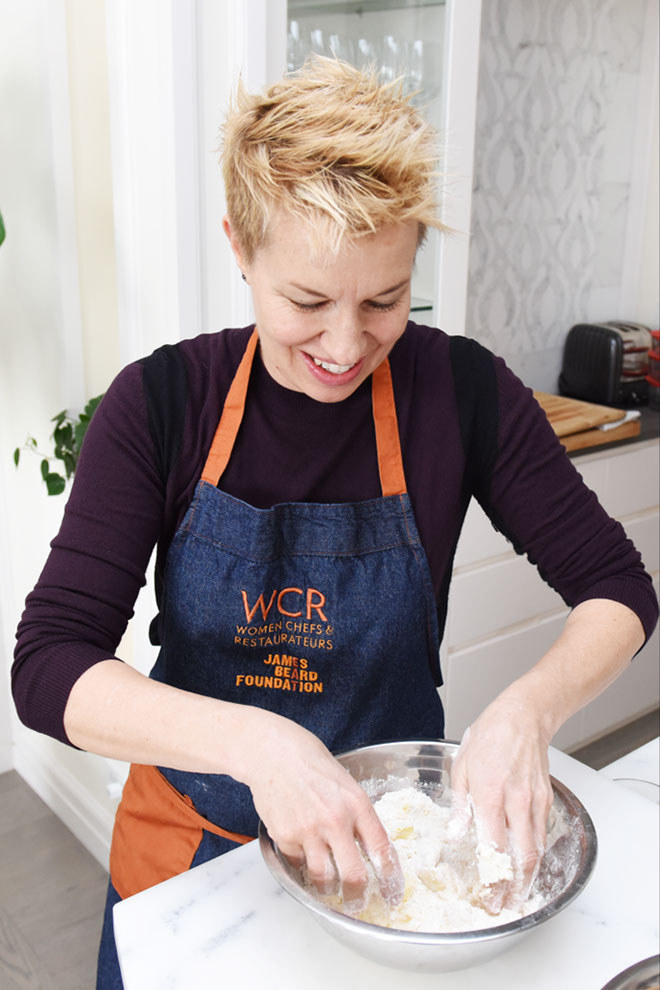 CHEF'S TIP:
Always make your biscuit dough by hand, not in a mixer. "You can do it in a big mixer, but [in my kitchens] we did it by hand," Falkner says. "There's a French technique called frisage, kind of like massaging the butter into the flour. I also just like the feel if it. If you're at home, you might as well get your hands in it."
"When you're working butter into flour for a biscuit recipe it'll say, 'work the butter until it looks like coarse cornmeal."
11.
When your dough gets to that consistency, stop mixing.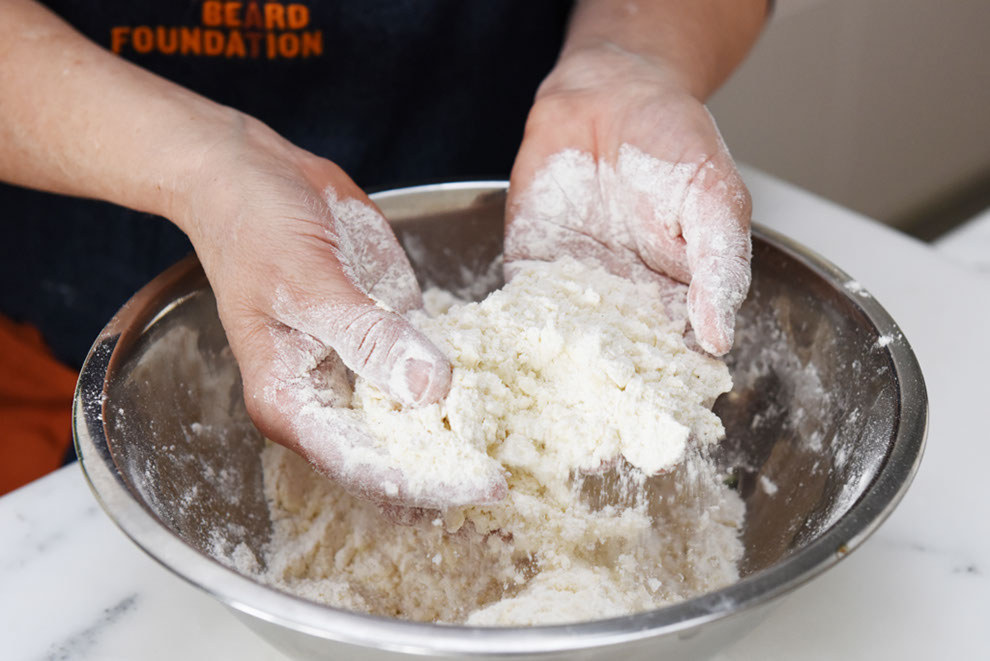 12.
Add the bacon fat, bacon-scallion mixture, and grated white cheddar.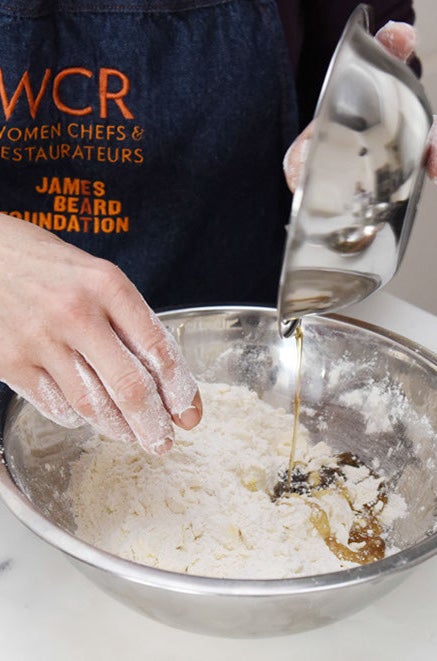 13.
Mix the dough again with your fingertips, this time just to mix in the bacon, scallions and cheese and to incorporate the bacon fat.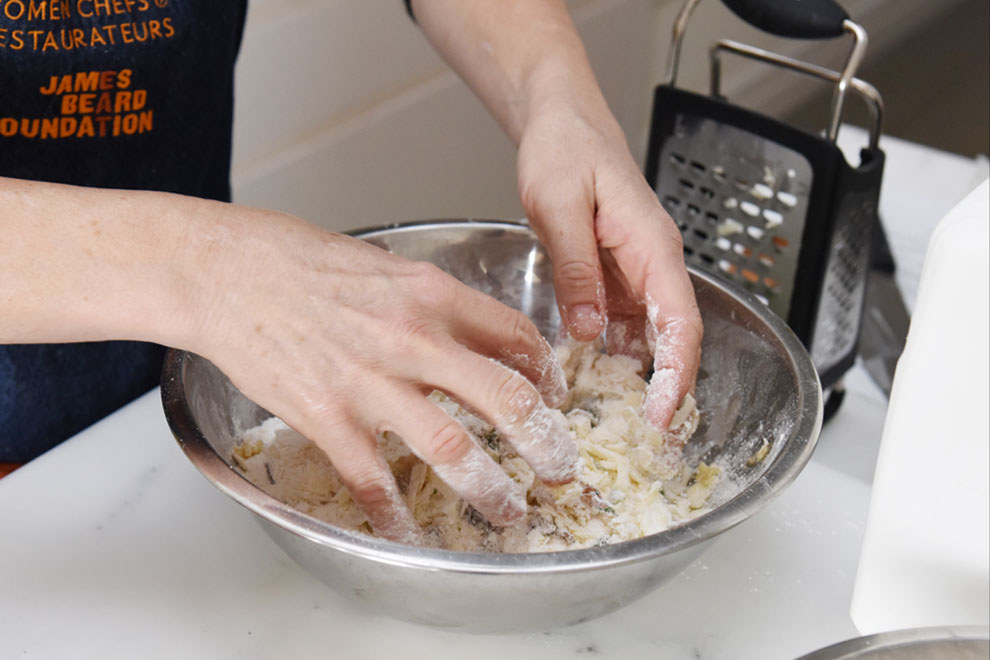 14.
Add the heavy cream and the buttermilk.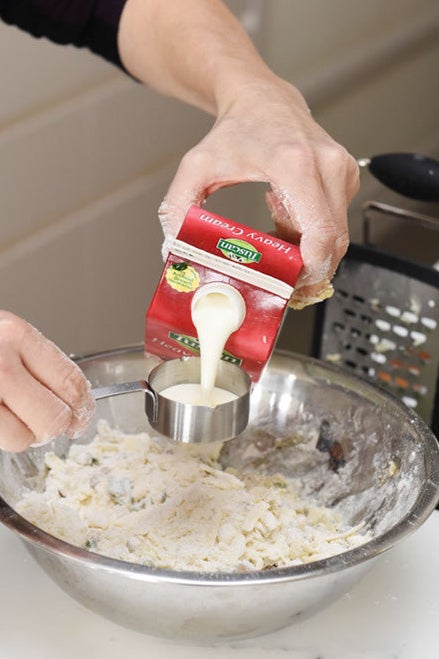 CHEF'S TIP:
Don't be afraid to use more than one kind of dairy. Falkner uses half buttermilk and half heavy cream in this recipe. The buttermilk is a little bit tangy, while the heavy cream adds richness.
15.
Continue to work the mixture with your fingertips, just until you have a dough that's still a little bit crumbly but pretty uniform throughout.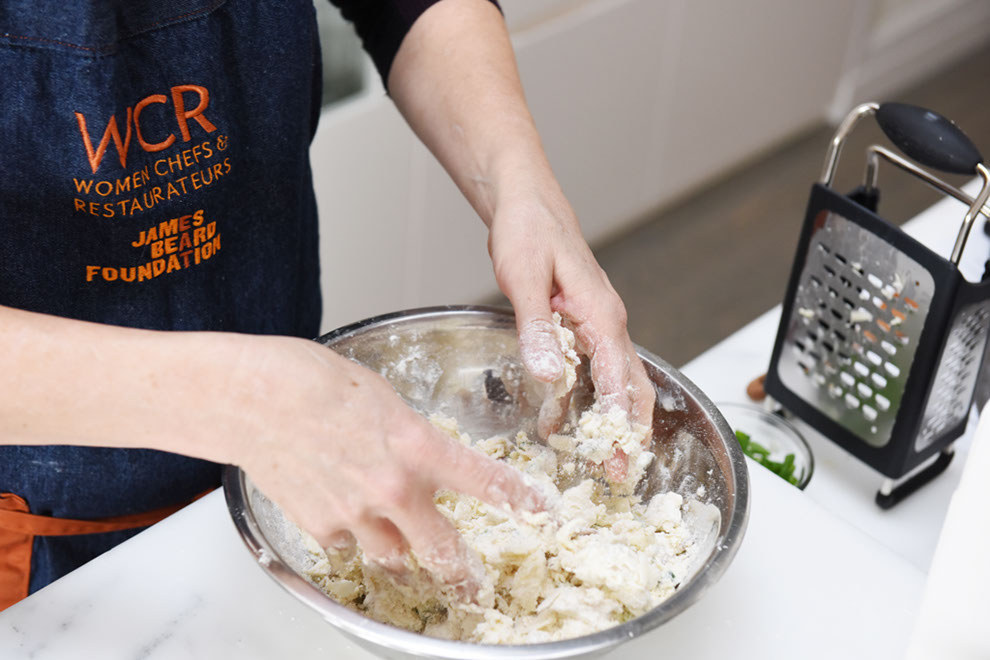 16.
Form the dough into a rough rectangle, then wrap it tightly in plastic wrap. Refrigerate the dough for at least 30 minutes, up to overnight.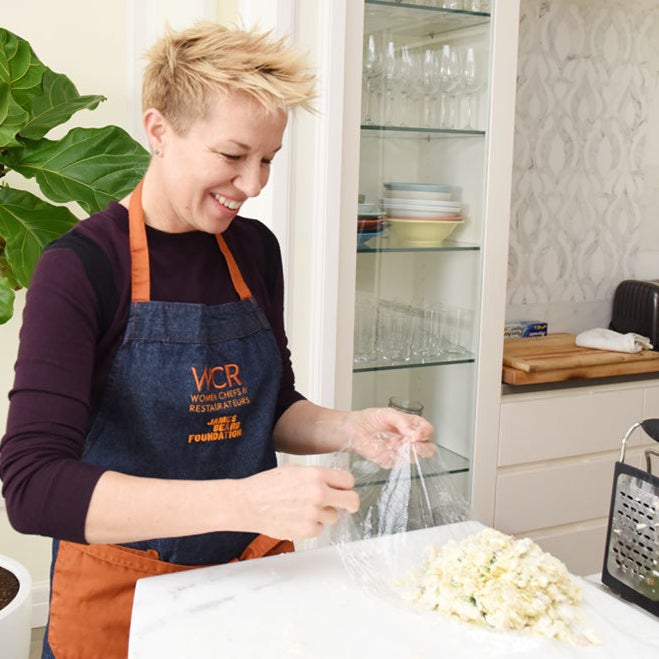 17.
When the dough is chilled, preheat your oven to 350 °F and unwrap the dough.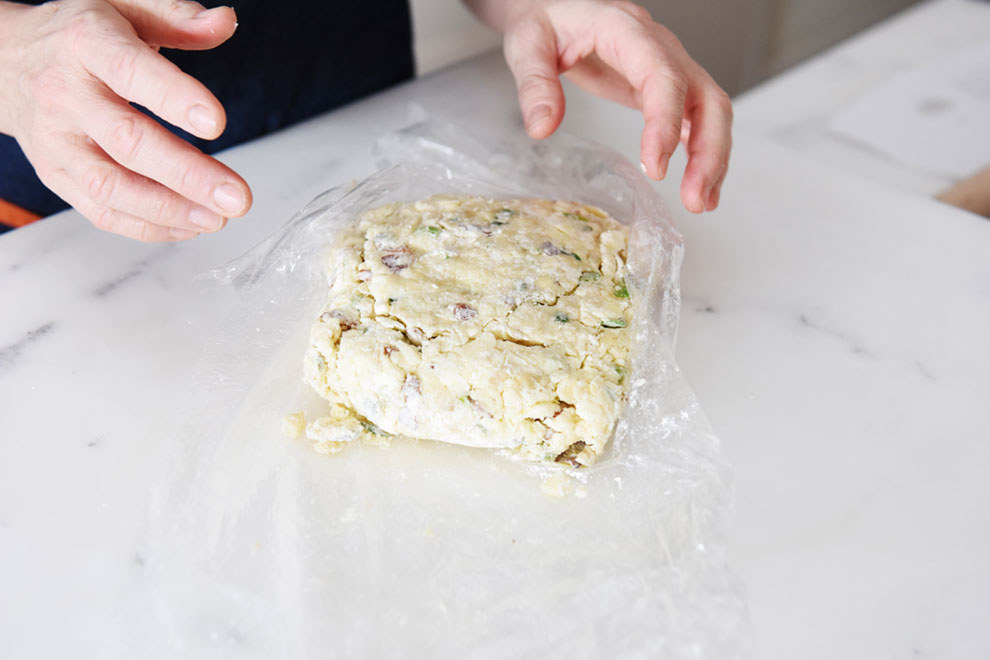 18.
Lightly flour a hard, flat work surface. Sprinkle some flour on your dough and a rolling pin, too. Roll out the dough to form a rough 8x12-inch rectangle.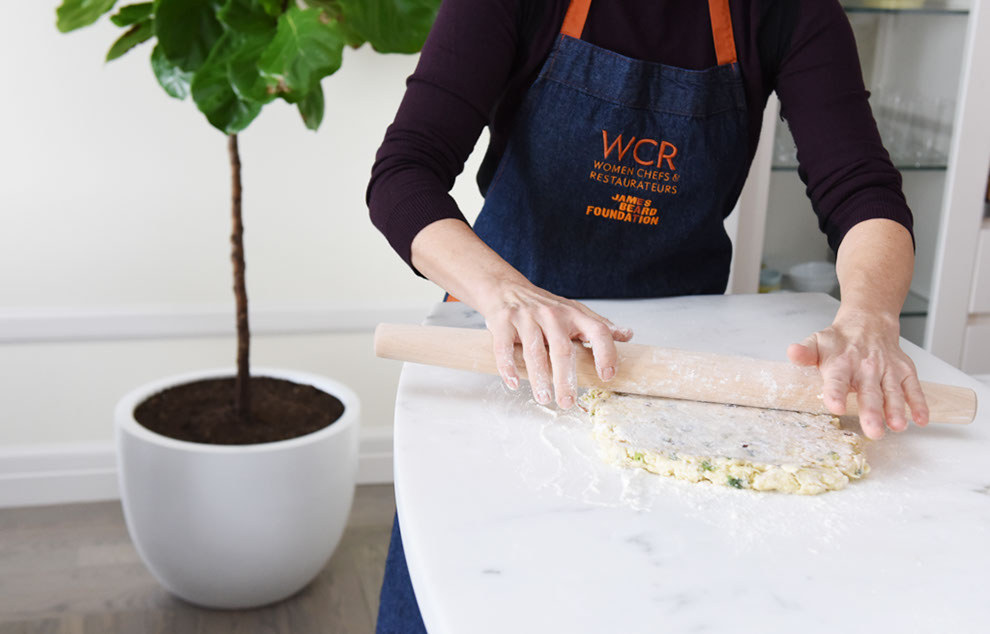 19.
Fold the rectangle in half, then flour it and roll it out, again to a 8x12-inch rectangle.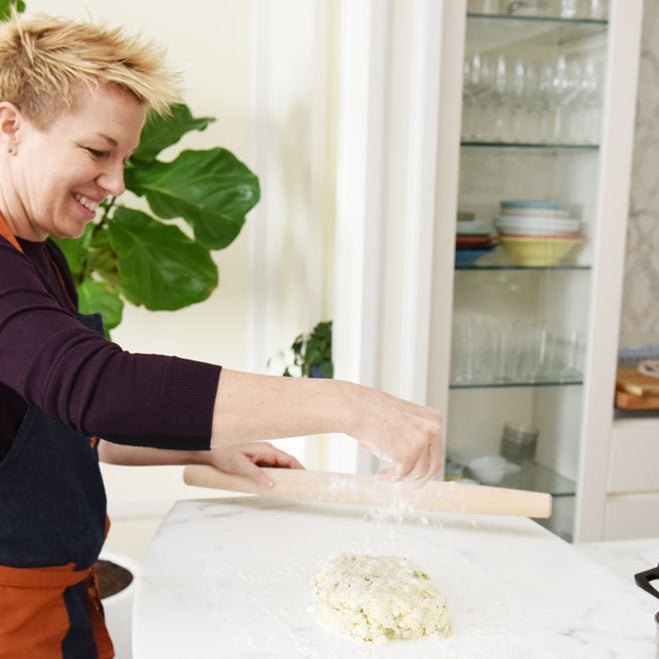 The point of rolling, folding, and re-rolling is to give your dough some layers. This helps make the biscuits flaky.
20.
Use the side of the knife to press the edges of the dough in a little bit, just so that it's a neater rectangle.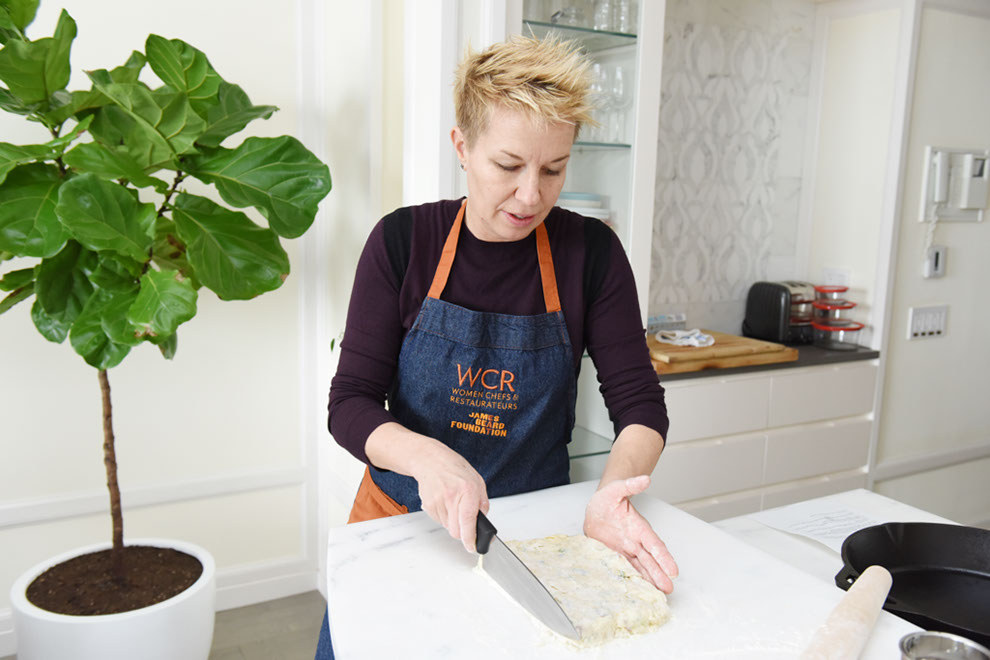 21.
Cut the dough into 12 pieces.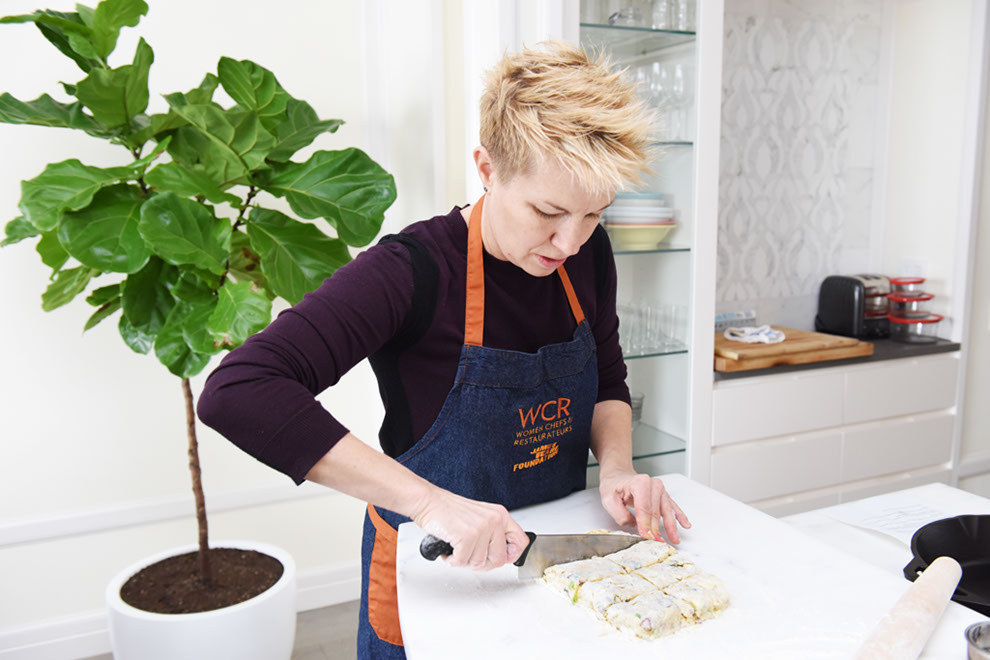 22.
Spread the biscuits out over a large, rimmed baking sheet lined with parchment, then beat an egg with 2 tablespoons of water to make egg wash.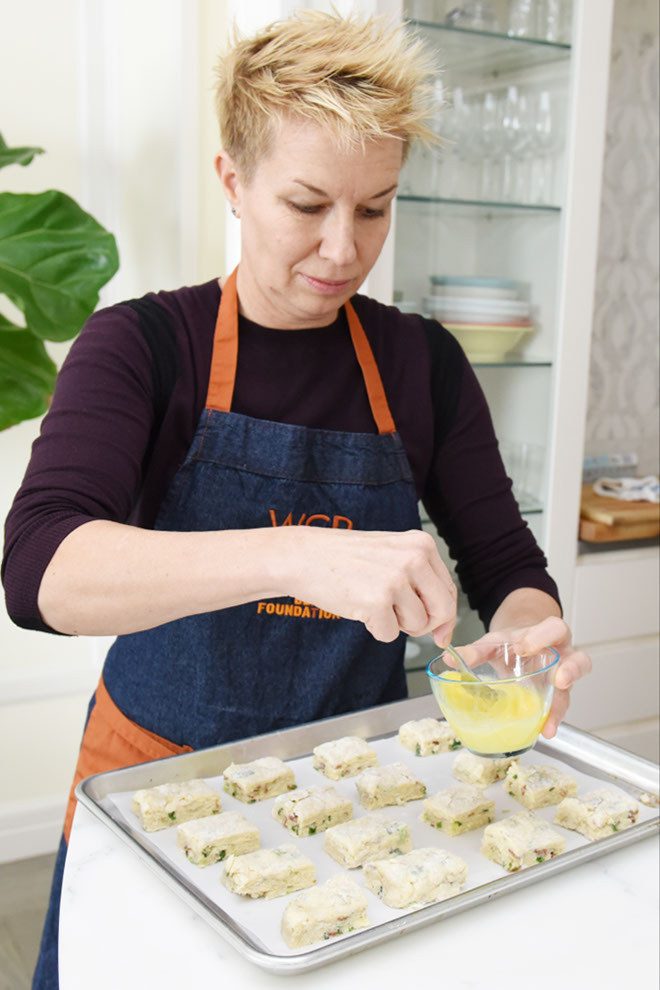 23.
Brush the top of the biscuits with egg wash.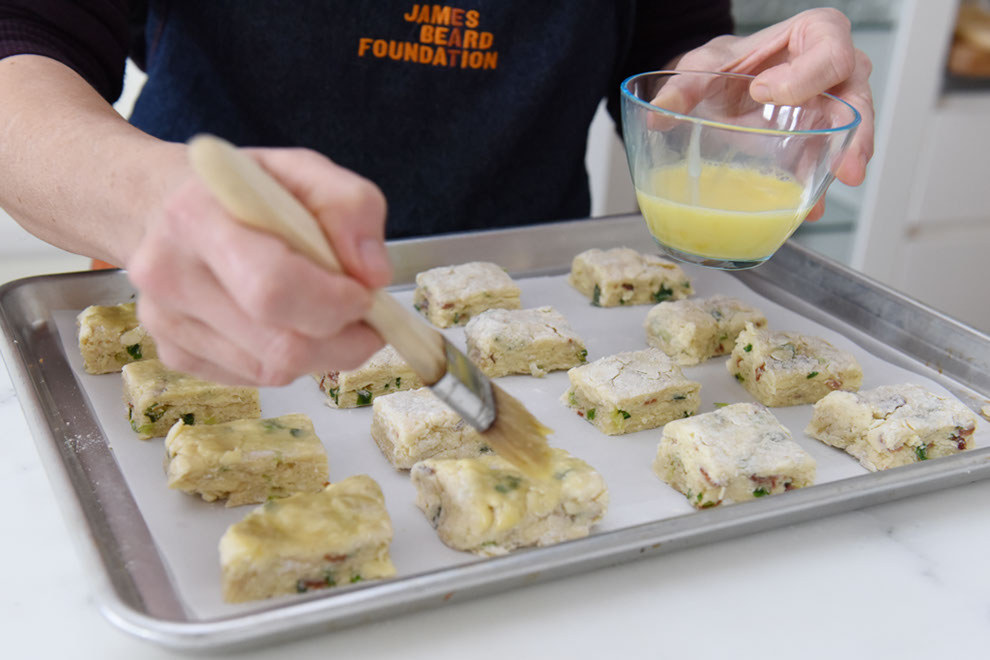 24.
Bake the biscuits in the preheated oven for 25-30 minutes.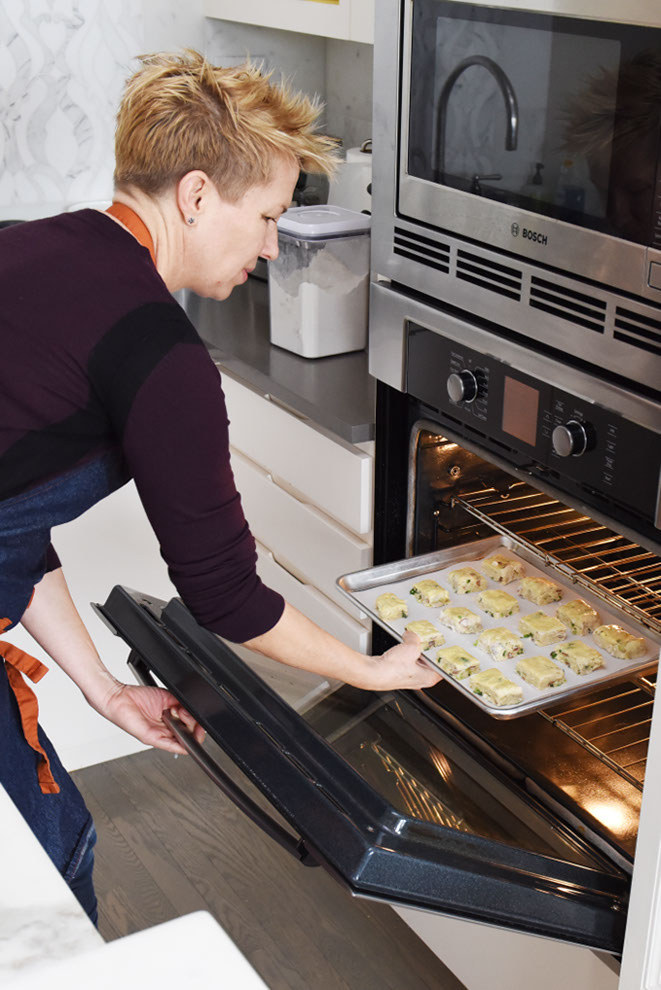 25.
They're done when the dough has risen and the tops are a deep golden brown.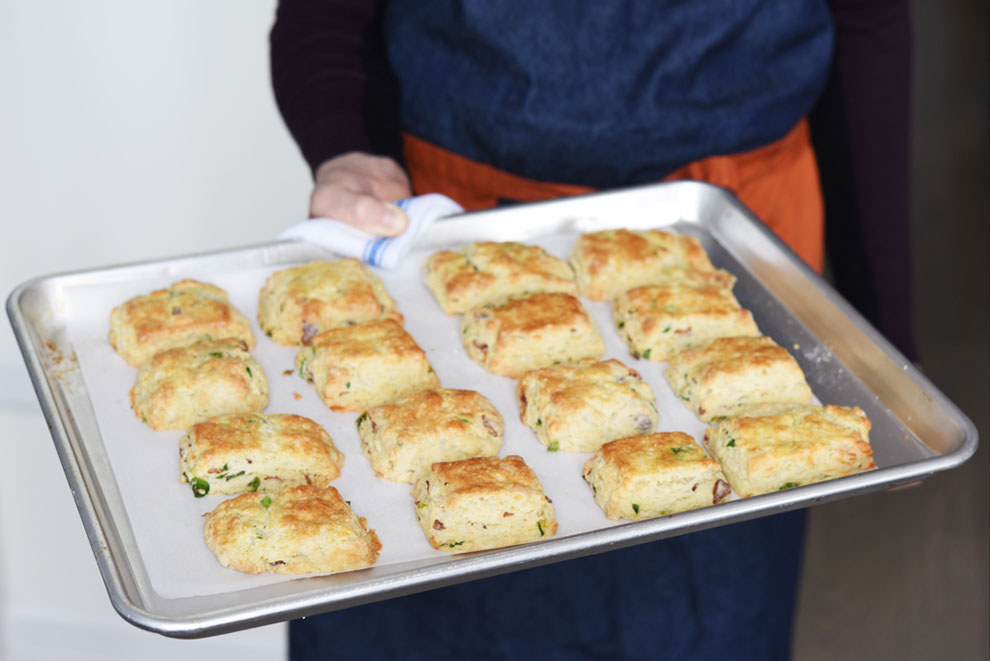 26.
Let them cool for just a couple of minutes, then eat one immediately.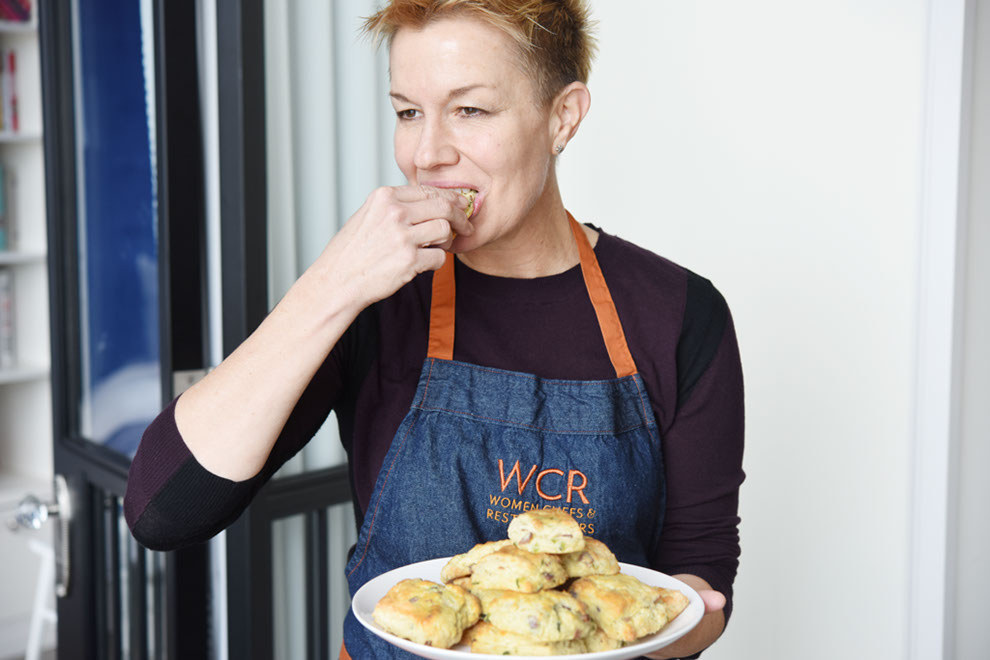 27.
Serve.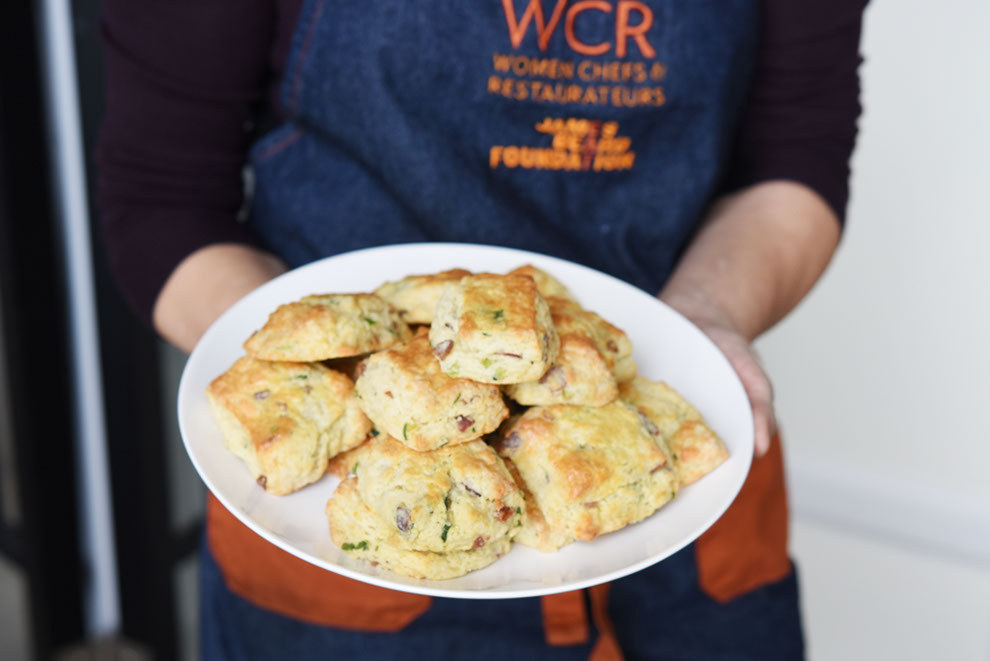 The biscuits are so full of savory bacon flavor, both from the bacon pieces and the fat. They taste great on their own.
They also taste great slathered with butter.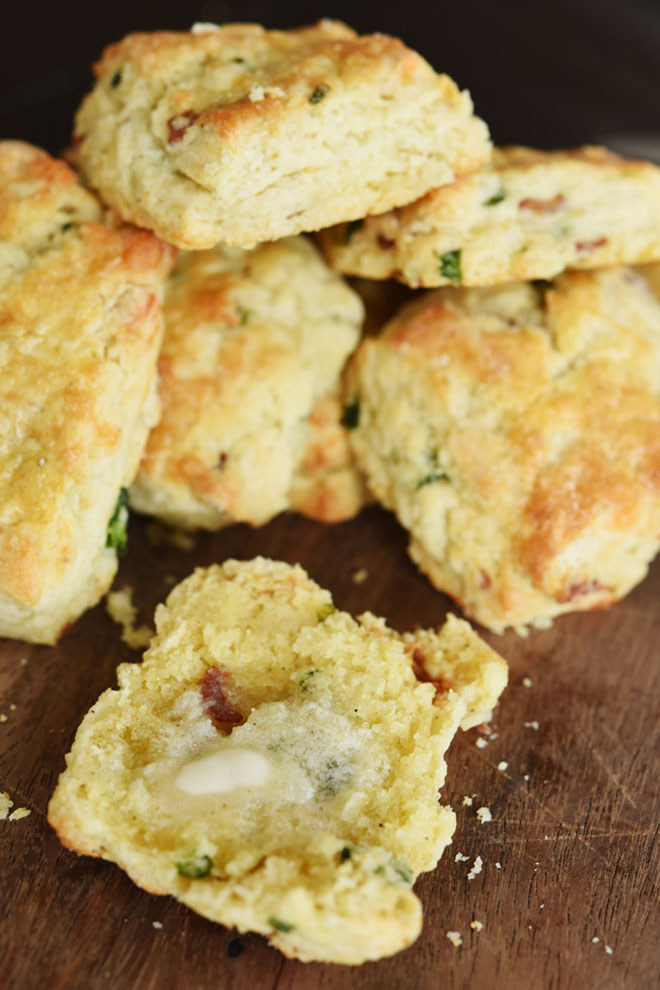 Bacon, Scallion, and White Cheddar Biscuits
Recipe by Elizabeth Falkner
Makes 12 biscuits
INGREDIENTS
1 teaspoon olive oil
3 slices bacon, cut into 1/4-inch slices
1/4 cup chopped scallions
2 cups all-purpose flour
1/3 cup sugar
1 tablespoon baking powder
1/2 teaspoon baking soda
2 teaspoons kosher salt
few cranks black pepper
4 ounces unsalted butter, chilled and cut in ½-inch cubes
1/2 cup grated white cheddar cheese
1/4 cup buttermilk
1/4 cup cream
1 egg
PREPARATION
1. Heat the olive oil in a small skillet over medium heat. Add the sliced bacon, and cook until it's crispy and most of the fat has rendered, about 3 minutes. Tilt the skillet and pour most of the bacon fat out into a small, heatproof bowl, leaving the cooked bacon in the skillet. Set the bacon fat aside, and put the skillet back on medium heat. Add the chopped scallions and cook just until the whites are starting to soften, about a minute. Transfer the cooked scallions and bacon to a small bowl and set aside.
2. Sift together flour, sugar, baking powder, baking soda, salt, and some black pepper in a large mixing bowl. Add the chilled, cubed butter and use your fingertips to crumble the butter into the dough, until it resembles coarse cornmeal with pea-sized lumps. Add the bacon, scallions, cheese and bacon fat, and mix everything together with your fingertips, just until everything is incorporated and the mixture is an even consistency. Add the buttermilk and the cream and gently work them into the dough, just to combine. The dough should be sticky but still slightly crumbly.
3. Wrap the dough in plastic wrap and chill in refrigerator for at least 30 minutes, up to overnight.
4. When the dough is chilled and you're ready to bake, preheat the oven to 350 °F and line a large baking sheet with parchment paper.
5. Dust a large, smooth work surface with a little bit of all-purpose flour, then unwrap the dough onto the surface. Sprinkle flour onto the dough and onto a rolling pin, then roll the dough out to an 8"x12-inch rectangle. Fold the rectangle in half over itself, then roll it out again to an 8"x12-inch rectangle. This fold will give your biscuits more delicious, flaky layers. Use the side of a knife or your hands to press the edges of the dough into neat, straight sides, then cut the dough into twelve rectangles. You could also use a biscuit cutter and make rounds, if you want.
6. Set biscuits on a parchment-lined baking sheet. In a small bowl, whisk the egg with 2 tablespoons of water, and brush the egg wash on to biscuits.
7. Bake in the preheated oven until the biscuits are risen, flaky, and golden brown, 25-30 minutes. Cool slightly before serving.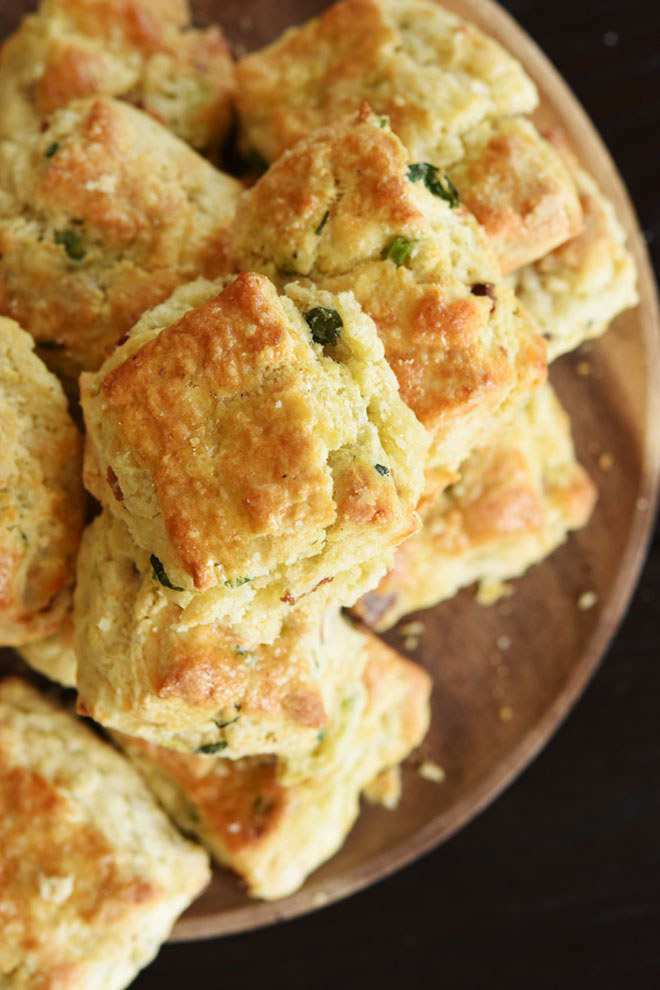 The conference, now in it's 22nd year, will be held from April 18-20, and the events range from culinary workshops, to panel discussions about obstacles women continue to face in restaurant industry, to offsite food tours celebrating New York's culinary heritage and all of the badass lady chefs that are a part of it. Registration is open to the public, and tickets to one-off events like offsite food tours and seminars are also available. Learn more here.