Grilling doesn't have to be a weekend-only thing. With a little planning, you can grill easy dinners all week long.
And really, we did the planning for you! Below are five original recipes that are easy, delicious, and perfect for busy weeknights. Each one is made entirely on the grill and comes with an easy-to-follow chart that tells you exactly where on the grill to put each ingredient (the hot side or the cooler side), and for how long. Use the grocery list below to make the five recipes in this post over the course of a week in whatever order you like.
Your safest bet is to make them all within a week of grocery shopping to ensure that the ingredients stay fresh, but it's no big deal if you do it over the course of 10 days or so. Keep your meat and fish in the freezer whether you cook this over a week or 10 days, but put it in the fridge two days before you plan to use it, so that it has time to defrost.
Here are all the ingredients you'll need to make these five dinners: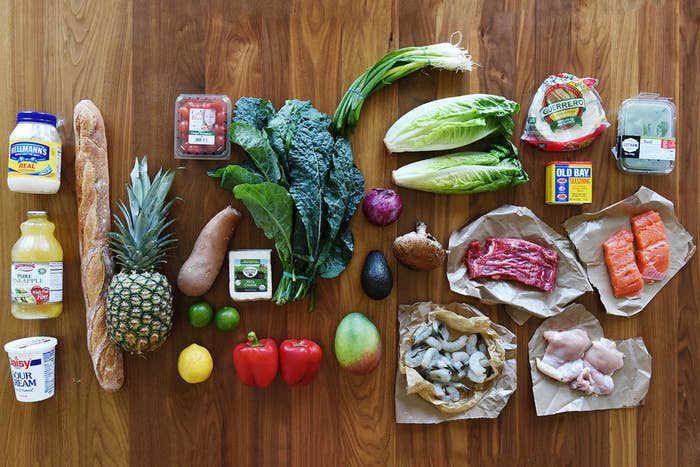 Here's what's on the menu:
Here's a shopping list for all five of these recipes:
PRODUCE
Avocado, 1
Basil, 1 bunch
Cherry tomatoes, 1 pint
Pineapple, 1 small (or 1 cup pineapple chunks)
Lemon, 1
Lacinato kale, 1 bunch
Limes, 2
Mango, 1 large
Red bell pepper, 2 medium
Red onion, 1 medium
Romaine hearts, 2
Scallions, 1 bunch
Sweet potato, 1 large
Portobello mushroom cap, 1 large
DAIRY, MEAT, AND SEAFOOD
Chicken thighs (boneless, skinless), 2 large
Feta cheese, 1 4-ounce block
Flank steak, 1 8-ounce fillet
Salmon (skin-on), 2 6-ounce fillets
Shrimp (peeled, deveined), 8 ounces
Sour cream, 1 8-ounce container
PANTRY ITEMS
Baguette, 1 large
Corn tortillas, 1 10-count bag
Mayonnaise
Old Bay seasoning
Pineapple juice, 1 12-ounce bottle
Here's exactly how to light a charcoal grill to cook these recipes. You need one side to be very hot, and the other side to be a little bit cooler
If you have a gas grill, that's fine. Just turn the burners to medium-high on one side and to medium-low on the other, then close the grill and let it get hot before you start cooking.
Here's how to light a grill chimney: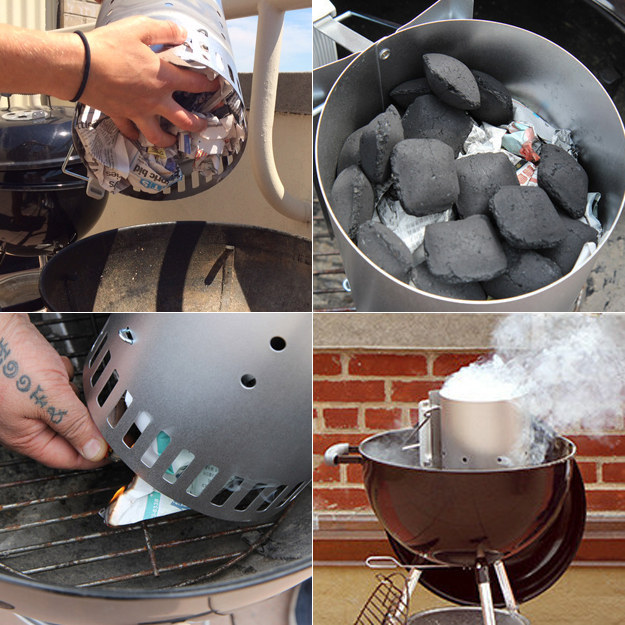 When the coals are red hot on the bottom, carefully pour them out of the chimney, onto just one half of the grill.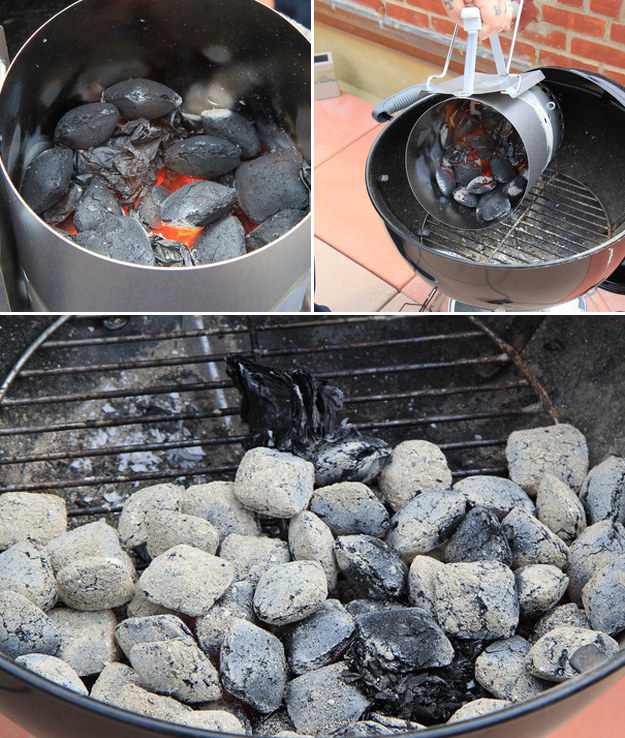 Want amazing recipes in your inbox twice a week? Sign up for the BuzzFeed Food newsletter!