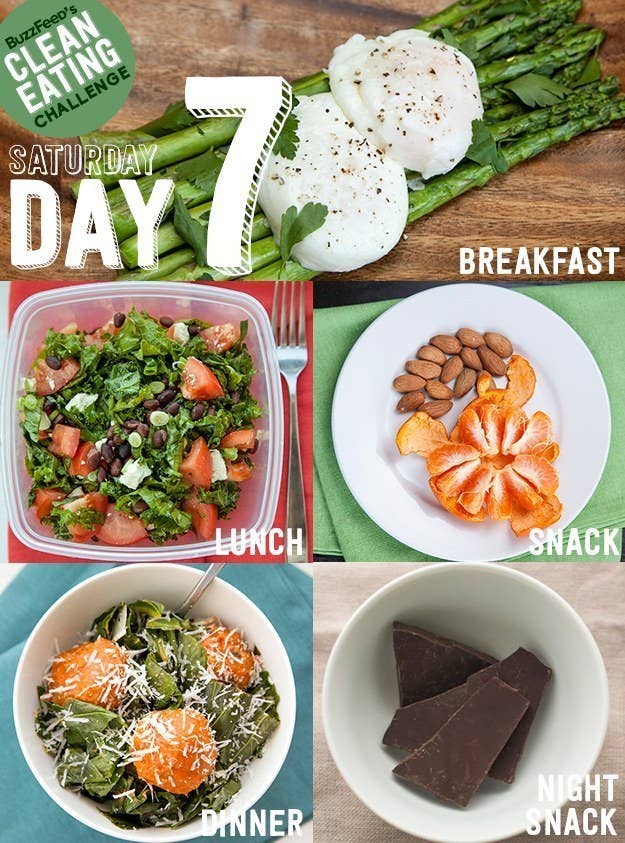 BuzzFeed Food's Clean Eating Challenge is a two-week detox plan that's all about eating real food in order to feel great and have more energy. All of the food is low carb and gluten free with an emphasis on lean protein (no red meat) and fresh produce. There's no processed food allowed; every meal is homemade.
It's important that you follow the meal plan in order starting with Day 1 since most of the recipes call for leftover ingredients from previous days. But you can start any time and find full instructions here. Aim to eat every 3-4 hours and try not to eat within two hours of bedtime.

s3.amazonaws.com
In addition to following today's meal plan, you'll have to grocery shopping for Week 2!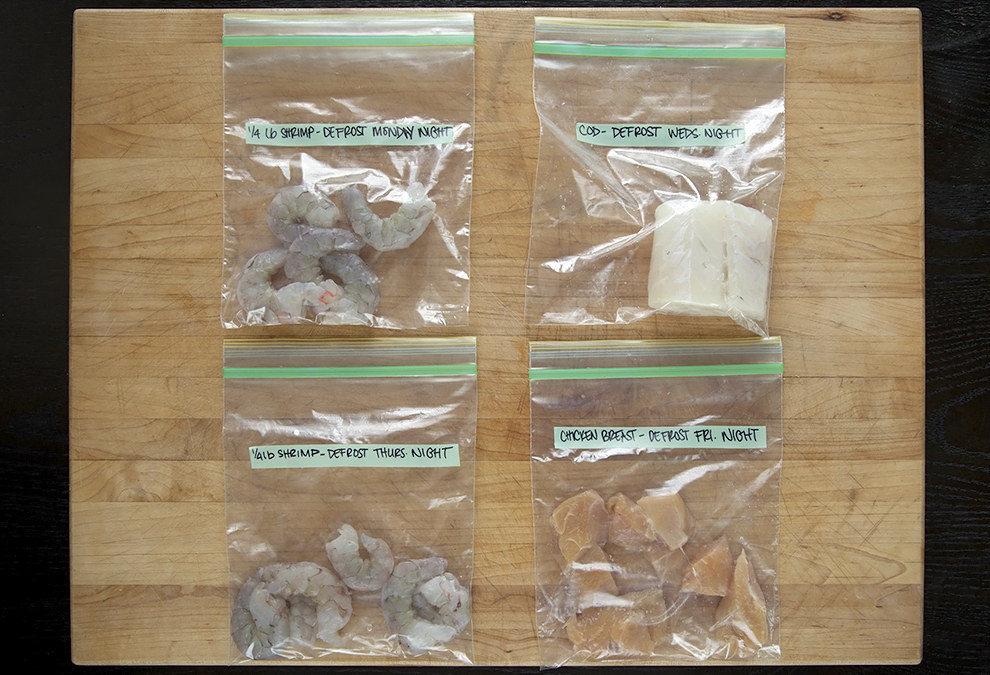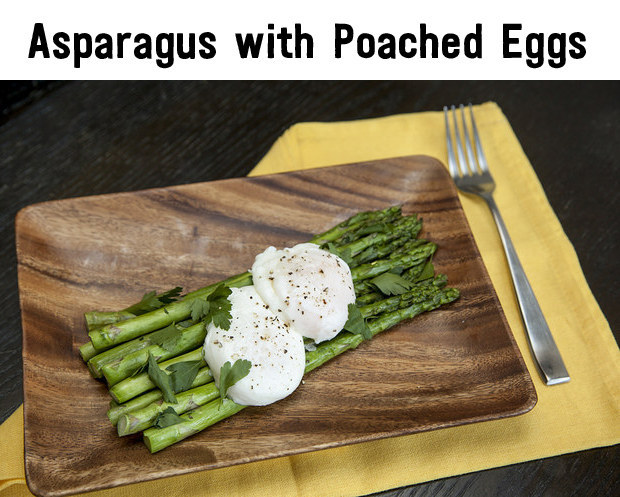 ASPARAGUS WITH POACHED EGGS
Makes 1 serving
Once you've steamed the asparagus, set 1/3 of it aside for Sunday's lunch.
Ingredients
1 1/2 bunches asparagus (you'll save 1/3 of the asparagus, steamed, for Sunday's lunch)
2 large eggs for women; 3 large eggs for men
1 teaspoon apple cider vinegar
2 teaspoons olive oil
1 teaspoon chopped parsley
1/8 teaspoon kosher salt
freshly ground pepper
Procedure
In a large skillet with a lid, bring 1/2 cup water to a boil with ¼ teaspoon kosher salt. Trim 1 inch off of the root of the asparagus to remove the woody end, then add the asparagus to the skillet, turn the heat to low and simmer 4-5 minutes, until asparagus is cooked through but still slightly crunchy. Transfer to a plate and set aside.
Meanwhile, poach eggs: Fill a medium (at least 3 quart) saucepan or pot with about 5 inches of water. Add vinegar (this helps keep the egg whites together), bring the water to a simmer, then turn the heat to low. If you have a thermometer, use it to check the water temperature. The ideal temperature for poaching eggs is between 180 - 190 degrees. If you don't have a thermometer, you know you're at the right temperature when there are tiny little bubbles all over the bottom and sides of the pot, but none bubbling up to the surface.
Crack each egg into a separate small bowl or mug, then stir the water in a circle gently with a wooden spoon to create a whirlpool. Drop 1 egg into the center of the whirlpool. The white will wrap around the yolk and start to set. Let the egg poach in the water for 3 minutes, keeping the temperature steady. Remove the egg with a slotted spoon and drain on a paper towel-lined plate. Repeat with the other egg, again creating a whirlpool before dropping in the egg.
To serve, place the poached eggs atop ⅔ of the warm asparagus, then drizzle with olive oil, sprinkle with chopped parsley, and season with kosher salt and freshly ground pepper.
Cool the leftover asparagus completely before storing in an airtight container in the fridge.
Nutrition info: 252 calories, 18.9 g fat (4.5 g saturated fat), 6.5 g carbohydrate (2.6 g fiber, 0.4 g sugars), 15.4 g protein, 727 mg sodium, 372 mg cholesterol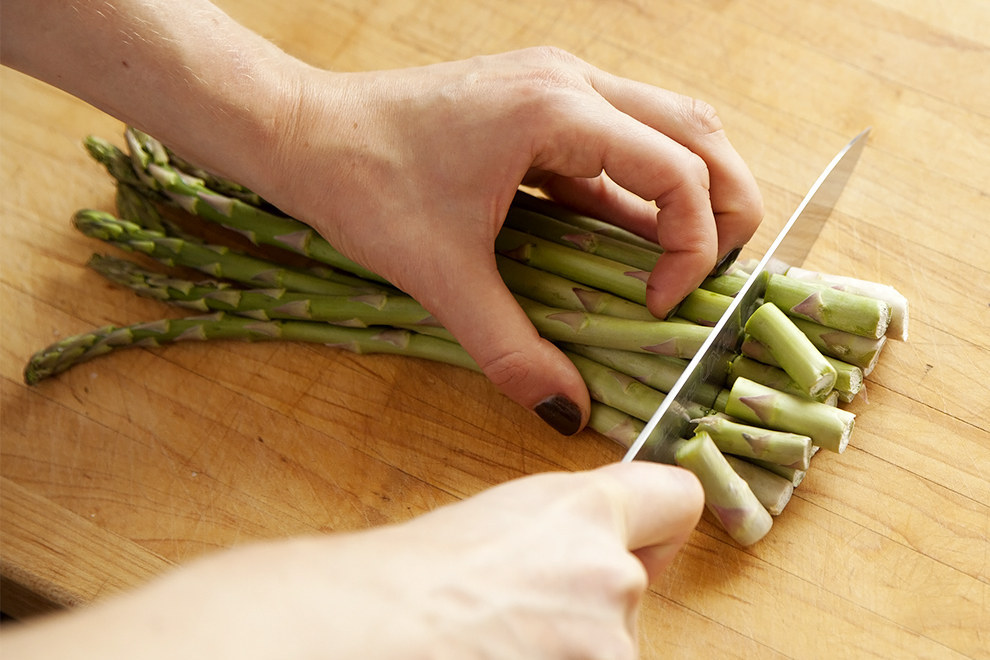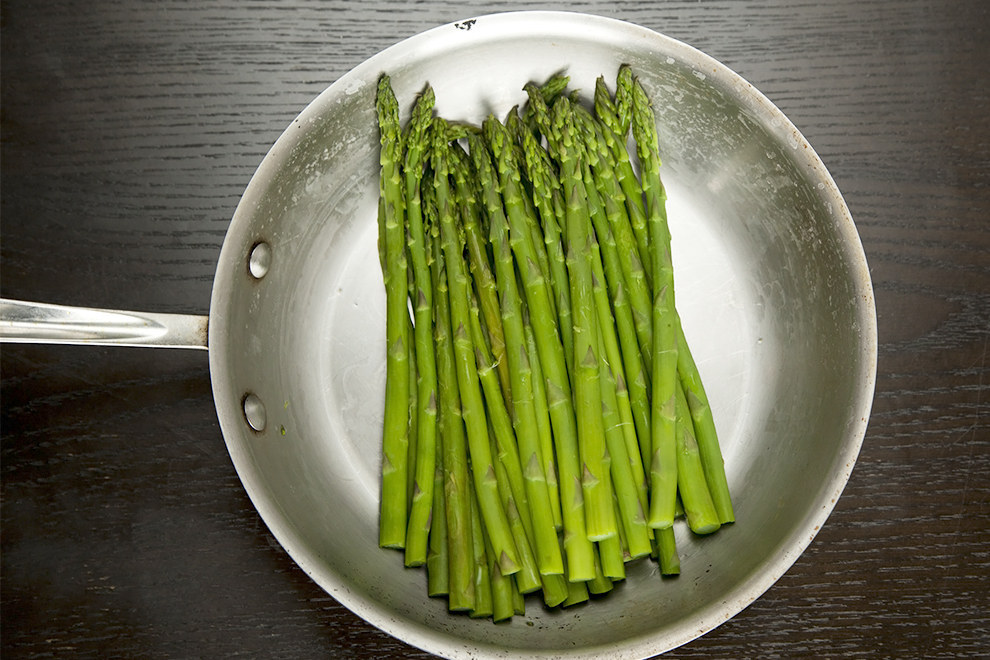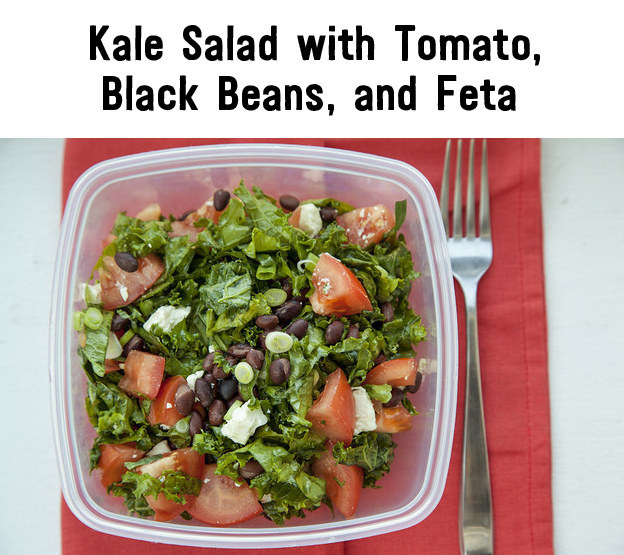 KALE SALAD WITH TOMATO, BLACK BEANS, AND FETA
Makes 1 Serving
Ingredients
2 scallions, whites and greens separated
1/2 bunch kale, stems and ribs removed
juice of 1/2 lime
1/2 tablespoon olive oil
1/2 cup black beans, rinsed and drained
2 ounces feta, crumbled
1 large beefsteak tomato, cut in 1/4-inch cubes
Procedure
Thinly slice scallion whites, and cut scallion greens into ½-inch pieces. Thinly slice kale leaves into ¼-inch ribbons. Put lime juice in a medium mixing bowl, then slowly add the olive oil while whisking vigorously. Add scallions and kale to the mixing bowl, and use your hands to massage the dressing into the kale leaves for about a minute, until kale starts to soften just slightly. Add black beans, feta, and tomato, and toss just to combine.
If you're packing lunch to-go: Prep the salad in the morning or night before, then store it in an airtight container in the fridge until you're ready to eat it. Kale is super resilient and won't wilt, so it's fine to dress this ahead of time.
422 calories, 22.1 g fat (9.8 g saturated fat), 39.5 g carbohydrate (11.3 g fiber, 4 g sugars), 20.3 g protein, 693.8 mg sodium, 50.5 mg cholesterol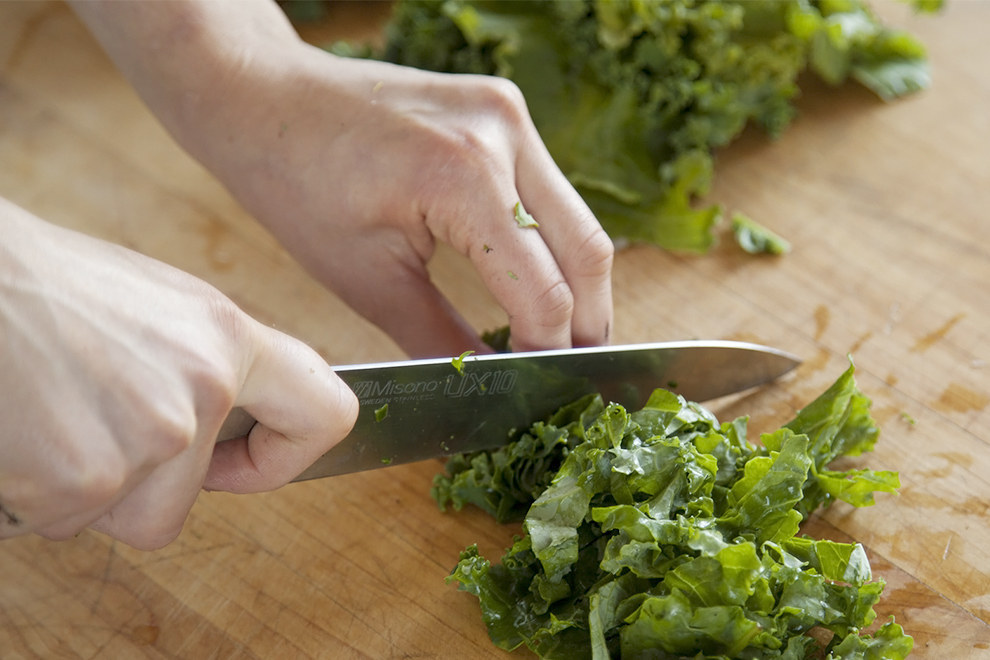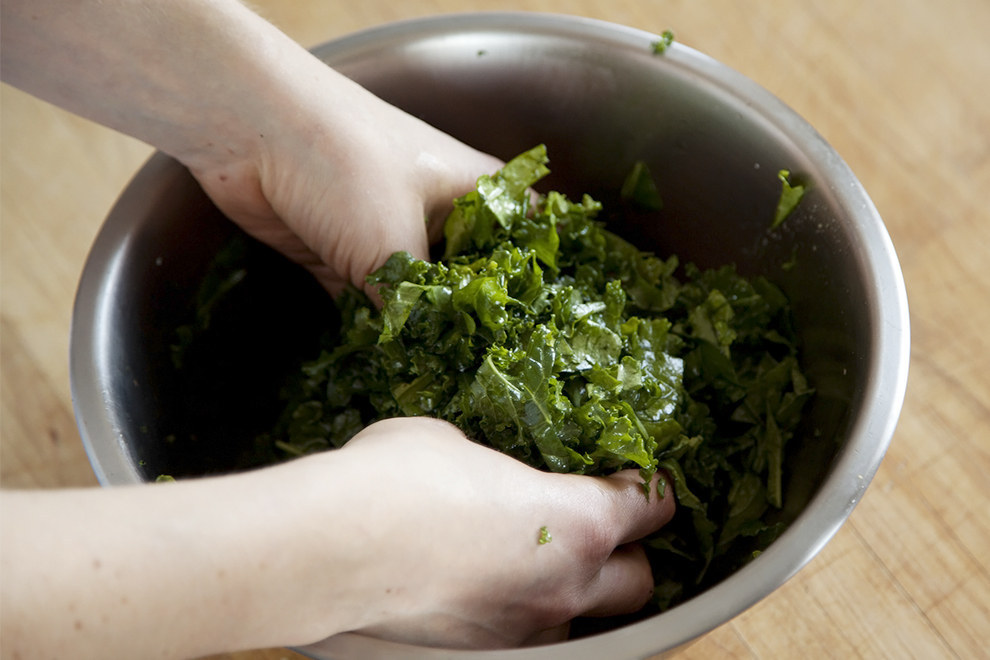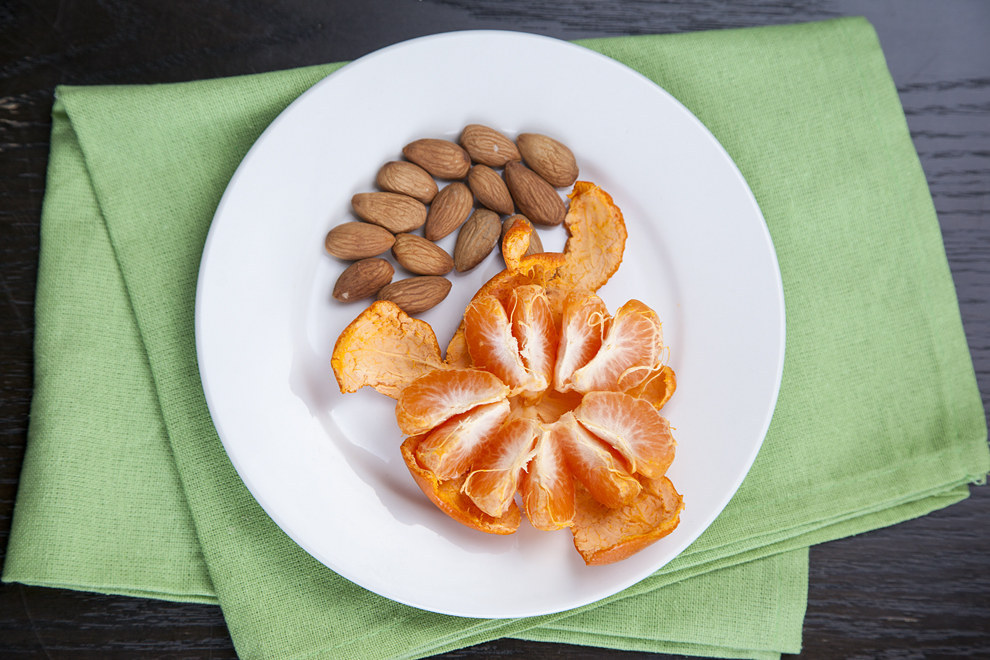 2 tablespoons raw, unsalted almonds with 1 clementine.
131 calories, 8.4 g fat (0.6 g saturated fat), 12.6 g carbohydrate (2.8 g fiber, 7.6 g sugars), 4.6 g protein, 1 mg sodium, 0 mg cholesterol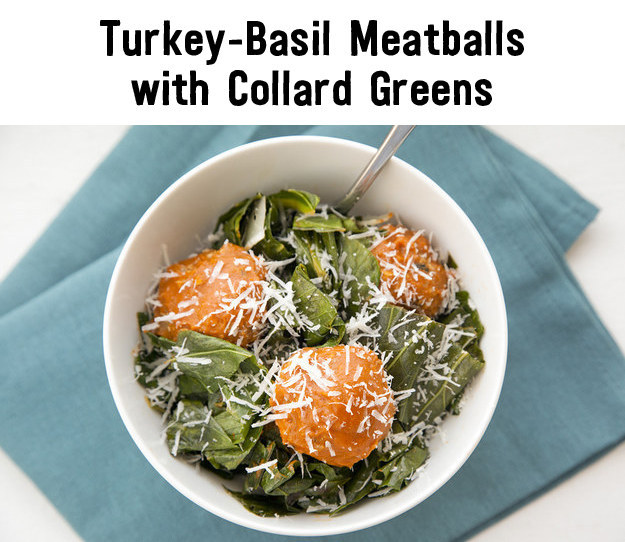 TURKEY-BASIL MEATBALLS WITH TOMATO SAUCE AND SAUTÉED COLLARD GREENS
Makes 1 serving
Ingredients
1/2 recipe Big Batch Tomato Sauce (recipe below)
1/2 recipe Big Batch Turkey-Basil Meatballs (recipe below)
1 bunch raw collard greens, ribs removed
1 teaspoon olive oil
pinch salt
Procedure
Prepare Big Batch Tomato Sauce (recipe below) and Big Batch Turkey -Basil Meatballs (recipe below) as directed, then coat half of the meatballs with half of the tomato sauce.
Rinse and dry collard greens, then cut them into large (about 3 x 3-inch) pieces. In a large skillet, heat 1 teaspoon olive oil over medium heat. Add collard greens and a large pinch of salt, and cook, stirring constantly. The collard greens will start to wilt and release liquid. Cook them until almost all of the released liquid has evaporated and the greens are soft.
Serve collard greens in a bowl, topped with meatballs and sauce.
478 calories, 23.1 g fat (4.8 g saturated fat), 37.1 g carbohydrate (9.9 g fiber, 12.7 g sugars), 31.2 g protein, 726 mg sodium, 172 mg cholesterol
BIG BATCH TOMATO SAUCE
Makes 2 servings
Serve half of the sauce with tonight's dinner and save half for Sunday's lunch (make sure to store the meatballs and tomato sauce separately).
Ingredients
1 tablespoon extra virgin olive oil
1 medium yellow onion, roughly chopped
1/4 teaspoon kosher salt
freshly ground pepper
1 medium carrot, peeled and roughly chopped
3 cloves garlic, chopped
2 tablespoon balsamic vinegar
1 15-oz can low-sodium diced tomatoes
6 basil leaves, rough chopped
kosher salt and freshly ground pepper
Procedure
Heat olive oil in a medium (at least 3 quart) pot over medium heat. Add onion, kosher salt, and freshly ground pepper and cook, stirring occasionally, until softened, about 5 minutes. Add carrot and garlic and cook until carrot is soft, about 10 minutes. Increase the heat to high, then add the balsamic vinegar. Stir the vegetables around the pan and cook until most of the liquid has evaporated, about a minute. Add the diced tomatoes and basil and bring the mixture to a boil, then reduce to a simmer. Season with freshly ground pepper, cover, and simmer 45 minutes. Uncover the pot and continue to simmer, uncovered, for 10 minutes. Remove the sauce from the heat and let it cool for 10 minutes.
When the mixture has cooled slightly, transfer to a blender and puree for about 30 seconds, until there are no large chunks but the mixture isn't totally smooth. Alternatively, for chunkier sauce, blend with an immersion blender.
Tomato sauce will keep for up to 5 days, refrigerated in an airtight container.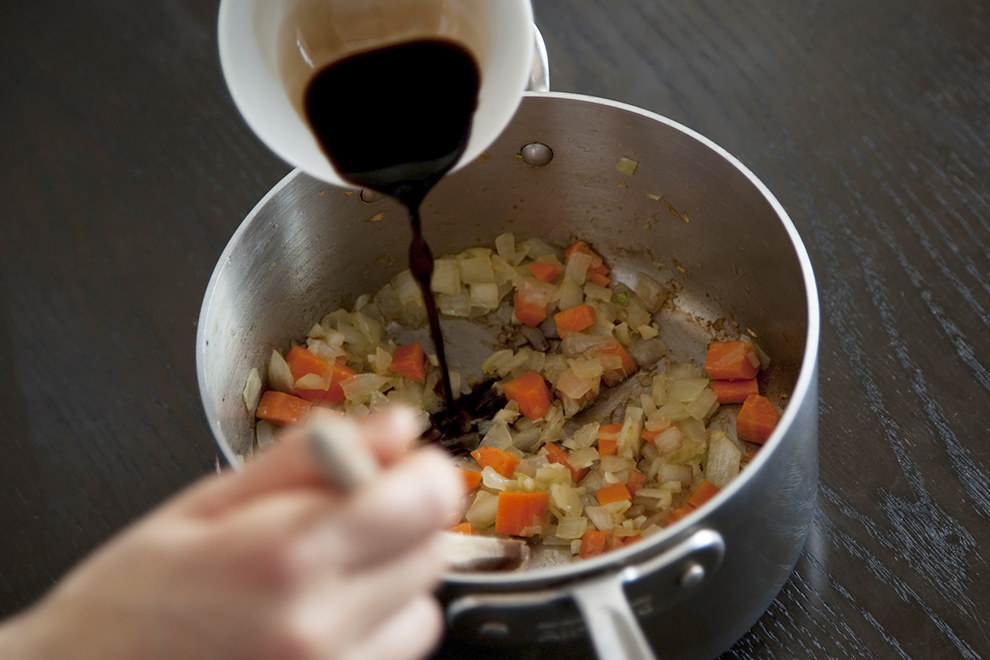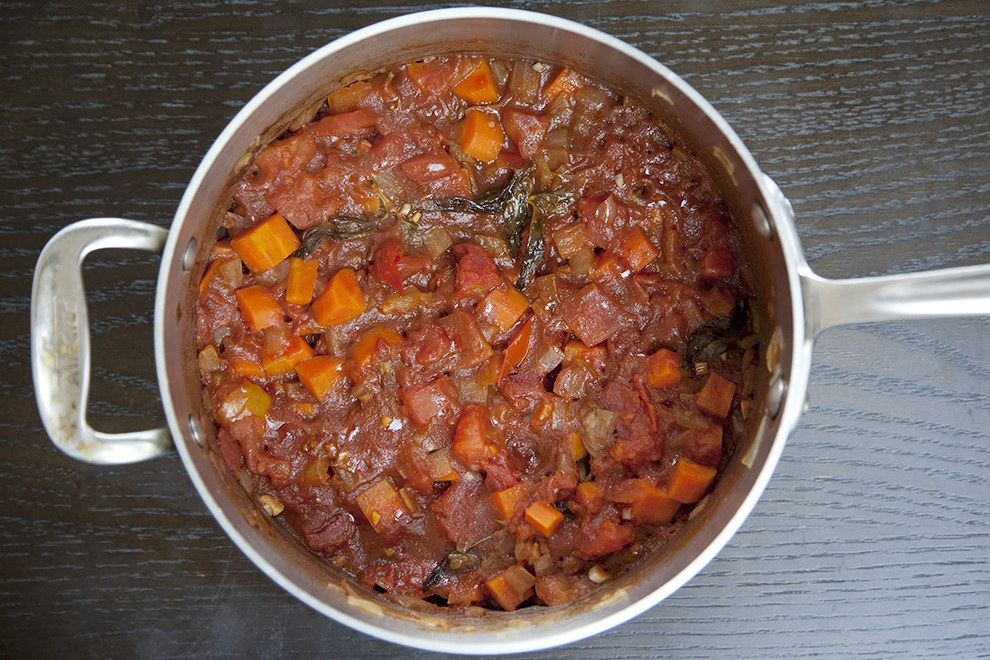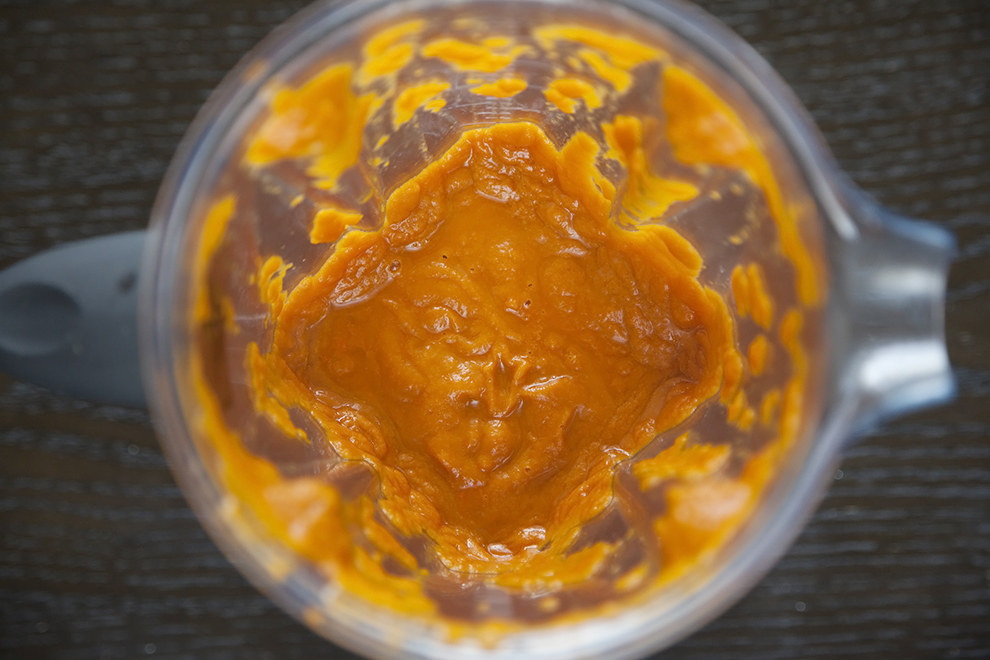 BIG BATCH TURKEY-BASIL MEATBALLS
Makes 2 servings
Ingredients
1/3 cup rolled oats
1 egg yolk for women; 1 whole egg for men
8 ounces (1/2 pound) lean ground turkey for women; 12 ounces (3/4 pound) for men
4 basil leaves, chopped
¼ teaspoon kosher salt
freshly ground pepper
Procedure
Preheat oven to 400°F, and line a rimmed baking sheet with parchment paper (a small baking sheet will be big enough, but if you only have a large one you can use that, instead). While the tomato sauce is simmering, pulse oats in a food processor until they are the consistency of bread crumbs. Combine all ingredients in a medium mixing bowl, and mix everything with a rubber spatula until the mixture is combined and uniform throughout. Roll the turkey into 6 balls and space them out on the baking sheet. Bake for 15 minutes, or until the meatballs are cooked through (there should be no pink inside, and a thermometer inserted into the center of a meatball should read 165°F).
Serve 3 meatballs with tonight's dinner, then cool the remaining meatballs completely before storing them in an airtight container in the fridge.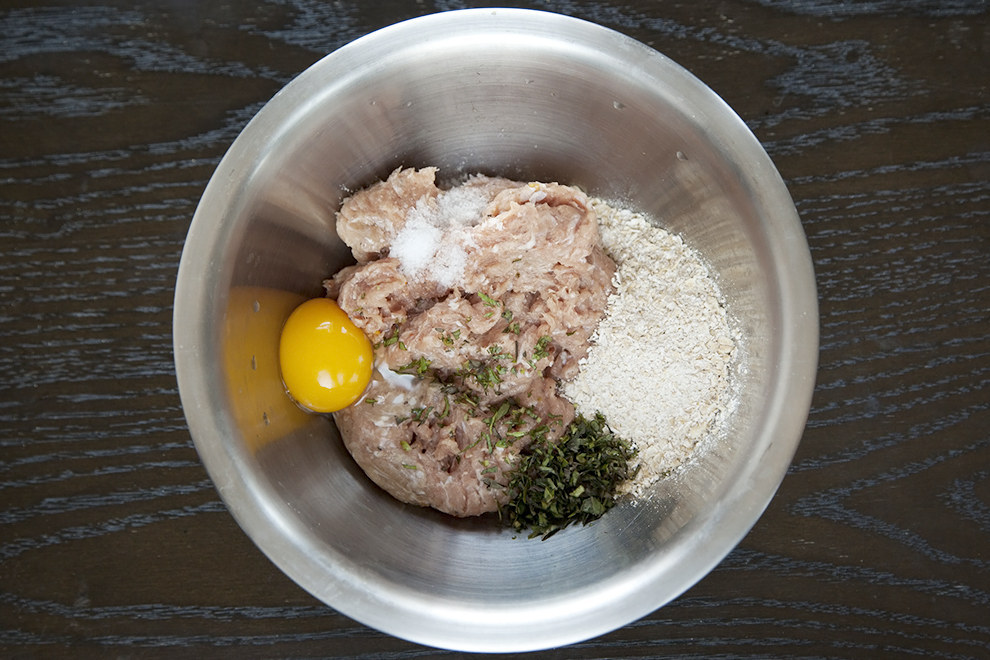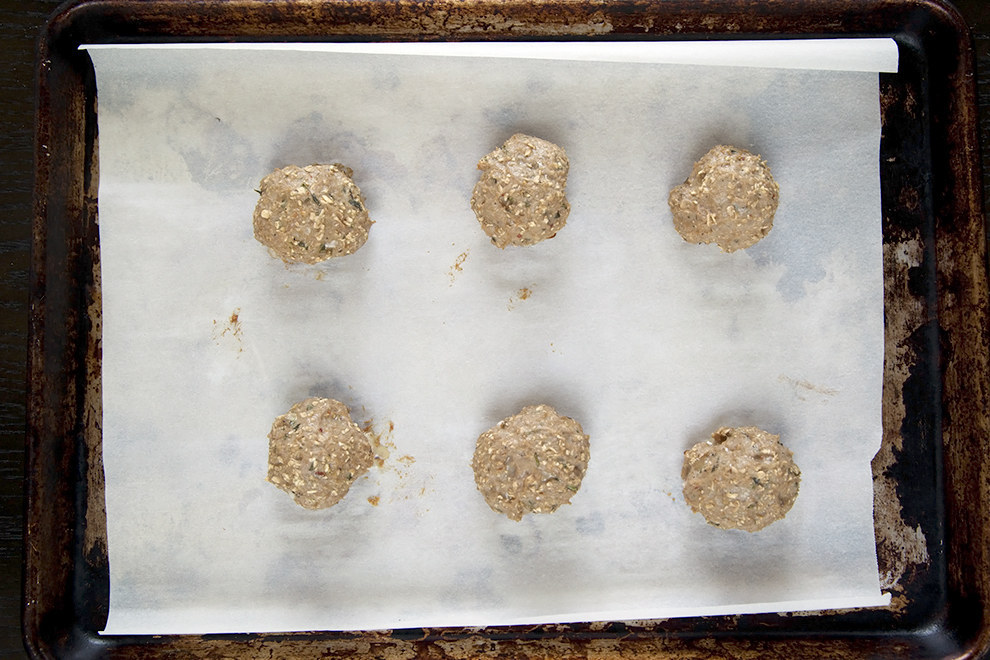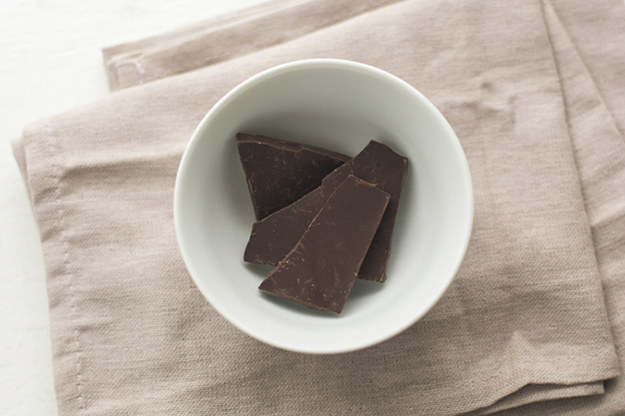 2 squares (1 ounce) dark chocolate (at least 70% cocoa).
105 calories, 9 g fat (5.5 g saturated fat), 4 g carbohydrate (1.5 g fiber, 2.5 g sugars), 2 g protein, 10 mg sodium, 0 mg cholesterol
DAY 7 (SATURDAY) TOTAL NUTRITIONAL INFO:
1,388 calories, 81.5 g fat (25.2 g saturated fat), 99.7 g carbohydrate, 28.1 g fiber, 27.2 g sugars), 73.5 g protein, 2,158 mg sodium
All nutrition is calculated for the amounts specified for women.
Seven days down, seven to go!