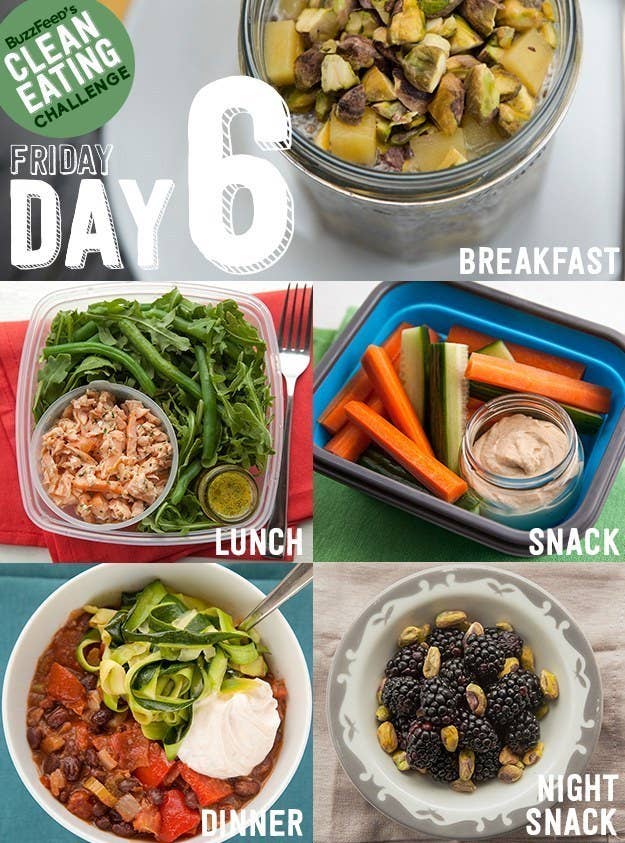 BuzzFeed Food's Clean Eating Challenge is a two-week detox plan that's all about eating real food in order to feel great and have more energy. All of the food is low carb and gluten free with an emphasis on lean protein (no red meat) and fresh produce. There's no processed food allowed; every meal is homemade.
It's important that you follow the meal plan in order starting with Day 1 since most of the recipes call for leftover ingredients from previous days. But you can start any time and find full instructions here. Aim to eat every 3-4 hours and try not to eat within two hours of bedtime.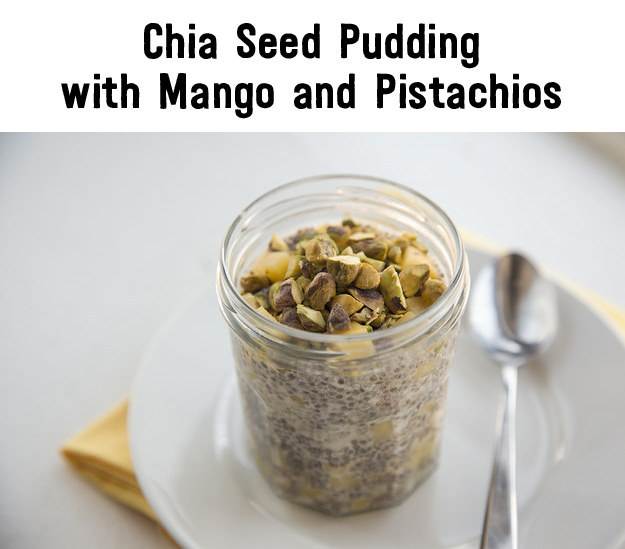 CHIA SEED PUDDING WITH MANGO AND PISTACHIOS
Prepare this recipe the night before. If you made smoothie packs in advance, the mango will be in a ziploc bag in the freezer, labeled, Friday, Week 1, Breakfast.
Makes 1 serving
Ingredients
1/2 mango, frozen, finely diced
2 tablespoons chia seeds
1/2 cup almond milk
1 teaspoon honey
1/8 teaspoon vanilla extract
pinch kosher salt
2 tablespoons pistachios, chopped
Procedure
In a small mason jar or plastic container, combine the first six ingredients, stir and refrigerate overnight. In the morning, sprinkle with the chopped pistachios.
297 calories, 17.3 g fat (1.8 g saturated fat), 35 g carbohydrate (16 g fiber, 17 g sugars), 9.5 g protein, 381 mg sodium, 0 mg cholesterol

ARUGULA SALAD WITH GREEN BEANS, SALMON AND DIJON VINAIGRETTE
Makes 1 serving
Ingredients
1 teaspoon dijon mustard
juice of 1/2 lemon, strained
1/8 teaspoon kosher salt
freshly ground pepper
1 teaspoon chopped parsley
1 tablespoon olive oil
3 cups arugula, washed and dried
1 cup steamed green beans (leftover fromThursday's dinner)
4 ounces salmon for women; 6 ounces salmon for men, cold (leftover from Thursday's dinner
Procedure
In a medium mixing bowl, whisk together mustard, lemon juice, chopped parsley, kosher salt and freshly ground pepper. Slowly drizzle in the olive oil while continuing to whisk, and keep whisking for 30 seconds after all of the olive oil has been added. Spoon about a teaspoon of the dressing into a small mixing bowl and set aside. Add the arugula to the large mixing bowl, and toss to dress the greens. Transfer to a bowl and top with the green beans. Add salmon to the small mixing bowl with the teaspoon of dressing, break salmon apart until it's roughly the consistency of canned tuna, then toss with the dressing. Spoon the salmon on top of the arugula salad, and season with freshly ground pepper.
If you're packing lunch to go: Make the vinaigrette with mustard, lemon juice, parsley, salt, pepper and olive oil as directed, then store all but 1 teaspoon of it in a small container. Mix the remaining teaspoon with the salmon in a small mixing bowl, break the salmon apart with a fork until it's roughly the consistency of tuna salad, then transfer the salmon to a small airtight container. Combine arugula and green beans in a large tupperware. Refrigerate until you're ready to eat, then toss the arugula and beans with the vinaigrette and top with the salmon.
348 calories, 19.1 g fat (2.7 g saturated fat), 11.6 g carbohydrate (4.9 g fiber, 1.6 g sugars), 32.7 g protein, 823.8 mg sodium, 75.9 mg cholesterol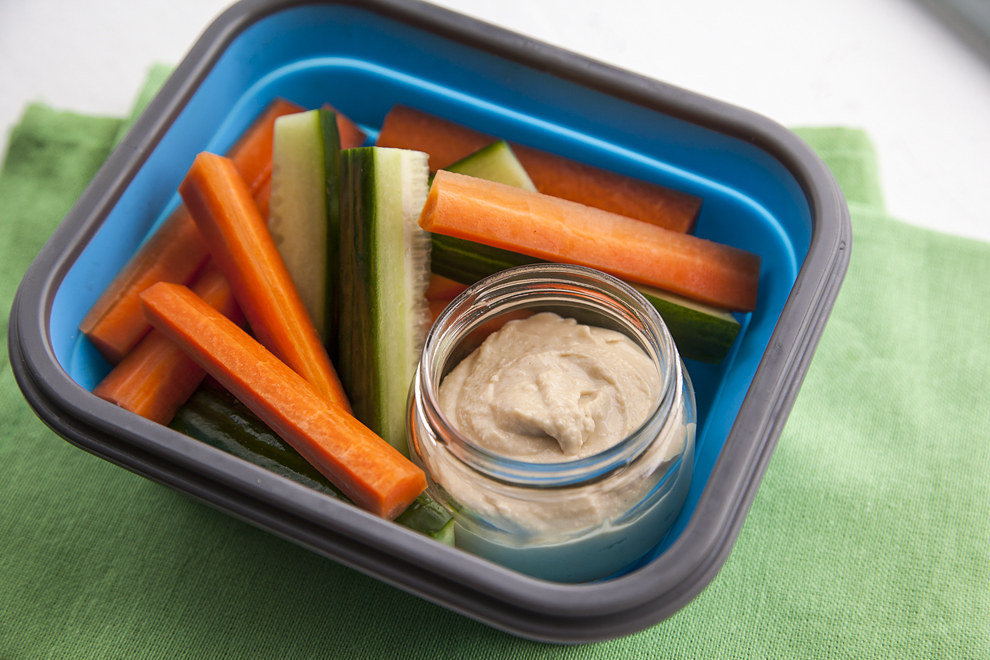 ½ seedless cucumber (leftover from Wednesday's lunch) and 1 medium carrot, both cut in matchsticks, with ¼ cup hummus
146 calories, 6.3 g fat (0.9 g saturated fat), 18.9 g carbohydrate (6.4 g fiber, 4.8 g sugars), 6.2 g protein, 283 mg sodium, 0 mg cholesterol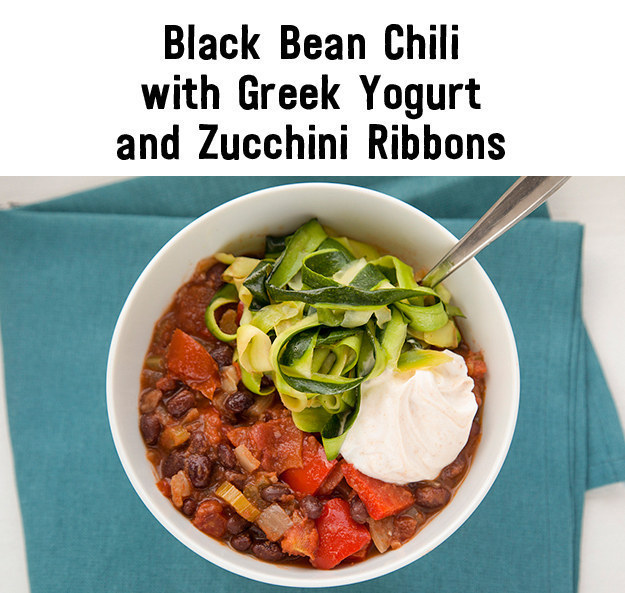 BLACK BEAN CHILI WITH PAPRIKA YOGURT AND ZUCCHINI RIBBONS
Makes 2 servings
You'll eat half of the chili tonight, then freeze the rest for lunch on Thursday of Week 2. (Don't just put it in the fridge; it needs to go in the freezer.)
Ingredients
1 tablespoon olive oil, divided
1 medium yellow onion, cut in ¼-inch cubes
1/4 teaspoon kosher salt
freshly ground pepper
2 cloves garlic, minced
2 stalks celery, thinly sliced
1 medium red bell pepper, cut in 1/4-inch cubes
small handful parsley stems
1 cup black beans, rinsed and drained
1 15-oz can diced tomatoes
1/2 cup nonfat Greek yogurt
1/2 teaspoon paprika
2 scallions (both the white and green parts), thinly sliced
1 large zucchini
Procedure
Heat 2 teaspoons olive oil in a medium (at least 3 quart) pot over medium heat. Add onion, kosher salt, and freshly ground pepper and cook, stirring occasionally, until softened, about 5 minutes. Add garlic, celery, and bell pepper and cook until vegetables are soft, about 4 minutes. Tie the parsley stems in a knot (this way, they'll be easy to remove at the end). Add parsley stems, beans, and canned tomatoes. Bring the mixture to a boil, then turn the heat to low, cover, and simmer for 30 minutes. Uncover and simmer for an additional 15 minutes. Discard the parsley stems before serving.
While the chili is simmering, prepare the yogurt: In a small mixing bowl, stir together greek yogurt, paprika, and a pinch of kosher salt.
Once you've prepared the yogurt, use a vegetable peeler to peel the zucchini into thin ribbons. Heat the remaining olive oil in a large skillet over medium heat, then add the zucchini ribbons, a pinch of kosher salt, and some freshly ground pepper. Saute until the zucchini is tender but still al dente, about 2 minutes. Transfer to a small plate and serve alongside the chili.
To serve the chili, transfer half of the mixture to a bowl and garnish with half of the lemon paprika yogurt and half of the thinly sliced scallions. Cool completely before storing leftovers in the freezer (you won't eat them again until next Thursday).
358 calories, 7.7 g fat (1.1 g saturated fat), 58.8 g carbohydrate (18.5 g fiber, 21.1 g sugars), 20.2 g protein, 823.2 mg sodium, 2.5 mg cholesterol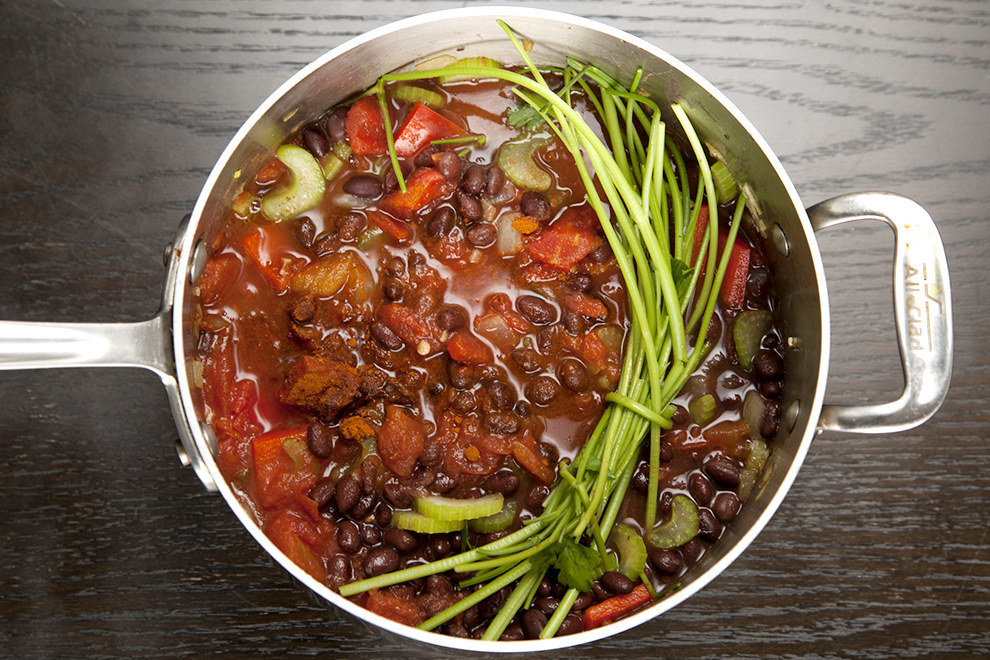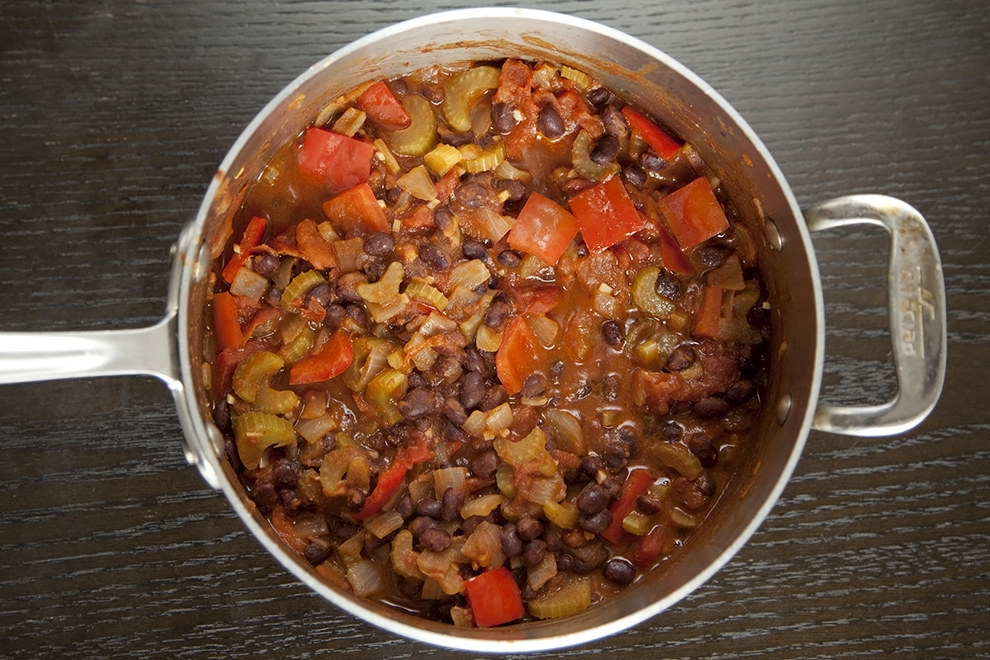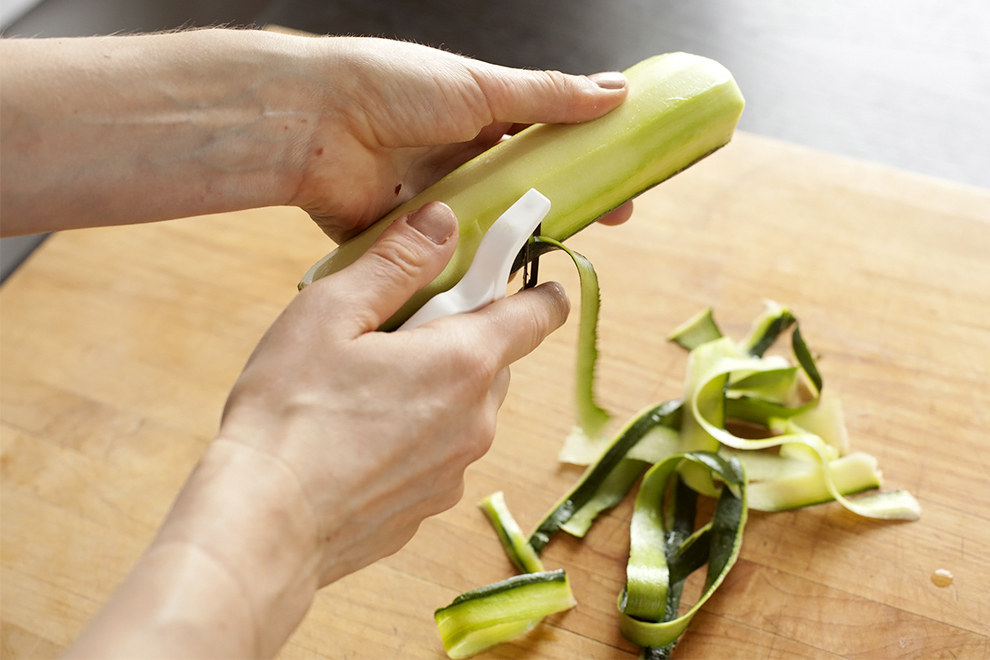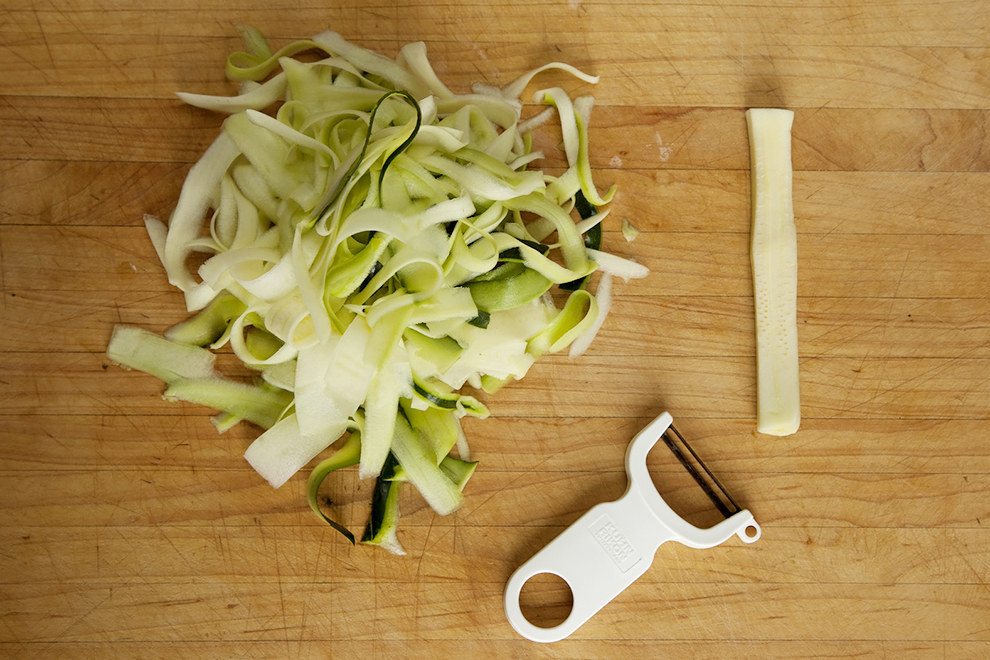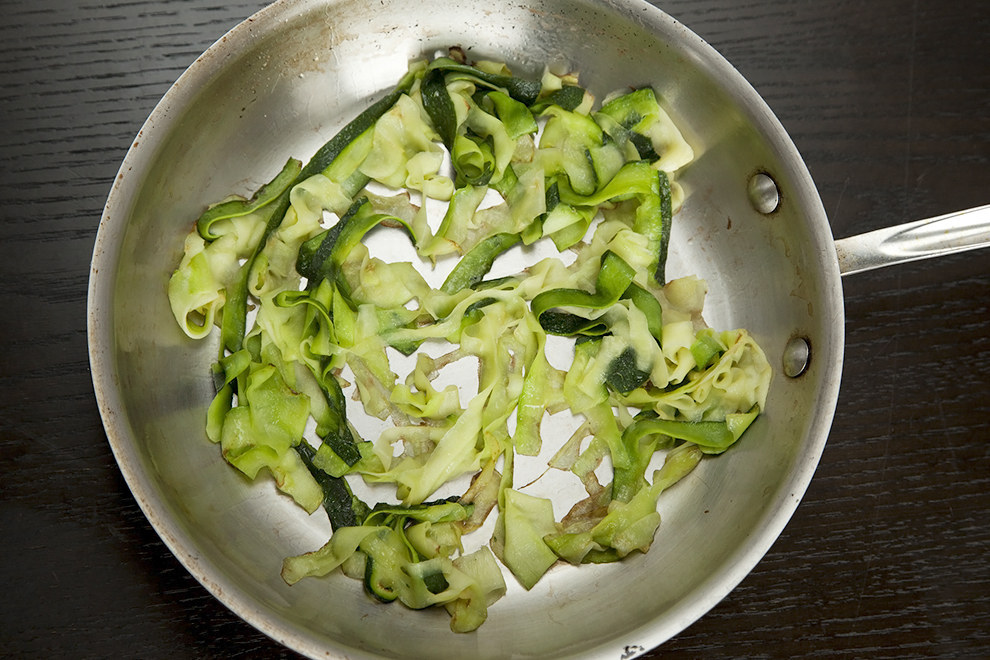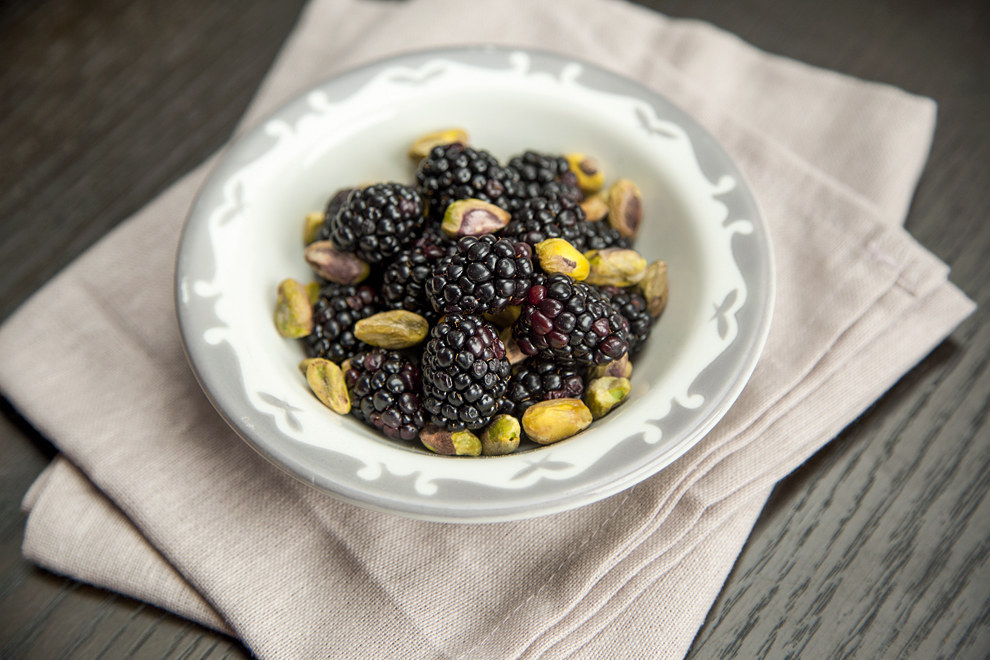 1/2 cup blackberries with 2 tablespoons raw, unsalted pistachios.
123 calories, 6.8 g fat (0.8 g saturated fat), 13.2 g carbohydrate (5.3 g fiber, 6 g sugar), 3.5 g protein, 7.5 mg sodium, 0 mg cholesterol
DAY 6 (FRIDAY) TOTAL NUTRITIONAL INFORMATION:
1,271 calories, 57.2 g fat (7.3 g saturated fat), 137.5 g carbohydrate (51 g fiber, 50.5 g sugar), 72.1 g protein, 2,317 mg sodium, 78 mg cholesterol
All nutrition is calculated for the amounts specified for women.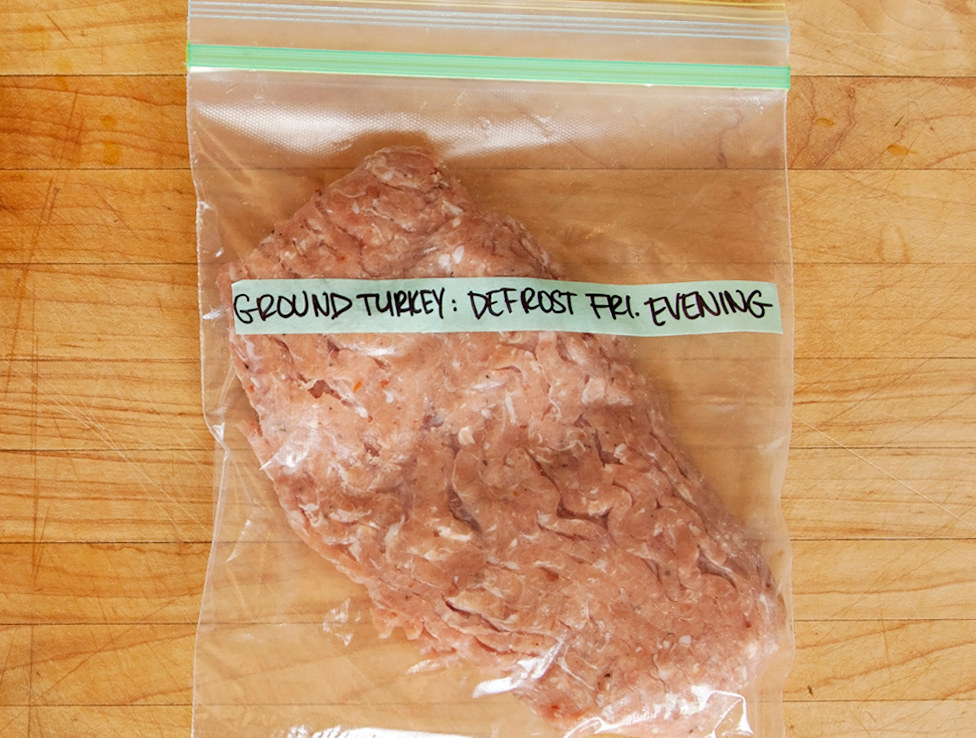 Hey there, Rockstar. You're done with Day 6!