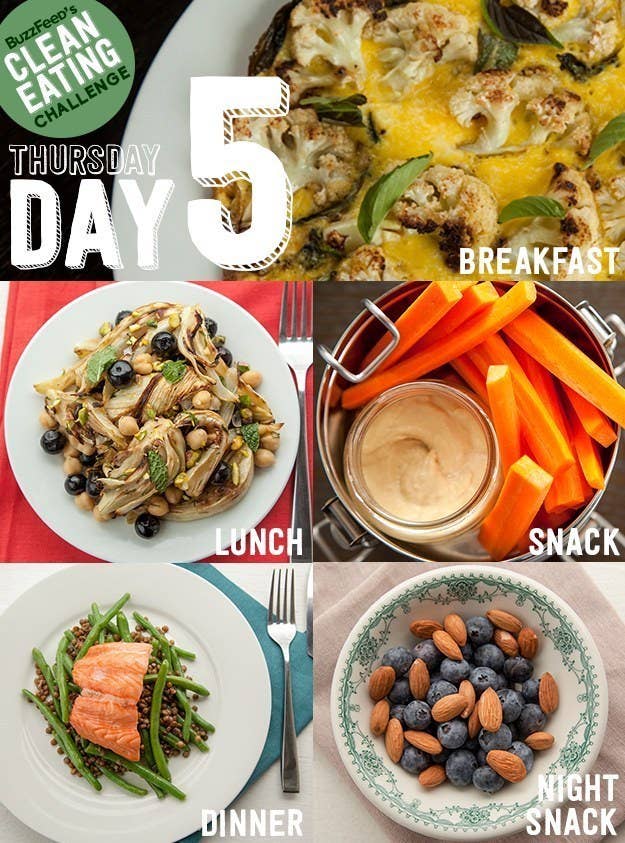 BuzzFeed Food's Clean Eating Challenge is a two-week detox plan that's all about eating real food in order to feel great and have more energy. All of the food is low carb and gluten free with an emphasis on lean protein (no red meat) and fresh produce. There's no processed food allowed; every meal is homemade.
It's important that you follow the meal plan in order starting with Day 1 since most of the recipes call for leftover ingredients from previous days. But you can start any time and find full instructions here. Aim to eat every 3-4 hours and try not to eat within two hours of bedtime.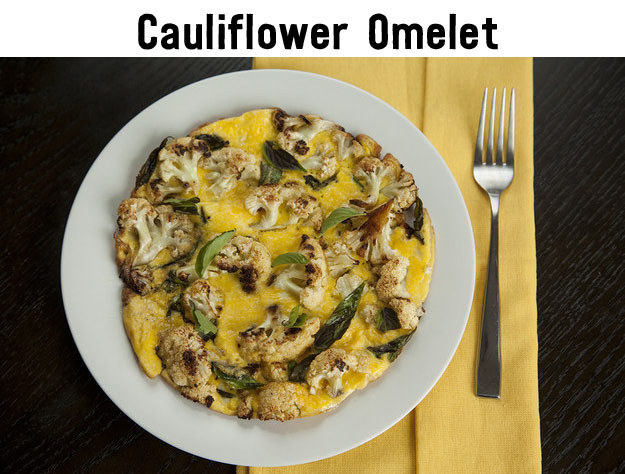 CAULIFLOWER OMELET
Makes 1 serving
For this omelet, you're using the roasted cauliflower florets leftover from Tuesday's dinner.
Ingredients
1/2 head roasted cauliflower florets (everything leftover from Tuesday's dinner)
2 teaspoons olive oil
2 large eggs for women; 3 large eggs for men
1/8 teaspoon kosher salt
freshly ground pepper
5-6 basil leaves, torn
sprinkle of paprika
Procedure
In a medium nonstick skillet, heat roasted cauliflower florets over medium heat until heated through, stirring occasionally. When the florets are warm, transfer them to a small bowl and wipe out the skillet.
Crack the eggs into a small mixing bowl with kosher salt, freshly ground pepper and 1/2 teaspoon water, and beat with a fork until thoroughly combined. Heat the olive oil in the nonstick skillet over medium heat. Pour the egg into the skillet and cook for 1 minute. Spoon the cauliflower on top of the partially cooked eggs, then turn the heat to low and cook 1 minute more, until the bottom of the omelet is set and the top is only slightly liquid-y. Carefully flip the omelet and cook 1 minute. Transfer to a serving plate, and sprinkle with paprika.
373 calories, 30.3 g fat (6 g saturated fat), 11.2 g carbohydrate (5 g fiber, 0.4 g sugars), 16.6 g protein, 783.3 mg sodium, 372 mg cholesterol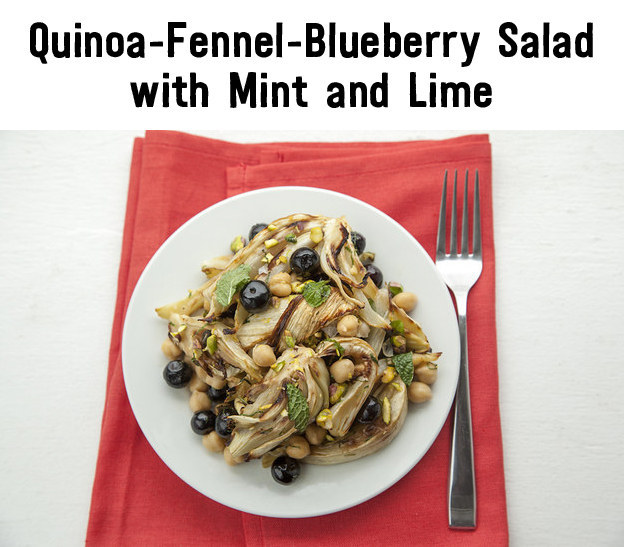 QUINOA, FENNEL, AND BLUEBERRY SALAD WITH MINT AND LIME
Makes 1 serving
Ingredients
1/2 cup Big Batch Cooked Quinoa (leftover from Sunday's dinner)
1/2 recipe Big Batch Roasted Fennel (leftover from Wednesday's dinner)
1/4 cup chickpeas
1/4 cup blueberries
1 tablespoon chopped pistachios
5-6 mint leaves, thinly sliced into ribbons
juice of 1/2 lime
freshly ground pepper
Procedure
Add all ingredients to a medium mixing bowl. Toss together until the mixture is thoroughly combined and everything is evenly coated with dressing. Transfer to a bowl to serve.
If you're packing lunch to-go: Prep the salad in the morning or night before then store it in an airtight container in the fridge until you're ready to eat it. Because there are no leafy greens, it's fine to squeeze the lime juice on ahead of time.
491 calories, 23.5 g fat (2.8 g saturated fat), 63 g carbohydrate (12.1 g fiber, 5 g sugars), 10.9 g protein, 250 mg sodium, 0 mg cholesterol

4 medium carrots, peeled and cut in matchsticks, with 1/4 cup hummus.
186 calories, 6.3 g fat (0.9 g saturated fat), 27.9 g carbohydrate (9.3 g fiber, 9.2 g sugars), 6.9 g protein, 374.6 mg sodium, 0 mg cholesterol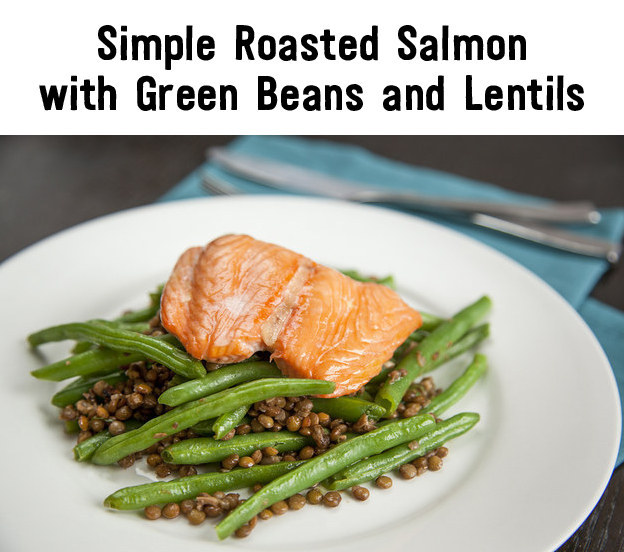 ROASTED SALMON WITH GREEN BEANS AND LENTILS
Makes 1 Serving
Eat half of the salmon and half of the green beans this recipe makes tonight, then save the rest for lunch on Friday.
Ingredients
8-ounce filet wild caught salmon for women; 12-ounce filet for men, skin off (half will be saved for lunch tomorrow)
½ teaspoon kosher salt, divided
1 lemon
freshly ground pepper
2 cups raw green beans, ends trimmed (half will be saved for lunch tomorrow)
½ cup Big Batch Cooked Lentils (leftover from Tuesday's dinner)
Procedure
Preheat oven to 450°F, and line a rimmed baking sheet with parchment paper. Season the salmon with 1/4 teaspoon kosher salt and pepper and place it on the baking sheet. Cut three thin slices of lemon and lay them over the fish, reserving the remainder of the lemon. Roast the salmon in the hot oven for 6-8 minutes, until it's warmed through but still medium rare on the inside (if you prefer more well-done fish, leave it in the oven an additional 5 minutes).
Meanwhile, boil ¼ cup water in a large skillet with the remaining ¼ teaspoon salt. Add green beans and reduce the heat to a simmer. Simmer the green beans until the water is evaporated and the beans are tender. When there is no water left in the pan, transfer half of the green beans to an airtight container and let them cool, uncovered, to room temperature. When cooled, cover and refrigerate for lunch tomorrow. Add lentils to the remaining green beans in the pan, turn the heat to medium low, and cook just until lentils are heated through.
Serve salmon atop the green bean and lentil mixture, and squeeze the juice from the remaining lemon on top.
334 calories, 5.1 g fat (0.8 g saturated fat), 31.9 g carbohydrate (11.9 g fiber, 3.1 g sugars), 40.1 g protein, 926 mg sodium, 76 mg cholesterol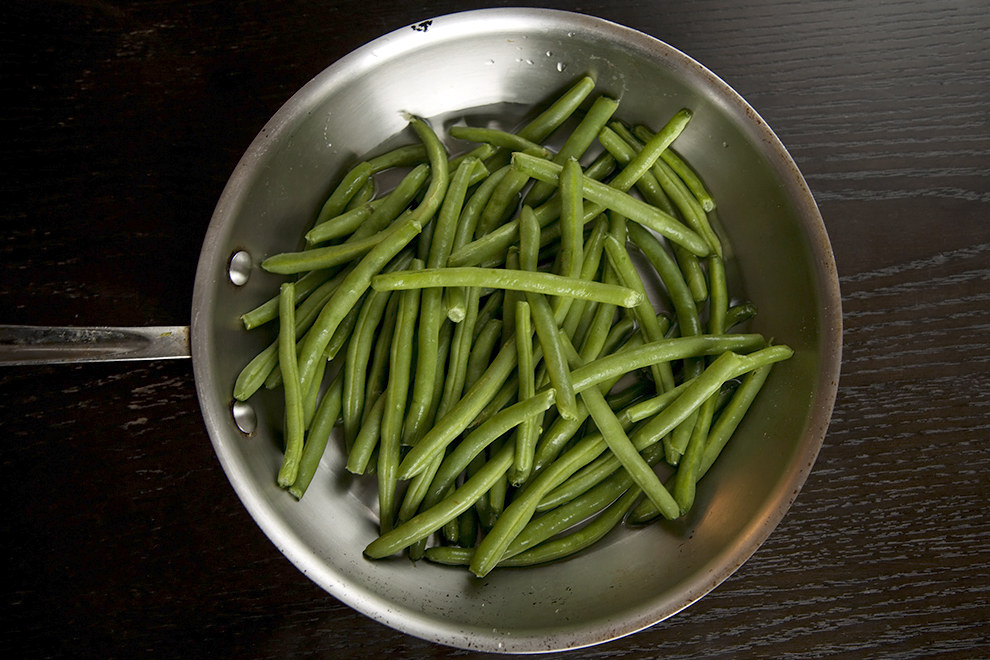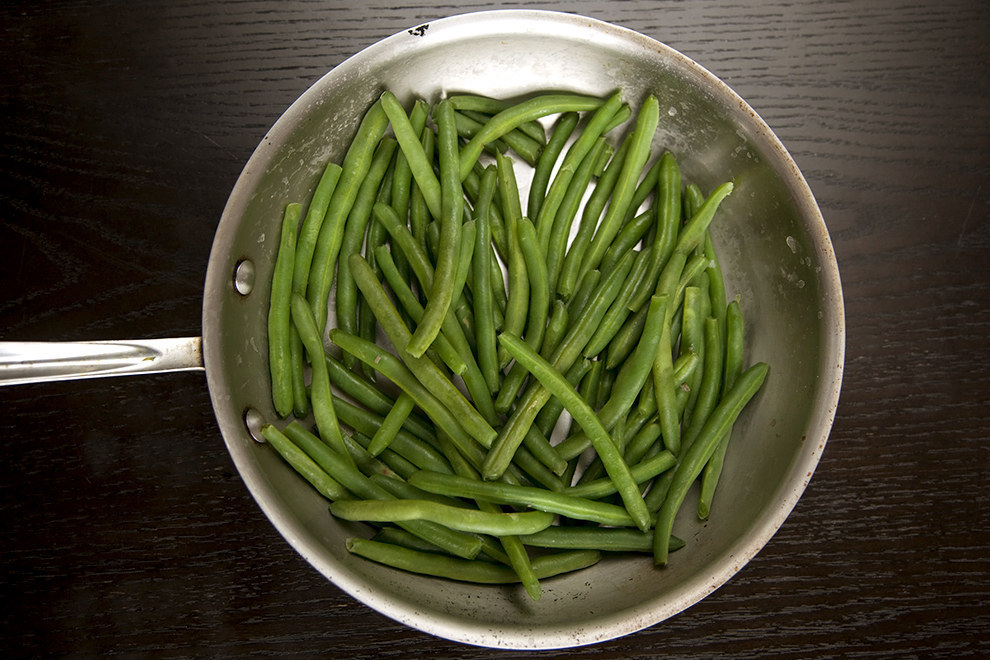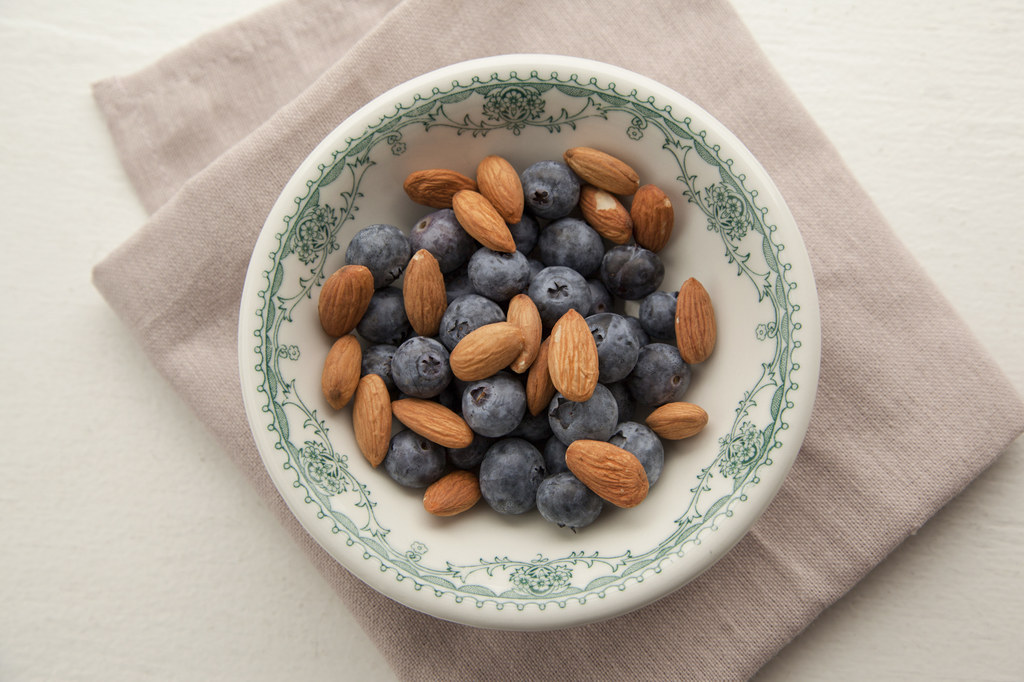 1/2 cup blueberries served with 2 tablespoons raw, unsalted almonds.
153 calories, 9.8 g fat (0.7 g saturated fat), 14.5 g carbohydrate (4.1 g fiber, 8.2 g sugars), 4.7 g protein, 4 mg sodium, 0 mg cholesterol
DAY 5 (THURSDAY) TOTAL NUTRITIONAL INFORMATION:
1,536 calories, 75 g fat (10.7 g saturated fat), 148.5 g carbohydrate (42.4 g fiber, 25.9 g sugar), 82.7 g protein, 2,336 mg sodium, 448 mg cholesterol
All nutrition is calculated for the amounts specified for women.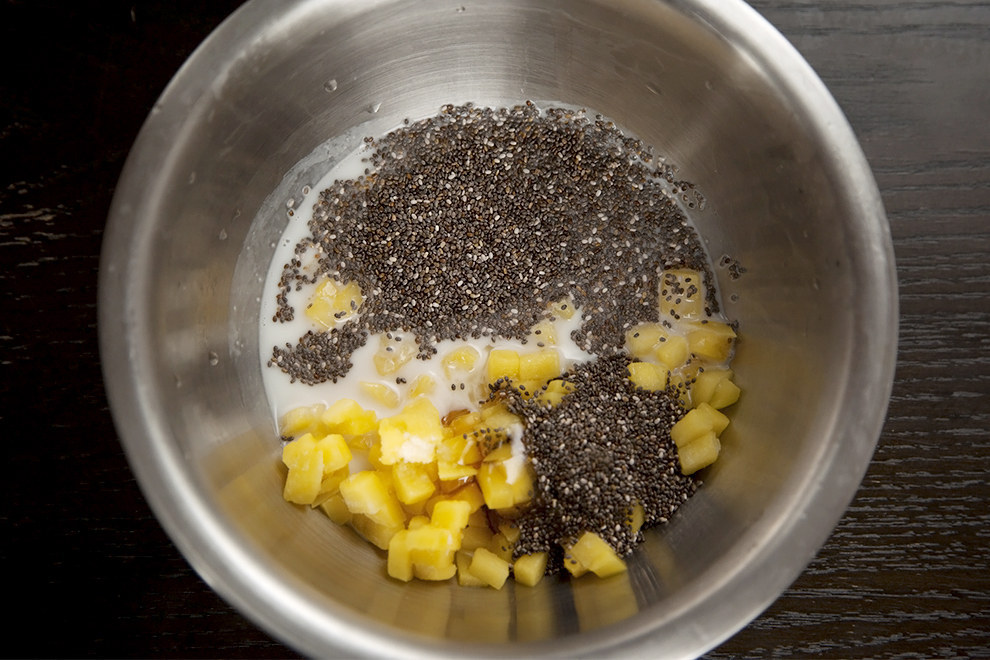 2. If you need to pack tomorrow's lunch and snack to-go, you can do it now or in the morning: Make the Dijon vinaigrette for tomorrow's lunch and pack it in a small container. Assemble the Arugula Salad with Green Beans and Salmon and store it and it in a large airtight container in the fridge, keeping the salmon packed separately. For your snack, cut ½ a cucumber and 1 medium carrot into matchsticks, and store in an airtight container or ziploc bag in the fridge, with a side of hummus.
OMG! You've already finished FIVE DAYS of the challenge!!!