BuzzFeed Food's Clean Eating Challenge is a two-week detox plan that's all about eating real food in order to feel great and have more energy. All of the food is low carb and gluten free with an emphasis on lean protein (no red meat) and fresh produce. There's no processed food allowed; every meal is homemade.
It's important that you follow the meal plan in order starting with Day 1 since most of the recipes call for leftover ingredients from previous days. But you can start any time and find full instructions here. Aim to eat every 3-4 hours and try not to eat within two hours of bedtime.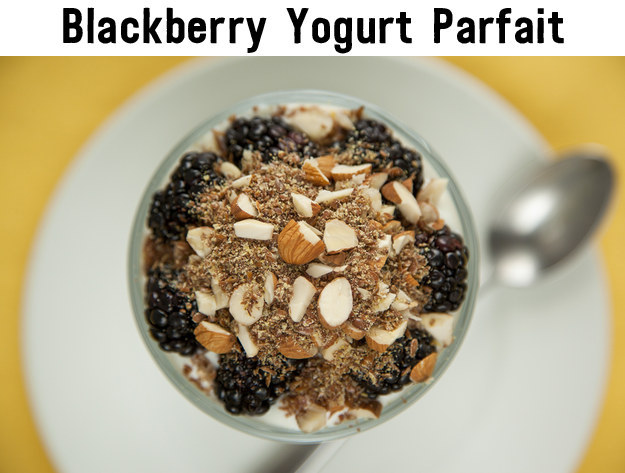 BLACKBERRY YOGURT PARFAIT
Makes 1 serving
In a bowl or jar, layer 1 cup greek yogurt, 1/2 cup blackberries, and 2 tablespoons coarsely chopped raw almonds, then sprinkle with 2 tablespoons ground flaxseeds.
314 calories, 13.2 g fat (0.6 g saturated fat), 25.8 g carbohydrate (9.6 g fiber, 14.6 g sugar), 30.1 g protein, 115 mg sodium, 10 mg cholesterol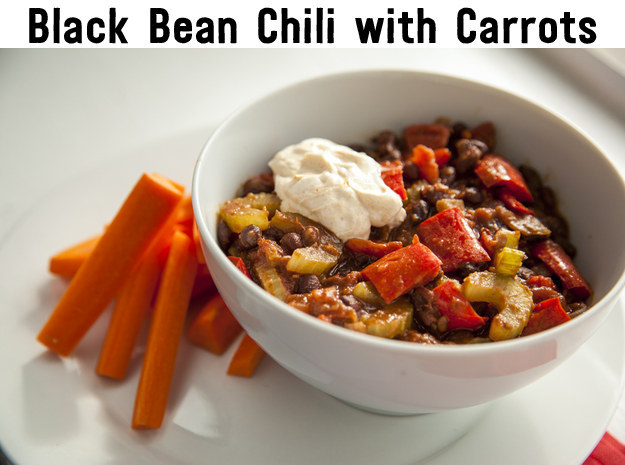 Black Bean Chili with Paprika Yogurt (leftover from Friday's dinner) with 2 medium carrots, cut in matchsticks.
358 calories, 7.7 g fat (1.1 g saturated fat), 58.8 g carbohydrate (18.5 g fiber, 21.1 g sugars), 20.2 g protein, 823 mg sodium, 2.5 mg cholesterol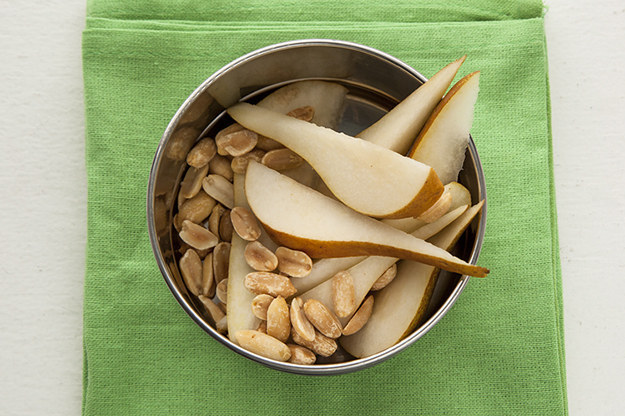 2 tablespoons raw, unsalted peanuts with 1 medium pear.
181 calories, 8 g fat (1 g saturated fat), 27.3 g carbohydrate (5.2 g fiber, 17 g sugars), 4.7 g protein, 2.5 g sodium, 0 mg cholesterol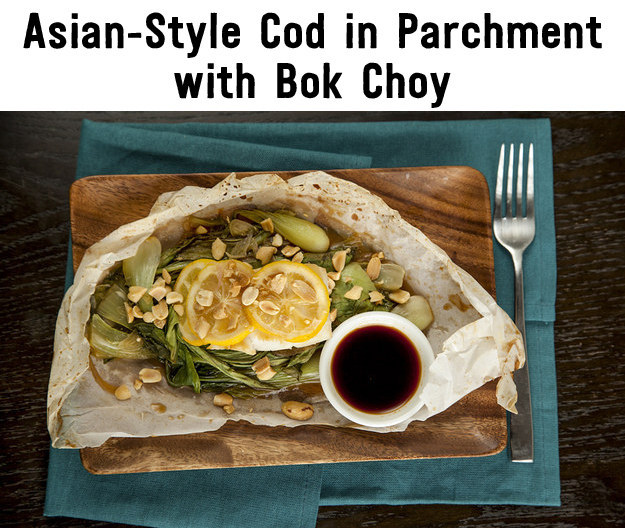 ASIAN-STYLE COD IN PARCHMENT WITH BOK CHOY
Makes 1 serving
Ingredients
1 4-ounce filet of cod (or other white fish) for women; 6-ounce filet for men
1/8 teaspoon kosher salt
freshly ground pepper
1 medium shallot, thinly sliced
6 heads baby bok choy
2 tablespoons Big Batch Spicy Tamari Dipping Sauce (recipe below), divided
2 tablespoons raw, unsalted peanuts, chopped
Procedure
Preheat oven to 375°F. Season cod on both sides with kosher salt and freshly ground pepper. Cut a 12-inch square of parchment paper, and fold it in half lengthwise. Cut the halved parchment into a crescent so that it is in the shape of a heart when you unfold it. Place the parchment heat, unfolded, on a large rimmed baking sheet. Pile raw shallots and raw bok choy into the center of one half of the parchment, then lay the fish on top. Pour 1 tablespoon dipping sauce over the fish. Then, fold one half of the parchment heart on top of the other, and seal with small, overlapping folds, starting at the crook of the heart and working down to the tip. (For more detailed instructions, click here). Put sealed parchment packet on the baking sheet in the oven and bake for 12-14 minutes, until fish is cooked through.
To serve, transfer parchment packet to a plate and carefully rip open the parchment. Drizzle with remaining dipping sauce, and sprinkle on the chopped peanuts.
347 calories, 15.6 g fat (1.1 g saturated fat), 18.3 g carbohydrate (8.7 g fiber, 3.7 g sugars), 39.4 g protein, 989 mg sodium, 62 mg cholesterol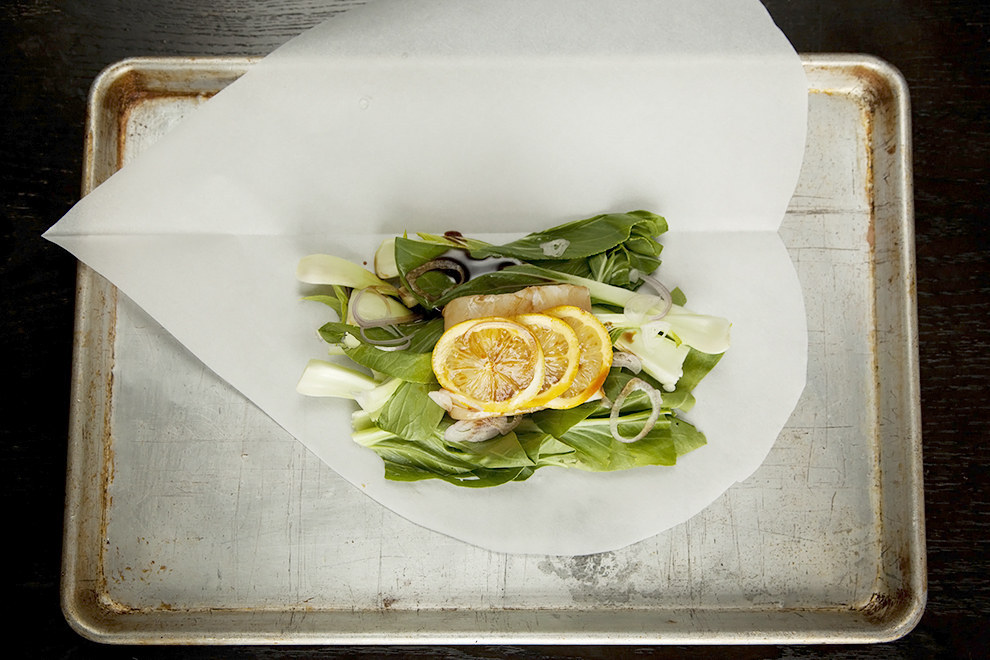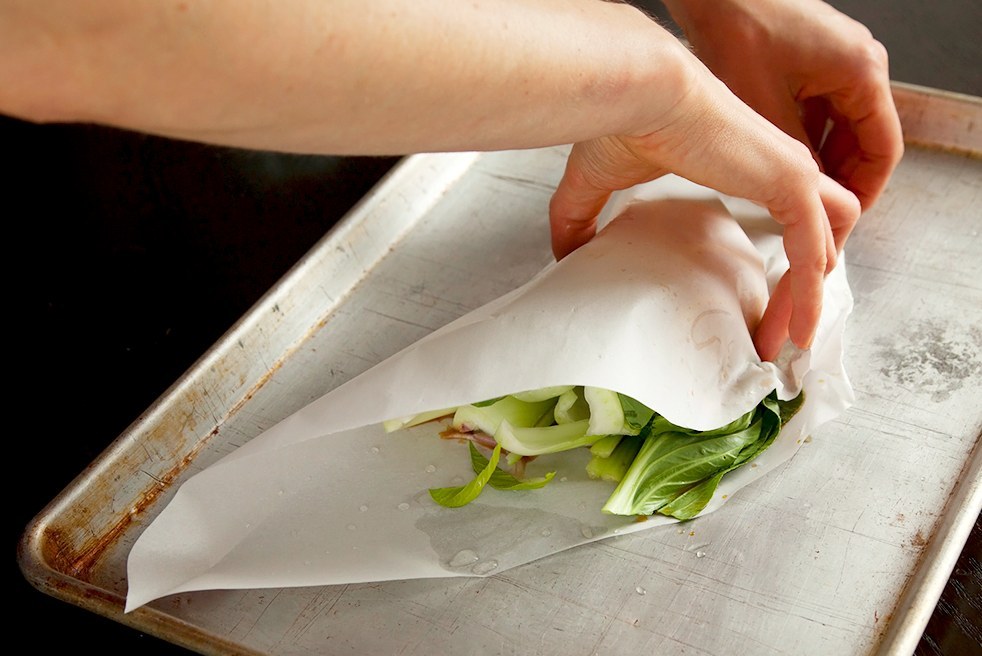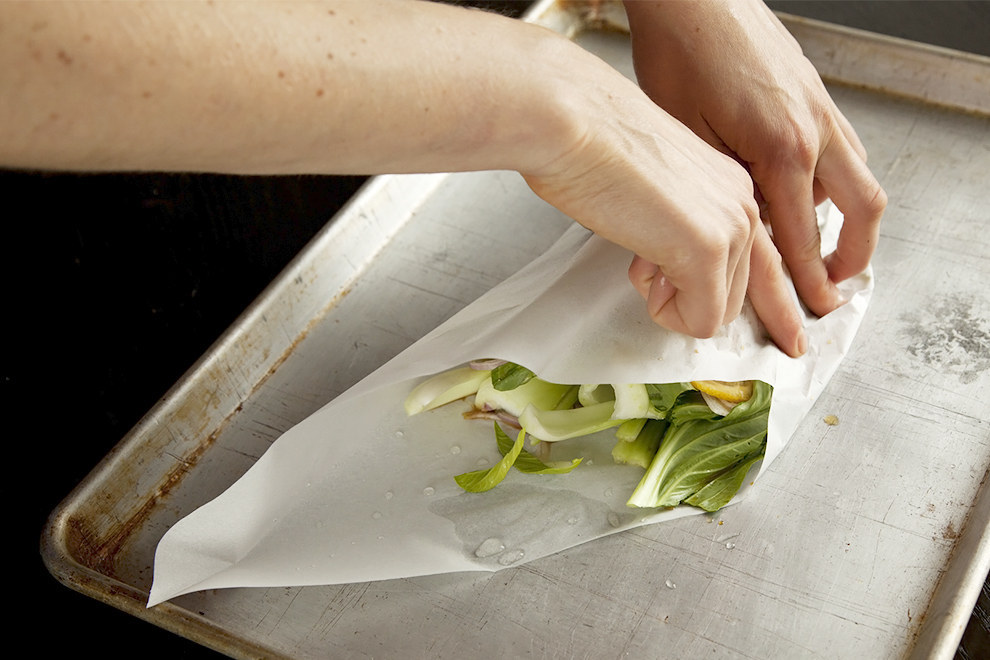 BIG BATCH SPICY TAMARI DIPPING SAUCE
Makes 1/3 cup
Use half of this sauce for dinner tonight, and half for dinner tomorrow.
Ingredients
2 tablespoons tamari
Juice of 2 limes
1 teaspoon honey
4 dashes hot sauce (or more, to taste)
Procedure
Whisk together all ingredients in a small mixing bowl. Store in an airtight container in the fridge.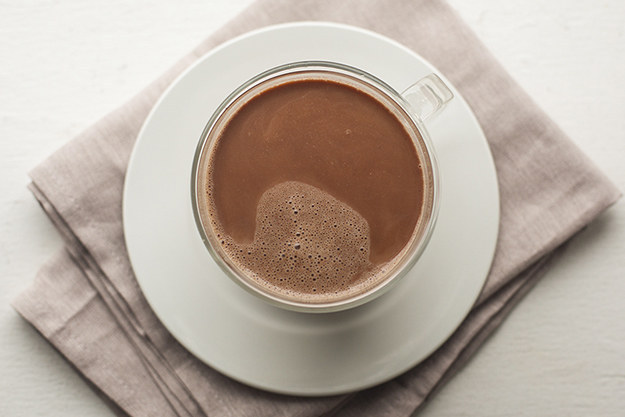 1 cup unsweetened milk heated with 1 square (½ ounce) chopped dark chocolate.
115 calories, 9.3 g fat (1.5 g saturated fat), 8 g carbohydrate (2.2 g fiber, 3.7 g sugars), 2.5 g protein, 367 mg sodium, 1 mg cholesterol
DAY 12 (THURSDAY) TOTAL NUTRITIONAL INFORMATION:
1,314 calories, 53.8 g fat (5.3 g saturated fat), 137.9 g carbohydrate (44.2 g fiber, 60.1 g sugars), 96.9 g protein, 2,297 mg sodium, 75.7 g cholesterol
All nutrition is calculated for the amounts specified for women.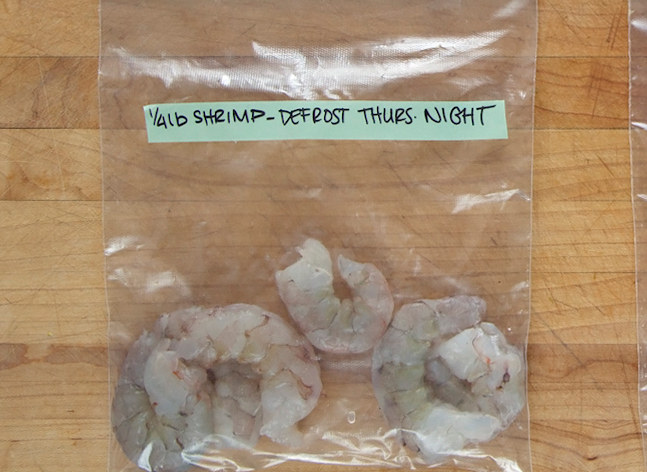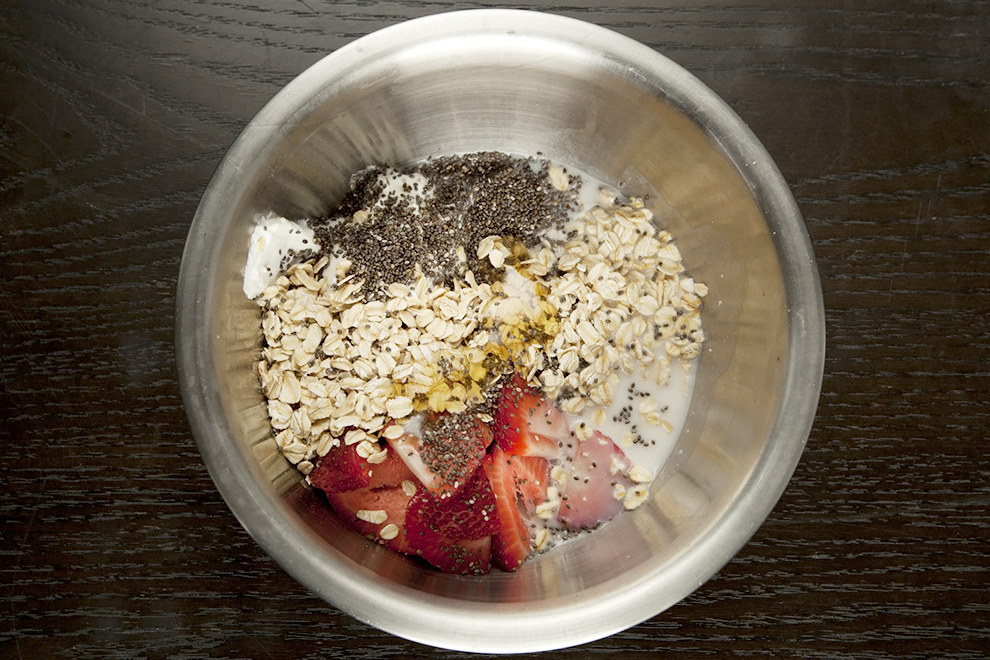 2. If you need to pack tomorrow's lunch and snack to-go, you can do it now or in the morning: Assemble the Snap Pea and Radish Salad with Quinoa and Arugula Salad for tomorrow's lunch and store it in a large airtight container in the fridge, then make the balsamic vinaigrette and store that separately in the fridge. Cut 4 medium carrots into matchsticks, then store them in an airtight container in the fridge with a side of hummus for tomorrow's snack.
Two more days. TWO MORE DAYS!!!