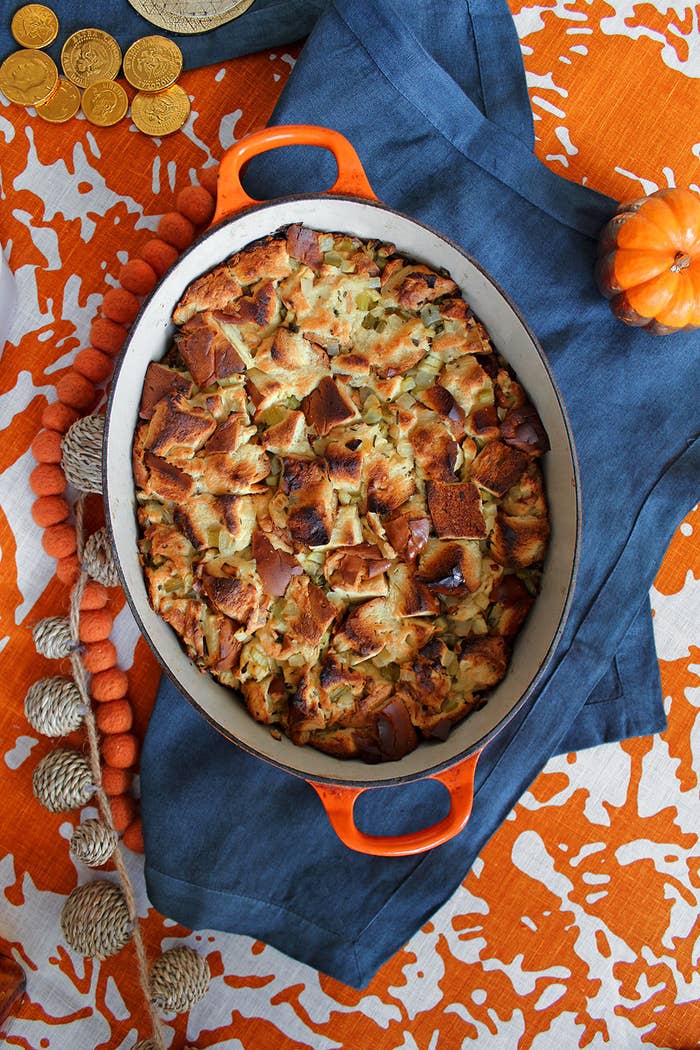 PART I: Prepare your challah
First, get 2 1lb loaves of challah. It's fine if they're a little crushed.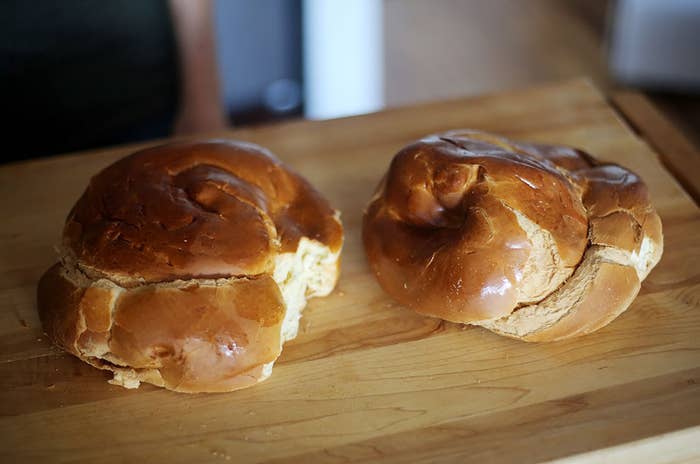 Cut it into 1-inch cubes.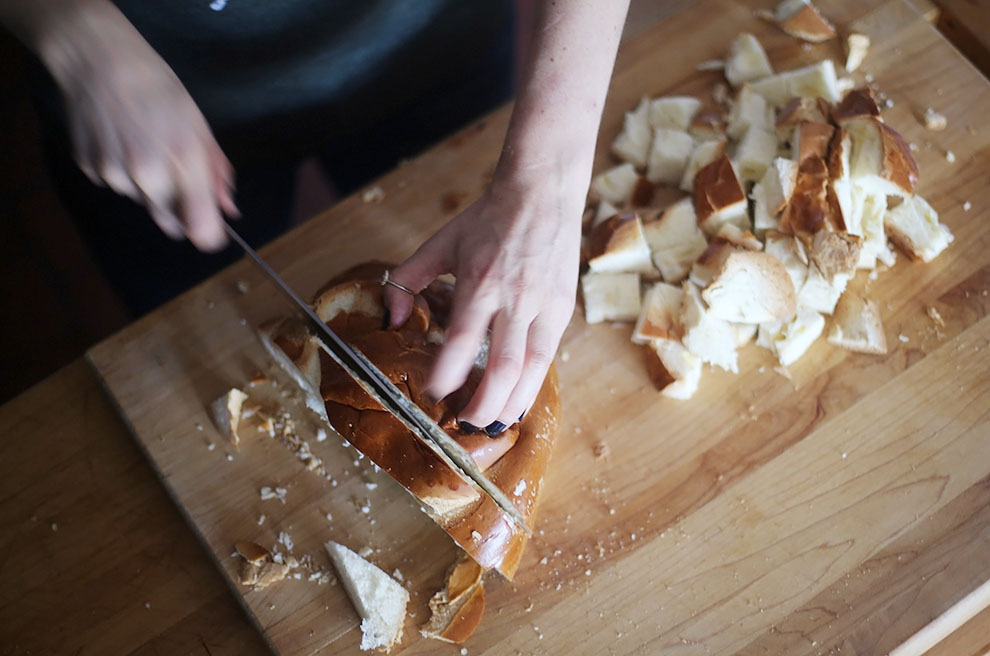 Lay the cubes out on 2 large baking sheets, and let them sit out for at least a day to get a little stale.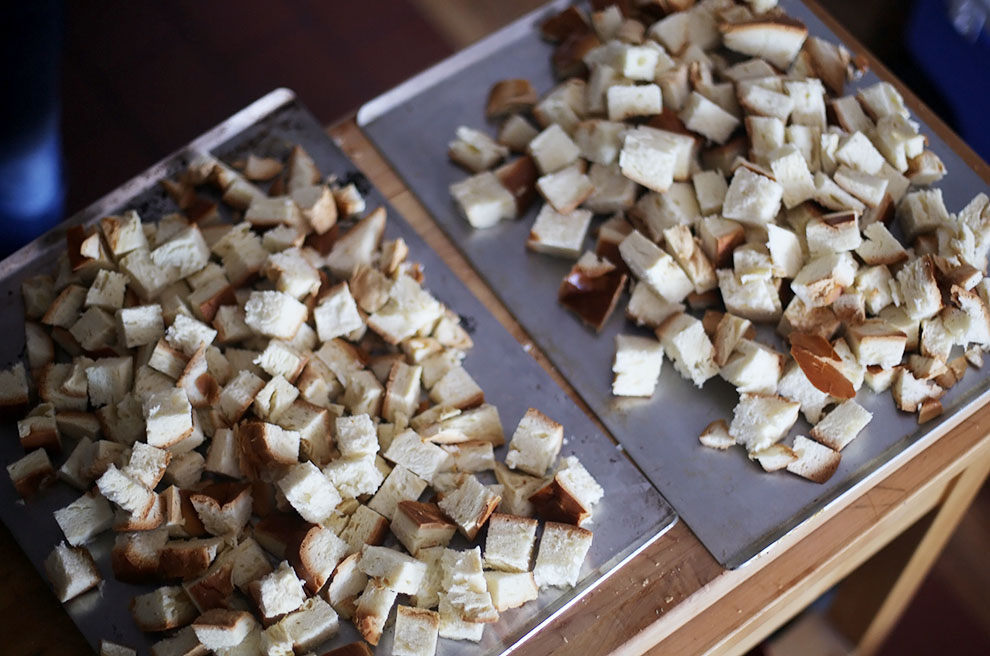 PART II: Make your stuffing
You will need: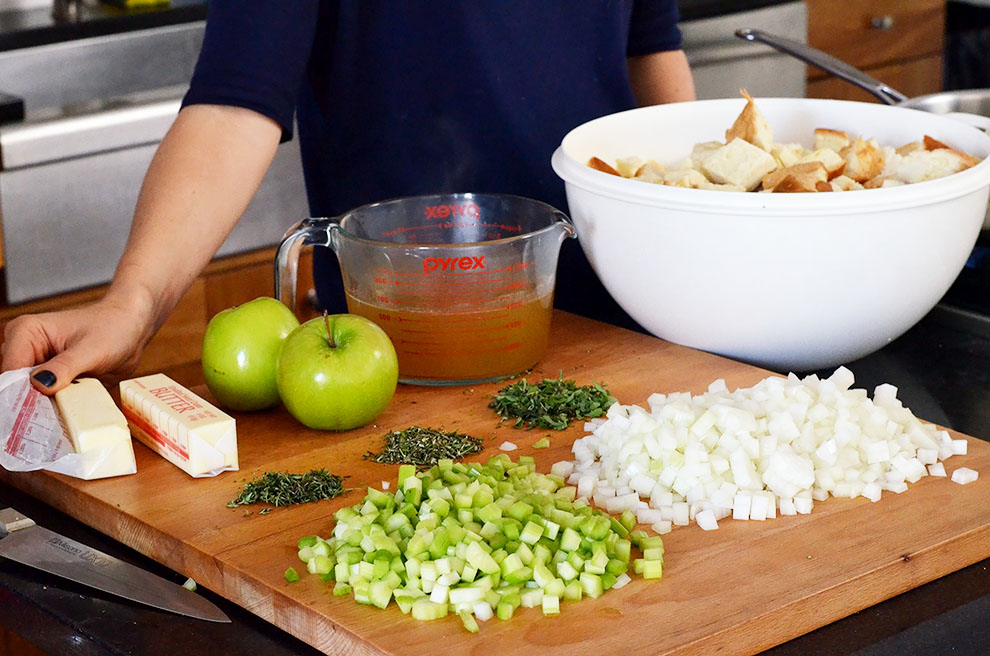 In a large saucepan, melt butter over medium-low heat, then add onions, celery, and three teaspoons of salt, stir, and let it cook for about 8 minutes.
Meanwhile, start peeling your apples.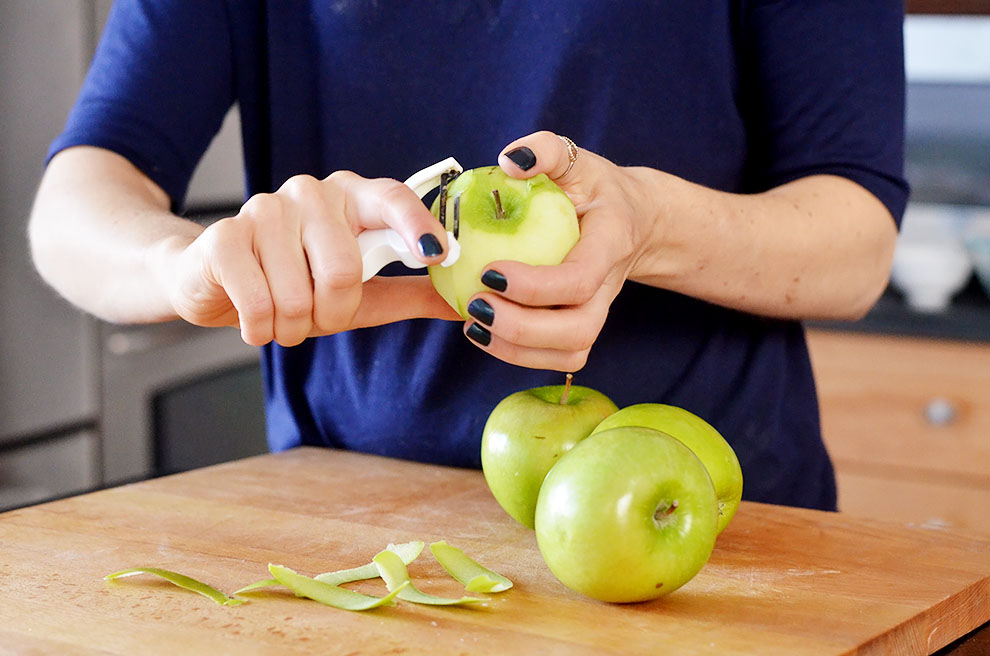 Dice them the same size as your onions and celery.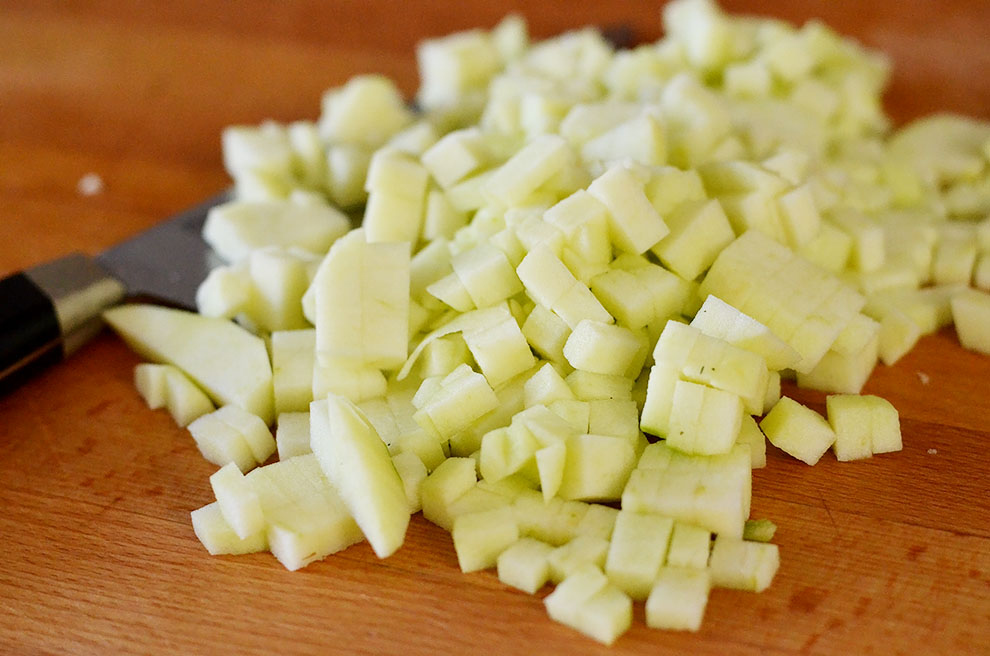 At this point, your onions and celery should be soft.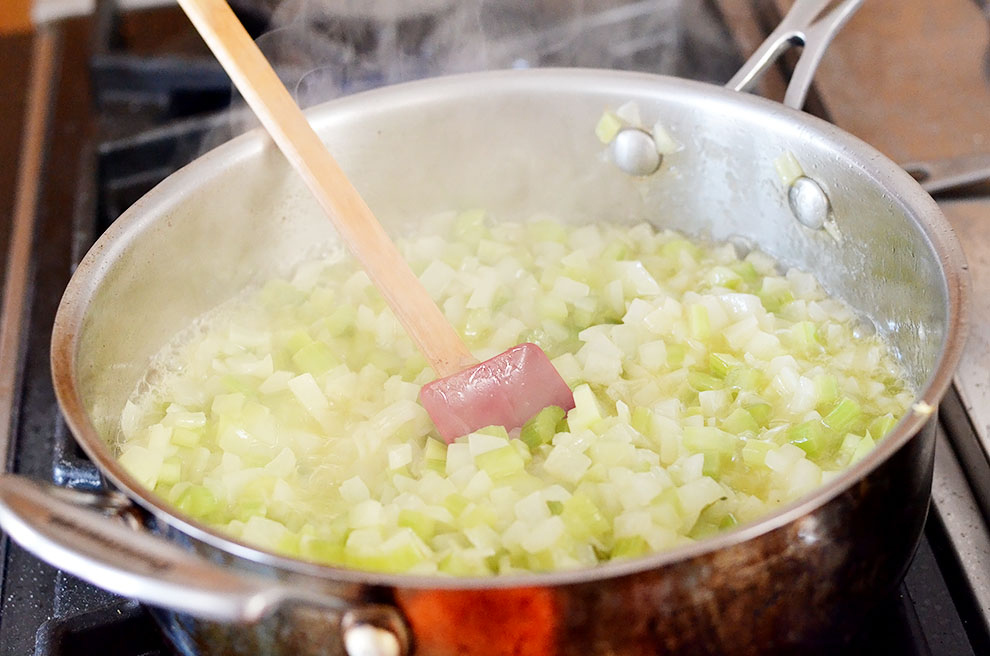 Add your apples and chopped herbs, and stir.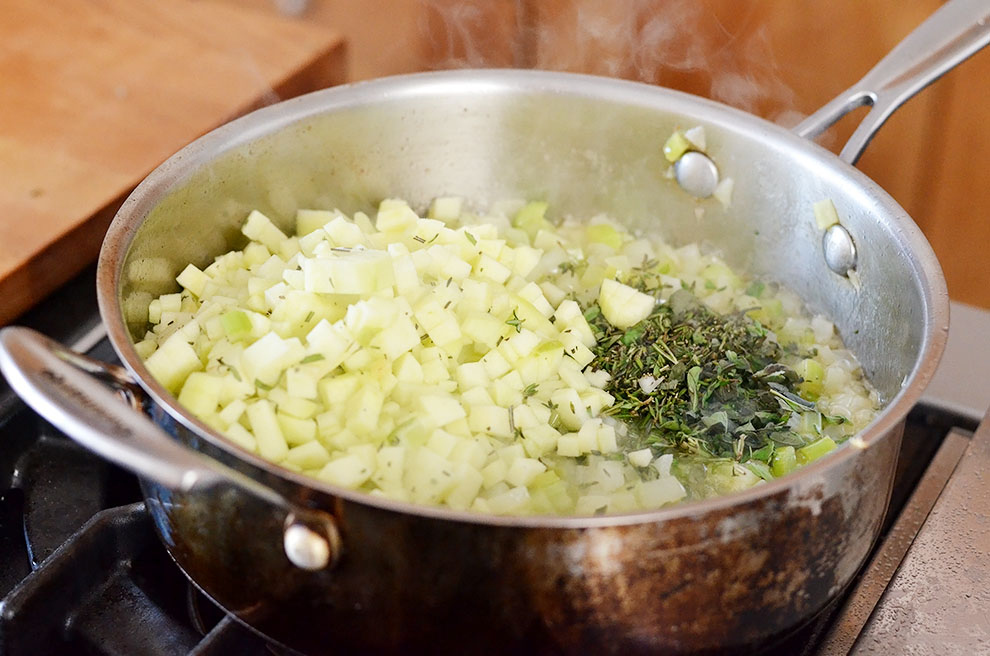 Cook for about 5 more minutes, until apples are soft.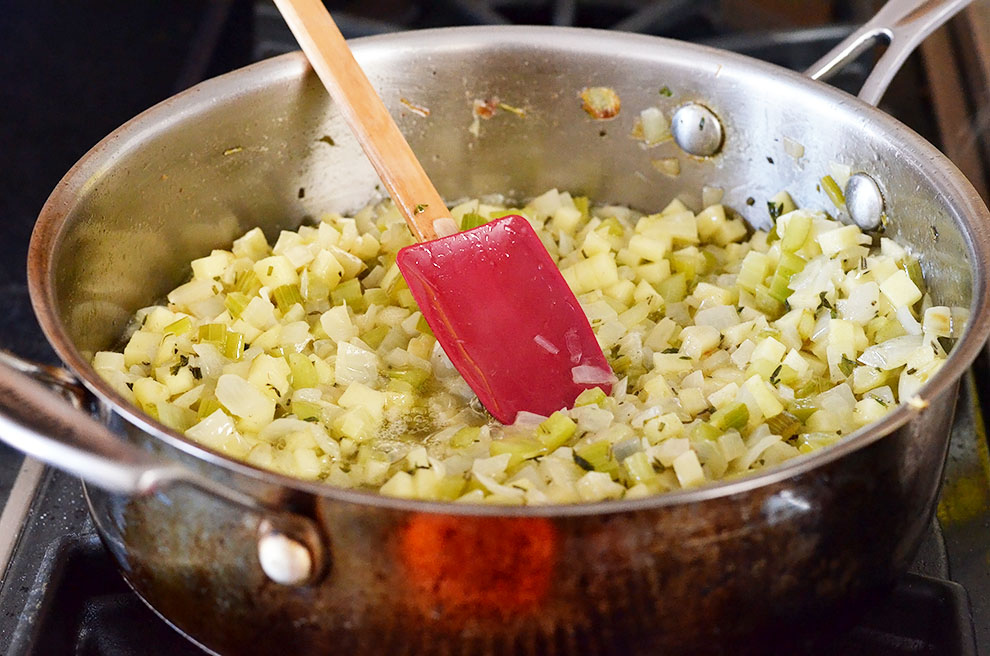 Now, pour all of that on top of your challah cubes, which are in a supersized mixing bowl.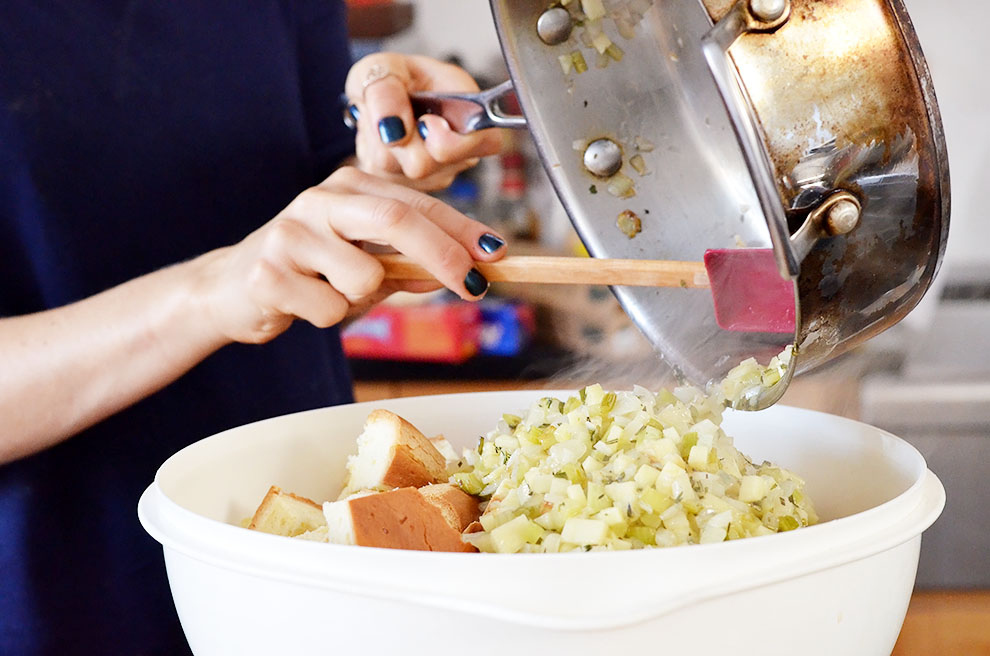 Add 3 cups of "SHORTCUT TURKEY STOCK."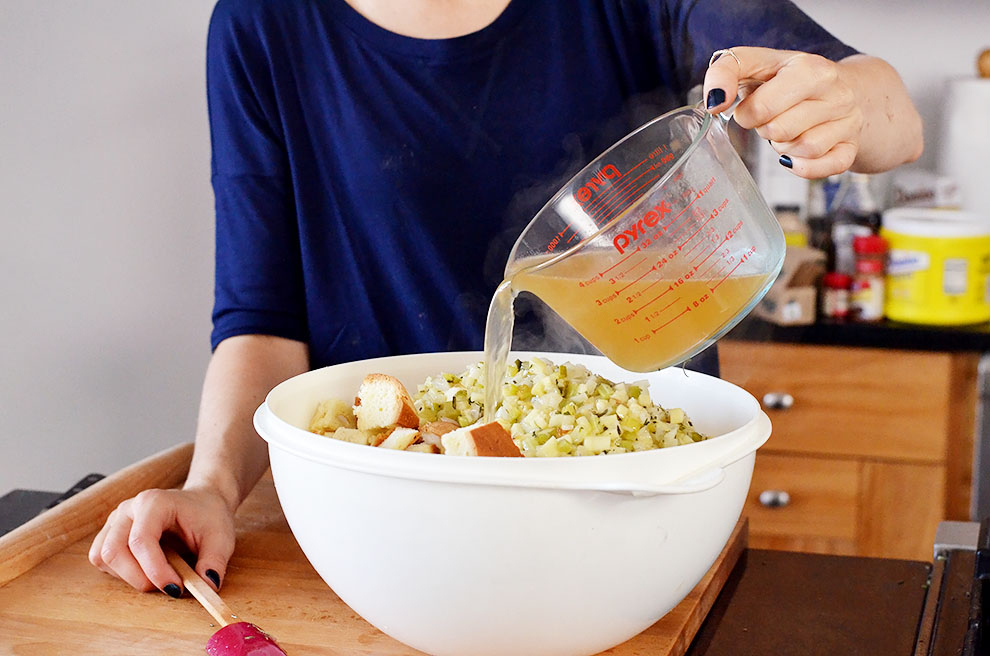 Mix the whole thing up with a rubber spatula, until vegetables are evenly distributed and your challah cubes have absorbed the liquid.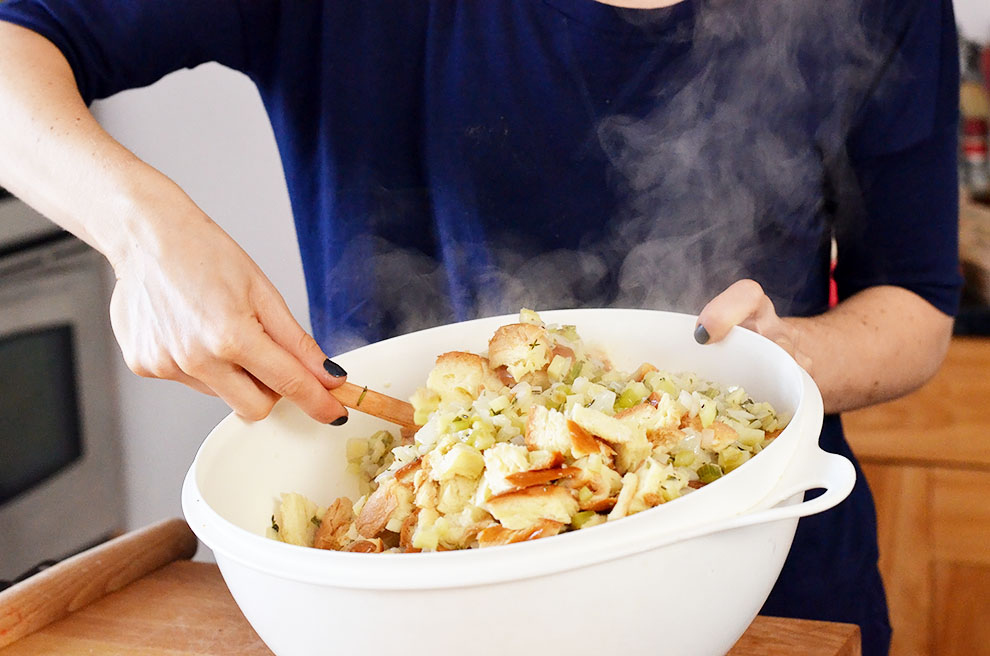 Transfer everything to a large 9 x 13 baking dish, or a small dutch oven.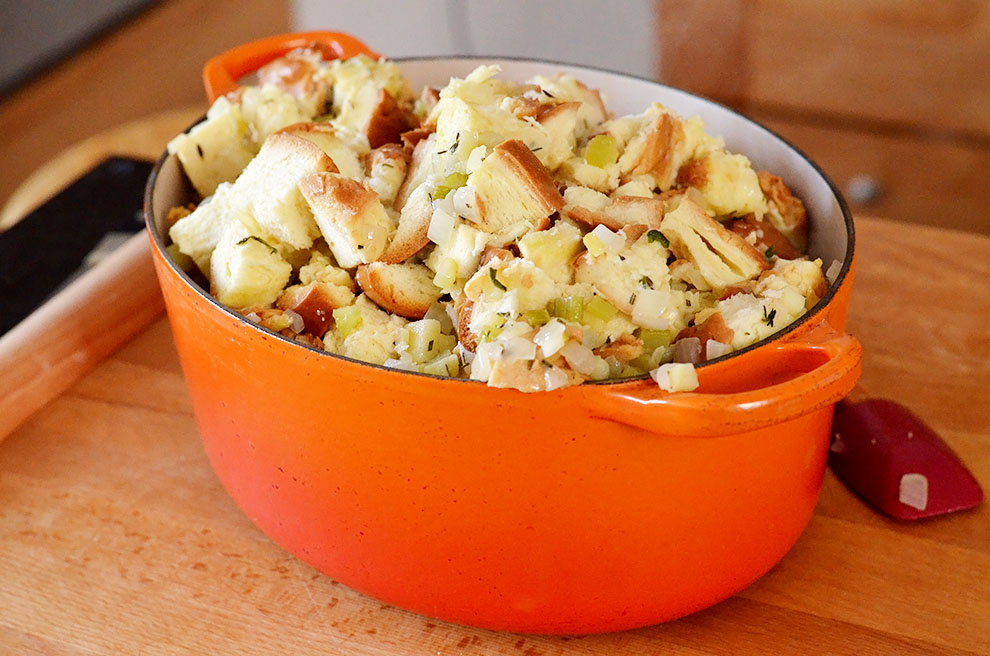 Press the mixture down.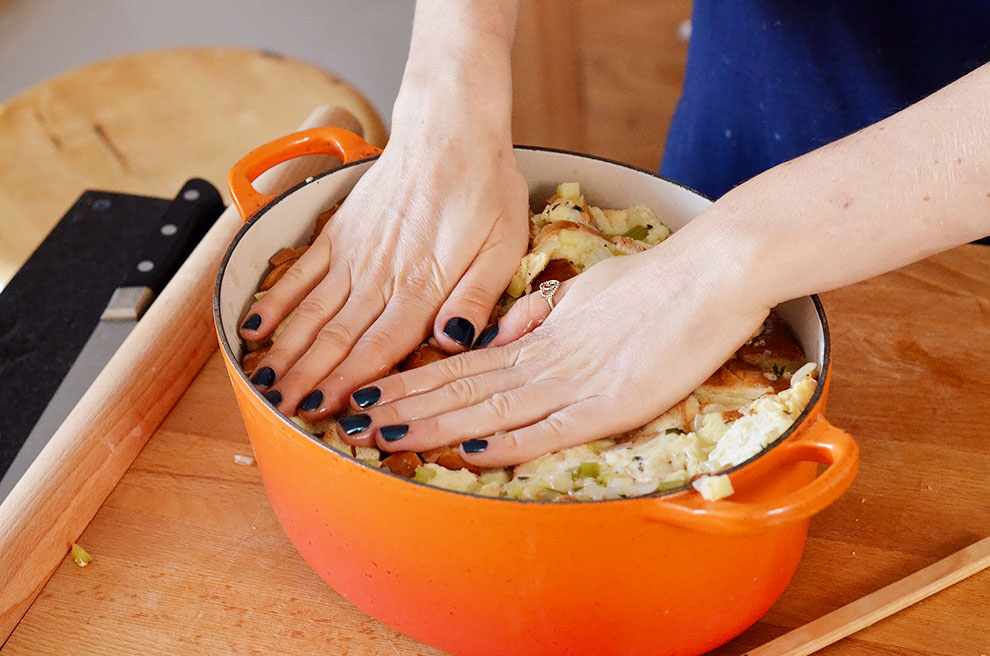 The top should be almost flat.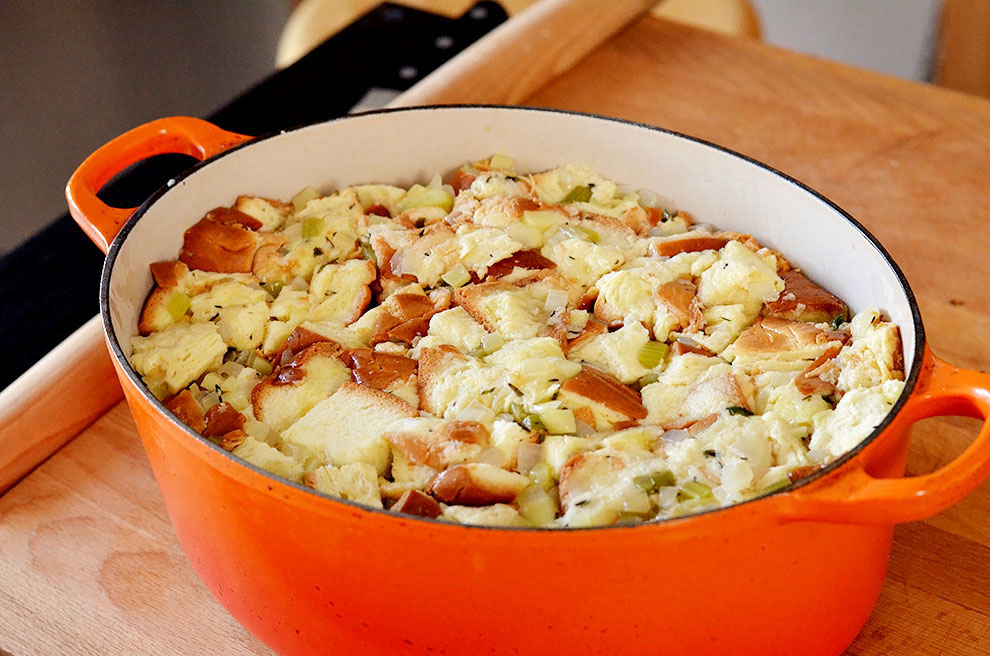 Cover dish with foil, and bake for 40 minutes in a 350 degree oven.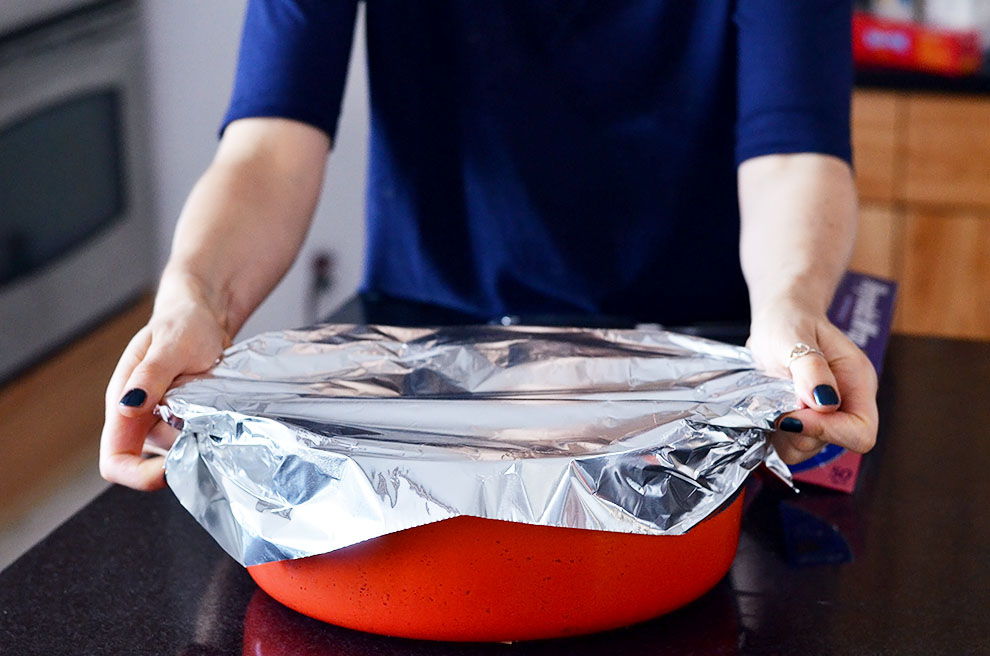 After 40 minutes, remove the foil and raise your oven to 450 degrees.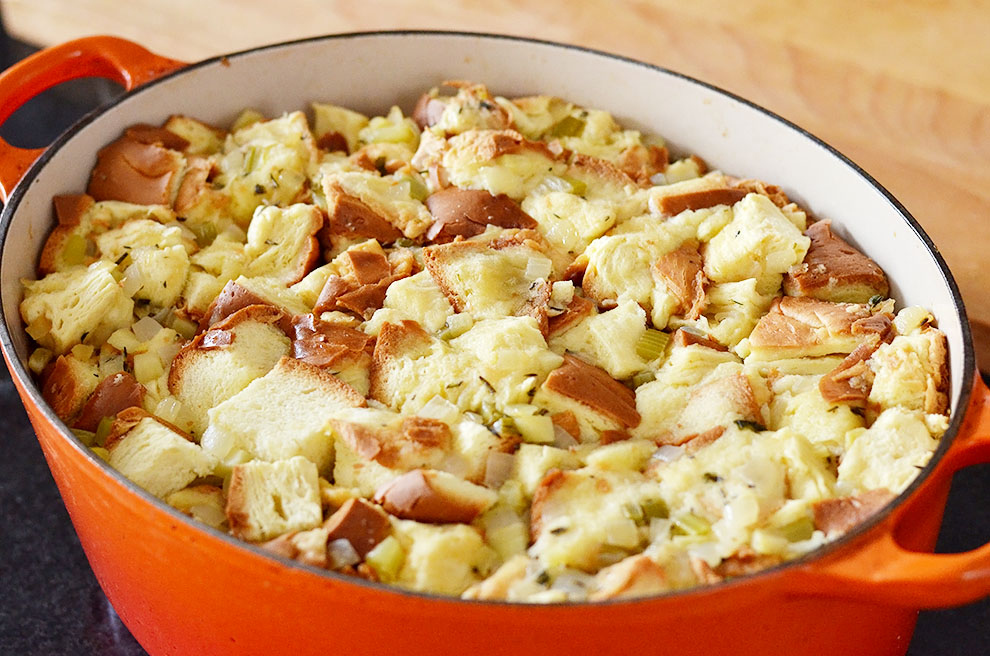 Bake for another 10 minutes, or until the top has started to brown. Let it cool for 10 minutes, then serve.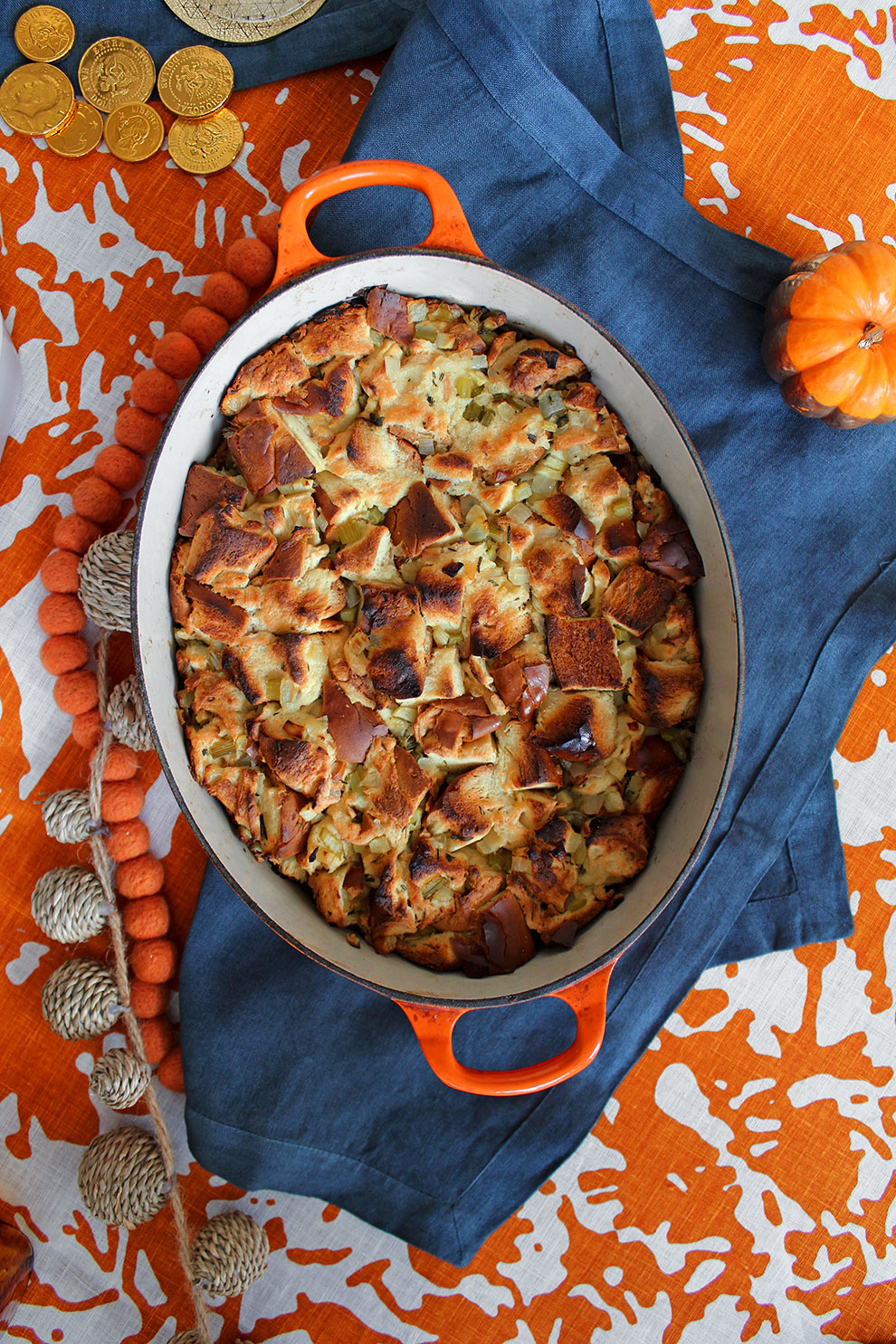 CHALLAH-APPLE STUFFING
Serves 10-12
INGREDIENTS
2 1-lb loaves challah
1 cup unsalted butter (2 sticks)
2 cups diced celery
2 cups diced onion
2 cups peeled and diced Granny Smith apples
8 sprigs thyme, leaves picked and finely chopped
3 sprigs rosemary, leaves picked and finely chopped
6 sprigs marjoram, leaves picked and finely chopped
3 cups low-sodium chicken broth
kosher salt
freshly ground pepper, to taste
Note: To dice means to chop into roughly ¼-inch cubes.
Special Equipment
Aluminum Foil
9x13-inch baking dish
PREPARATION
Cut challah into 1-inch cubes and let cubes sit out in a bowl or on a baking tray, uncovered, for at least six hours to make them stale. Alternatively, you can dry bread in a 250°F oven by laying cubes in a single layer on baking sheets and baking for about 30 minutes, or until bread is dry but not toasted (it should not start to brown at all).
Preheat oven to 350°F.
In a large saute pan, melt butter over medium-low heat, then add onions and celery. Add three teaspoons of salt and ground pepper to taste, and cook until onions are soft, about 8 minutes. Add apples and herbs and cook until apples are soft, about 5 minutes more.
In a large bowl, combine challah cubes, cooked vegetables in butter, and chicken broth. Mix until the bread is saturated with liquid, and everything is evenly mixed. Press stuffing into a 9x13-inch baking dish and cover with foil. Bake at 350°F for 40 minutes, then remove the foil, raise your oven to 450°F, and cook stuffing uncovered for another 10-15 minutes, or until the top starts to brown slightly.
Cool 10 minutes, then serve.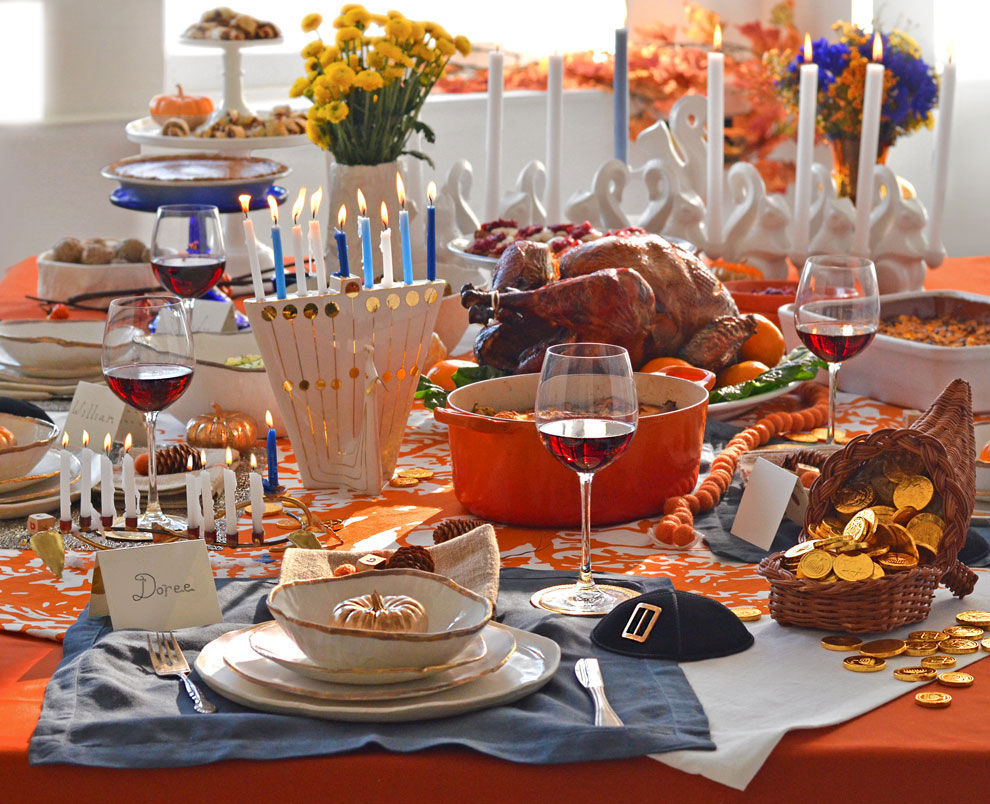 Planning on cooking this recipe, or another one from our Thanksgivukkah menu?
That's awesome! Take a picture of your finished dish, post it to Instagram, and tag it #Thanksgivukkah. The BuzzFeed food editors want to know how things turn out in your home kitchen. And, who knows? Maybe your photo will end up in a BuzzFeed post!