Matt Jennings is the kind of chef who understands that fancy food can also be ~fun~.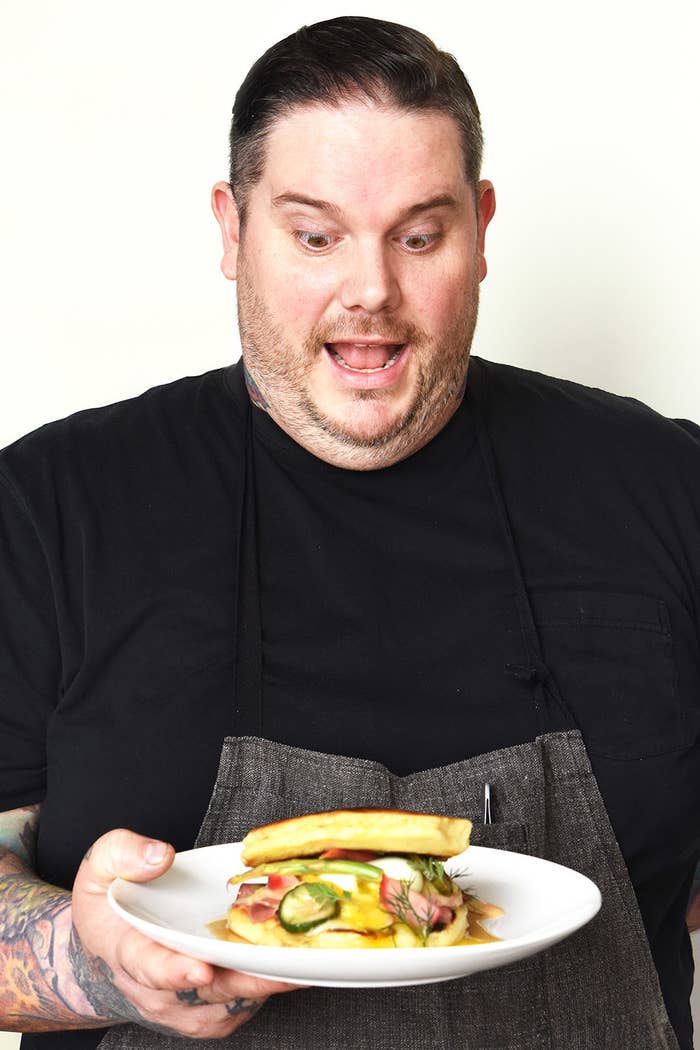 Case in point: Before he made his name as a chef, Jennings ran a cheese shop in Providence, Rhode Island. He later opened a restaurant in Providence, but has since relocated to Boston to focus on his new restaurant, Townsman. At Townsman, the food is seasonal, sustainable, and true to its New England roots, without being pretentious or stuffy.
The "Bologna Pony" is the perfect example of Jennings' fun-but-serious style of cooking: sliced mortadella, Taleggio cheese, lightly pickled seasonal vegetables, a poached egg, and homemade aioli, all sandwiched between two fluffy buttermilk pancakes. It's definitely a sandwich you have to eat with a knife and fork, but trust us, that's a good thing.
Jennings came to the BuzzFeed test kitchen to show us how to make the sandwich, and we got the whole thing on video! See how it's done, then get the recipe at the bottom of this post and try it yourself.
Start by chopping a variety of seasonal vegetables and packing them into a large, heatproof jar.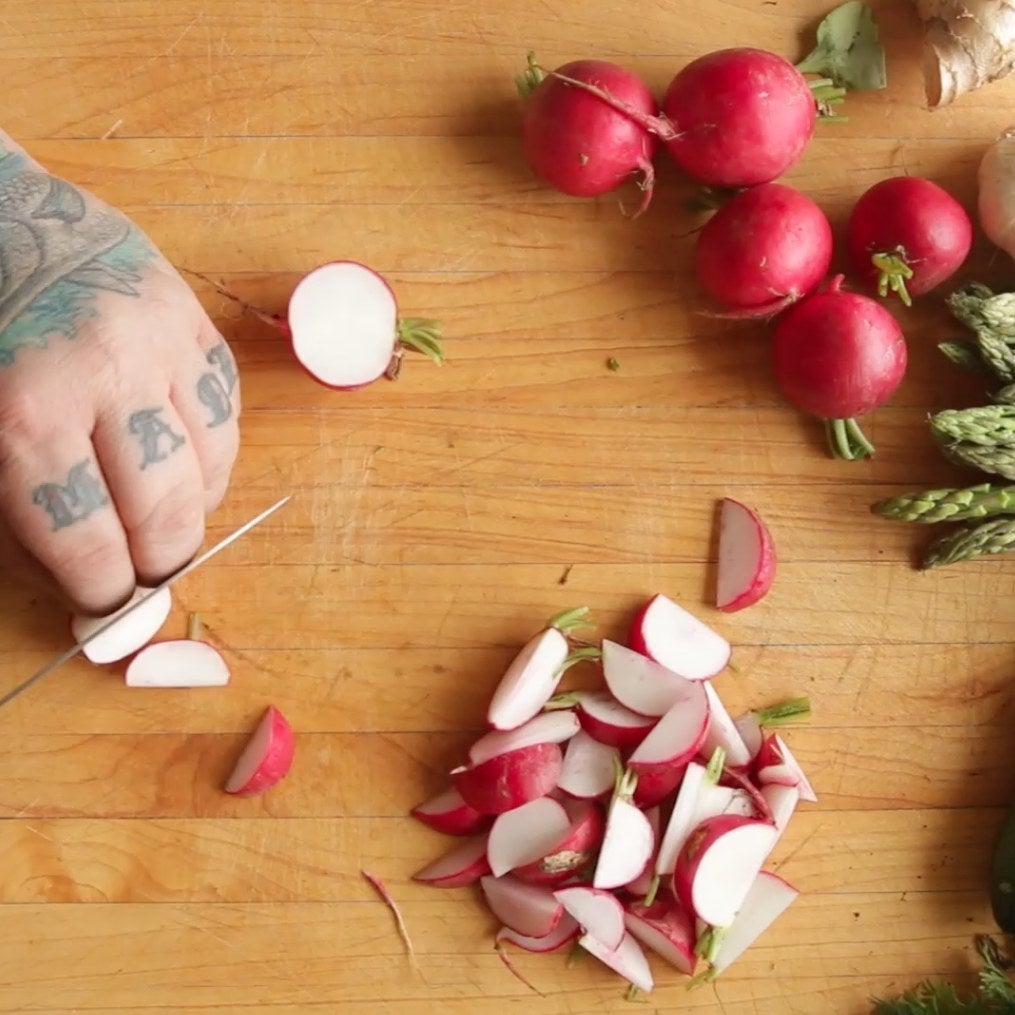 Jennings used radish, carrot, asparagus, green beans, and cucumber.
Next, make a simple pickling liquid and pour it over your vegetables. You'll want the mixture to sit for at least a few hours, and up to a week.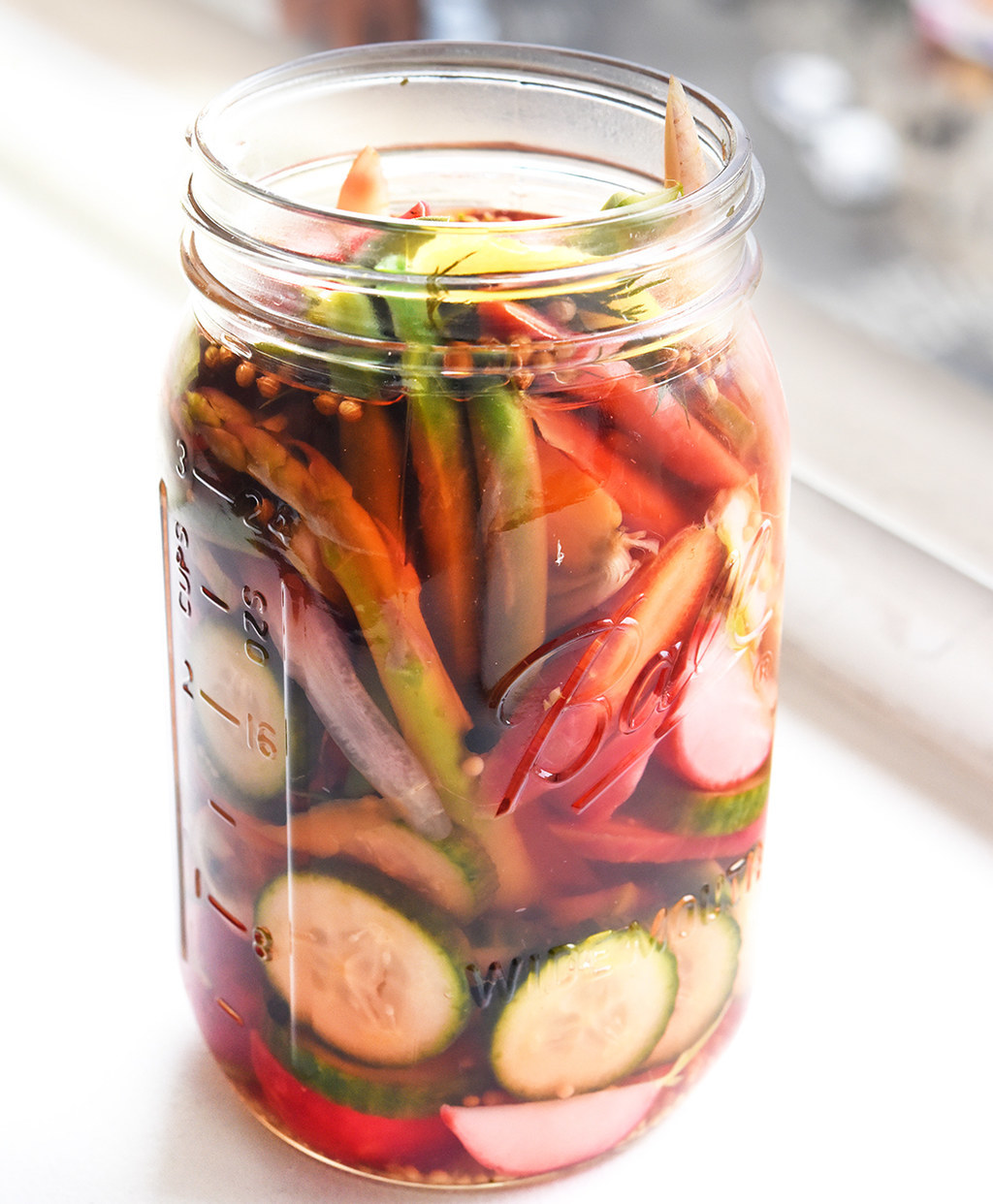 Once the vegetables are pickled and you're ready for breakfast, make the pancakes.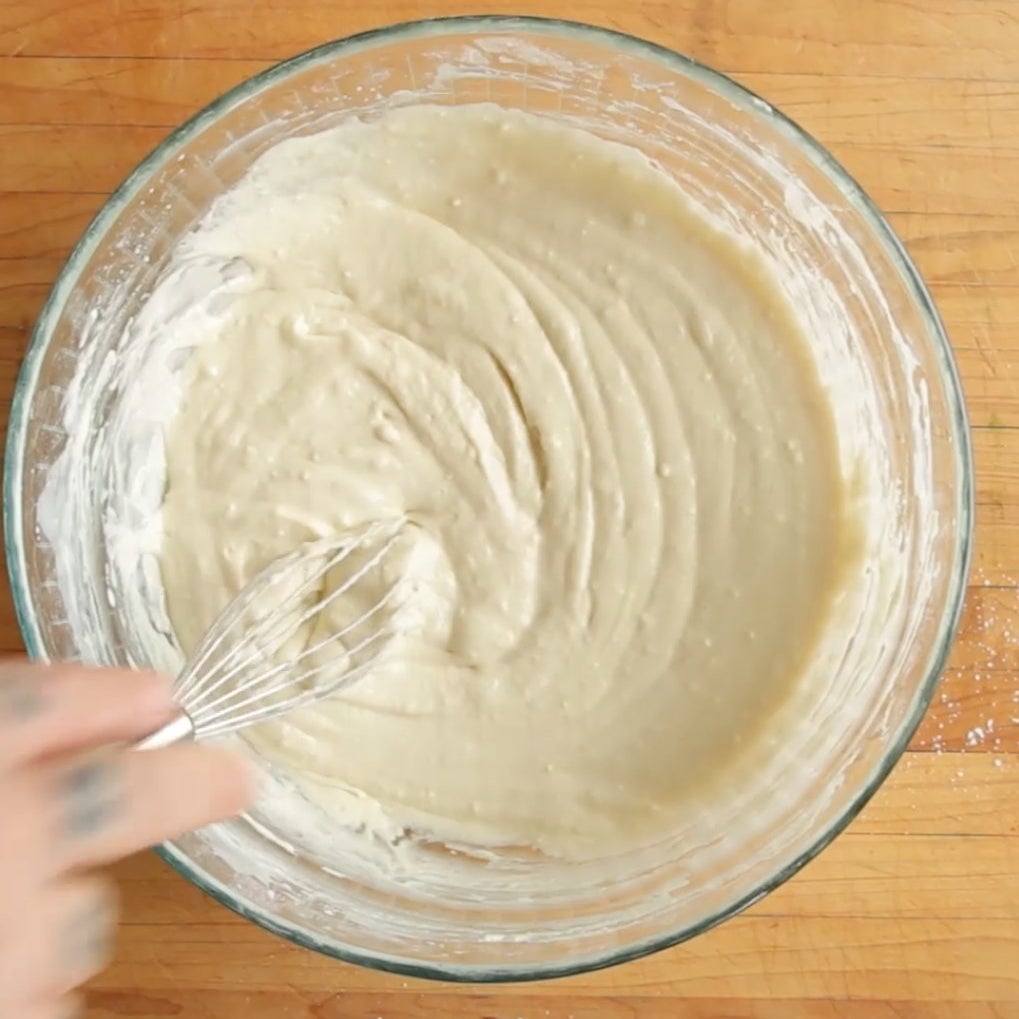 Jennings' recipe calls for a lot of baking powder and baking soda, making the pancakes fluffy but sturdy enough to hold the sandwich.
To assemble your ~pony~, lay down a pancake, and top it with sliced mortadella and Taleggio cheese.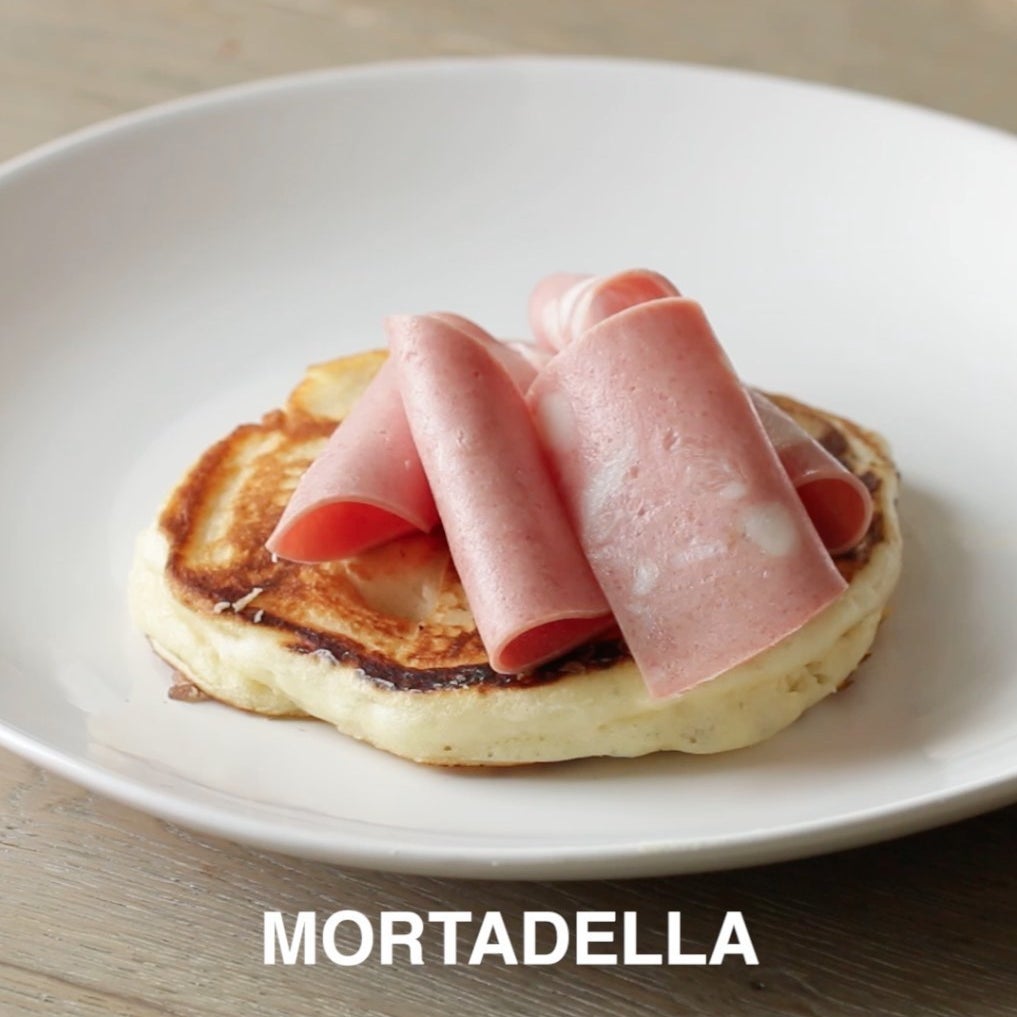 Then broil that baby to get the cheese nice and melty. Add a soft-boiled egg and some pickled vegetables.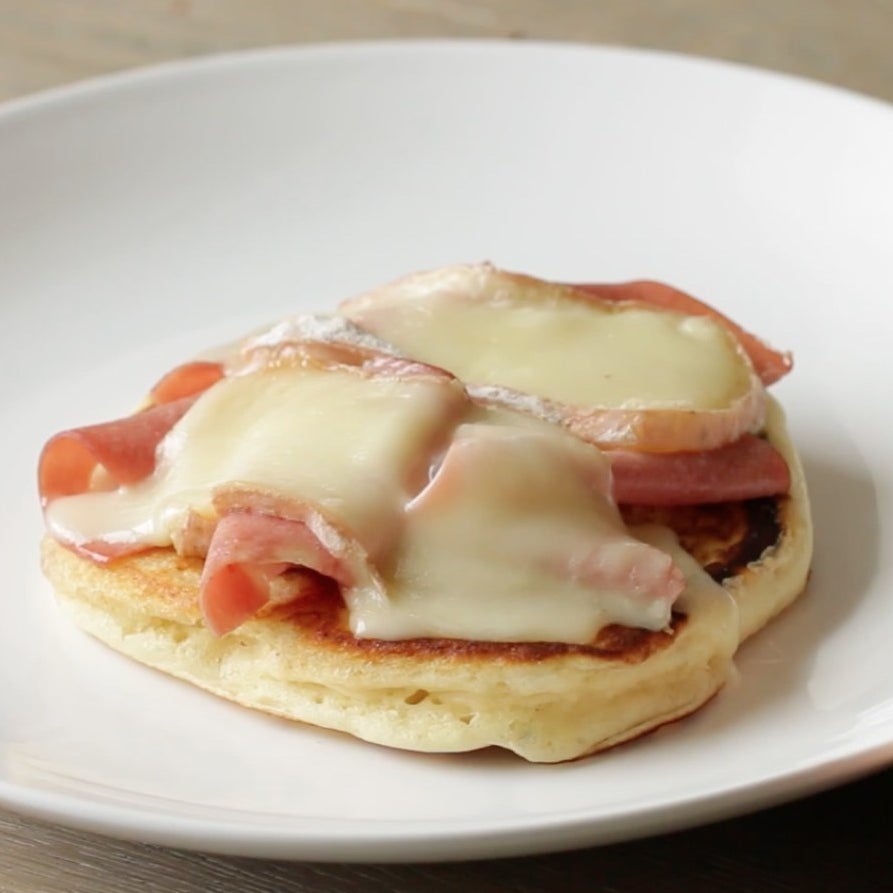 Add a second pancake on top, ~smush~, and serve!
The Bologna Pony
Makes 6 sandwiches
Recipe by Matt Jennings
INGREDIENTS
1 batch buttermilk pancakes (recipe below)
½ pound of mortadella, sliced into ¼ inch slices
6 ounces Tallegio cheese (sliced into one piece for each sandwich)
Pickled vegetables (recipe below)
Chili aioli (recipe below)
Maple syrup
Chili flakes
INSTRUCTIONS
Heat the oven to broil with the top rack 6 inches from the broiler.
Place six pancakes on a baking sheet. Divide the mortadella and cheese between the six pancakes, topping each one with mortadella and then cheese. Broil the ham and cheese-topped pancakes in the preheated oven, just until the cheese is melted. Top each pancake with a soft-boiled egg, pickled vegetables, and a second pancake. Drizzle with maple syrup and serve alongside the chili aioli. Garnish with chili flakes, if you want.
Pickled Vegetables
Makes 2 quarts
Make the pickled vegetables at least a day in advance.
INGREDIENTS
10 stalks asparagus, trimmed and halved lengthwise
6 small carrots, peeled and cut diagonally in 1/2-inch slices
5-7 small radishes, quartered (about 1 cup)
3 Persian cucumbers, thinly sliced
1 cup green beans, trimmed
10 cloves garlic, thickly sliced
Few sprigs fresh dill
2 tablespoons coriander seeds
2 teaspoons whole Allspice berries (optional)
6 whole cloves
2 teaspoons mustard seeds
2 teaspoons whole peppercorns
2 cups vinegar (you can use white, red wine, rice wine, or apple cider vinegar)
2 cups water
2 tablespoons kosher salt
1/4 cup granulated sugar
INSTRUCTiONS
In two quart-size mason jars, divide the asparagus, carrots, radishes, cucumbers, green beans, garlic, whole seeds, and spices.
Bring the vinegar, water, sugar, and salt to a boil in a small pot. Carefully pour the hot liquid into the jars, making sure to submerge all the vegetables, pressing down on them with the end of a wooden spoon. Make sure the liquid completely covers the veggies, leaving at least a half-inch of room between the liquid and lid.
Cover and let sit on the counter to cool, and after an hour or two, place in the fridge. These will taste good after 6 to 8 hours, but much better after a couple days. The pickles will keep for up to 2 weeks in an airtight container in the fridge.
Chili Aioli
Makes about 1 1/2 cups
This is optional. If you want to make it, you can do it up to three days in advance.
INGREDIENTS
1 tablespoon pureed chipotle pepper in adobo sauce
1 tablespoon honey
1 tablespoon Dijon mustard
4 large egg yolks
1 teaspoon minced garlic
1 teaspoon fresh lemon juice
1 cup canola oil
Kosher salt and freshly ground pepper.
INSTRUCTIONS
Add the chipotle, honey, mustard, egg yolk, garlic, and lemon juice to the bowl of a small food processor. Puree until smooth, making sure to scrape the sides with a rubber spatula. With the machine running, slowly drizzle the canola oil in, forming an emulsion. If the aioli gets too thick, add a few drops of cold water. Season the aioli liberally with salt and pepper. Aioli will keep for up to five days in an airtight container in the fridge.
Buttermilk Pancakes
Makes 12 pancakes
INGREDIENTS
2 cups all-purpose flour
2 tablespoons sugar
2 tablespoons baking powder
1 teaspoon baking soda
½ teaspoon salt
2 cups buttermilk
2 large eggs
¼ cup vegetable oil
Butter, for cooking
INSTRUCTIONS
In a large mixing bowl, sift together the flour, sugar, baking powder, baking soda, and salt. Add eggs, then buttermilk, then vegetable oil, whisking the batter after the addition of each ingredient. Whisk until the batter is thick and thoroughly mixed (a few lumps are fine).
Melt a tablespoon of butter in a large skillet (preferably cast iron) over medium heat. Cook the pancakes in batches of three, adding about 1/3 cup batter for each pancake and making sure they aren't touching in the skillet. Cook the pancakes until the edges are golden brown and the batter in the center starts to bubble, about 2 minutes, then flip the pancakes and cook until the pancakes are fluffy and lightly browned, about 2 minutes more.