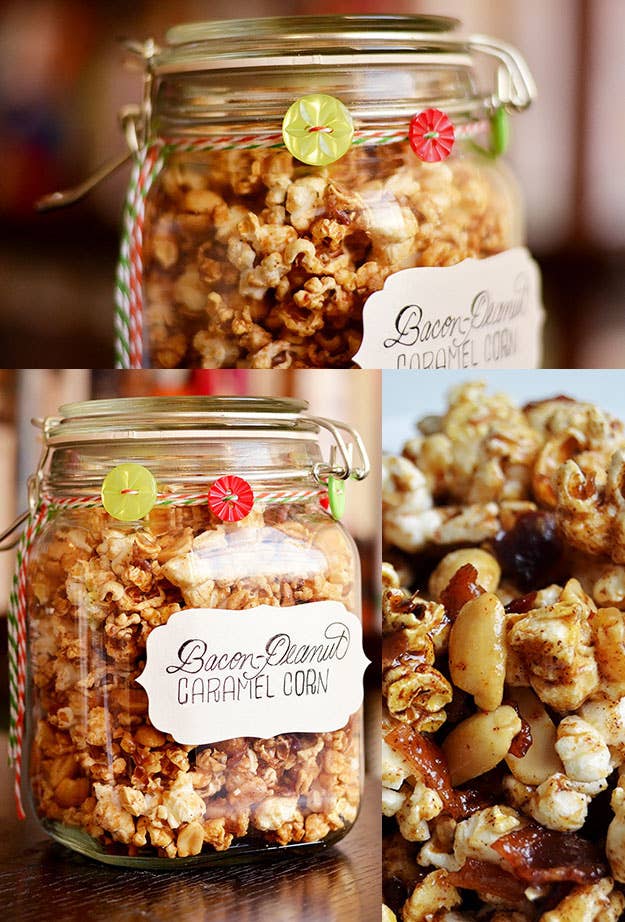 Bacon-Peanut Caramel Corn
Makes 16 cups, enough to fill 4 34-oz clip jars (pictured here
INGREDIENTS
½ cup popping corn kernels (or use 16 cups pre-popped popcorn)
1 tablespoon canola oil
1 lb sliced bacon
1 ¼ cup pure maple syrup
2 cups roasted, unsalted peanuts
½ teaspoon cayenne pepper
1 ½ teaspoon cinnamon
1 tablespoon kosher salt
Special equipment
Large (at least 4 quart) sauce pot with lid (if using pre-popped corn, you won't need this)
Large (at least 4 quart) heatproof mixing bowl
Large skillet
2 large baking sheets
Parchment paper or wax paper
PREPARATION
1. Line 2 large baking sheets with parchment paper, and preheat oven to 300°F.
2. To make popcorn:
In a large sauce pot, heat 1 tablespoon canola oil over medium-low heat, then add popping corn kernels. Cover the pot, and shake to coat the kernals with oil. In about a minute, kernels will start to pop. Shake the pot, still over medium-low heat, occasionally. When the popping sound has slowed to less than 1 pop every 10 seconds, turn the heat off and uncover the pot. Pour popped corn out into the large, heatproof mixing bowl, discarding any unpopped kernels.
3. In a large skillet over medium heat, cook half the bacon until the fat has rendered out and the meat is crispy. Remove cooked bacon from skillet and allow to cool on a plate or cutting board, leaving the fat in the pan. Add the rest of the bacon to the skillet, and repeat. Set aside the cooked bacon, leaving the bacon fat in the skillet.
4. With the skillet still over medium heat, add the maple syrup, peanuts, cayenne pepper, cinnamon, and kosher salt, stirring to combine. Heat the mixture for about a minute, until it starts to bubble, then remove from heat and set aside.
5. Once the bacon is cool enough to handle, cut it into large strips (about 1 inch long and ¼ inch wide). Add bacon to the popcorn in the large mixing bowl, then pour the maple syrup mixture on top. Mix with a heatproof spoon or spatula, until all the popcorn is evenly coated with the maple syrup mixture.
6. Spread the popcorn out over the two baking sheets, and bake at 300 degrees for 20 minutes. Popcorn may feel slightly soggy but will crisp as it cools.
Let the popcorn cool completely on the baking sheets (if you put it in the airtight containers to early, it'll be soggy). Once it's cool, divide into gift jars and cover. Popcorn will keep for five to seven days in an airtight container at room temperature.