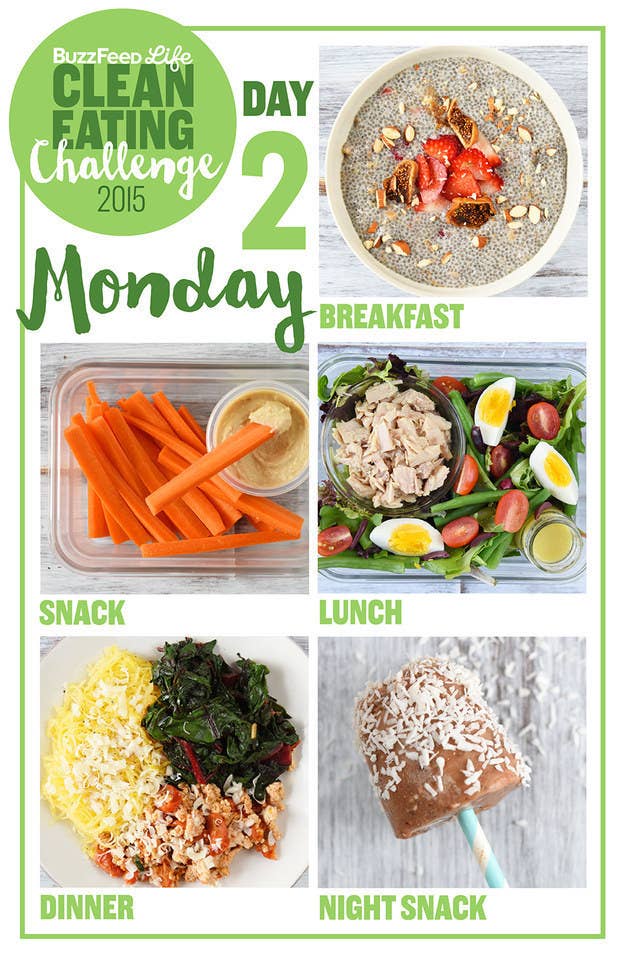 BuzzFeed Life's Clean Eating Challenge is a two-week plan that's all about eating real food in order to feel great and have more energy. The food is low-carb and gluten-free with an emphasis on lean protein, healthy fats, and lots of fresh produce. There's no processed food allowed; every meal is homemade.
It's important that you follow the meal plan in order starting with Day 1 since most of the recipes call for leftover ingredients from previous days. But you can start any time and find full instructions here. Aim to eat every 3-4 hours and try not to eat within two hours of bedtime.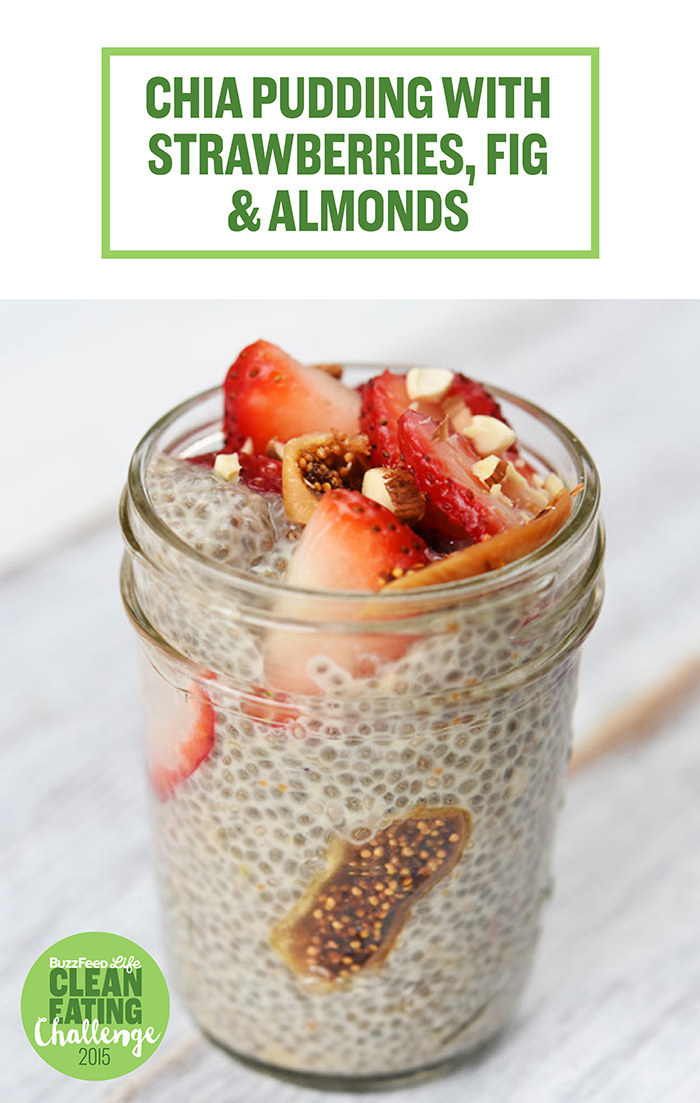 Chia Pudding with Strawberries, Fig and Almonds
Makes 1 serving
You prepared this last night, you just need to top it with strawberries and almonds in the morning!
INGREDIENTS
3 tablespoons chia seeds
1 cup unsweetened almond milk
1 teaspoon honey
¼ teaspoon vanilla extract
1 dried Turkish fig, thinly sliced into strips
3 large strawberries
10 raw, unsalted almonds (20 for men)
PROCEDURE
In a small mixing bowl, combine chia seeds, almond milk, honey, vanilla extract, and the sliced fig. Stir everything together to combine, then transfer to a small airtight container and refrigerate overnight.
When you're ready to eat the pudding, slice the strawberries and roughly chop the almonds, then add them to the chia pudding and eat.
358 calories, 21.7 g fat (1.9 g saturated fat), 39g carbohydrate (19 g dietary fiber, 19 g sugars), 13 g protein, 151 mg sodium 0 mg cholesterol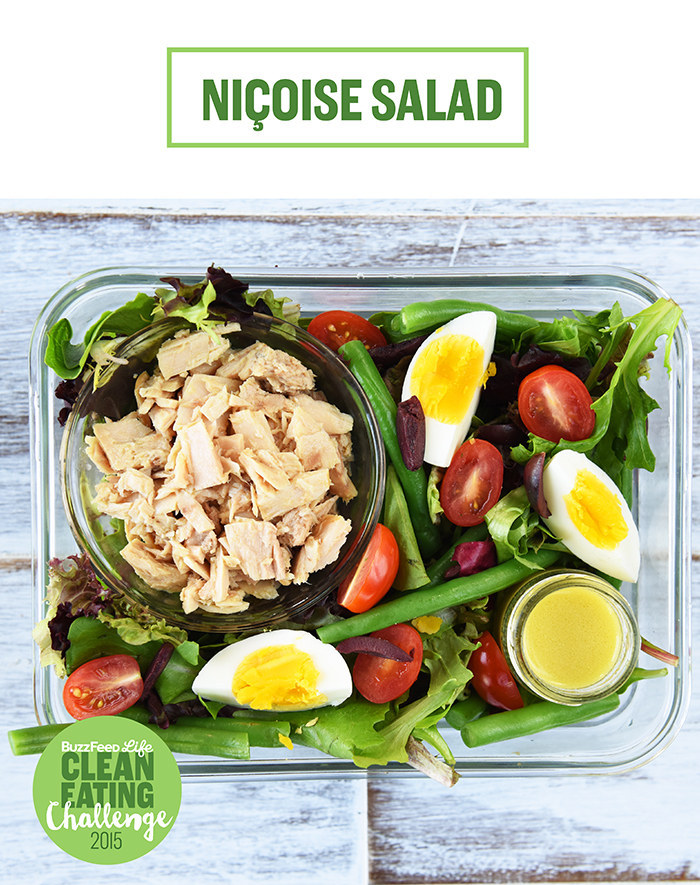 Niçoise Salad
Makes 1 serving
INGREDIENTS
juice of 1 lemon
1 teaspoon dijon mustard
2 teaspoons olive oil
2 cups mixed greens
1 leftover hard-boiled egg, quartered
1 cup halved cherry tomatoes
5 kalamata olives, thinly sliced
1 cup leftover steamed green beans (leftover from Sunday's dinner)
1 5-ounce can tuna
PREPARATION
In a large mixing bowl, combine lemon juice and mustard and whisk to combine. Add the olive oil very slowly, one drop at a time, continuing to whisk vigorously. Spoon about 2 teaspoons dressing into a small mixing bowl and set aside. Add the mixed greens to the large mixing bowl with the dressing and toss to dress the greens. Transfer to a serving bowl and top with the hard-boiled egg, tomato wedges, sliced olives, and green beans. Add tuna to the small mixing bowl with the 2 teaspoons of dressing and toss everything together. Spoon the tuna on top of the arugula salad, and season with freshly ground pepper.
If you're packing lunch to go: Make the vinaigrette. Mix two teaspoons into the tuna and transfer to a small tupperware container (if you don't have enough tupperware, you can use a ziploc bag). Store the rest of the dressing in a separate small airtight container. Combine mixed greens, hard-boiled egg, tomato wedges, olives, and green beans in a large tupperware, then put the other two containers (lids on) on top of the salad in the container. Refrigerate until you're ready to eat then toss the salad with the vinaigrette and top with the tuna.
417 calories, 22.4 g fat (2.8 g saturated fat), 20.4 g carbohydrate (7 g fiber, 6.2 g sugars), 29.3 g protein, 964 mg sodium, 226 mg cholesterol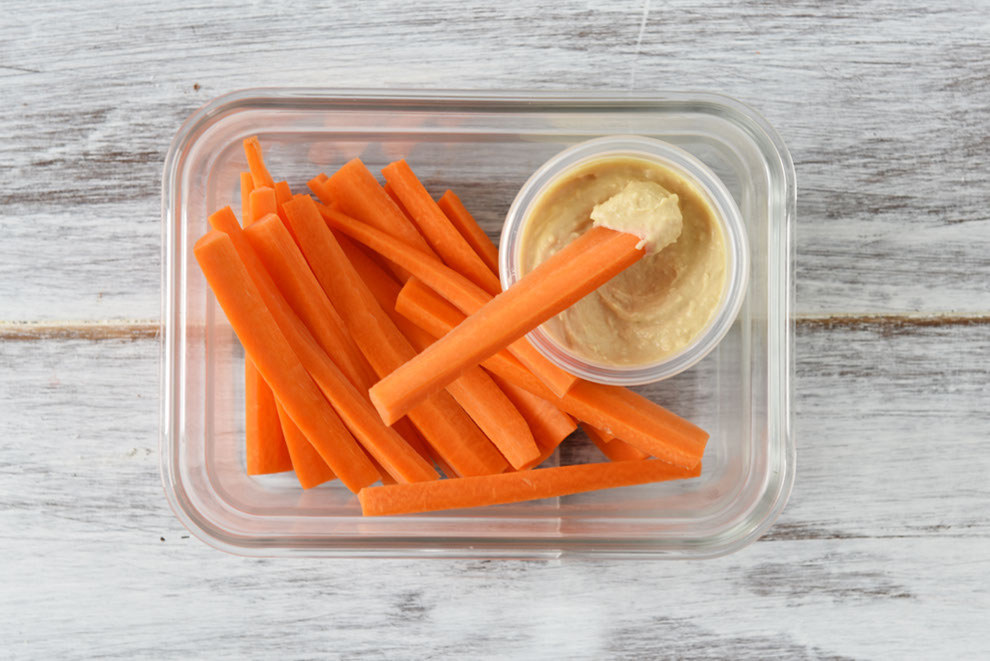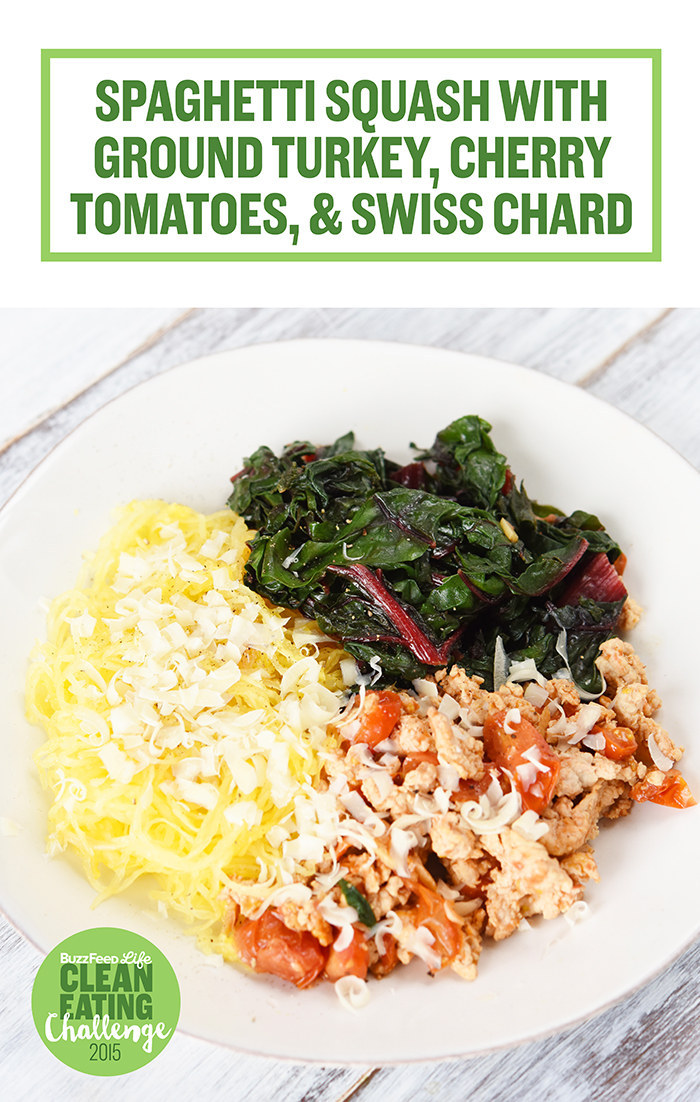 Spaghetti Squash with Ground Turkey, Cherry Tomatoes, and Swiss Chard
Makes 1 serving plus leftover squash
You'll eat half the roasted squash that this recipe makes today and save the other half for Thursday's dinner.
INGREDIENTS
1 medium spaghetti squash
1 teaspoon olive oil
2 cloves garlic, minced
4 ounces lean 97% lean ground turkey*
⅛ teaspoon kosher salt
freshly ground pepper
¼ teaspoon paprika
1 cup cherry tomatoes, halved
2 tablespoons low-sodium chicken stock
½ bunch swiss chard, stems removed, cut in 2-inch pieces
½ ounce Parmesan, grated
*Men, use 8 ounces
PREPARATION
Preheat the oven to 400°F and line a large rimmed baking sheet with parchment paper.
Cut about half an inch off of the top and bottom of the spaghetti squash, and discard those pieces. Cut the squash crosswise into rings about 1-inch thick, and run your knife around the inside of the rings to cut the seeds out.
Spread the spaghetti squash rings out on the lined baking sheet and roast in the preheated oven until the squash is tender, about 30 minutes, flipping halfway through. When the squash is done, set it aside on the counter while you cook the turkey, tomatoes and swiss chard. It'll be easier to handle if you let it cool for 10 minutes before taking it apart.
Heat olive oil in a large skillet over medium heat, then add the minced garlic. Cook, stirring constantly, until the garlic is fragrant, about 30 seconds. Add the ground turkey and use a wooden spoon to break it up and stir it around the pan. Season with salt, pepper, and paprika and cook, stirring occasionally, until the turkey is cooked through, about 4 minutes. Add the cherry tomatoes and chicken stock and cook, stirring occasionally and crushing the tomatoes a little bit, until all the liquid has evaporated and the tomatoes are very soft, about 2 minutes. Add the swiss chard and cook, stirring often, just until the chard is wilted, about a minute. Turn the heat off, then add the grated Parmesan and stir everything together. Let the mixture sit in the skillet while you finish the spaghetti squash.
Peel the skin away from the squash, then use a fork or your hands to pull the strands apart. Plate half of the spaghetti squash, and top with the turkey and veggie mixture.
Let the leftover squash cool completely before storing it in an airtight container in the fridge.
388 calories, 12.6 g fat (4.2 g saturated fat), 36 g carbohydrates (9.1 g fiber, 12.9 g sugars), 37.8 g protein, 474 mg sodium, 75 mg cholesterol
Cut about half an inch off each end of the spaghetti squash, then cut the rest into rings an inch thick.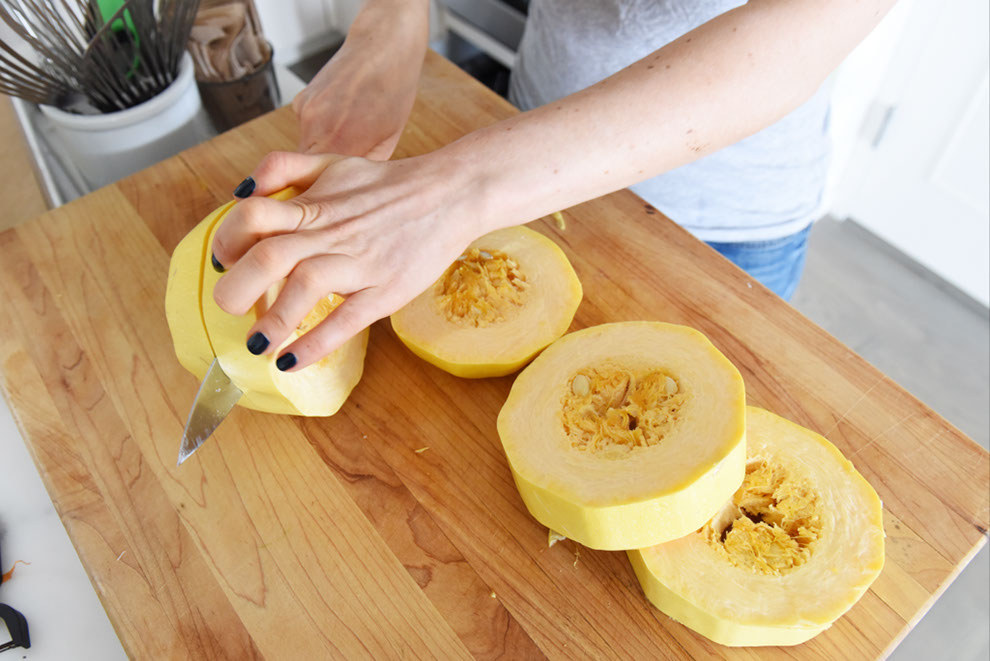 Cut the seeds out of the center of each ring.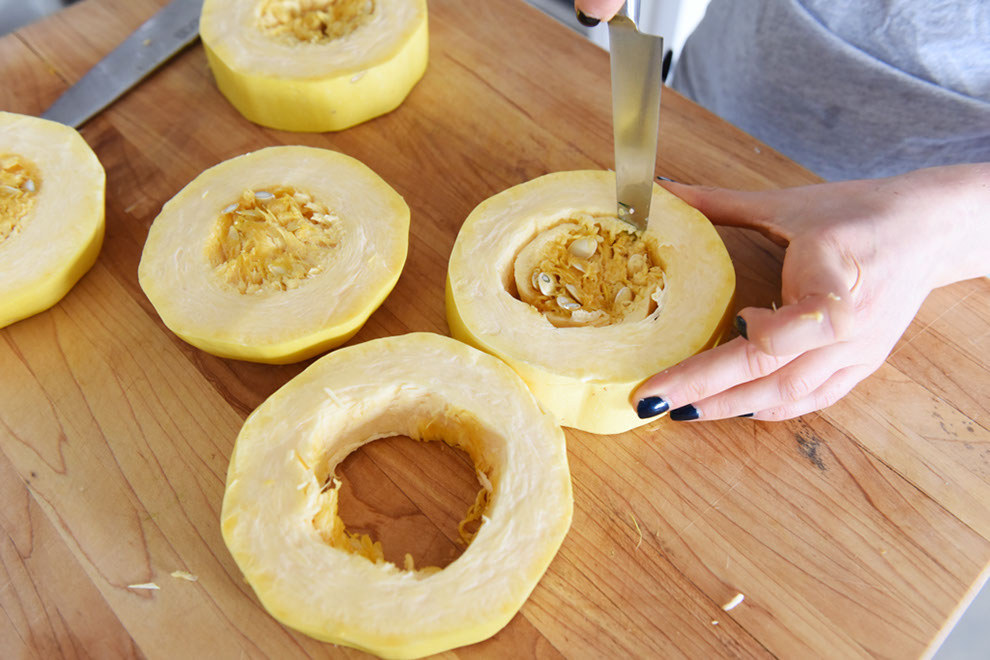 Spread the rings out over the baking sheet.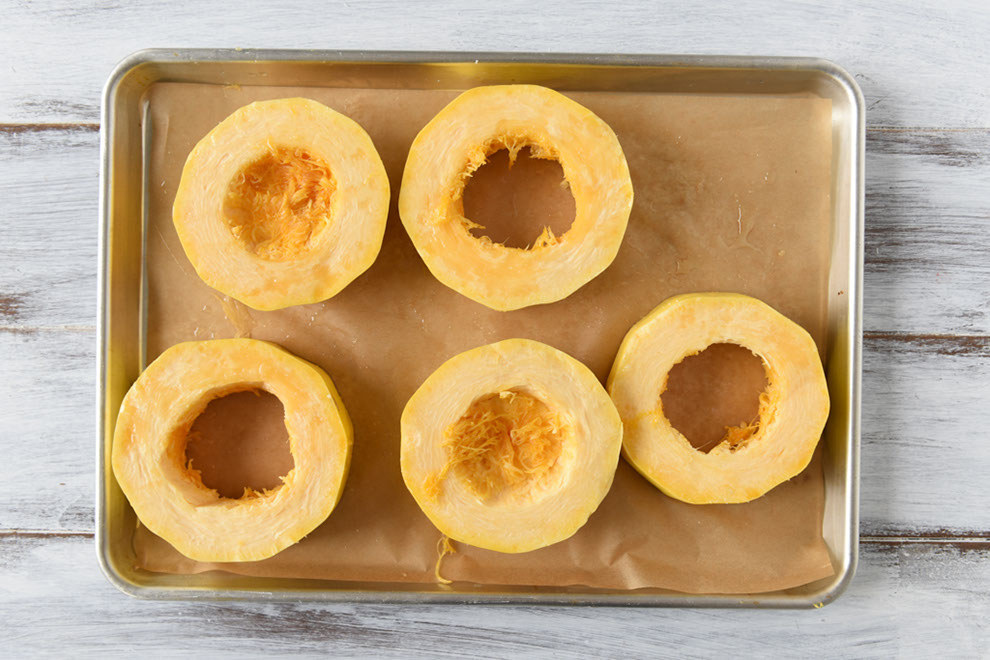 Roast in a 400°F oven until the rings are slightly browned and the squash is soft.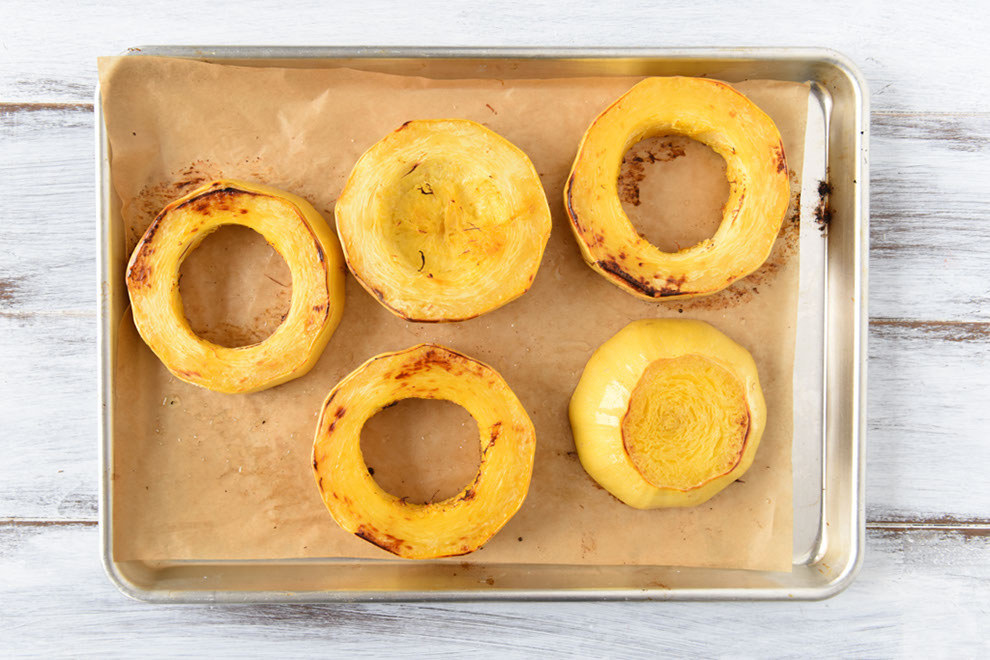 Let the squash sit just until it's cool enough to handle, then peel the skin off.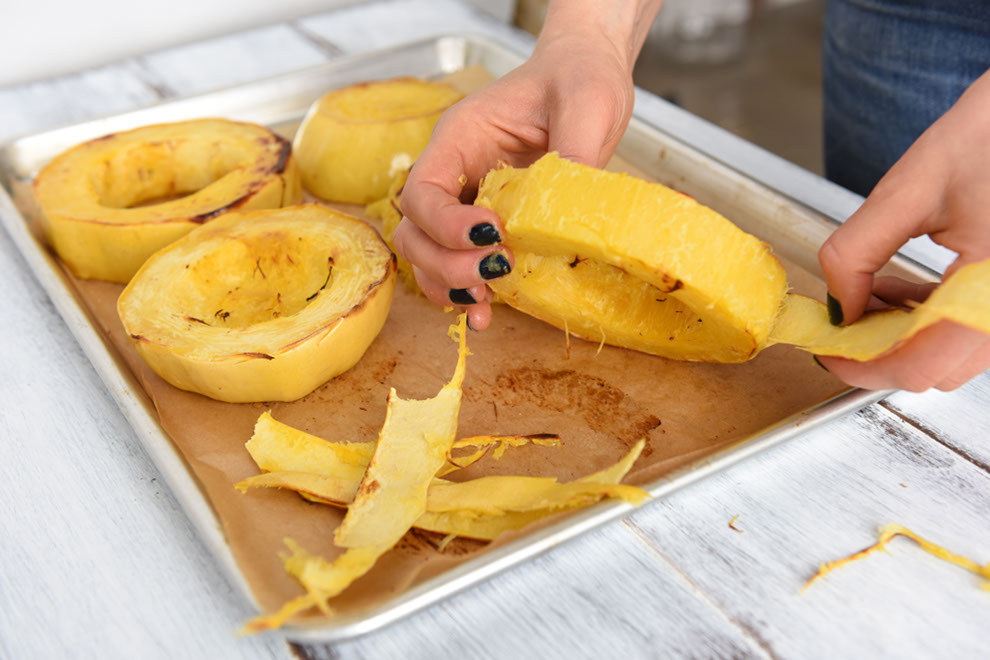 Use your hands to pull the strands apart.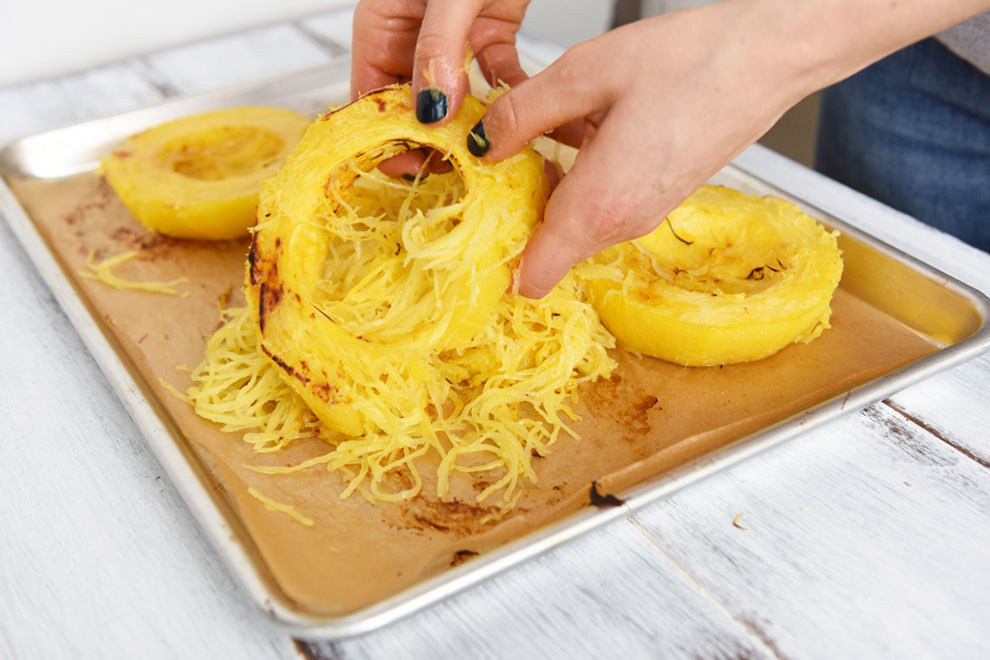 Eat half the spaghetti squash for dinner tonight, then let the leftover half cool completely and store it in an airtight container in the fridge.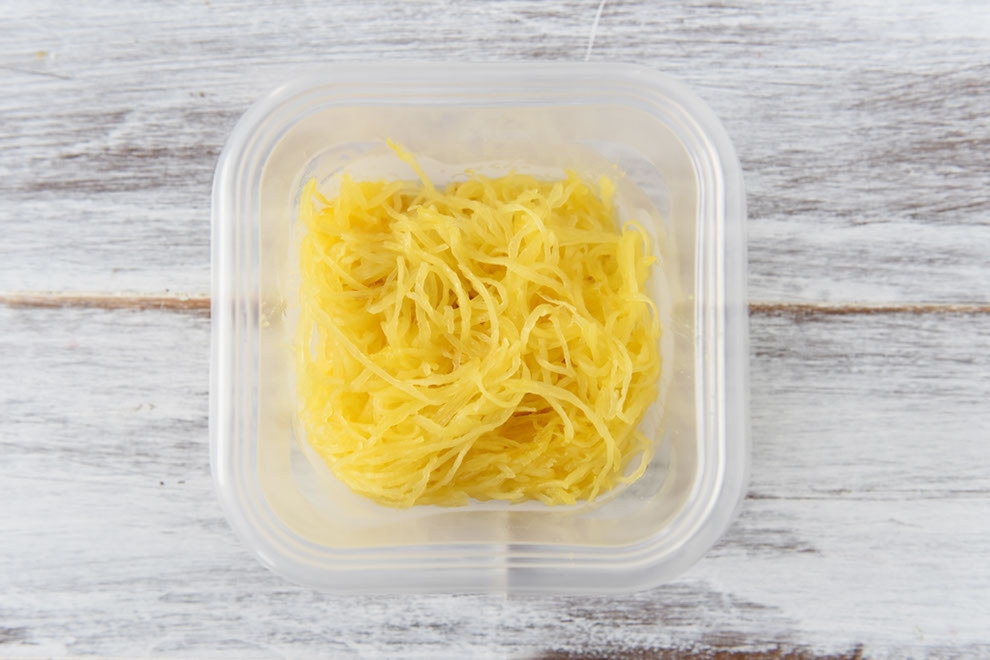 Heat the olive oil in a skillet over medium heat, then add the garlic and cook it just until it's soft and fragrant.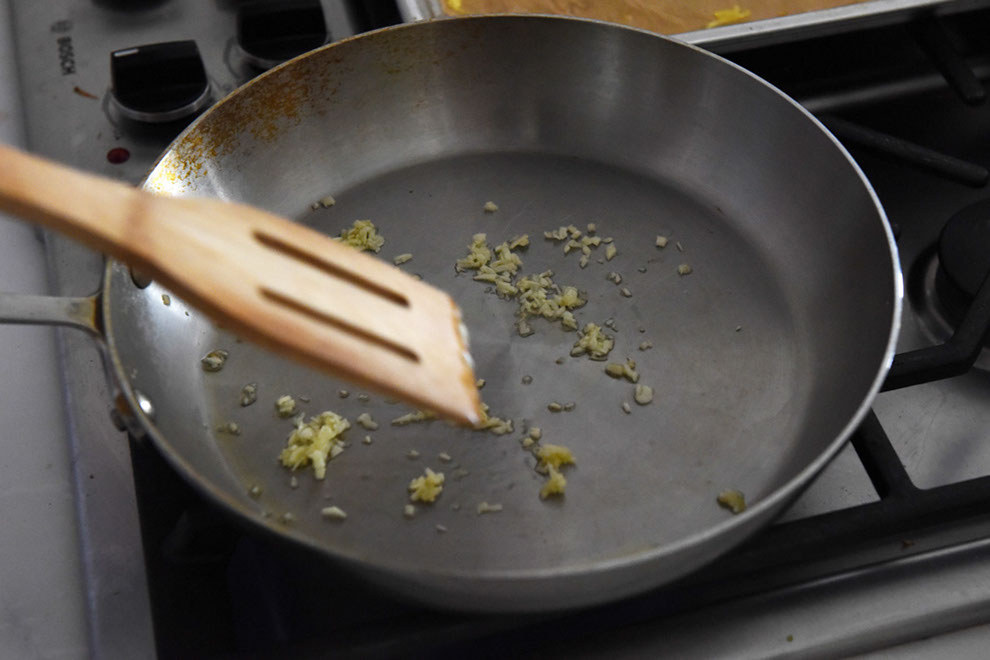 Add the ground turkey, salt, pepper and paprika and cook it until the turkey is completely cooked.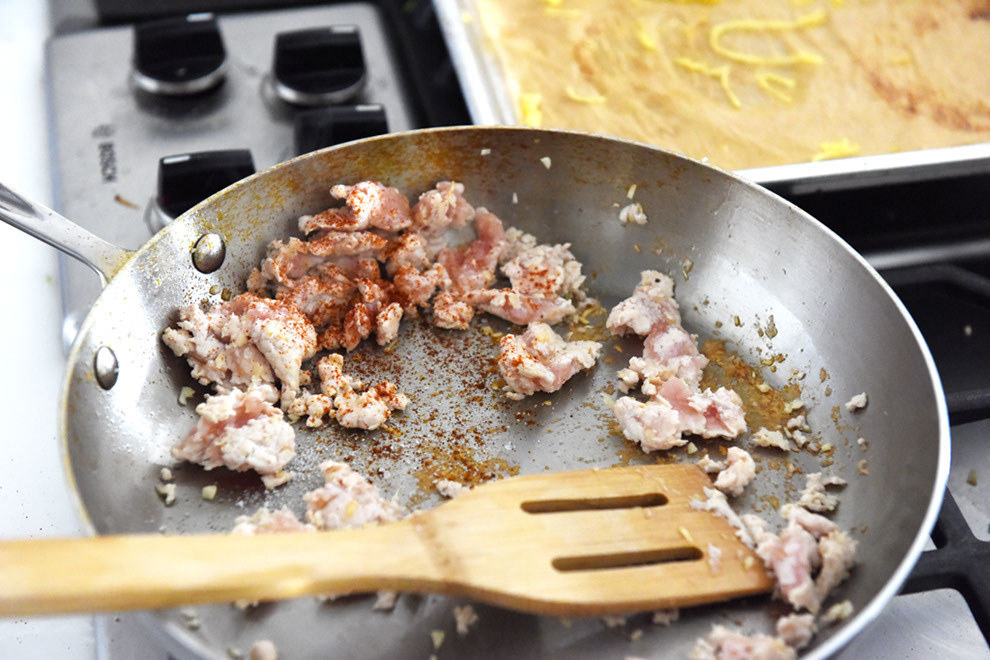 Add the halved cherry tomatoes.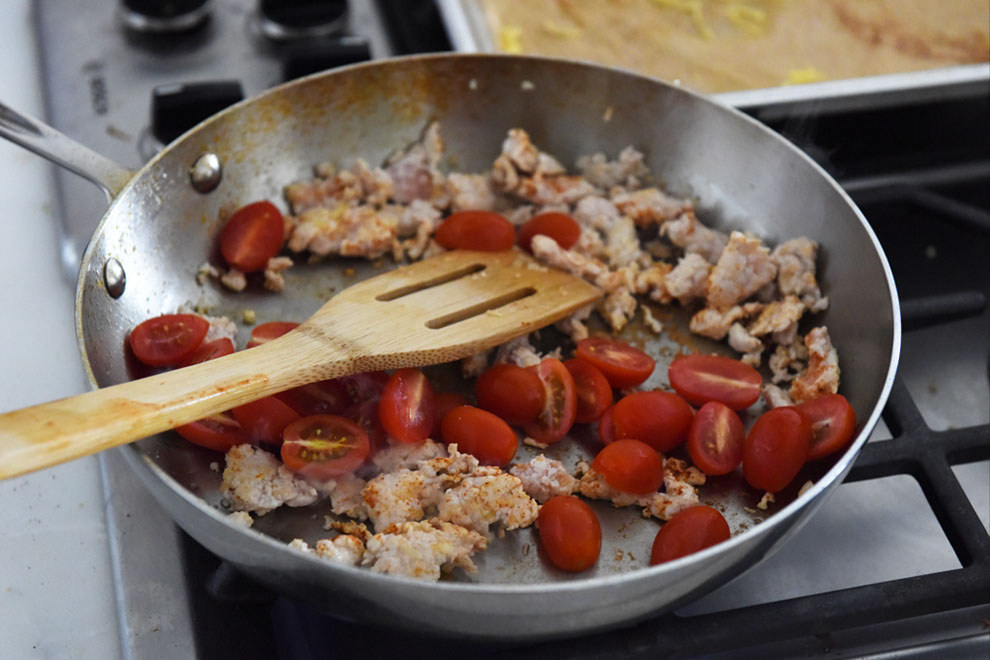 Pour in the chicken stock.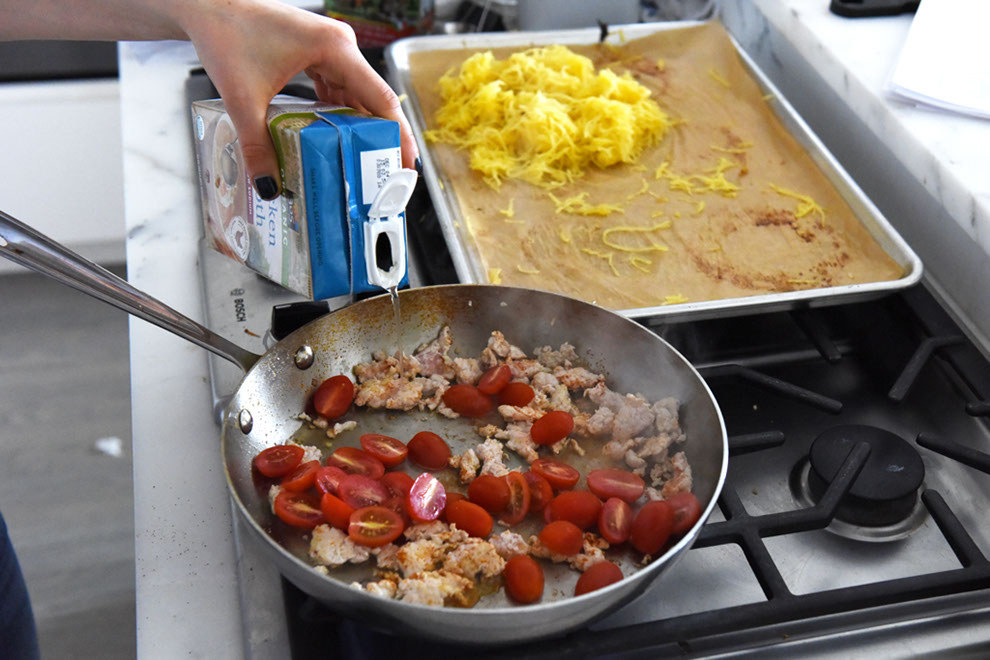 Use a wooden spoon to crush the tomatoes a little bit and cook everything until almost all the liquid is evaporated.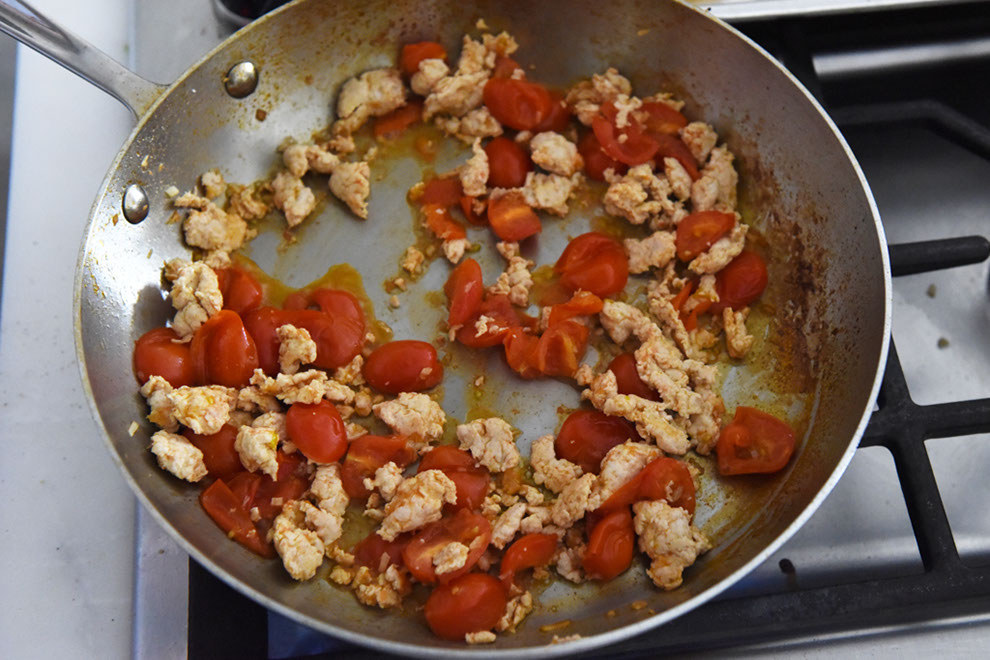 Add the swiss chard.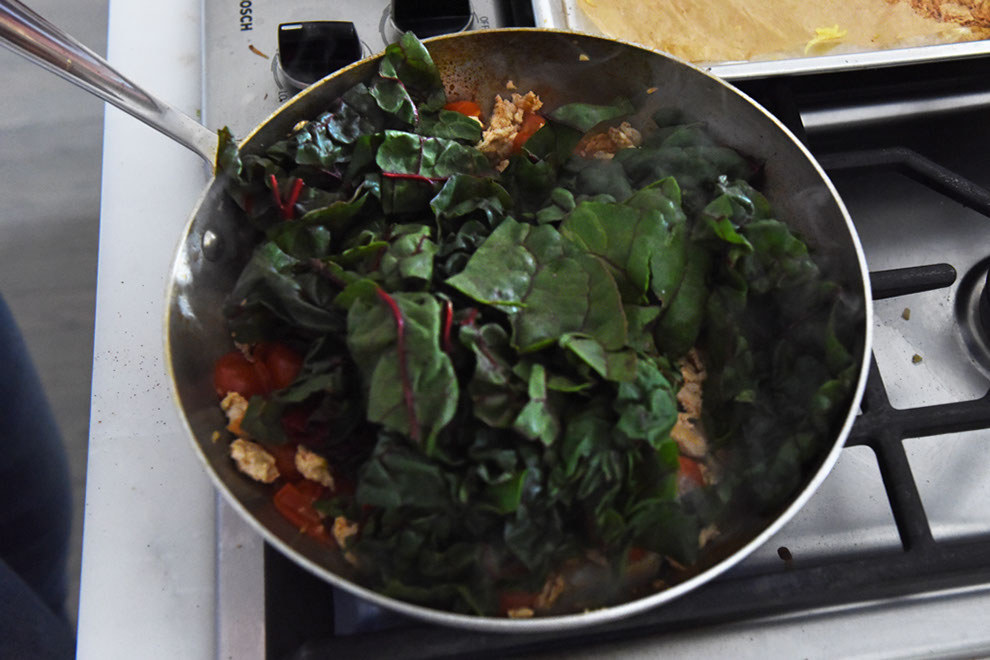 Cook, stirring, until the chard is wilted.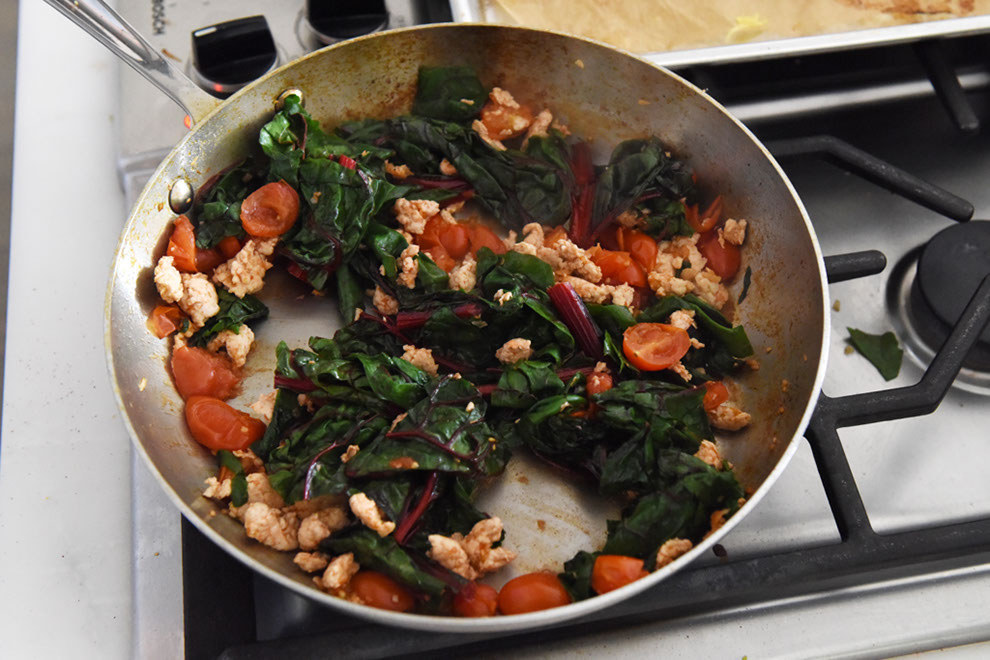 Add parmesan and toss everything together. Serve with the spaghetti squash.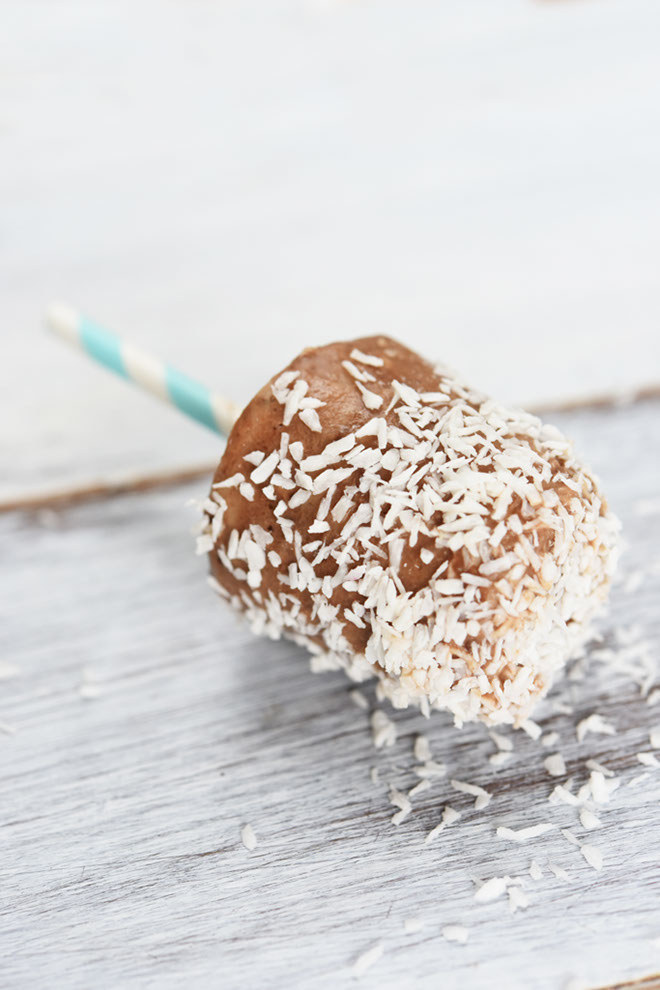 DAY 2 (MONDAY) TOTAL NUTRITIONAL INFORMATION:
1,457 calories, 71.4 g fat (12.6 g saturated fat), 136.5 g carbohydrate (43.7 g dietary fiber, 56.5 g sugars), 86.7 g protein, 301 mg cholesterol, 1941 mg sodium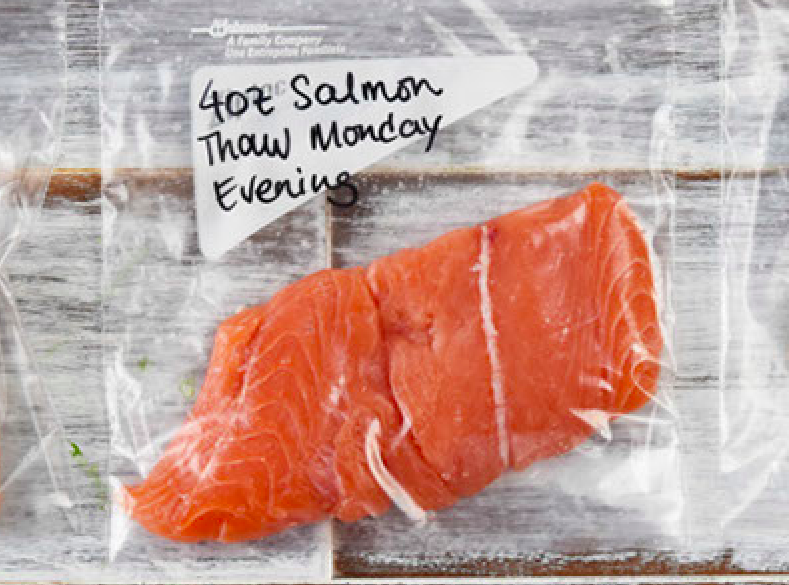 You're done with day 2! HAPPY DANCE!
So, you're taking the Clean Eating Challenge? We'd love to see how it goes! Post your photos to Instagram or Twitter and tag them #BuzzFeedCleanEating
BuzzFeed Food editors tested the entire Clean Eating Challenge and can vouch for the validity and deliciousness of every recipe. If you have questions about the challenge or any of the dishes, you can email Christine Byrne.