Police Are Investigating A Record Number Of Threats Against MPs
Forces across the country launched 28 investigations in the first six months of 2016 –significantly more than any other year since at least 2010, figures obtained by BuzzFeed News reveal.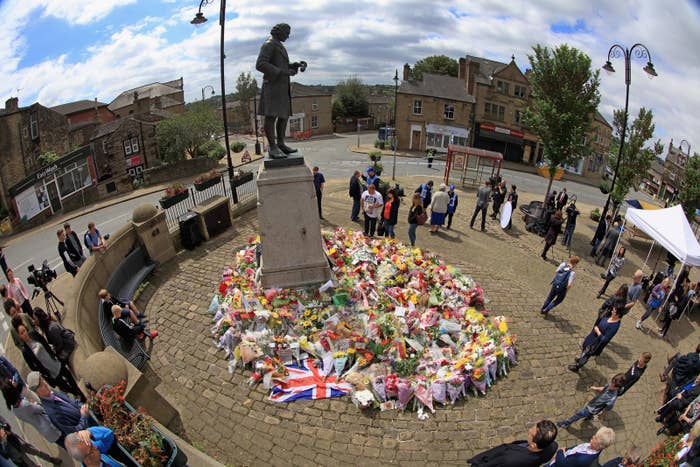 The number of threats against MPs investigated by police forces across Britain has increased significantly since 2010, according to new data.
From January to June this year police looked into 28 threats across 12 separate forces – already the same number as in the entirety of 2015.
Police forces told BuzzFeed News in response to a freedom of information request that they have investigated at least 98 threats against members of parliament since May 2010.
The figures reflect only threats serious enough for police to launch a formal investigation, rather than those just recorded by forces, and so they show relatively small numbers.

The true number is likely to be higher still, as around one-third of police forces refused to supply information, citing cost issues.
Nonetheless, the figures show a huge surge in the number of threats investigated since 2015. Last year police looked into more than double the number of threats in any of the previous five years, and the first six months of 2016 already matches the 2015 total.
From May 2010 to December 2014, an average of 7.6 threats against MPs were recorded by police forces per year, the data shows.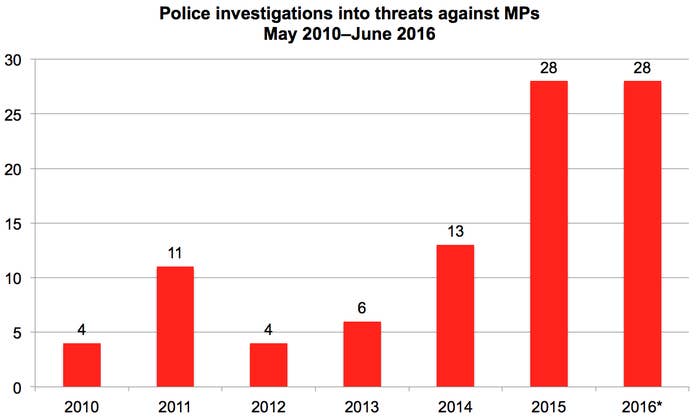 A total of 15 people have been arrested or charged in connection with the alleged threats in the first half of this year, including five in the Metropolitan police area and four in the West Mercia region.
One MP who has been subjected to threats told BuzzFeed News the level of abuse was having "a corrosive effect on our democracy".
Some of the threats made against MPs include:
Bradshaw, a former culture secretary, told BuzzFeed News: "I'm not in the least surprised by these figures. In my experience, most of the threats and abuse comes from a tiny minority of people with extreme views on both the right and left of politics who seem to feel they have been given a licence by social media and usually hide behind anonymity.
"Social media organisations and the police need to deal with this problem robustly. There is also a responsibility on political leaders not just to condemn it, but to proactively deal with it in their own parties. People in public life are used to criticism and brickbats, but the level and tone of abuse now is unprecedented and is having a corrosive effect on our democracy."
The Conservative MP for Thanet South, Craig Mackinlay – who has himself received death threats – said: "Nobody in politics will be surprised to see that the frequency of criminal abuse against MPs has rocketed over the past year. Every day MPs and their staff face this abuse themselves – making already challenging work harder still.
"The easy access to MPs through social media has seen a dramatic rise in the scale and seriousness of abuse."
The new data, for the first time quantifying the scale of threats made against MPs and recorded by police, comes days after a notorious troll appeared in court for a second instance of sending threatening messages to a member of parliament.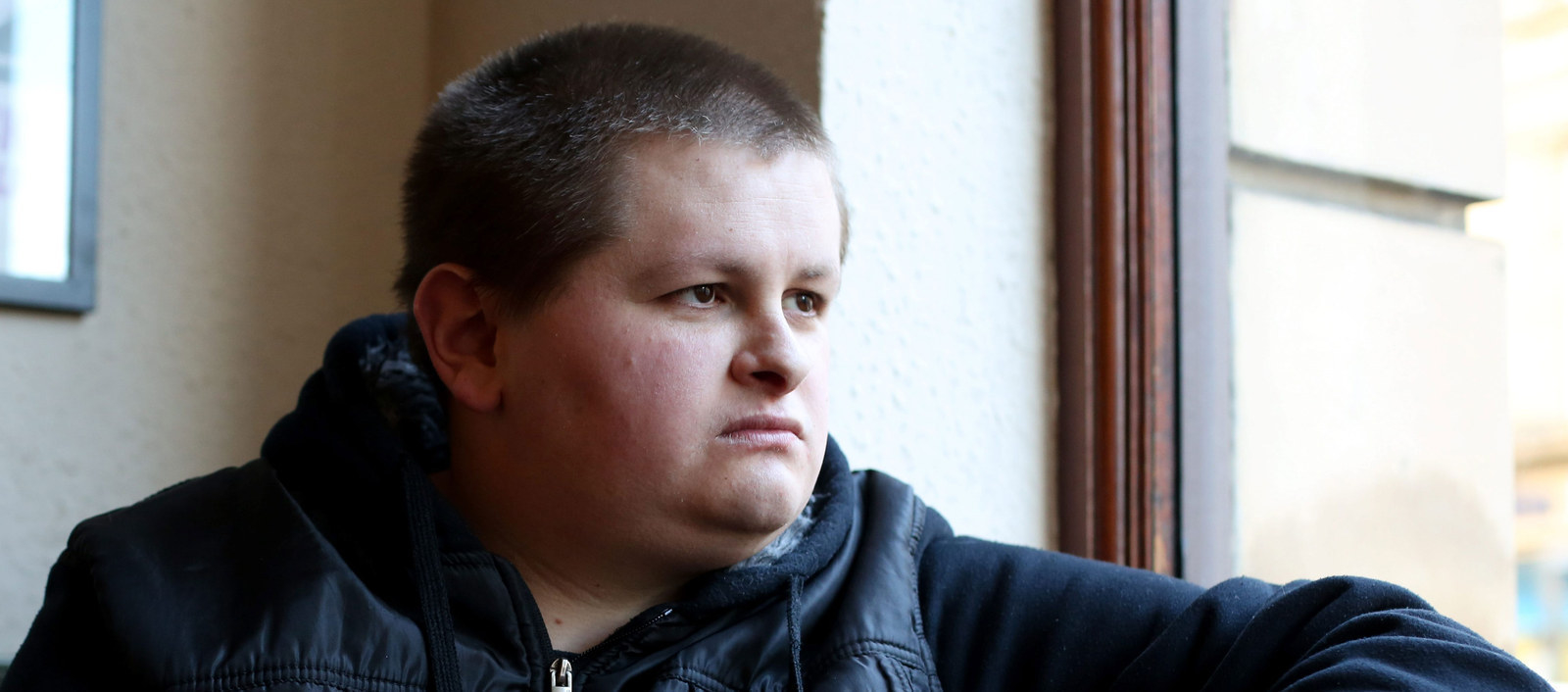 John Nimmo, 28, was referred to Newcastle crown court by a judge in a South Shields court on 27 July for sending Labour MP Luciana Berger death threats. He previously served eight weeks in prison in 2014 for messages sent to MP Stella Creasy and campaigner Caroline Criado-Perez.
Nimmo admitted two counts of sending messages causing anxiety and distress. In one email sent to Berger, Nimmo said she would "get it like Jo Cox".
In an impact statement read out in court, Berger said: "I was extremely concerned for my safety and I felt completely under threat. I had previously received anti-Semitic messages and threats but the reference to Jo Cox was terrifying."
Cox, Labour MP for Batley and Spen, was killed on 16 June by a man wielding a knife and gun outside her constituency surgery.
In the days after her death, a number of MPs went public with concerns for their safety. Pat Glass, shadow cabinet member and Labour MP for North West Durham, said she would not stand for re-election due to threats. Glass told media at the time that she had been advised by police to avoid public places, and that a family member had also received a malicious message via email.
Last week Jess Phillips, a Labour MP, tweeted a picture of her front door being reinforced by a locksmith after she received a photoshopped picture of her dying.
The statistics come amid concern that those involved with groups allied to Jeremy Corbyn have been targeting MPs who don't support his leadership.
It prompted Labour's chief whip, Rosie Winterton, to complain directly to Corbyn and write to the head of Momentum to deal with any abusive behaviour.

Tory MP Mackinlay said: "It is incumbent on all political groups and leaders, including Jeremy Corbyn and the Labour Party, to tackle this rise.
"In many senses an MP is like your GP. We have a job to do and every MP I've ever met does so — representing their constituents to the best of their ability. People would not abuse their GP and it is just not right that some think it is right to do so to their MP."