1.
A luggage-mounted cup caddy because if you're anything like me, coffee is HIGH on your list of airport priorities and you could likely use an extra hand to carry it. 
Promising review: "This cup holder is perfect! It helps me a lot! Last time I took a plane with a suitcase and a cup of coffee, I dropped and spilled my drink everywhere when it was my turn to check my passport and ticket. It was a nightmare! This time, I bought this cup holder to do me a favor! I don't have to worry about where my cup and phone are! I can free my hands to do other things. I love it so much! Hope you love it too." —Philip
Get it from Amazon for $14.99+ (available in 28 colors/styles). 
2.
A nifty universal phone mount so you can pass your high-altitude hours catching up on Love Is Blind on Netflix. Seeing as you spent all your time at the gate painstakingly downloading them over airport Wi-Fi, it'd be a total waste if you didn't. 🤷‍♀️ 
Promising review: "I recently returned from a trip to Australia and Hawaii and purchased this gadget specifically for use on the plane as I like to watch movies that I download to my phone. In a word, it's awesome! The holding clamp can be rotated to provide more elevation, so your phone can be near eye-level which reduces neck stress. The spring that is used for mounting is pretty heavy duty. It requires a bit of effort to attach. But that's actually a good thing because it ensures that it won't shake off in turbulence. The silicone pads also help to prevent slippage. The holding arm also rotates, so you can set it at the perfect angle. And get this: It folds down small enough to fit into a pocket! I highly recommend this item!" —Brendan
Get it from Amazon for $12.97+ (available in five colors and packs of two ).
3.
An I Dew Care "Tap Secret" mattifying powder shampoo that eliminates grease at your roots and keeps your scalp nice and healthy with antioxidant-rich black ginseng and nourishing biotin. 
The powder-based dry shampoo works just like spray formulas — apply to the area you're looking to refresh and then shake out excess powder with your fingertips or a brush. 
Promising review: "I honestly can't believe this works (at least for me)! I have really fine hair and gets oily fast. I usually have to wash my hair every day because of it. BUT this thing actually works! I was really skeptical because I fall for a lot of gimmicks but I was so hopeful that I gave it a try. Glad I did! I just dab it on my roots a couple of times and then I run my fingers through it and shake it out. I can usually go one to two days longer without the feel of greasiness." —Teresa Dunning
Get it from Amazon for $16. 

4.
Some tablet-to-gel freeze-dried serums that are both highly potent and exceptionally easy to travel with. Once you get to your destination and you're ready to do your skincare, simply activate the treatment with a few drops of water and you're in business.  

Onélogy is a small, sustainable skincare brand from Roxana Bazgoneh. 
Current serums include: Niacinamide 2%, Alpha Arbutin 2%, Peptides-CU 0.6%, HPR Retinoid 0.3%, and Pad Azelaic 5%. 
Promising review (for Alpha Arbutin 2%): "I absolutely love the Alpha Arbutin. It has made such a difference with my hyperpigmentation spots! I feel much more confident without makeup on where as before I would never leave the house! It has made a noticeable difference evening out my skin tone. I also tried the Niacinamide which really helped control oil and breakouts. My skin feels fabulous after application — super fresh and tight! I love these products and I have tried so many other brands but none of them have worked as well as these!" —Kate
5.
A Béis mini weekender with just enough room for a few days of stuff but not so much space that you'll be tempted to throw your entire closet in there. 

Béis is a woman-owned travel accessories company from Shay Mitchell.

Promising review: "Love the size of this bag! The mini weekender is the perfect size for weekend trips! When packing, I always reach for it as it fits everything that I could possibly need. I love the functionality of this." —Caitlin S.

Get it from Béis for $98 (available in nine colors).
6.
An Apple AirTag so you know where your bag is at all times — especially if you have tight connections to make or are on a trip that involves planes, trains, and automobiles (aka Ubers, Lyfts, and taxis).
After all of the flight cancellations, tarmac delays, and general travel disruptions of 2022, I finally decided to invest in an AirTag for my checked luggage. In my 15 years of international travel, I've only ever had a bag lost once (due to a missed connecting flight), but I figured it was time to stop tempting fate. I'm generally a carry-on-only traveler, but even those have been getting gate-checked more frequently and as my recent trip involved SIX flights, I felt better having this slipped inside. Using the "Find My" app I can see exactly where my bag was last located so when I land, I'll know if it made the flight with me.
Get it from Amazon for $27.28.

7.
A seat-back organizer that slides over the tray table so you don't have to touch any icky surfaces or dig around that communal pocket of crumbs looking for your misplaced passport. It's machine washable, so after your flight, you can toss it in the wash and then use it again!
Promising review: "Every time I whip this thing out, someone leans across the aisle, asks what it is, and then makes a note to buy one when they get home. On a long-haul flight, it's simply a must for organizing your reading materials, headphones, sanitizing wipes, etc. My favorite use for this thing, though, is when I've fallen deep asleep along the way only to wake up in a fog and in a rush to deplane. Instead of having to hastily dig things out of the seat back pocket, I just slip the entire thing off of the tray table, pop it in my bag and worry about sorting things out when I get to where I'm going — safe in the knowledge that I didn't leave anything behind. Love it!" —justinglen

Get it from Amazon for $29.99.
8.
A wedge doorstop alarm with an *extremely* loud 120-decibel siren that'll sound should anyone try to force open your door. If you have trouble sleeping in unfamiliar hotel rooms or Airbnbs, this might just help.  
No wiring is required, either, just pick up a 9V battery. 
Promising review: "Travel must-have. I use this traveling, and it provides extra peace of mind in motel rooms considering I'm a cheapskate and stay in dives and my dog is getting so old he is likely to refer any criminal who breaks and enters to me for further processing. Works well, as a startled maid in a West Virginia motel can attest when she thought I had checked out and unlocked the door to clean. I gave the second one to my sister, who uses it at home." —QuintessentiallyYours
Get it from Amazon for $13.25.
9.
A universal travel adapter because plugs can be hard to come by and let's be real — without access to Google Maps, you'd be beyond lost. Heck, you don't even know your way around your own town, nvm somewhere you've never been!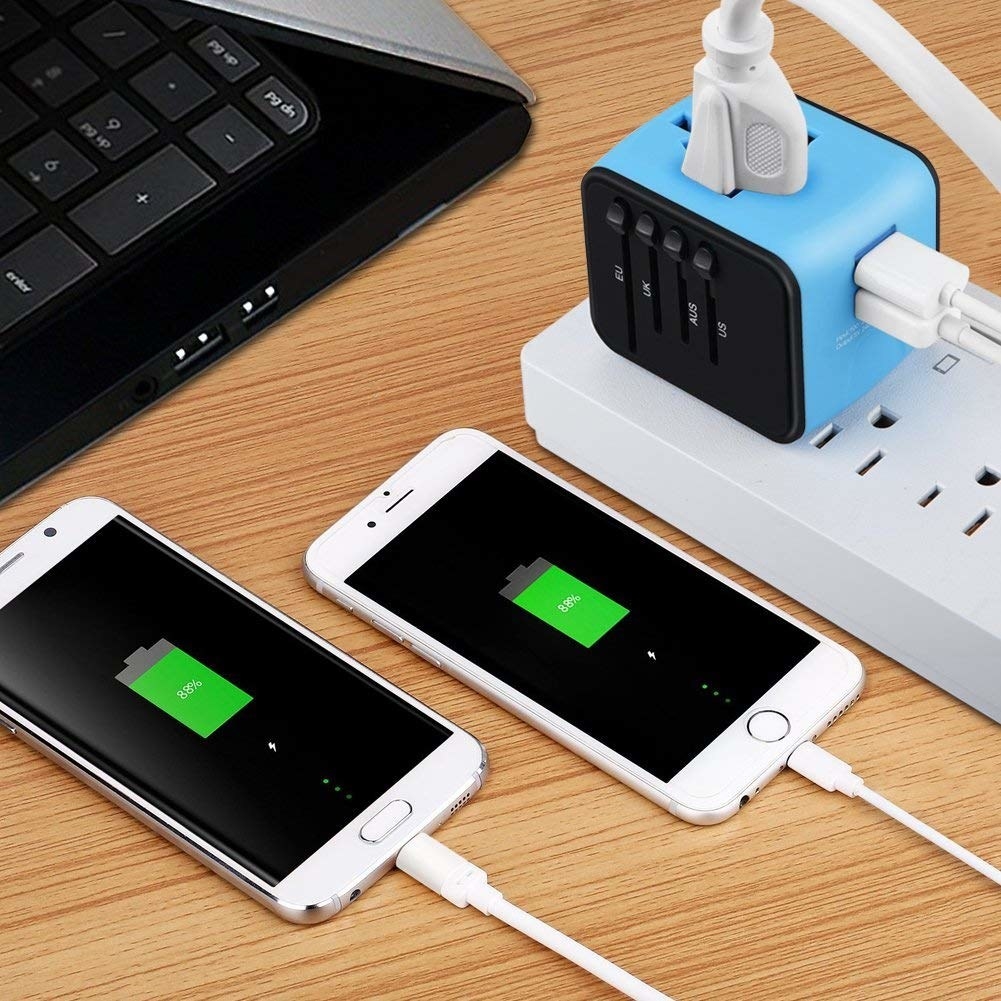 This adapter covers over 150 countries. Keep in mind this is not a voltage converter!
Promising review: "Used this on a trip to Sweden and London. It worked great. Charged three things at a time with no problems. I love the compact design and not having to keep track of all the adapters." —tiffanyann7
Get it from Amazon for $14.39+ (available in eight colors).
10.
A Bluetooth-enabled mask if falling asleep on vacation is not your forte. Slip this baby on, turn on your favorite thunderstorm simulator, and it's like you never left home.
After a bout of pandemic-induced insomnia I picked up one of these USB-chargeable masks and can honestly say it was LIFE changing. If you're sensitive to light or sound, this mask is where it's at. The contoured, cool-to-the-touch eye pads are super cozy and extra padding on the bridge of the nose ensures no light seeps in. I was concerned about feeling the headphones through the mask and not being able to sleep in my usual position (mountain climber, the hand's down comfiest position), but they really are unnoticeable. I can sleep through the night with it on and the Velcro straps have never once gotten stuck in my hair. The battery also lasts for a full 10 hours, so I don't have to worry about my audio going out right as I'm dozing off.
Promising review: "This is the best thing I have ordered in a long time! I work nights and recently took a travel position. Staying in hotels is fun until your neighbor is loud or the highway traffic is horrible. The speakers on this are quality! The only thing I heard was the rain and thunder from my app. The rain was so clear sounding I could easily visualize each drop hitting the ground. I was about to fall asleep when the thunder kicked in and seriously scared me to pieces! Highly recommend!" —Dana Harris
Get it from Amazon for $16.31+ (available in four colors). 
11.
A travel jewelry case because last time you threw all of your necklaces in a sandwich bag and ended up with a giant knot that took hours to undo. Like, seriously, you could have solved a Rubik's Cube faster. 
Promising review: "I purchased this box for a weekend getaway. In the past I have just thrown all of my jewelry into little make up bags, but then everything gets tangled and disorganized. I love that this box keeps everything organized and leaves all my necklaces tangle free!" —Dogmom206
Get it from Amazon for $19.99+ (available in 13 colors).
12.
An AirFly Pro wireless transmitter so you can use your Bluetooth headphones to watch all the movies you didn't feel like paying $15 to see in theaters. 
Promising review: "If you have a wireless earpiece and fly frequently, this is a must-have. Most newer planes have a monitor on the seat backs that enables you to watch movies, etc. This unit enables you to do it using your wireless earpiece. Connection is simple and automatic once you have initially paired your device or devices. It's convenient. I'm happy with the purchase." —JCE

Get it from Amazon for $32.49+ (available in three models).
13.
A powerful portable charger because you *will* take approx. 1 million photos a day, and your phone's battery *will* drain in what feels like a matter of minutes.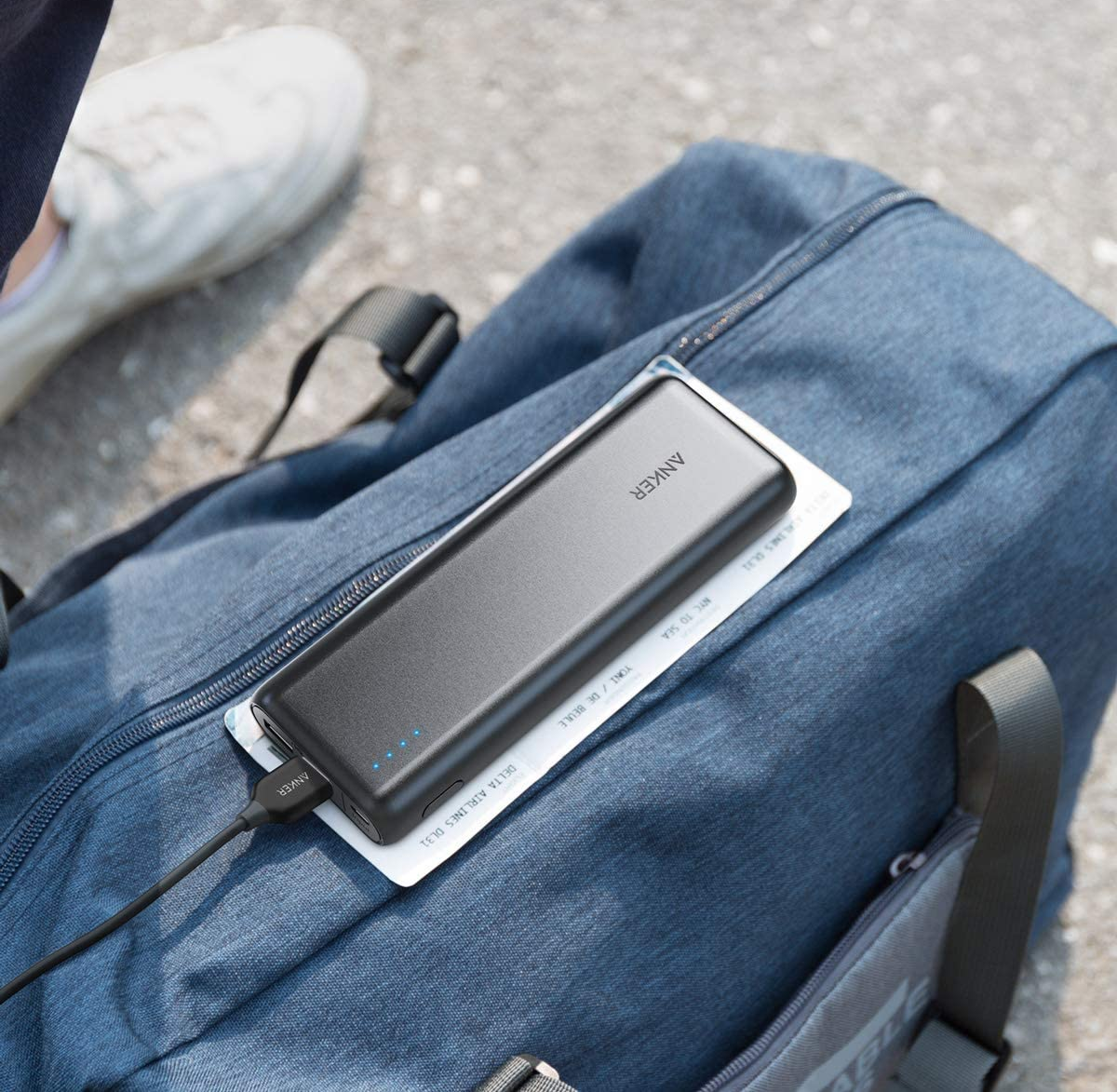 This powerful battery pack weighs as little as a can of soup yet charges the iPhone 8 almost seven times, the Galaxy S8 five times, or the iPad Mini 4 twice.
Promising review: "I travel for a living and have always needed a portable charger. This thing literally never dies. The longest-lasting charger I have ever had. I was out in London all day, phone nearly dead, and had to go straight to the airport for a nine-hour flight back to the USA. This charger charged my phone the ENTIRE flight, and then on my service car, my coworker needed to charge his phone. I had meetings all day and then a dead phone and I charged my phone to a full 100% again! This is a MUST-HAVE PRODUCT." —Kyle G.
Get it from Amazon for $47.99+ (available in two colors).