Publishing For Good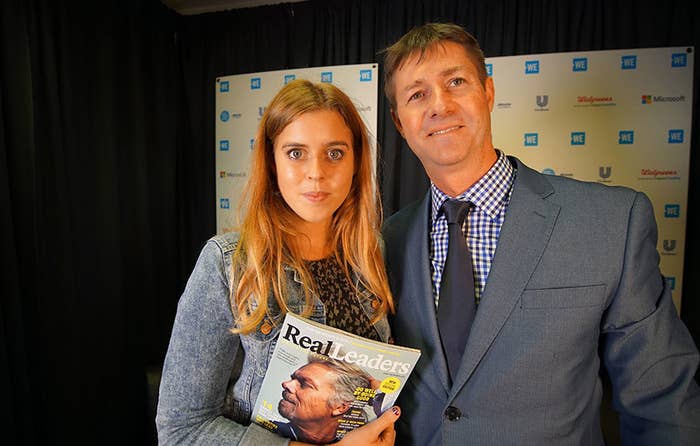 In 1992, in a remote village in Kwa-Zulu Natal, South Africa, Grant Schreiber sat with a group of traditional healers discussing HIV transmission. A member of an innovative media intervention group, he was helping formulate government health policy on the prevention of this incurable disease; that still infects more than 1,500 people daily in this sub-Saharan country. After listening to the shocking facts and life-threatening behavior of young people firsthand he was convinced that letting the world know about it was one thing, but offering a solution was better. In the turbulent and violent times of apartheid South Africa, taking the more difficult and challenging route was already the existing state of affairs.
To the 24-year-old publisher it was a sobering reminder of the role of media in society, and a time Schreiber recalls as being, "a wake-up call on where our priorities in society should lie and how media should highlight issues that change lives for the better."
Hosting a panel discussion in New York last month, at the global launch of Real Leaders magazine at Barnes & Noble, Schreiber, the editor, was introspect about his pioneering journey as a publisher and media authority. Far from the rural hills of South Africa, and 26 years later, he realized that the panel of notable experts he had gathered in New York shared the same concern – a desire to create positive change in the world through a deeper understanding of social problems.
Alongside him on the stage sat an Olympic gold medalist, nuclear disarmament expert, actress, a director of MIT, the woman who coined the phrase "eco-fashion," an award-winning filmmaker and a member of The World Bank. They couldn't have been more different, yet, despite their collective efforts to change horrific mindsets on nuclear war, rape and slave labor, they each spoke of what worked – no spin, no marketing, just genuine, workable solutions.
"Throwing horrific facts and figures at readers and then leaving them hanging in despair is just lazy journalism," says Schreiber. "You may as well just publish a police crime report unedited," he jokes. "Trading on fear and drama to get attention is an old media trick, and quite frankly, I'm sick of it."
"We all know that feeling of wallowing in bad news – psychologists have done countless studies on it – but I'm convinced if you look for the positive in almost any story, you'll find it. I'm personally more inspired to action when I read an uplifting story and believe the majority of people are too."
"Can a magazine and media company help change the world?" Schreiber asked the audience in his opening address. "We think so," he continued. "You'll find plenty of celebrities inside Real Leaders but nothing about their latest divorce or scandal. Plenty of other magazines already cover this – we're the world's first sustainable business & leadership magazine, and we believe that good news can be equally as exciting. We want to dig a little deeper and find stories that inspire and spark ideas around how you can take action - in both your business and your life."
First and foremost a business magazine, Real Leaders, wants to move away from ideas of charity and philanthropy and show that sustainable ideas can make money.
Now sitting on newsstands alongside titles such as Forbes, Fortune, Inc., Fast Company and Harvard Business Review, it's too early to tell if busy executives who grab a copy of Real Leaders at Hudson outlets while running to catch their flights, will find inspiration at 30,000 ft. Schreiber is confident that additional distribution strategies have given the company a solid base from which to grow. Partnerships with the United Nations, Nobel Peace Prize Summit and The Young President's Organization (YPO) have found fertile ground for the forward-thinking ideas in the magazine.
Some of the forward-thinking ideas in the launch edition include Matt Damon's efforts to end water scarcity, Olympian Edwin Moses on the power of sport to change the world and Sir Richard Branson on doing business unusual. In an interview Schreiber did with astronaut Buzz Aldrin, the 87-year-old keeps him waiting for 10 minutes while he rambles on about trajectories to Mars. It's heady stuff.
Despite the celebrity angle of the magazine (Richard Branson features on the cover), the editorial team are also finding people who are quietly creating significant change in small ways. Schreiber tells of 16-year-old Kehkashan Basu from the United Arab Emirates who won the International Children's Peace Prize for raising awareness around the environment. Former nurse, Marybeth Cichocki, who lost her son to prescription opioids successfully campaigned to change the law in Delaware, which now treats addicts more humanely. A CEO committed to having more women on his board and is now regarded as a leader in the commercial property sector – his business is thriving.
"Leadership is not about sitting in a corner office with a view," explains Schreiber. "It's about being mindful of your surroundings and the people you engage with every day."