13 Tips For Anyone Who Can't Afford EpiPens Anymore
The cost of the life-saving drug just rose by 500%. Here's how to make sure you can still have it when you need it.
The price of EpiPens, a lifesaving injection device for people with severe or fatal allergies, has risen by 500% to $608.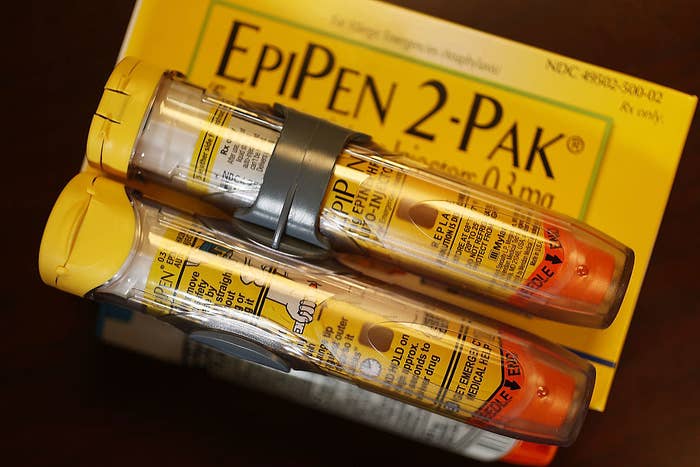 "The difference between having one and not having one is life and death, says Dr. Jacqueline Eghrari-Sabet, MD, board-certified allergist at Family Allergy Care in Gaithersburg, Maryland.
In 2007, pharmaceutical giant Mylan acquired the EpiPen, the most widely prescribed epinephrine auto-injector on the market.
USA Today reports that in 2009, you could get a two-pack EpiPen carton for under $100, but in 2013 the price started rising dramatically — reaching $608.61 in May 2016. "We know that $274 of that goes back to Mylan, so the other $330 of the patient's money goes elsewhere," says Eghrari-Sabet. There's less than $1 worth of epinephrine in each dose.
With one swift jab into your thigh, the EpiPen injects a 0.3 mg dose (or .15 mg in EpiPen Jr. for children under 66 pounds) of epinephrine into your body, which slows down or stops anaphylaxis, a life-threatening allergic reaction.
Anaphylaxis symptoms include difficulty breathing and swallowing, wheezing, rapid heart rate, swelling, low blood pressure, and loss of consciousness. It's most often caused from an allergy to food, medications, insect bites, or latex.
Anaphylaxis requires immediate medical treatment at the ER, says Eghrari-Sabet, so the EpiPen really just buys you time until you can get to the hospital.
"You can't buy single EpiPens, it always comes as a pack with two auto-injectors because some people require a second dose within 15 to 30 minutes," says Eghrari-Sabet.
Many insurance companies won't cover the new cost, forcing patients to pay out of pocket for EpiPens.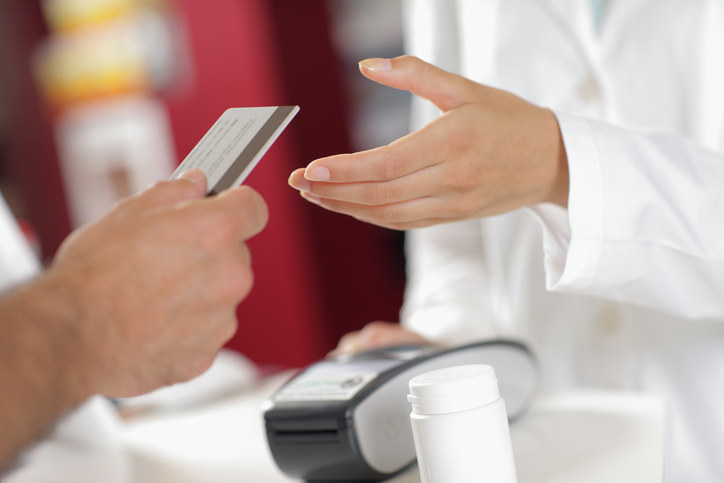 "It was a perfect storm, because the price of the EpiPen went up right after thousands of people opted into mandatory insurance plans with high deductibles under the Affordable Care Act," says Eghrari-Sabet.
A deductible is the amount of money you have to pay out of pocket before the insurance plan starts covering your prescription costs. So an EpiPen quickly became a huge out of pocket cost without warning to most patients.
Doctors usually keep stockpiles of EpiPen coupons to give patients, but after the price hike, many insurance plans — especially state or federally-funded ones — stopped accepting them.
This issue is exposing a broken system, where insanely high deductibles and no pricing transparency has failed vulnerable and poor populations," says Eghrari-Sabet.
It's devastating for both allergy sufferers and parents of children with allergies who are especially vulnerable.
No matter how cautious you are, accidents still happen, which is why the EpiPen exists. And children are especially vulnerable, since childhood is often when allergy symptoms present, and anaphylaxis can happen even if they've had mild reactions to something in the past.
Because kids can't monitor their allergy like adults can, parents have to stock up on EpiPens to give to teachers, caretakers, coaches, extended family, or anyone else who watches or feeds their child.
"Parents sometimes buy up to eight two-pack cartons to make sure their kid is covered, and that really adds up when they're $600 each," says Eghrari-Sabet.
The timing of the price hike is especially difficult given that kids are headed back to school and sports next month, meaning it's the time of year when parents have to stock up. And because EpiPens expire, says Eghrari-Sabet, this can be an almost annual cost.
"We're at the 11th-and-a-half hour, we can't radically change the price and the protocol all of the sudden when millions of children depend on their parents getting this drug to save their lives," says Eghrari-Sabet.
Fortunately, there are ways to save money and receive assistance on the lifesaving medication.
The question isn't whether or not to get an EpiPen, it's how to afford one now that it costs $608. We asked the experts what patients can do to cut costs as much as possible:
1.
Talk to your doctor.
"We are the liaison between patients, pharmacies, insurance companies, advocacy groups, and schools — we see it all," says Eghrari-Sabet. Your doctor or allergist is a great resource to find out about the different coupons, price-assistance programs, and grants available to cut the cost of EpiPens.
Your doctor can also provide the necessary school forms for parents who need their child's school nurse to stock the medicine. They're an incredible resource and they are there to help you.
2.
Get an EpiPen savings card with coupons that can reduce the cost up to $300.
If you visit Mylan's website EpiPen.com, you can sign up for a savings card, which reduces your out-of-pocket cost for one two-pack EpiPen carton by up to $300 (depending on your insurance), and you can use this coupon for a maximum of three cartons each year.
"You can either bring the physical card in with your paper prescription to the pharmacy, or your doctor can put your savings card ID number on an e-prescription," says Eghrari-Sabet. It's also possible that your insurance could cover half of the EpiPen cost, in which case you'll then be paying zero dollars with the card at the pharmacy.
3.
Make sure your pharmacy has applied all possible coupons.
It may sound obvious, but the experts say that pharmacies fail to apply coupons for prescriptions all the time. "They're moving so quickly, and often they'll accidentally overlook the savings card ID number on your e-prescription or forget to apply the coupon properly so you end up being charged the full price," Eghrari-Sabet says. So come prepared with your savings card or ID number and insurance information, and double check whenever you use them.
4.
Call your insurance company to check on your deductible and any limitations.
If you're not sure about what your insurance plan covers or how your deductible works, call your insurance company before you're in a pinch. If you do have a deductible, you'll have to meet that before your insurance will start covering the prescription cost.
You should also ask if they accept EpiPen coupons, since some private insurance companies do not, says Eghrari-Sabet.
"The last thing you can do is call and complain, and ask the insurance company what to do if you can't pay for a life-saving drug, because then the pressure is there to change," says Eghrari-Sabet.
5.
Apply for Mylan's patient assistance program.
Most pharmaceutical companies have patient assistance programs (PAPs) to provide free or low-cost drugs to people with financial hardships who can't pay for their medication. Mylan's EpiPen patient assistance program provides the injector to low-income patients, but they set their own eligibility requirements, says Eghrari-Sabet.
In order to qualify, you must be a legal U.S. citizen, have no prescription insurance coverage, and make at or below 400% of the federal poverty line. Mylan actually increased the income level from 200% to 400% on August 25, 2016, due to mounting pressure.
6.
Call a patient advocacy group for help understanding your insurance plan and options.
While doctors are a great resource, they can also get tied up with other patients and clinical responsibilities. "Patients need to know that there are advocacy groups for people with allergies who are there to answer all of your questions," says Eghrari-Sabet. These groups have employees and volunteers ready to help every single patient, no matter how long it takes. They can explain the price change, walk you through your individual insurance plan and deductible, and help you find the right cost-assistance program. Here are a few to get you started:
* The Allergy and Asthma Network
* Allergy and Asthma Foundation of America
7.
Ask if your company's HR department offers cost assistance to employees.
If you receive health insurance through your company, sometimes human resources can help. "You can ask your HR department for assistance if it doesn't cover the EpiPen and you're having financial hardship and the company might have resources to help you pay," says Eghrari-Sabet.
Not to mention, lobbying for the EpiPen to become a covered benefit under your company's healthcare plan could result in tangible changes in the following year when the insurance plans change and roll over.
8.
Ask your doctor's office if there's any way for them to get free samples from their pharmaceutical reps.
"If a patient isn't able to afford the drug, we can talk to our EpiPen [pharmaceutical company] reps and tell them about the patient's case without revealing personal information, so hopefully they'll give us a free sample," says Dr. Reenal Patel, physician at Allergy & Asthma Care in New York City. Doctors obviously won't be able to do this for every patient, but it is an option you can explore if you're in a tight spot.
9.
Make sure your child's school is opted into Mylan's school partnership program, which supplies EpiPens to schools for free.
Most states have legislation which requires schools to stock EpiPens, but the laws aren't always enforced, and many schools just don't have them on-hand, says Eghrari-Sabet.
Mylan does have a program, "EpiPen 4 Schools" which provides four free EpiPens, a storage unit, and free training guides to your child's school. "Each year I write thousands of prescriptions just for EpiPens to give to the school nurse because they don't carry them, so this is incredibly cost-saving," says Eghrari-Sabet. You still need to see a doctor to get the appropriate forms, which you can do during your child's annual checkup during the summer before school starts.
10.
Check the expiration date before you pay for an EpiPen to make sure it'll last at least one year.
No matter what you pay for your EpiPen, check the expiration date. You wouldn't buy milk that expires tomorrow if you can buy milk that expires in a week, right? Same goes for the EpiPen. They can last for up to 18 months or even two years, says Eghrari-Sabet.
If it expires in less than a year, the experts say you can ask for their newest carton or ask for the pharmacy to order new cartons immediately. "Make sure you check the box immediately when they give it to you, before you pay, because once you pay you can't exchange it," says Eghrari-Sabet.
11.
Explore alternative epinephrine injectors.
EpiPen is the only FDA-approved epinephrine auto-injector covered by most insurance companies. Mylan patented the injector design so the alternative options are very limited, says Eghrar-Sabet. One cheaper, FDA-approved version called Auvi-Q had success until it was recalled in 2015 due to inaccurate dosage issues. Adrenaclick is another FDA-approved auto-injector, but it's hard to find and most insurance companies won't cover it so it's not much cheaper. The FDA actually made it illegal for pharmacies to prescribe Adrenaclick as a low-cost alternative to the EpiPen if patients couldn't pay.
"The last resort is a bottle of epinephrine and syringes to do it yourself, but this isn't FDA-approved and you also need to know how to draw up your exact dosage in the syringe and inject yourself, which is almost impossible to do if you're in the heat of anaphylaxis," says Eghrari-Sabet. It's really only a viable option if you happen to be a trained medical professional with an allergy.
12.
Become an advocate, and ask your state congressperson for EpiPens to get on the Preventive Drug List.
The Preventive Drug List outlines that certain preventive health benefits and prescription meds are exempt from your deductible in high-deductible health plans. If EpiPens are on the list, then federal rules allow you to pay zero copay or coinsurance at the pharmacy even if you haven't met your deductible.
"Congress has the ability to say that EpiPens need to go on the list because they are truly lifesaving and everyone who needs them should be able to get one," says Eghrari-Sabet. Even though writing a letter isn't a short-term solution, it's a great way to advocate for yourself as a patient and fight for federal laws that could make EpiPens free in the future. You can learn more by visiting the American Allergy Foundation of America or the Allergy and Asthma Network advocate information pages.
13.
Finally, don't give up until you can get an EpiPen.
"My biggest fear is that this price change will cause people to think that the EpiPen isn't worth buying, or it isn't worth using if people think the reaction isn't serious enough or worth a $600 treatment," says Eghrari-Sabet.
The reality is, using an EpiPen is always worth it, because you may have no idea if a reaction is life-threatening until it's too late.
"You don't sit around wondering if you need an EpiPen when your throat is swelling up — you just need it," says Eghrari-Sabet. And patients should exhaust every single option they have until they can get the treatment they need.
BuzzFeed News has reached out to Mylan for comment.