The Captain's Tangerine Iced Tea
This tangerine tea fit for a Captain is a perfect pairing on game night!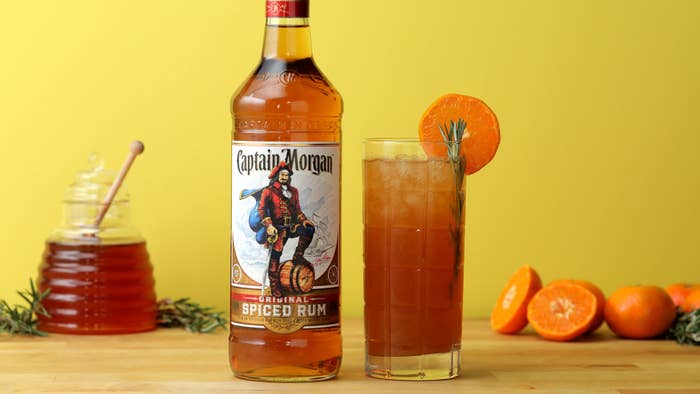 Ingredients
Simple syrup
1⁄2 cup honey
2 sprigs rosemary
1⁄2 cup water
Drink Base
5 & 1⁄4 cups Earl Grey tea, chilled
8 ounces rosemary simple syrup
10 & 1⁄2 ounces freshly squeezed tangerine juice
12 ounces Captain Morgan's Spiced Rum
Assembly
Crushed ice
8 slices of tangerine with a notch cut for glass
(8) 2 & 1⁄2 rosemary spears
Preparation
1. Simple syrup: In a small saucepan, combine the honey and rosemary sprigs with 1⁄2 cup water. Bring to a boil, turn off the heat, and cover. Let sit for 30 minutes, then strain through a fine mesh sieve into a small container. Set aside to cool until needed.
2. Drink base: Combine the tea, simple syrup, tangerine juice, and Captain Morgan's Spiced Rum in a pitcher. Chill well.
3. To serve: Fill highball glasses with crushed ice. Divide the tea among the glasses.
4. Garnish each glass with a tangerine slice and a rosemary spear.