Cherry Vanilla Rum Float
This float will be the star of all your backyard BBQs this summer!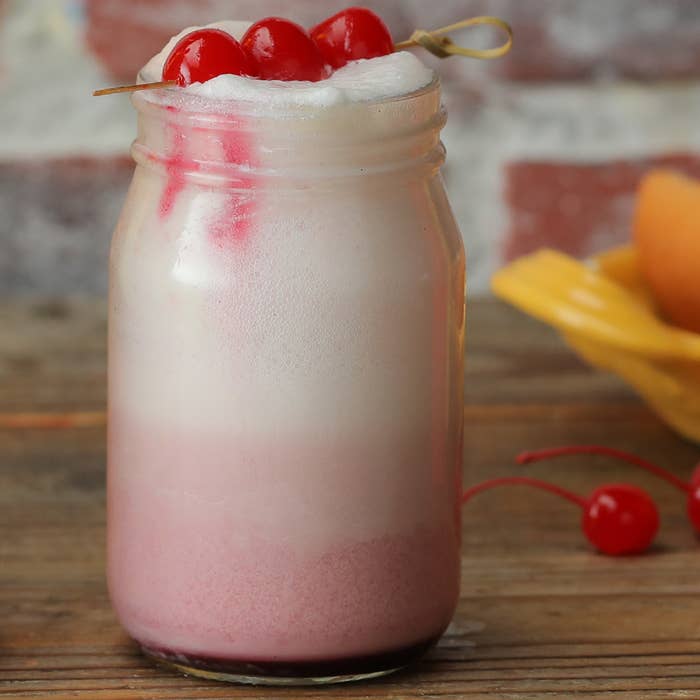 Ingredients
Cherry Vanilla Syrup
2 vanilla bean pods
1⁄2 cup water
1 cup sugar
1⁄2 pound fresh or frozen pitted cherries
1 tablespoon lemon juice
Float
4 scoops of vanilla ice cream
6 ounces Captain Morgan Original Spiced Rum (1 & 1/2 ounces per drink)
Cherry vanilla syrup
Soda water
Maraschino cherries, for garnish
Preparation
1. Cherry Vanilla Syrup: Slice vanilla bean pods down the center and scrape out the black seeds. Add seeds and husks to a small saucepan. Add water, sugar, and cherries to the saucepan. Place pan on medium-low heat. Stir well to dissolve sugar and bring to a simmer.
2. Use a small potato masher or a fork to muddle the cherries while simmering. Let simmer for 7–8 minutes, until liquid reduces and becomes syrupy. Stir in lemon juice. Remove from heat and let cool. Strain syrup, pressing mixture through a sieve with a spatula to extract all the liquid.
3. Float: Place a scoop of vanilla ice cream in each glass. Pour 11⁄2 ounces Captain Morgan Original Spiced Rum into each, followed by 2 tablespoons of cherry vanilla syrup. Fill each glass up to the top with soda water. Garnish with maraschino cherries.