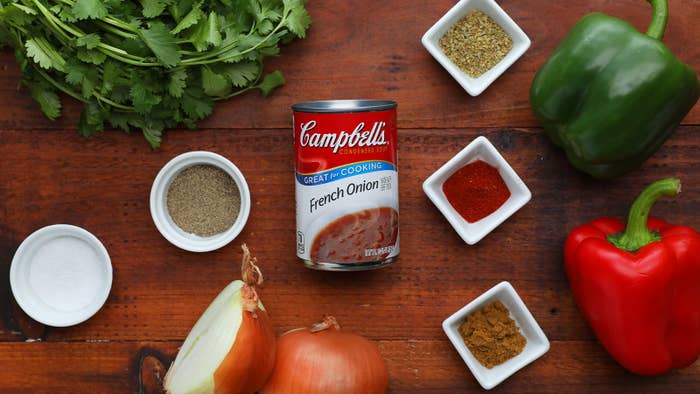 Servings: 8

INGREDIENTS:
1 28-ounce can diced tomatoes

1 Campbell's French Onion Soup

4 garlic cloves, minced

2 onions, diced

1 red bell pepper, diced

1 green bell pepper, diced

2 teaspoons paprika

2 teaspoons dried oregano

2 teaspoons ground cumin

1 tablespoon black pepper

1 tablespoon kosher salt

2 bay leaves

3 lbs flank steak

¾ cup (about 16 olives) pimento stuffed olives, cut in half lengthwise

Cooked white rice

Cilantro, for garnish

PREPARATION:
In a 6-quart slow cooker, add the first 10 ingredients and stir to combine. Nestle the steak into the tomato mixture and tuck in bay leaves on either side.

Cover and cook on low, undisturbed, for 8 hours or until the meat is very tender.

Uncover, remove the meat onto a cutting board and skim off any excess fat from the sauce.

With two forks, shred the meat into bite sized pieces. Place the meat back into slow cooker and stir in the olives and olive brine. Cover and cook on low for another 10 minutes. Serve over rice and garnish with cilantro.