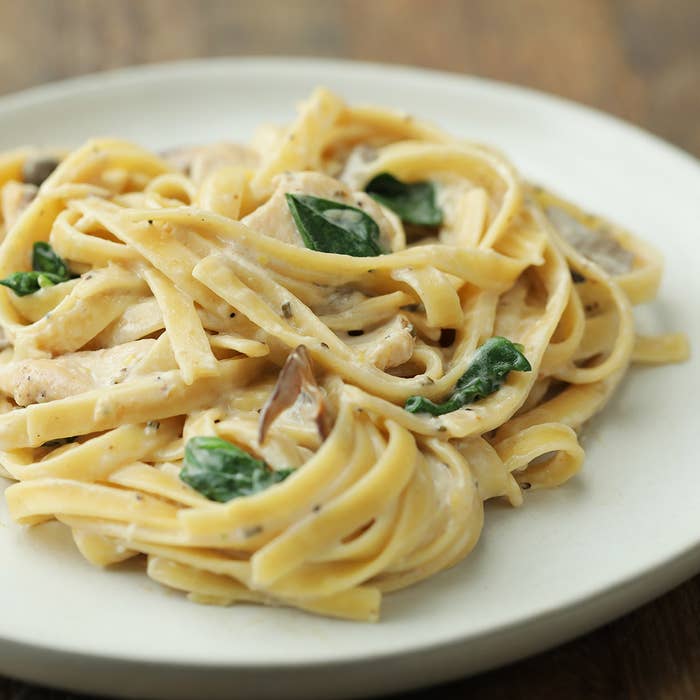 INGREDIENTS:
¼ cup unsalted butter
8 ounces baby bella mushrooms, thinly sliced
2 cloves garlic, minced
1 teaspoon minced rosemary, plus extra for garnish
1 pound boneless skinless chicken breast, cut into 1-inch cubes
1 teaspoon kosher salt
½ teaspoon ground pepper
1 can (10½ ounces) Campbell's® Condensed Cream of Mushroom Soup
½ cup Swanson® Chicken Stock
½ cup heavy cream
Zest of 1 lemon
2 loosely packed cups baby spinach
12 ounces fettuccine, cooked according to package instructions
Grated Parmesan, for garnish
PREPARATION:
1. Set the Instant Pot to "Sauté" setting and allow pot to heat up. Add butter and melt. Add baby bella mushrooms and sauté until browned, about 10 minutes. Add garlic and rosemary, and let sizzle for a minute until fragrant. Stir in chicken, kosher salt, and ground pepper. Stir in Campbell's® Condensed Cream of Mushroom Soup and Swanson® Chicken Stock.
2. Lock the lid and close the pressure release valve. Use the manual setting to set the timer for 6 minutes.
3. When the timer goes off, turn pressure valve to "Venting" to release pressure. **Be sure to read all Instant Pot instructions carefully for safety. Be sure Instant Pot is turned off and unplugged before carefully removing the cover.
4. Stir in heavy cream and lemon zest. Add baby spinach and stir to wilt.
5. Toss sauce with cooked fettuccine. Garnish each plate with grated Parmesan and minced rosemary.