Use Leftover Quinoa To Make Fried Rice
The perfect way to make leftover quinoa into another meal!
by
,
Leftover Quinoa Fried Rice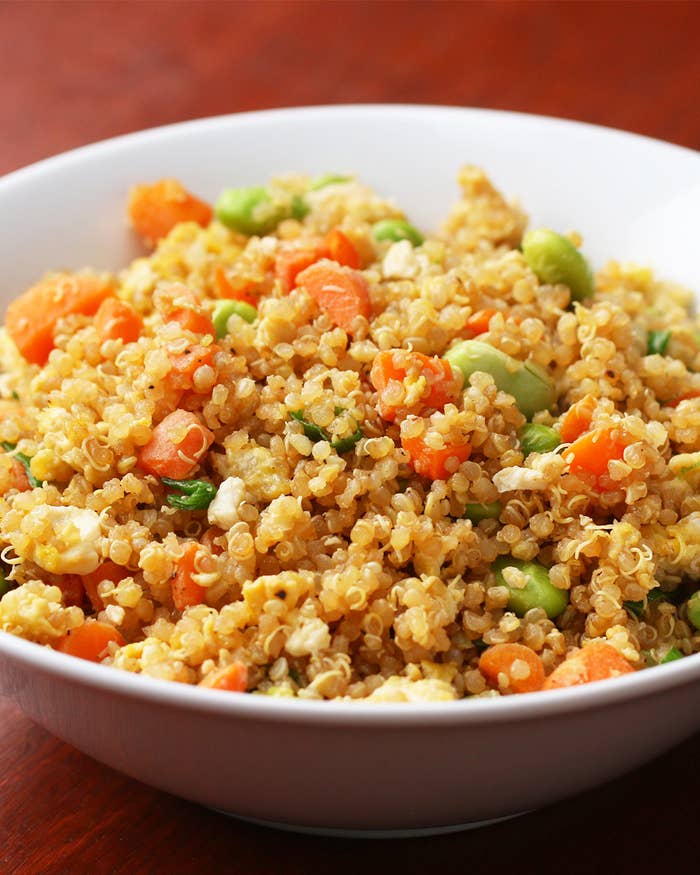 INGREDIENTS
Servings: 2-4
1 tablespoons sesame oil
1½ cups cooked quinoa
½ cup carrot, chopped
½ cup frozen edamame beans
2 garlic cloves, crushed
2 eggs
2 tablespoon soy sauce
Pepper, to taste
1 green onion, sliced
Optional
Sesame seeds
Additional green onion, sliced
PREPARATION
1. Heat sesame oil in a large pan over medium-high heat.
2. Add the quinoa to the pan and stir. Cook until the quinoa is hot.
3. Stir in carrots and edamame and heat through.
4. Push the quinoa mixture to the sides of the pan creating a hole in the center. Add garlic to the center and stir to lightly cook, then mix into the quinoa.
5. Make another hole in the quinoa and crack two eggs in the middle of the pan. Scramble them without mixing with the quinoa, then once eggs are cooked, mix together.
6. Stir in soy sauce, pepper, and green onion.
7. Garnish with sliced green onions and sesame seeds.
8. Enjoy!