One-Pot Creamy Chicken Bacon Veggie Pasta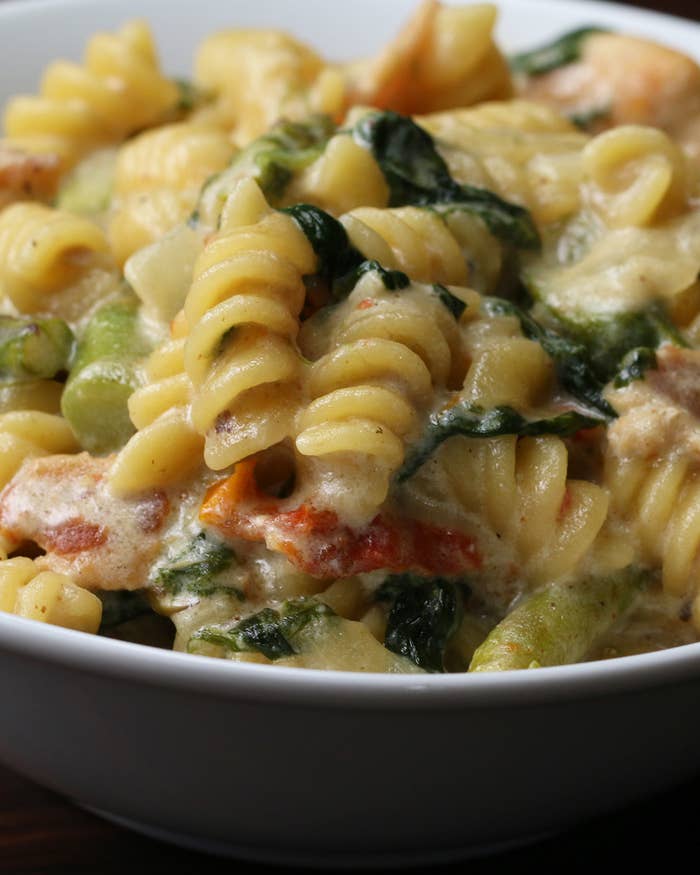 INGREDIENTS
Servings: 4-6
5 strips thick cut bacon, sliced
1 pound chicken breast, cubed
1 teaspoon seasoned salt
Pepper, to taste
1 small onion, sliced
½ pound asparagus, cut into 1-inch long pieces
3 cloves garlic, minced
2 cups fresh spinach
⅓ cup sun-dried tomatoes, roughly chopped
6 cups milk
1 pound rotini pasta
1¼ cups shredded parmesan cheese
PREPARATION
1. In a large pot, crisp the bacon on medium heat. Drain excess grease so there's about 3 tablespoons left in the pot. Add in the chicken, season with half of the seasoned salt and pepper, and cook.
2. Once the chicken is nicely browned, remove it from the pan but leave the bacon.
3. Add in the onion and asparagus. Stir until the onions begin to become translucent, then add the garlic and spinach. Stir until spinach is wilted, then add sun-dried tomatoes and season with remaining salt and pepper.
4. Pour milk over veggie and bacon mixture, and bring to a boil. Stir periodically so the bottom does not burn.
5. Once milk is bubbling, add pasta and stir frequently until pasta reaches your desired doneness (approximately 10 minutes at medium heat).
6. Stir in parmesan cheese and mix until cheese is melted.
7. Enjoy!