One-Pot Creamy Chicken And Broccoli Pasta
Too good to be true.
by
,
One-Pot Creamy Chicken and Broccoli Pasta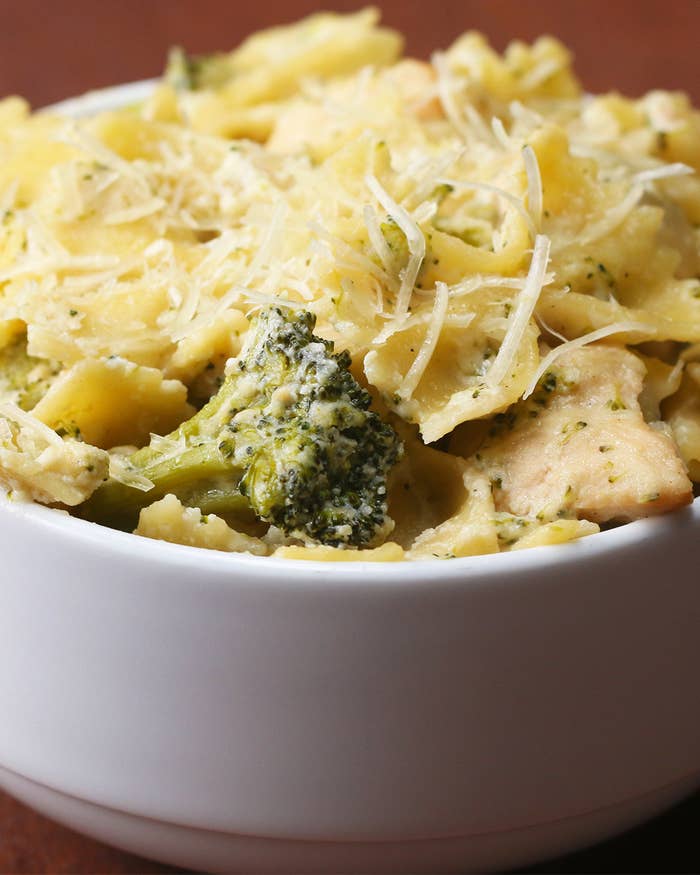 INGREDIENTS
Servings: 4–6
1 tablespoon oil
1½ pounds chicken breast, cubed
1 teaspoon seasoned salt
Pepper, to taste
1 small onion, sliced
1 medium head of broccoli
6 cups milk
1 pound bow tie pasta
1 cup shredded Parmesan
1 cup shredded mozzarella
PREPARATION
Heat half of the oil in a large pot. Add in the chicken, season with half of the seasoned salt and pepper, and cook.
Once the chicken is nicely browned and cooked through, remove it from the pan and add in remaining oil, onion, and broccoli. Season with remaining salt and pepper. Stir until the onions begin to become translucent. Pour in milk and bring to a boil. Stir periodically so the bottom does not burn.
Once the milk is bubbling, add pasta and stir frequently until pasta reaches your desired doneness (approximately 10 minutes at medium heat). Add in Parmesan and mozzarella and stir again until cheese is melted.
Enjoy!