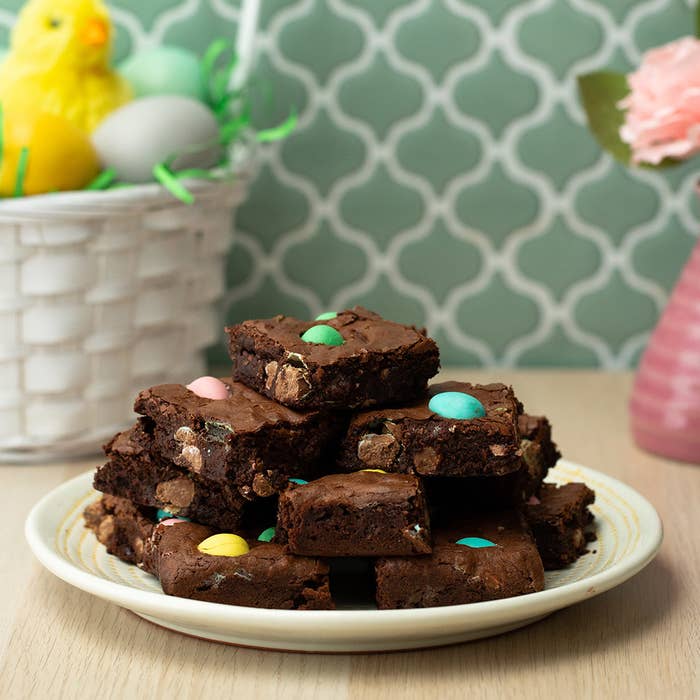 SERVINGS: 16
INGREDIENTS:

1 1⁄4 cups sugar

3⁄4 cup unsweetened cocoa powder

3⁄4 teaspoon salt

1⁄2 cup butter, melted and slightly cooled

1 teaspoon vanilla extract

2 eggs

1⁄3 cup flour

1⁄2 cup (100 grams) Cadbury Mini Eggs candy, roughly chopped
Garnish
1⁄3 cup (60 grams) Cadbury Mini Eggs candy
PREPARATION:
1. Preheat oven to 325°F.
2. In a bowl, whisk together sugar, cocoa powder, and salt. Stream in butter, whisking as 
you pour. Whisk in vanilla extract. Whisk in eggs, one at a time, whisking well after each 
addition. Whisk in flour, then fold in roughly chopped Cadbury Mini Eggs candy. 

3. Prepare an 8x8-inch-square pan. Spray with cooking spray and then line with parchment so the excess parchment hangs over the sides. Pour batter into pan and smooth top with 
spatula. 

4. Garnish the top of the brownies with whole Cadbury Mini Eggs. 

5. Bake for 30-35 minutes, until a toothpick inserted into the center comes out clean. 

6. Let cool before slicing and serving.