1.
A simple yet elegant arched floor lamp in case you're looking for a way to redecorate your room while working with limited space. 

Promising review: "Pretty amazing in my opinion, I hope you agree! The 60 watt provides the perfect setting for a relaxing romantic dinner or a studious late night. The ability to swivel the head of the lamp provides optimal control of where you want to redirect your light source without moving the entire lamp." —Dezmond

Price: $124.99 (originally $134.99)
2.
Or, a set of column floor lamps to add a subtle and modern flair to your living space. You can place them on each side of your seating or on the sides of your entertainment center to illuminate your next movie night.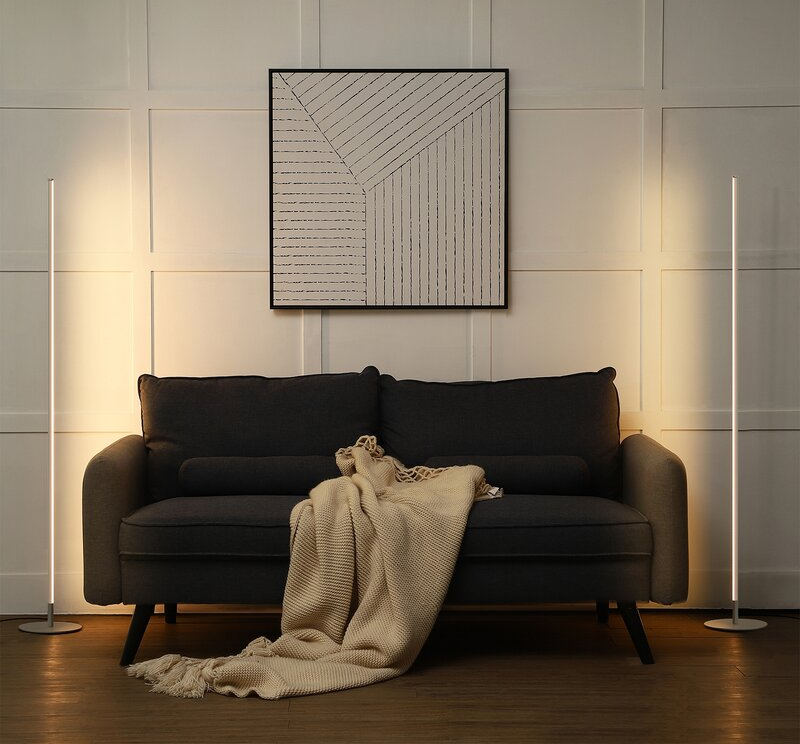 Promising review: "These LED column floor lamps look exactly as they do in the photos. The light illumination is perfect and they add a really nice ambiance to the room. We have gotten so many compliments from family and friends. Only note would be to find a creative way to hide the cords. They look great, love this purchase!" —Brittany
Price: $106.99 (originally $139.99; available in three colors)

3.
A pair of figurine bookends that'll be the perfect conversation starter the next time your book club comes over for tea and reads. You can position them in different ways for a different look, too. 

4.
A Japanese shoji-style room divider that is a truly underestimated piece of decor that can not only hide unsightly items from guests, but can also hide eyesores for you, too. If you have a studio, it's a great way to separate your work station from your living room area. 

5.
A wingback accent chair that's pretty much begging to sit in front of your fireplace while you listen to your favorite podcast or audiobook. Don't have a fireplace? A space heater will do. 😉

Promising review: "So happy with my reading chairs!! Bought two for my reading corner! Absolutely LOVE THEM!" —Anonymous

"These chairs are perfect for our library music room. Adds a splash of color and is easy to assemble. Finishing touches!" —Jalyn
Price: $249.99+ (originally $599; available in 14 colors)
6.
A hallway organizer with a bench that you could add a cushion to or use for extra storage. This organizer is the perfect catchall with room for hats, coats, shoes, and other decor to jazz up your entryway.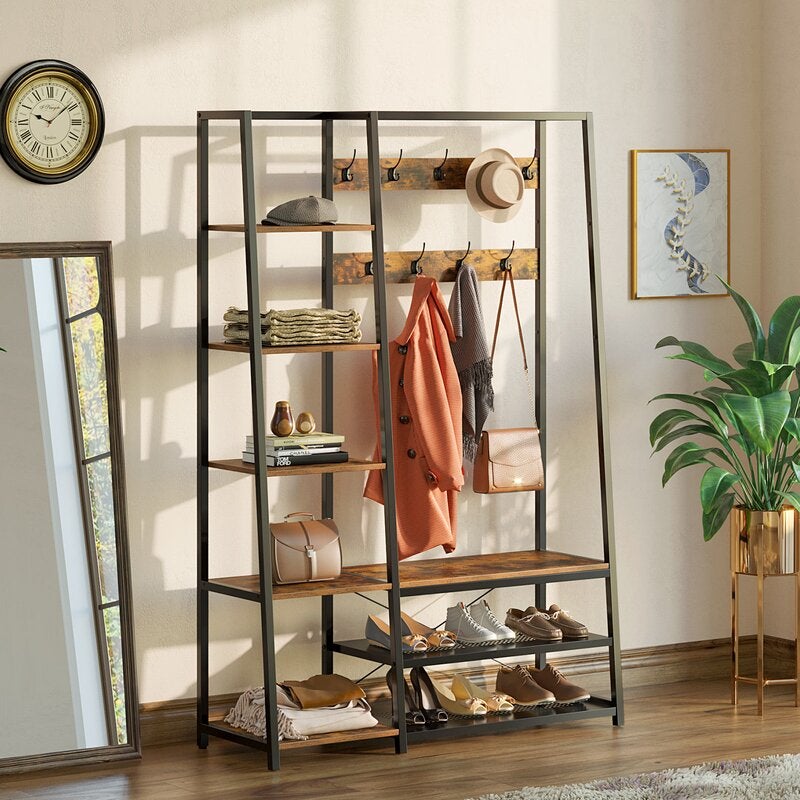 Promising review: "I loved that this unit had bins, we're using them for winter hats and mittens and I'm sure they'll be useful all year round. It's super sturdy but I'll wind up anchoring it for safety since my little ones like to climb to reach their jackets. I'm so happy with this, it's made our basement entry area much more pleasant. I put it together myself and I already want another one!" —Paola

Price: $172.99 (originally $189.99; available in two colors)
7.
Or, a cozy corner organizer just begging to nestle into that one bare corner in your apartment.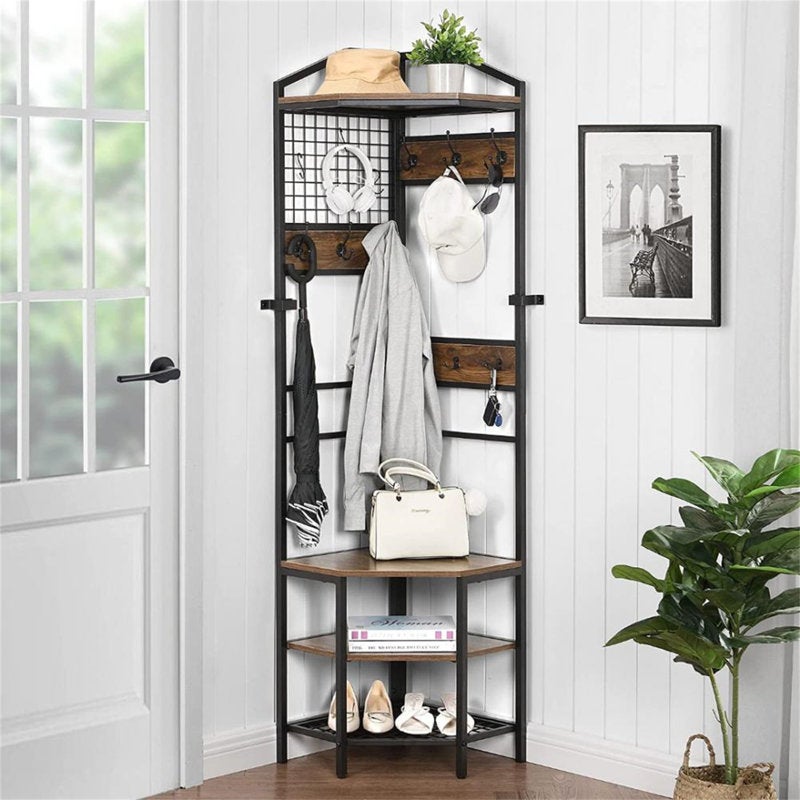 Promising review: "I was hesitant on getting this at first. But now I am so glad I did. Arrived very fast and in excellent packaging with no noticable damage to box or contents. Easy instructions allowed a very easy assembly and it didn't take very long either. My son and I had this put together in about 30 minutes. From opening the box to standing it upright finished. Great product. Thanks WAYFAIR!!!" —Donna Jean

Price: $161.99 
8.
A neutral woven area rug that's anything BUT boring with a grooved design that still draws plenty of attention and kind of looks like a Japanese zen garden.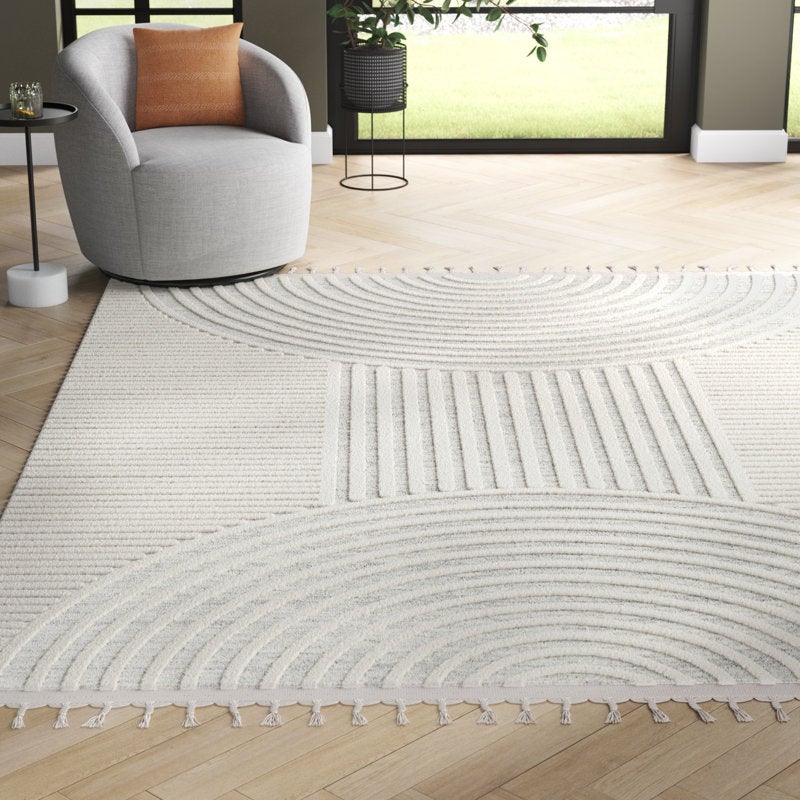 Promising review: "Very soft! The gray color is darker than I expected, but that may be due to how it looks next to my dark floors. The high pile pattern fluffed up after a vacuum and I really like the height difference. The rolled corners relaxed within the first day and it lays perfectly flat. Also smells great!" —Dan

Price: $148+ (originally $340+; available in two colors and three sizes) 
9.
A vegan leather ottoman ideal for anyone who's looking to add a super stylish multifunctional piece to their bedroom, entryway or living room. It has space for blankets and pillows inside, too, and can be used as a bench *or* a coffee table.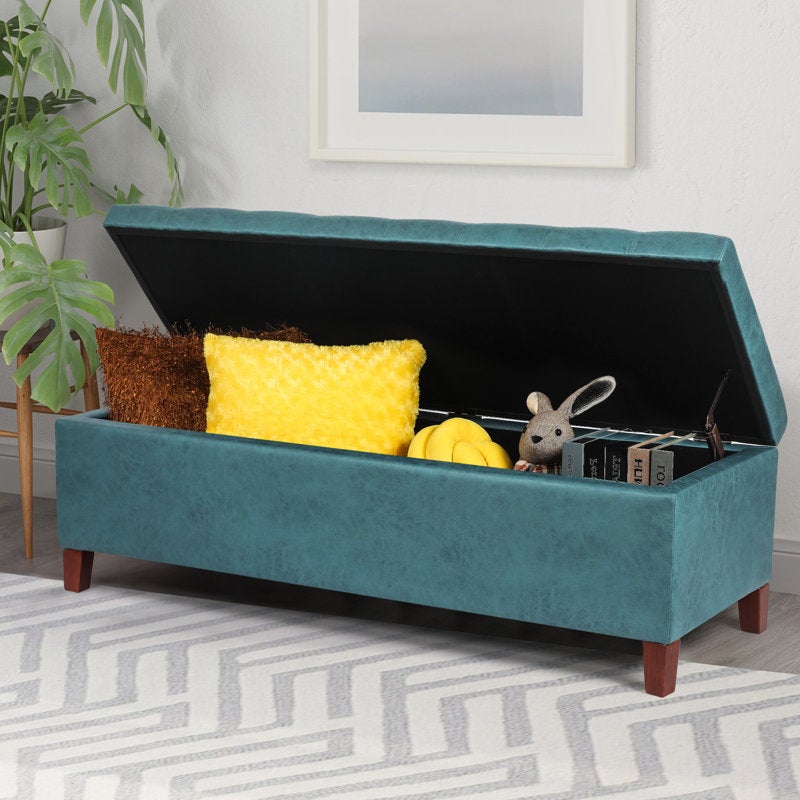 Promising review: "Wonderful ottoman! Easy to assemble. We use it in our living room as a discreet toy box so our kids can play to their hearts' content and their toys are accessible, but it makes for easy clean-up when guests visit." —Anuja

Price: $199.99 (originally $249.99; available in three colors)
10.
A gorgeous rustic tray you can use to house all of your favorite little knickknacks. Or, leave it empty and let that beautiful design be the star of the show. 

11.
A leaning ladder desk so you can still maintain an organized workspace for ultimate productivity while taking up very little space. This chic, minimal desk comes with shelves where you can keep your headphones, store books, display photos, and more.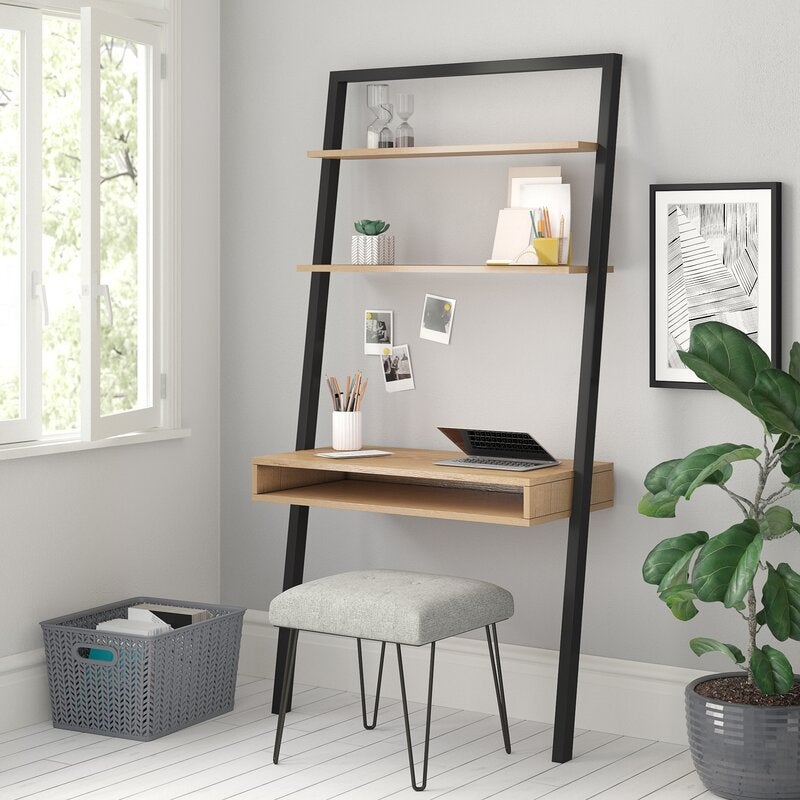 Promising review: "This desk was surprisingly easy to put together and it looks very chic. It's perfect for people who have a limited amount of space for an office area." —Eboni

"Just got my desk in and it looks great! I have a small living area and am still able to have my couches and coffee table without feeling cramped." —Alex
Price: $264 (available in three colors)
12.
A small but mighty upholstered ottoman that reviewers say is bigger than it looks but not too big that you can't shove it in a corner or place it next to a bed or couch. 

Promising review: "This storage ottoman was perfect for my vanity area. I needed extra storage for my hair dryer and curling irons but did not want to put them in a basket in plain sight. I love that it conceals them yet I have easy access when I need them. Bonus...the shipping was shockingly fast!!" —Mary
Price: $131.99 (originally $259.99; available in six colors)