Bellesa, the premiere destination for female sexuality, and BuzzFeed, the world's leading digital media company, have designed a co-branded sex toy launching online this November through a newly expanded strategic partnership. A longtime advertising partner, Bellesa is expanding its partnership with BuzzFeed across original products, a robust affiliate program, and media sponsorship in order to tap into the digital media company's massive audience on a larger scale, including signing on as the launch partner for BuzzFeed's new Sex & Love vertical launching Q1.
The co-branded product, BuzzFeed AirVibe, will be available on Bellesa's direct-to-consumer site, Bellesa Boutique, as the pillar of its new Diskreet Series collection starting November 9. The packaging design fits within the BuzzFeed brand identity and the product was designed to include functionalities that exceed current sex tech, as well as resonate with BuzzFeed users, including top-quality material and motors at an affordable price point, compatibility with all body types, and being waterproof, discreet, and reliable.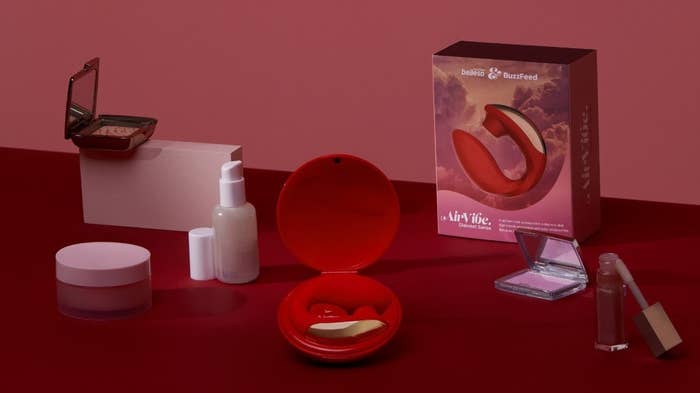 "BuzzFeed has been one of Bellesa's most exciting partnerships since we launched Bellesa Boutique in 2018; constantly pushing boundaries together. At the start of quarantine, Bellesa partnered with BuzzFeed to give away thousands of vibrators across the US and Canada, along with over $2M in actioned gift cards. We are thrilled to be launching our most innovative piece of sex tech yet in the AirVibe and to be doing so with our close friends at BuzzFeed. There are big things ahead for this partnership," said Bellesa CEO and Founder Michelle Shnaidman.
BuzzFeed will launch its first-ever Sex & Love vertical powered by Bellesa in February 2021. Building on a top-performing topic among BuzzFeed users (Sex & Love articles amassed 153M views in the last year), the new vertical will be a dedicated home for BuzzFeed's audience to find the content they crave and a prime destination for relevant brands to drive scale and performance.
BuzzFeed captures a key demographic for Bellesa, one of the fastest growing companies within the adult entertainment industry, prioritizing female pleasure above all else. BuzzFeed is the number one digital media site among adult women, and reaches 76% of all females 18-34 in the US. With increased demand for sex toy products amid the pandemic and adult entertainment brands restricted from running paid promotion on social media platforms, partnering with a digital media publisher provides a timely and strategic opportunity for Bellesa to reach BuzzFeed's key audience at scale.
"We're so excited to expand our partnership with Bellesa beyond affiliate to cater to our audience in new ways," said Nilla Ali, SVP of Commerce at BuzzFeed. "The first-of-its-kind partnership taps the best of BuzzFeed, bringing together teams across the company to provide a 360 degree experience for our audience, and we couldn't be more thrilled to partner with a company whose empowering mission is so aligned with our audience's values."
The expanded partnership with Bellesa is the latest example of BuzzFeed driving impact through its commerce engine. The digital media giant finds continued success building strategic partnerships that incorporate multiple divisions within the company, creating custom deals across its industry-leading affiliate business, product licensing, and media sponsorships. Through the partnership, BuzzFeed will deliver placements across the BuzzFeed network including video, O&O posts, newsletters, and social, as well as within its data-driven After Dark series which strategically reaches users during the time periods they are most likely to convert. On the licensing side, the two companies are poised to explore additional product collaborations beyond the AirVibe in the future.
"In collaborating with Bellesa, we're able to combine key insights from BuzzFeed's strong connection with its audience and Bellesa's best-in-market design to bring this visionary product to life and we're eager to see how we can continue to innovate together," said Ines Pacheco, Director of Licensing Operations at BuzzFeed.
The co-branded sex toy with Bellesa marks a new category extension for BuzzFeed's robust licensing business, which includes a successful kitchenware line at Walmart and CPG products for its leading food brand Tasty, a housewares collection at Amazon for its wellness brand Goodful, as well as books and games for the BuzzFeed masterbrand.
About BuzzFeed
BuzzFeed is the world's leading tech-powered, diversified media company that reaches hundreds of millions of people globally through its cross-platform news and entertainment network. The company produces articles, lists, quizzes, videos, and original series; lifestyle content through brands including Tasty, the world's largest social food network; original reporting and investigative journalism through BuzzFeed News; an industry-leading affiliate business, strategic partnerships, licensing and product development through BuzzFeed Commerce; and original productions across broadcast, cable, SVOD, film and digital platforms for BuzzFeed Studios.
About Bellesa Boutique
The #1 rated toy store on Google (15k+ reviews). A by-women company, BBoutique (Bellesa Boutique)'s carefully curated collection includes vibrators, dildos, couples toys, and more. Bellesa's mission is to empower women to embrace, explore and celebrate their sexuality, unapologetically.
About Bellesa
Bellesa.co is an adult entertainment website for women - one that is shifting the landscape of one of the most provocative industries on the planet. Bellesa was created as the answer to the question: "If adult entertainment were created in the vision of a woman since day one- forgetting all of the frameworks, norms and scripts- what would that look like?"

Established in 2017 by Michelle Shnaidman, Bellesa has grown into the most visited porn website for women globally. The online community features free adult videos, videos from Bellesa's female-run studios (Bellesa House, Bellesa Films, upcoming Bellesa Plus), erotic fiction, Sex Ed articles, as well as pleasure product store BBoutique (Bellesa Boutique).
Bellesa's mission is empowerment. Their platform breaks down the barriers around female-centered sexuality by changing the way that sex is represented online. Women don't come to Bellesa to hide under their sheets. They come to celebrate their sexuality- unapologetically.