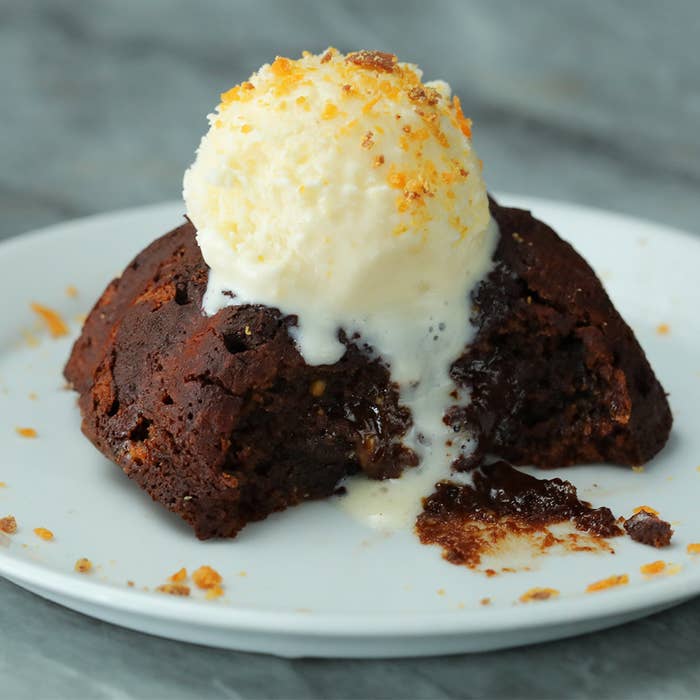 INGREDIENTS:
Ganache
2 oz chopped 70% dark chocolate 1⁄4 cup heavy cream, hot
Cakes
4 oz chopped 70% dark chocolate
1⁄2 cup unsalted butter, chopped into small cubes
2 eggs
1 egg yolk
1⁄3 cup sugar
1⁄2 teaspoon vanilla extract
1⁄2 teaspoon salt
1⁄4 cup flour
3 (1.9 oz) Butterfinger® Bars, roughly chopped, divided 1⁄4 cup melted butter
1⁄4 cup cocoa powder
PREPARATION:
1. Make ganache: Place chopped dark chocolate in a bowl. Pour hot heavy cream over the chocolate. Let sit for a minute, then stir until completely incorporated, smooth and glossy. Freeze ganache for 5 minutes or until scoopable. Line a small tray with parchment paper. Using a small spoon, make small scoops of ganache and place on tray. Freeze ganache scoops for at least 30 minutes, or longer.
2. Cakes: Preheat oven to 400°F.
3. Place chopped dark chocolate and butter cubes in a microwave-safe bowl. Microwave in 30-second increments, stirring in between, until completely melted and smooth. Set aside.
4. In a large bowl, add eggs, egg yolk, sugar, vanilla extract, and salt. Use a hand mixer to whisk the mixture on high for about 5 minutes, until pale yellow and thick. Fold flour and chocolate-butter mixture into batter, then fold in 2 of the 3 chopped Butterfingers® (reserving the last chopped Butterfinger® for garnish).
5. Coat 6 ramekins with melted butter. Place a spoonful of cocoa powder in a ramekin and shake it to fully coat, then dump out the excess. Repeat with the rest of the ramekins.
6. Fill the ramekins evenly with batter. Lightly press a frozen ganache scoop into the center of each cake, then use a spoon to lightly cover it with batter.
7. Bake cakes for 14 minutes, or until set. Remove from oven and let rest for 1 minute. Run a knife along the edge of the ramekins to release the cakes. Flip the cakes on to plates and top with extra chopped Butterfinger®. Serve immediately.