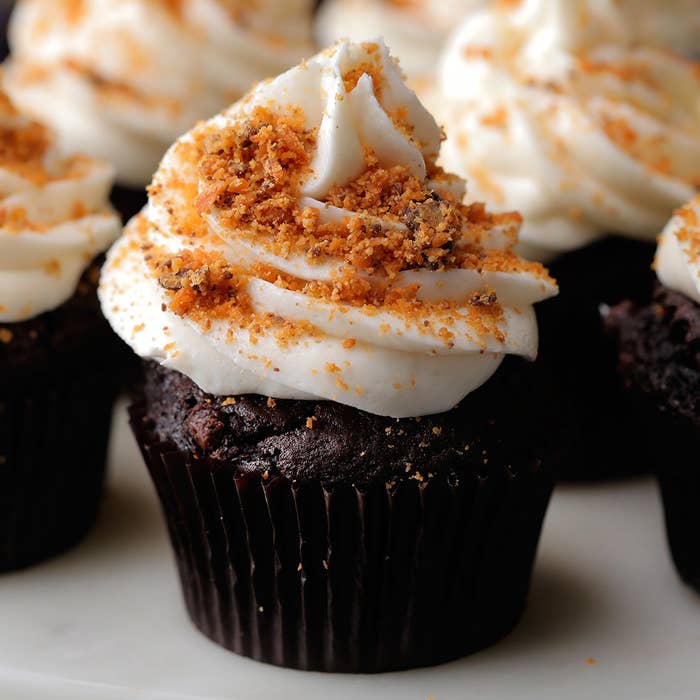 INGREDIENTS:
Cheesecake Filling
1 (8 ounces) package cream cheese, softened
½ cup powdered sugar
⅓ cup crushed Butterfinger® Dark bars, plus extra for garnish
Cupcakes
1 box dark chocolate cake mix
12 cupcake liners
Frosting
¼ cup cream cheese
⅓ cup butter
1½ cups powdered sugar
1 teaspoon vanilla extract
PREPARATION
1. Preheat oven to 350ºF/180°C.
2. Prepare chocolate cake-mix batter according to package instructions.
3. To make cheesecake filling, use a hand mixer to whip the cream cheese and powdered sugar together until fluffy. Fold in the crushed Butterfinger® Dark bars.
4. Grease a regular-sized muffin tin. Place 1 tablespoon of cake batter into each cupcake liner. Add 1½ teaspoons of cheesecake filling in the middle of the batter. Top with another 1 tablespoon of cake batter.
5. Bake for 16–20 minutes, or until cupcakes are set. Let cool in tray for 10 minutes, then move to a wire rack to finish cooling.
6. While cupcakes are cooling, make frosting. Using a hand mixer, whip the cream cheese, butter, powdered sugar, and vanilla extract until fluffy.
7. Pipe the frosting onto the cooled cupcakes and garnish with extra crushed Butterfinger® Dark bars.
8. Enjoy!