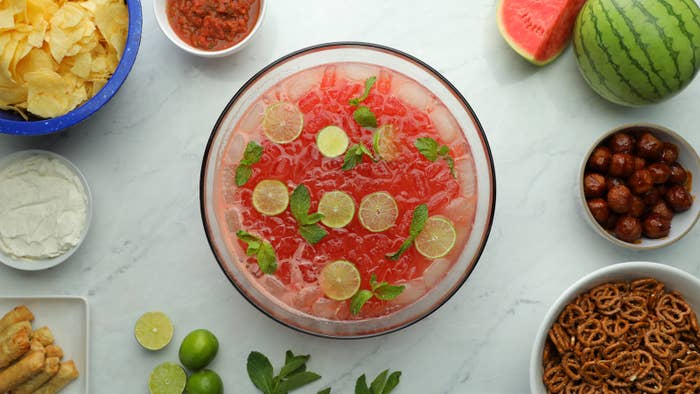 SPIKED WATERMELON PUNCH
Servings: 14 (3.75 quarts)
INGREDIENTS
Lime Cubes
1½ cups lime juice
Punch
32 cups cubed watermelon
1¼ cups lime juice
2 cups Burnett's Vodka
Handful mint sprigs
4 limes, thinly sliced
PREPARATION:
1. Cubes: Pour lime juice into an ice cube tray and freeze overnight.
2. Place a few handfuls of watermelon cubes into a blender. Blend until liquid. Pour in more
watermelon and blend until blender is full. Repeat until all of the watermelon has been
blended.
3. Place 2 mesh strainers on top of each other and balance on a punch bowl. Pour the
watermelon juice through the strainer and use a silicone spatula to push all the juice
through. Remove the strainers.
4. Stir in the lime juice and Burnett's Vodka. Add in the lime juice, ice cubes, plus more ice.
5. Float mint sprigs and thinly sliced limes as garnish. Serve!